Las Terrenas as seen by TravelOerSky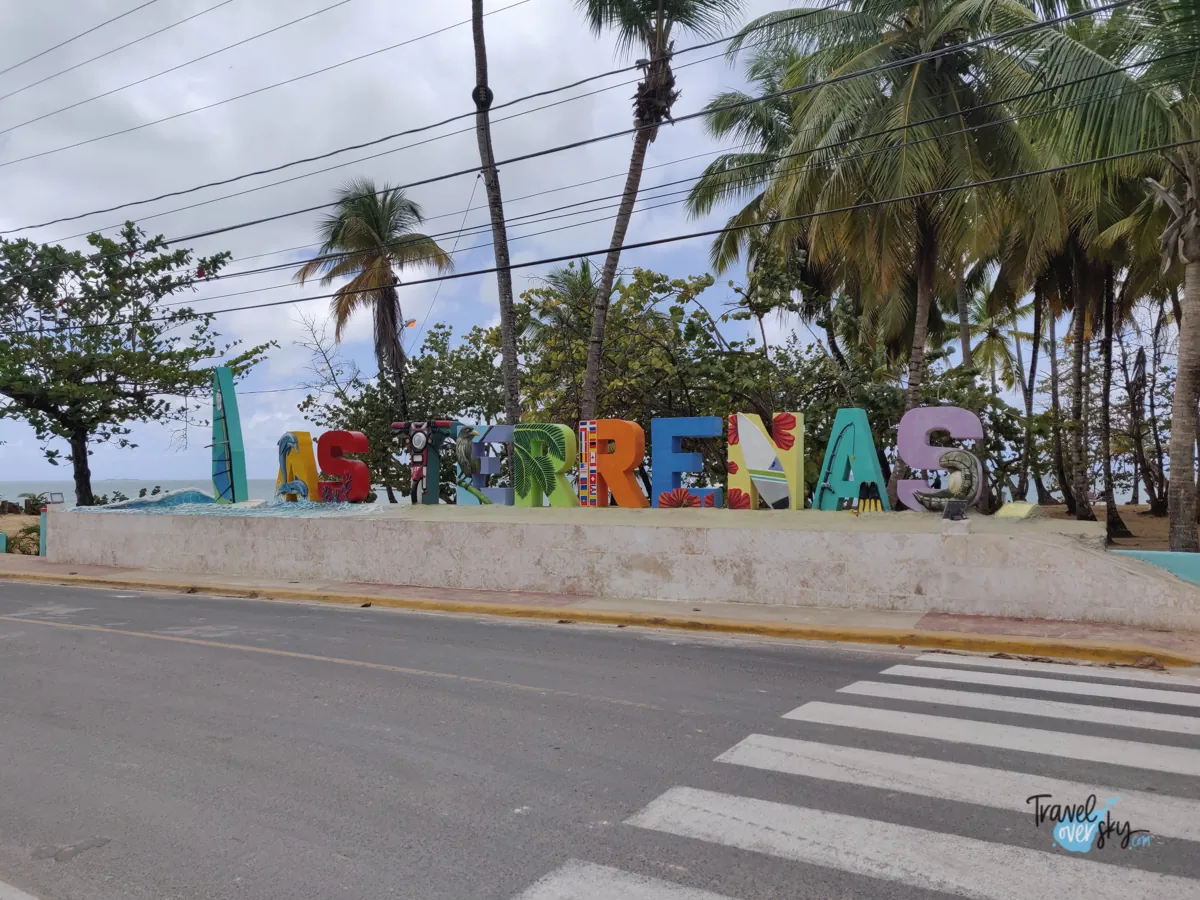 I went to discover a new Dominicana place straight after leaving Punta Cana. The first stop was Las Terrenas located on the Samaná Peninsula. The city itself seems very local, however the short distance of nearby airports (El Catey, Puerto Plata) makes the place really full of tourists. What makes this location additionally irresistible is beautiful views, beaches and a large quantity of restaurants and bars.
Las Terrenas – what is worth seeing?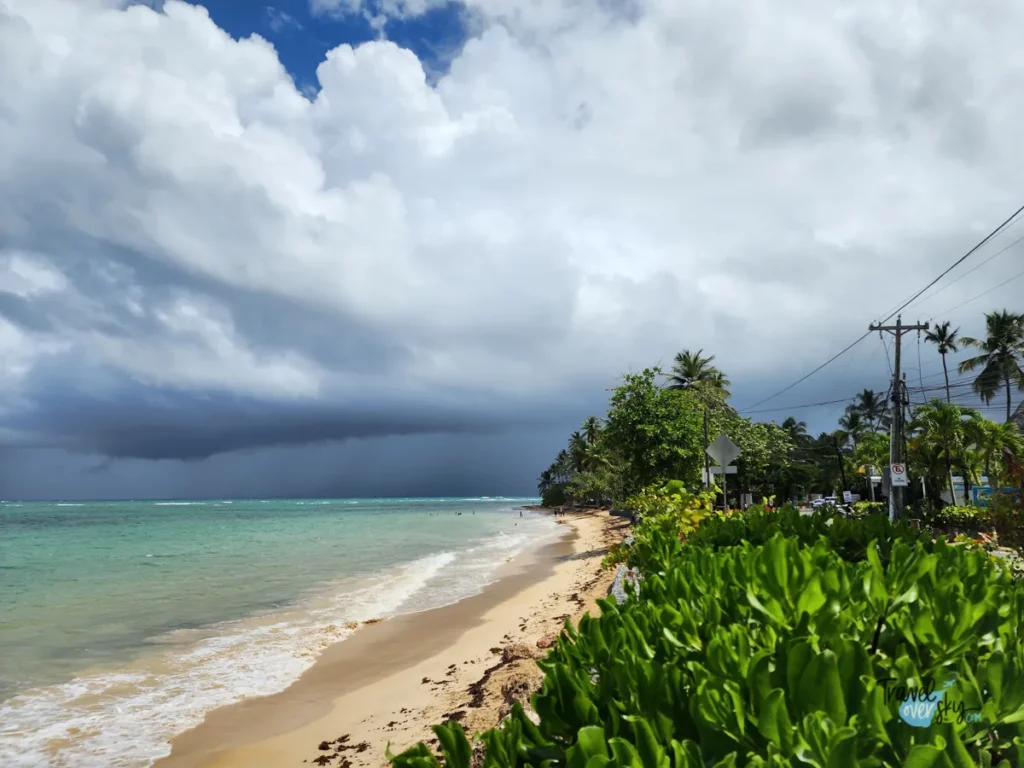 A little bit of history and demography
The city was settled in 1946 by then president of Dominicana – Rafeal Trujillo. Trujillo ordered relocation of the poor Santo Domingo citizens there. Reaching the village was quite a challenge, because the asphalt roads connecting Las Terrenas with the Sanchez community were built in 1989. Electricity was introduced there only in 1994. The city has been transformed from a fishing village to one of the most visited places on the Samaná Peninsula during the last few years. Currently there are almost 46 thousand citizens registered there.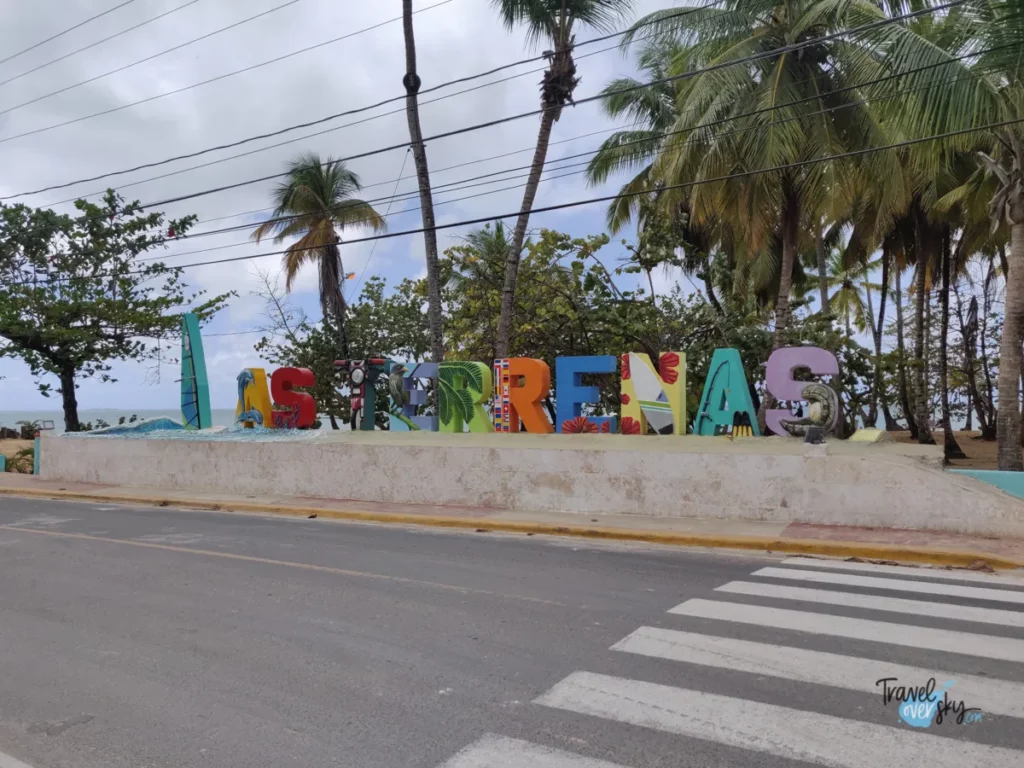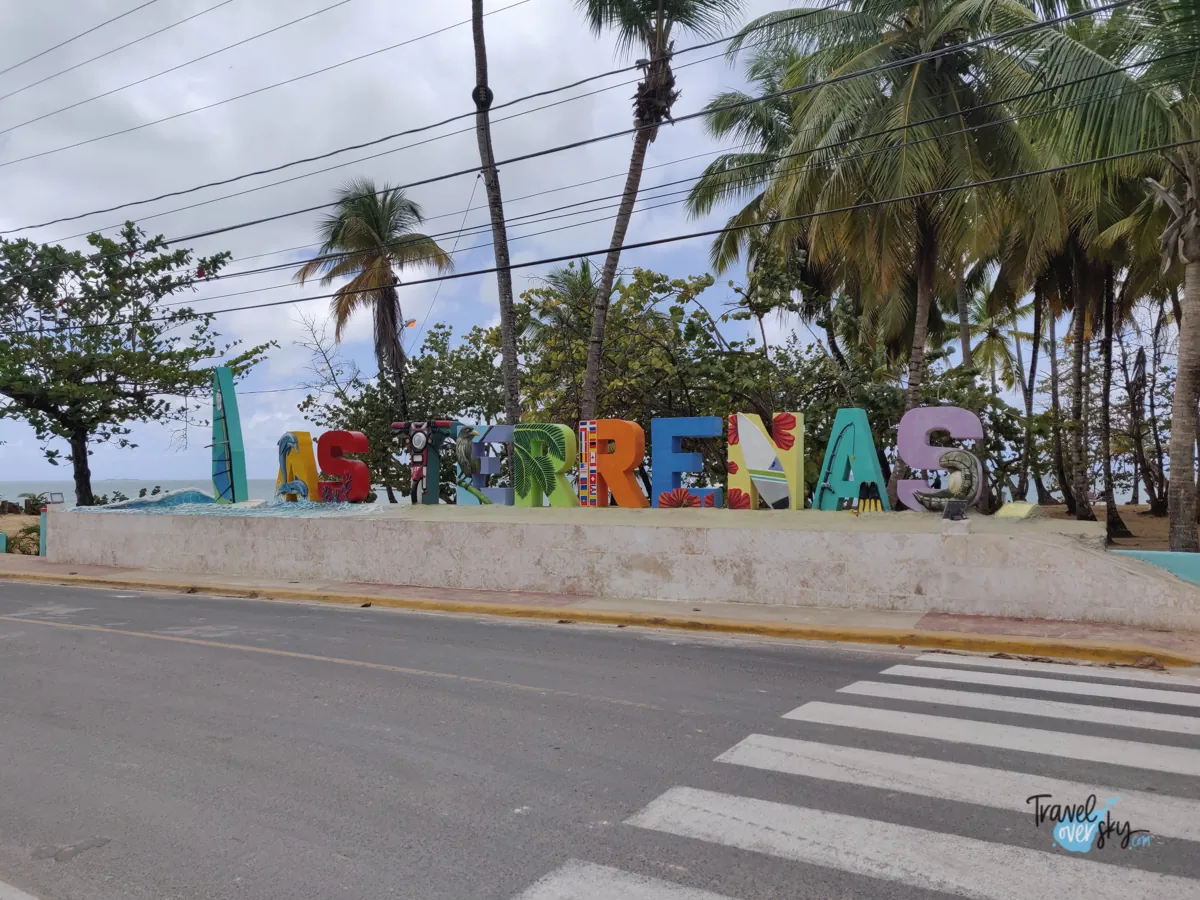 A route to Las Terrenas
The route from Punta Cana to my destination took almost 4 hours, meaning 300 kilometers. The road there is good, but fairly expensive. The passing on the tolled roads cost me over 1000$ dominican pesos (which is around 18 USD). The paid parts of the highway are Punta Cana-Santo Domingo and Santo Domingo-Las Terrenas – the latter one is the most expensive. The route itself is located in very appealing surroundings, for example it leads through the natural park Los Haitises. You must prepare your cameras and a little bit of additional time to make sure to stop and take some photos during the trip – it is really worth it! Before you enter the city itself make sure to visit a great sightseeing point, which is a must have of this route (the exact location is below)! Do not worry if you do not have a car! You can also reach the Samaná Peninsula by long-distance buses. The bus is most useful if you want to get from Bávaro to Santo Domingo (here you can read about the Bávaro bus stations). When you will be reaching the place where you can jump from one bus to another you will be informed about it on the current stop. The bus station leading to Samána is located between the capital in-let road and an entry to Samána highway. The ticket's fee, no checked baggage included, should be around 1000$ DOP (for both of the buses). The journey itself lasts for about 6 hours (+ waiting time for change).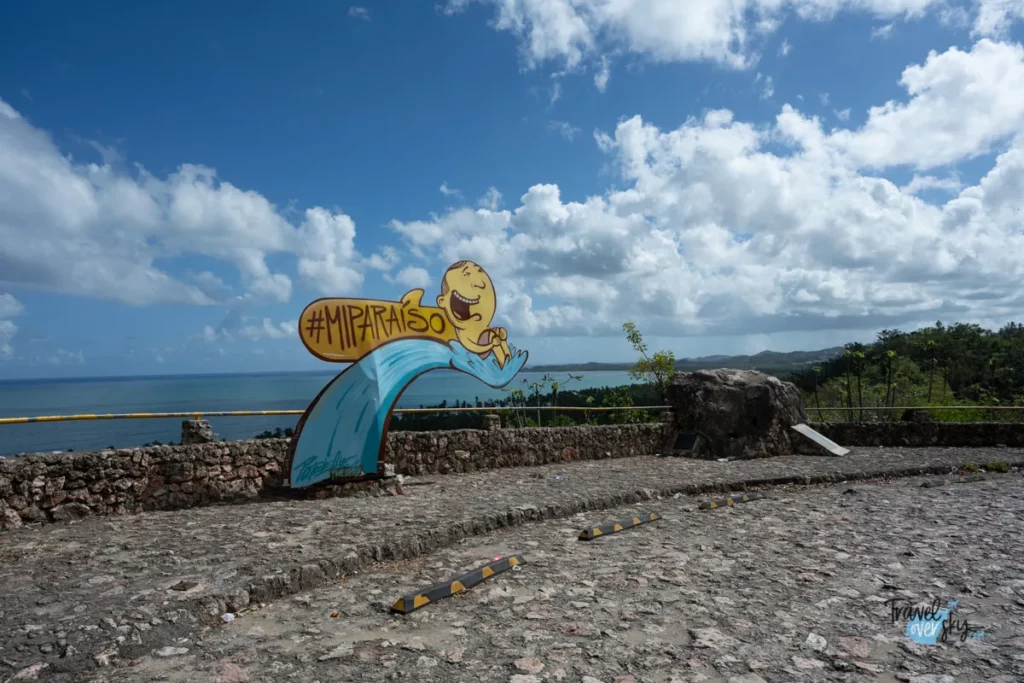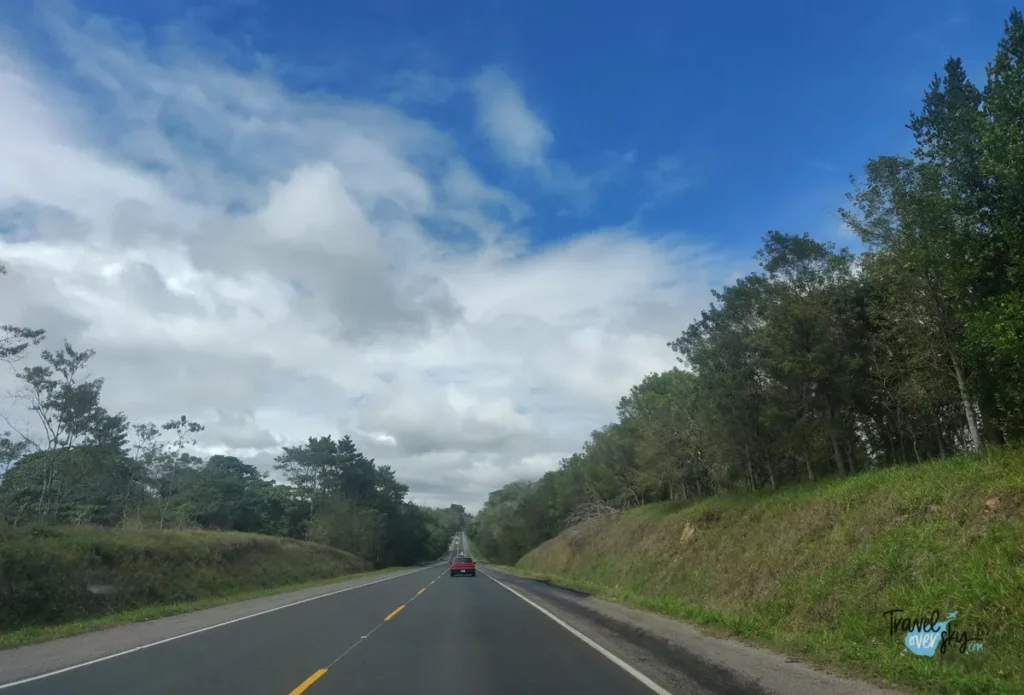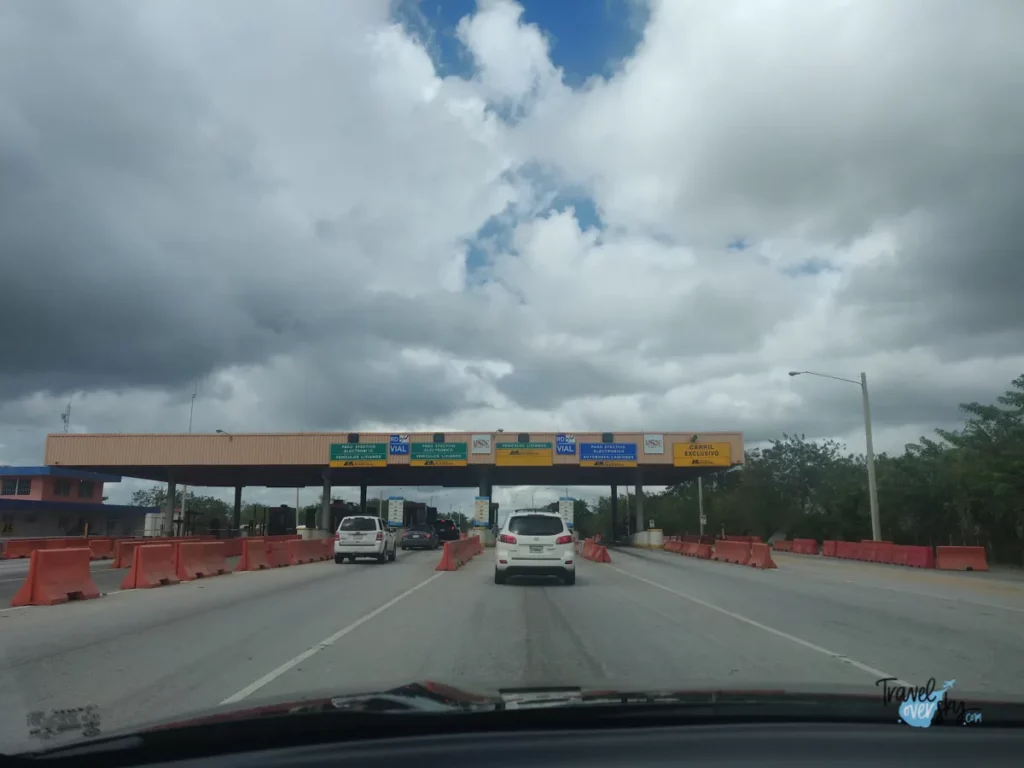 About Las Terrenas
The city itself is tight and the streets are quite narrow. In most of the places (especially in the city center and the street around the shore) there are no street shoulders and parkings, which makes the car or two-wheeler parking in the middle of the road nothing unusual (at least for the locals). Passing another car is often a challenge. You also need to pay extra attention to the children playing near the road, the always present dogs and deep holes or high speed bumps. There are also many one way roads, so be careful where the GPS is leading you. From my experience I can tell that many locals (especially on motors and scooters) are not paying attention to the driving direction. The best advice here is to drive slowly and pay attention to the surroundings!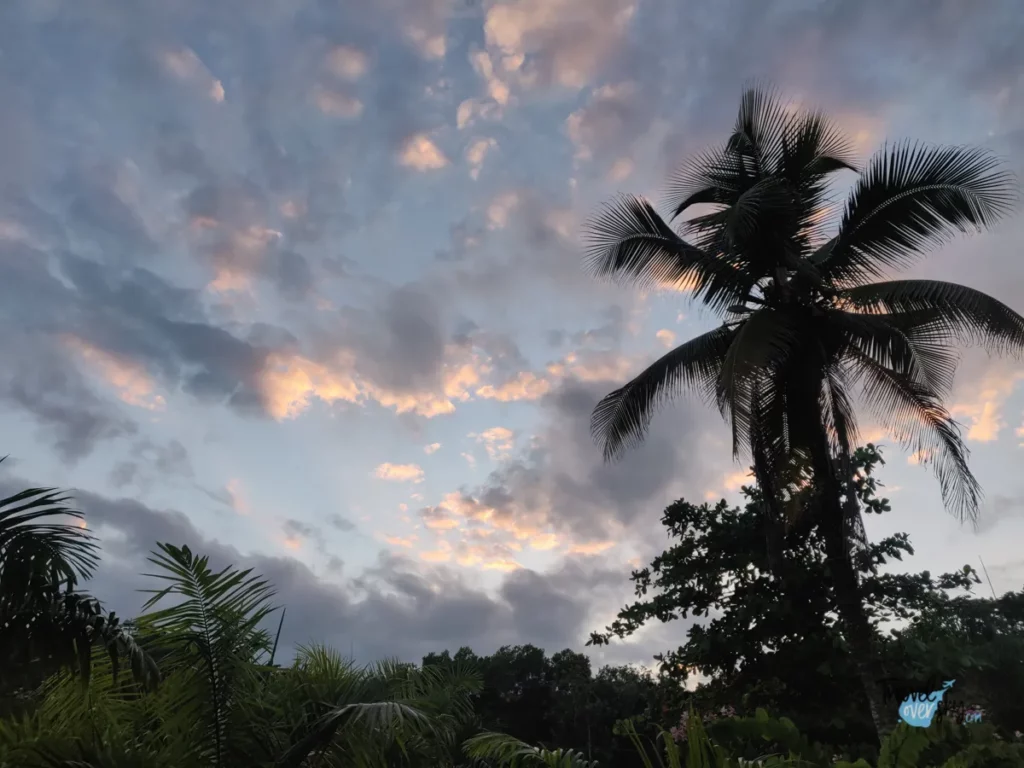 Sometimes you might think that there are more two-wheelers than people inhabiting this city. Motors, scooters and a noise that is always surrounding you is a norm here. If you care about a quiet place, you need to search for a flat far from the main and the most touristic attractive roads. The city offers many hotels and houses to rent on the hills, which is why you will certainly find a more quiet place with a stupendous view.
I also prepared a few of the most important information that will make the planning of your trip easier.
The restaurants
The month spent in this place was not enough to get to know each culinary corner. A broad range of cuisine, where everyone can find something for themselves – from elegant restaurants to fast food. You will certainly not starve!
You can read more about this city's restaurants and good places to eat in this post: Where to eat tasty food in Las Terrenas. Follow us on social media to be up to date and to receive notifications about our new posts!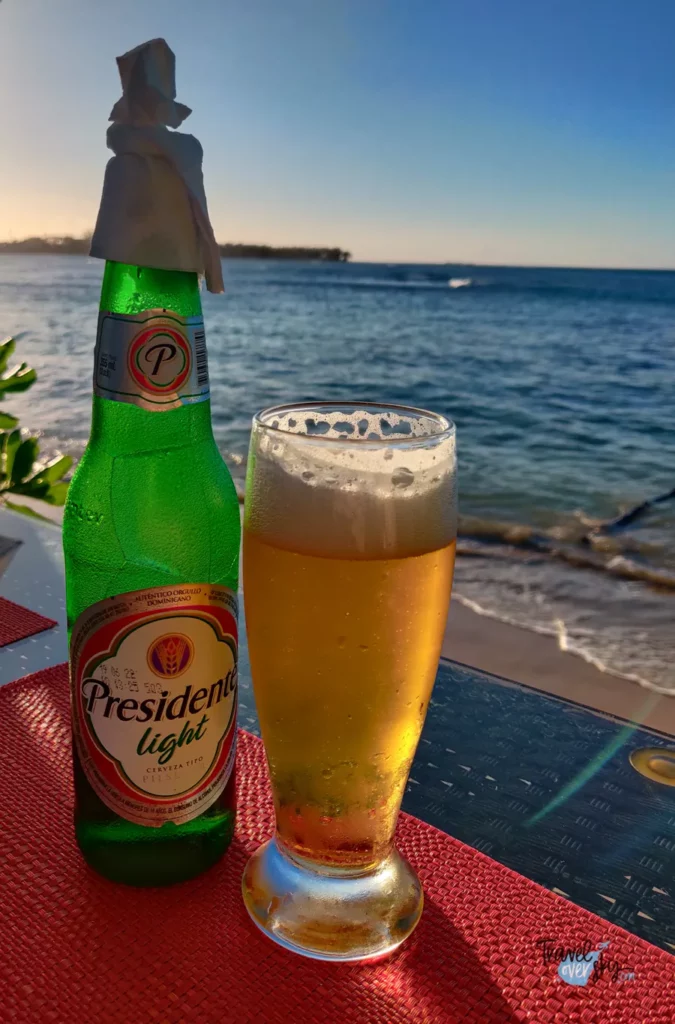 The transportation
If you are one of the people who use Uber while traveling, then unfortunately you can not use it here. The moto taxis are coming to the rescue – you can catch them anywhere, and the fee should not be high.
On the brighter side, I was surprised by the fact that moto taxis are not accosting people everywhere (contrary to Punta Cana). During the month being there I was only asked twice if I wanted a ride. It is worth mentioning that most of the moto taxi drivers are wearing vests, which makes them recognizable. The vests also have a phone number imprinted on them, which you can call whenever in need of transportation.
When it comes to the city bus transportation, you can find the bus stations Astrotrapusa and Caribe Expres, from where you can reach many places in Dominicana – the capital, Puerto Plata and many other corners of the Samaná Peninsula.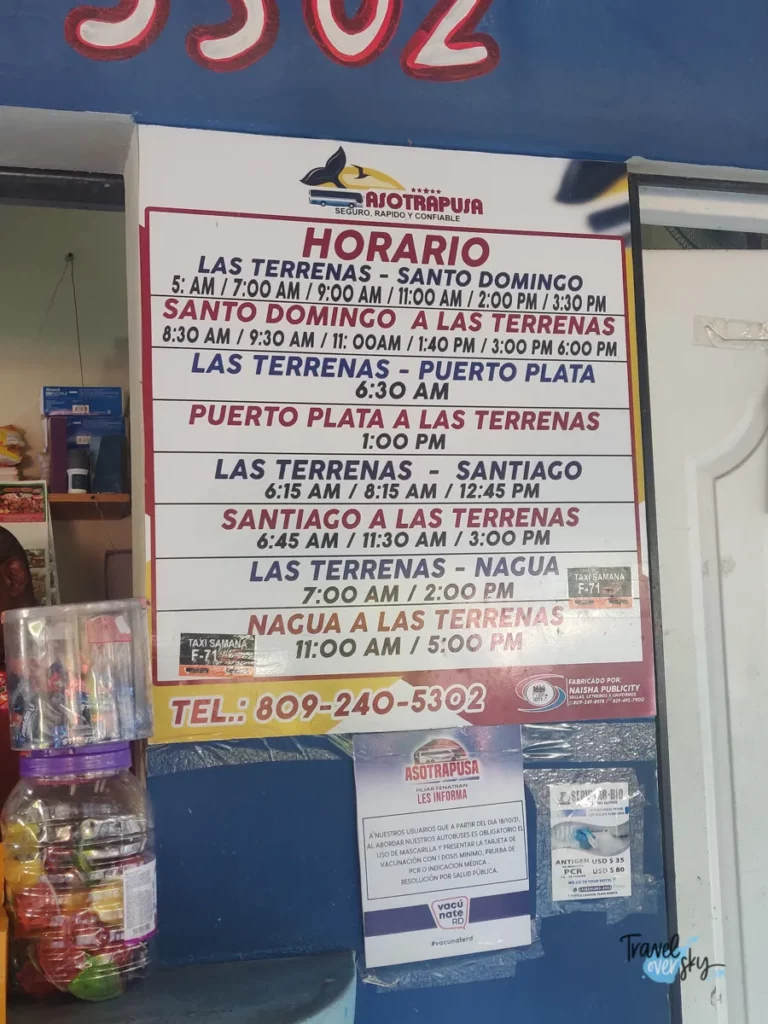 Car renting
If you want to be more mobile, you will find a lot of car, two-wheeler and quad renting places. The prices differ, starting from 12$ (USD) a day for renting a scooter – depends on for how long you want it, where, if the insurance is included in the price and so on. The price for car renting starts from 30$ (USD).
I wanted to rent a car in Punta Cana and return it in Las Terrenas. After browsing many offers I found one that would allow a free returning of the car in another place. Unfortunately, there was information on the website that the car is available in Santo Domingo. Tempted by the offer I went to the capital to rent it.
I was hit by a Dominican reality when I got there. It turned out that cars are available in Punta Cana, and leaving them at another city was being charged. I was informed that there was an error on the website. I will also add that it was a known and recommended rental.
This is why if you want to rent a car or a motorcycle it is worth calling the company and asking for the details. Even if everything is explained on their website.
Traveloversky advises:

My experience shows that it is much easier to transport using a two-wheeler than a car in Las Terrenas. If you are not fond of renting a car, seriously think about a scooter, motorcycle or a quad.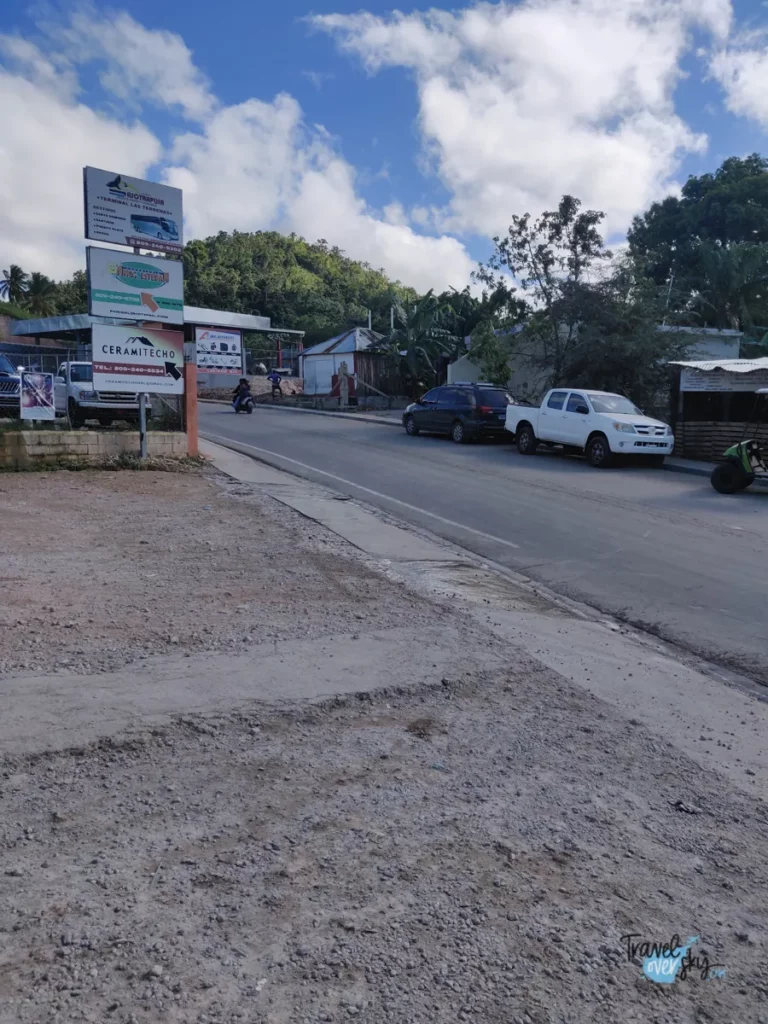 Money exchange
You can exchange money in every bank. I personally exchanged it in Banco Popular and the exchange rate was much worse than in Quezada, Bavaro. You can also buy Dominican peso in Caribe Expres, which is located near the main street – Calle Duarte.
Before exchanging money it is worth checking the exchange rate at different places to choose the most attractive one.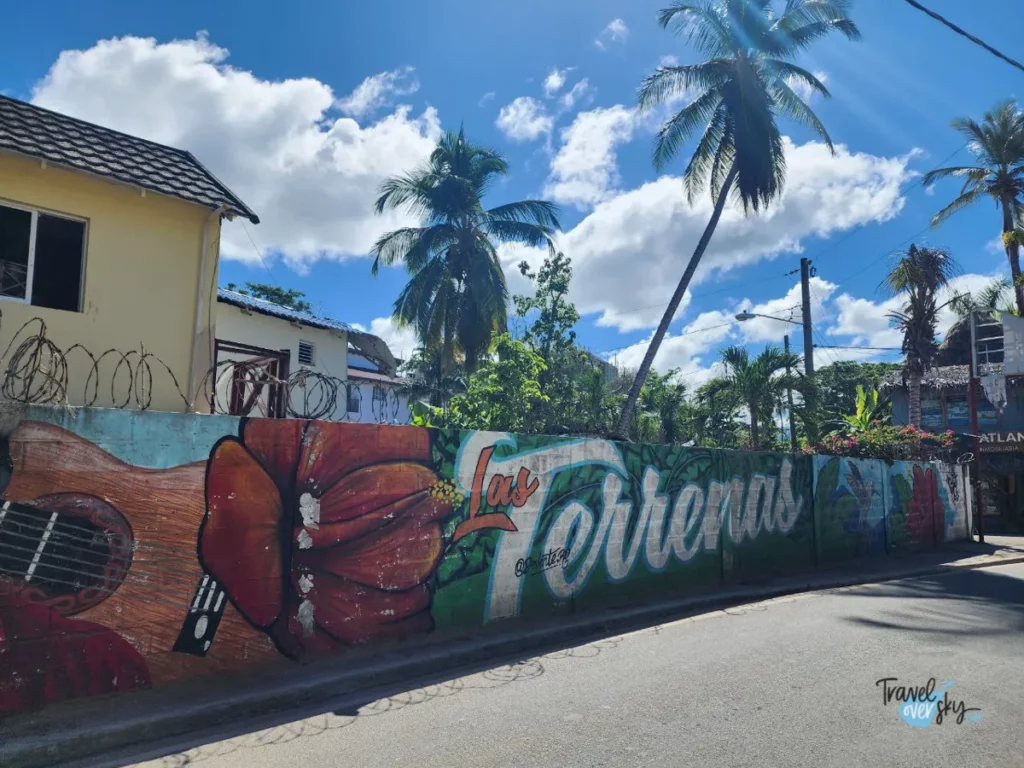 Stores, shopping, services
When it comes to grocery shopping you will find a few bigger markets and lots of smaller and larger colmados. I personally did my shopping at Super Pola. Unfortunately, the range of products differs in a significant way from what you can find in Bávaro. I needed to visit a few stores to buy chicken breast. It was not a one time thing, but you can get used to it.
Traveloversky advises:

Always check the expiration date before buying products! I often saw products on the shelves that should not be sold anymore.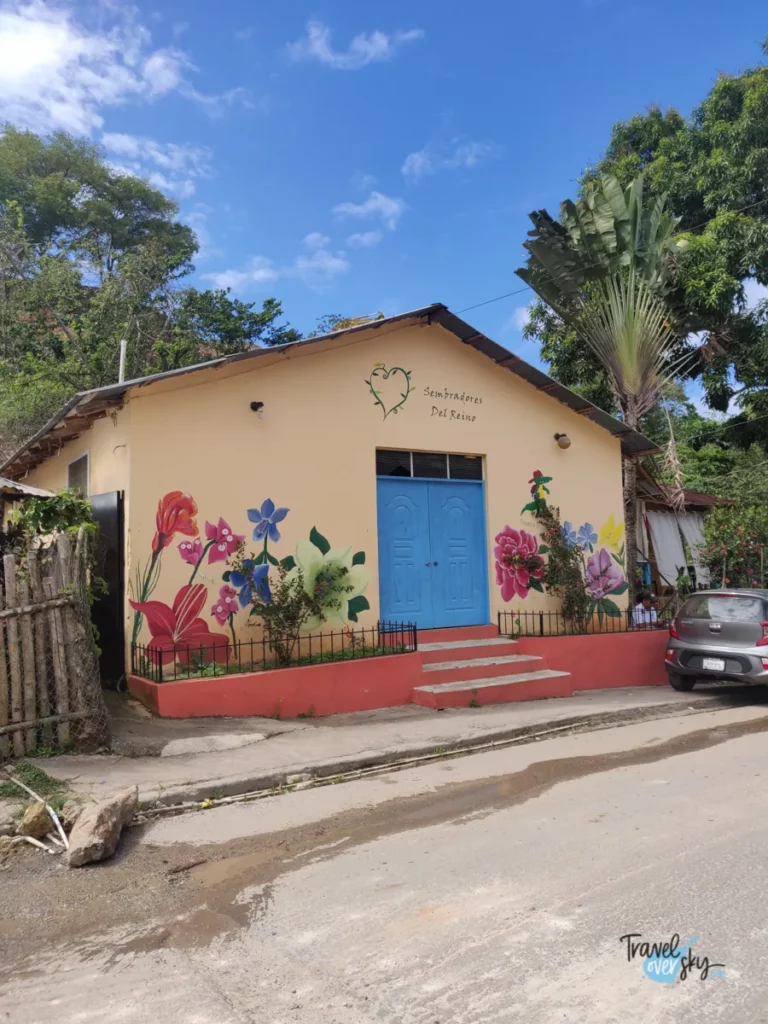 The beaches
The beaches that you can visit on a walking distance strolling along the shore are certainly Playa las Ballenas, Playa Las Terrenas, Playa Punta Popy and Playa el Portillo. If you want to go a little further, there are Punta Bonita, Playa Cosón and Playa Morón beaches.
The beaches in this region are characterized by yellow sand. The shore is diversified with the rocks, and a fairly strong wind works in favor of kite surfing.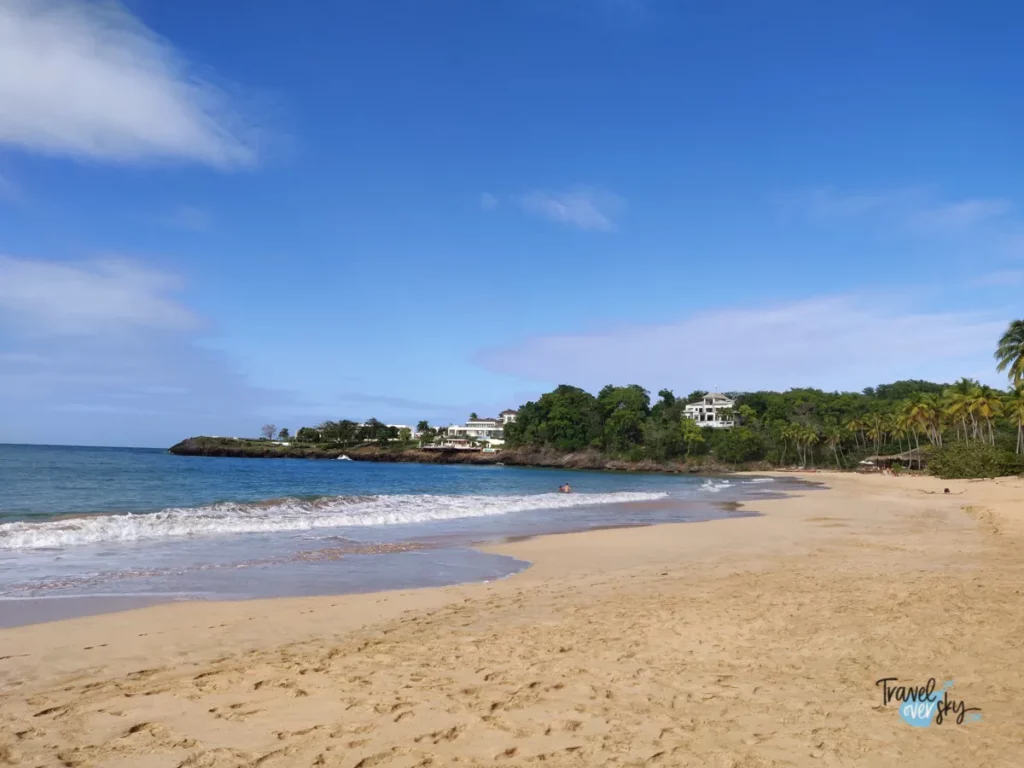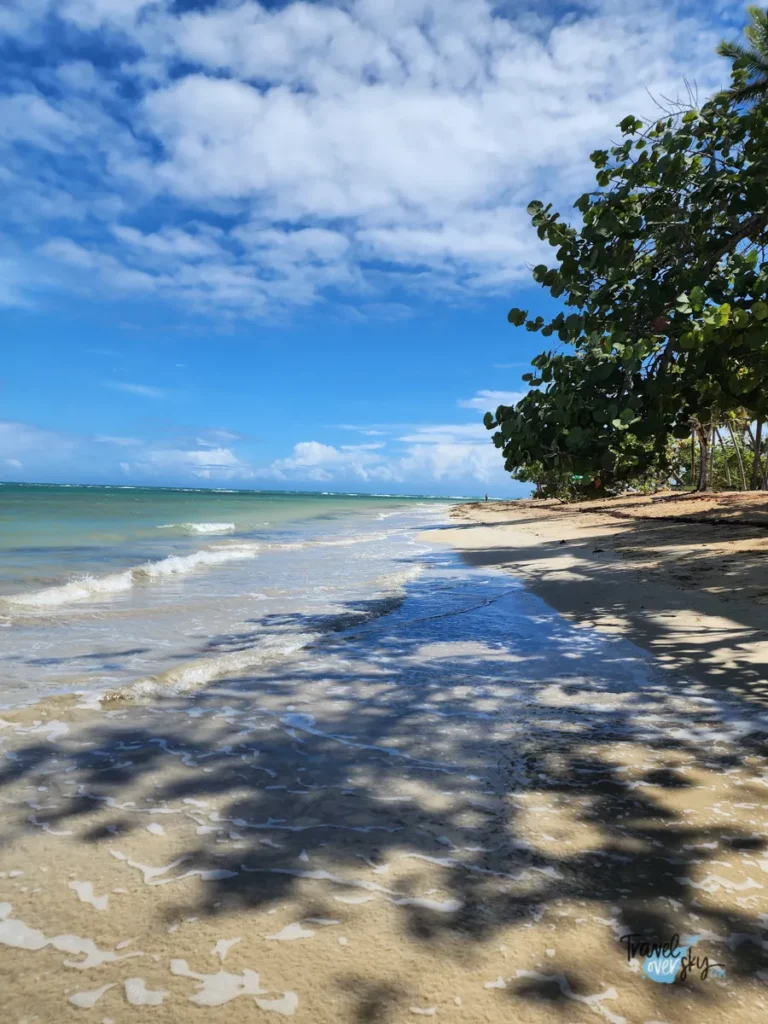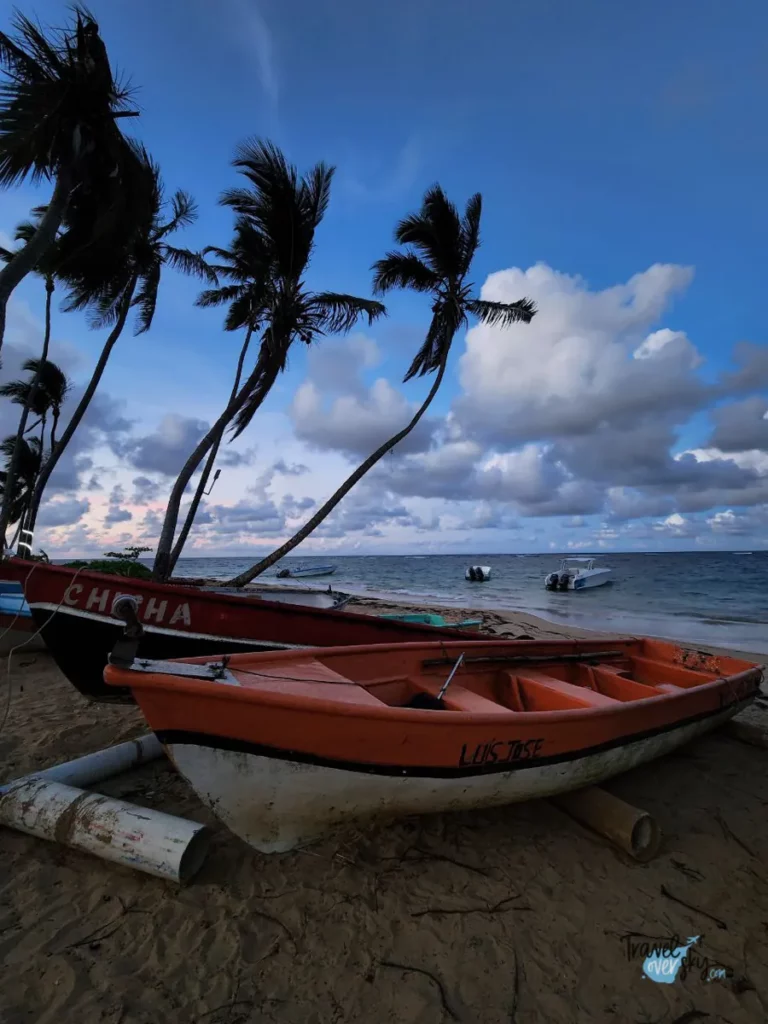 The attractions
Apart from the aforementioned beaches, it is also worth taking a walk on the city center streets, where you can encounter many colorful murals. You can also find popular writings with the name of the city on them – you can collect many of them while traveling the country.
For the anglers and fishing fans there are also trips being organized from the city beaches.
During January – March you can also visit Samaná Bay from here, where you can see some humpback whales.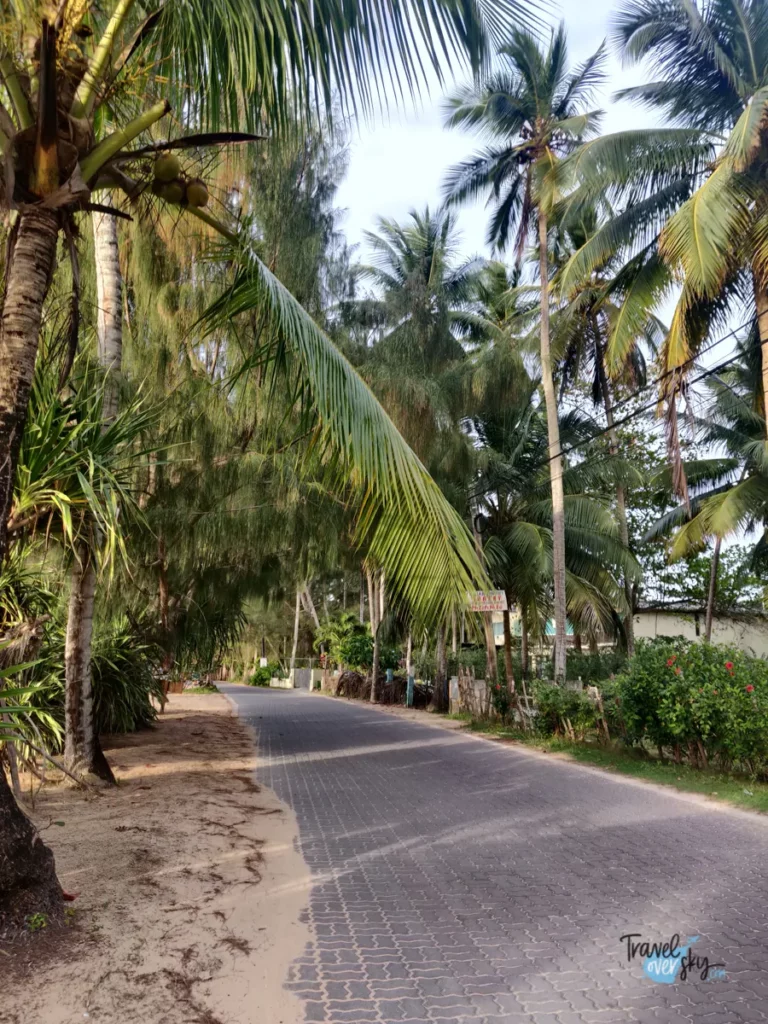 The safety level and what to be careful about
Las Terrenas is a safe city, I did not encounter any unpleasant situations there. What is worth noticing is a big amount of dogs – they are usually accustomed to people, but there are some individuals that are overly interested and sometimes dangerous.
Obviously, if you are walking somewhere after dark make sure to have some reflectors on you!
You must be extra careful when driving after dark. It is not unusual to meet animals running on the road out of nowhere (horses and cows for example), no lighted motorcycles (no reflectors either!), people going on a red light or vehicles parked in the middle of the road with no lights on, which is nihil novi for the dominican conditions ;P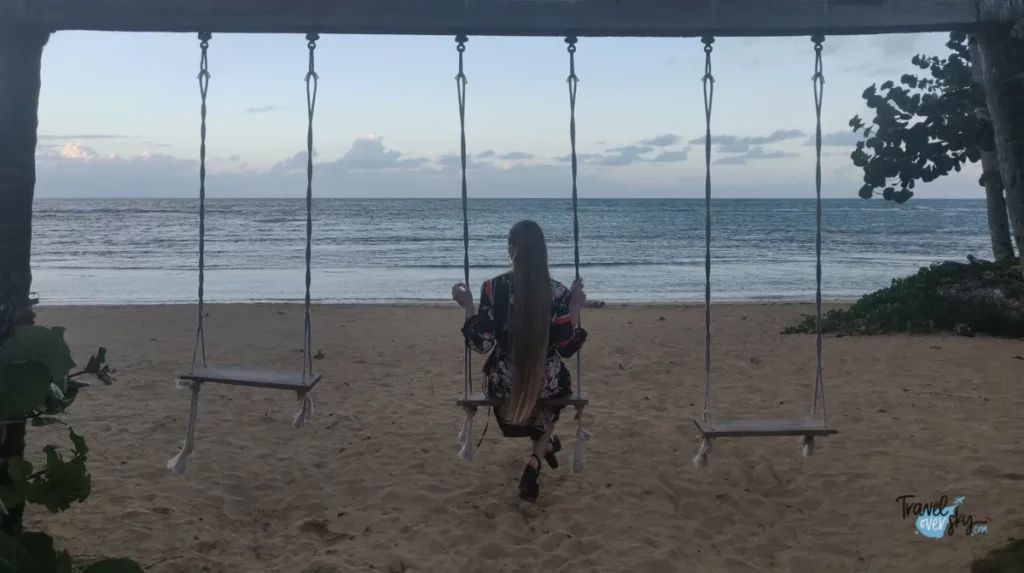 Where to park for free in Las Terrenas
As already mentioned, there are very few parking places in this city. People are leaving their vehicles on the road, blocking a great part of it. There are parkings in front of bigger markets, but the issue appears nearby some smaller stores, restaurants and bars.
Personally I can recommend some places where you can leave your car for free.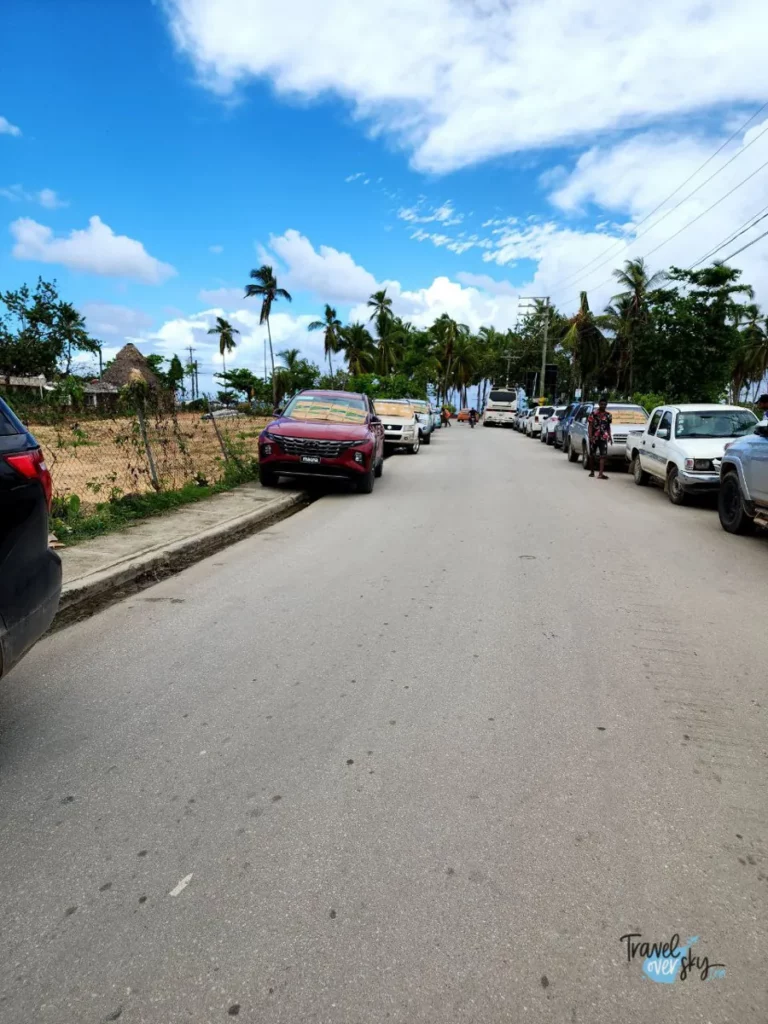 The first part of Calle el Carmen
From here it is close to many restaurants and bars on the 27 de Febrero street, and also to the beach. I noticed that many people park along the street, but when needed I always found a spot for my car.
The Las Terrenas parking
When parking the car, I felt the safest here. You are not leaving it on the road and the place is not secluded. The only thing here is that you must drive slowly, as there are many holes present. The other advantage of this place is the fact that practically everything is a walking distance away.
Nearby the beach, Caamaño Deño Francisco Street
I also happened to leave the car in the widest part of Caamaño Deño Francisco Street. It was close to some restaurants and to the beach. You need to be careful not to leave your car under the coconut palm tree, which can end up badly for your vehicle.
The Sirena Market parking
If you are planning to go shopping in Calle Duarte the Sirena market has a huge parking place, where you can leave your car with no issues. Nobody checks the in and out time of driving there.
The issue with the reception in Las Terrenas
I had quite an issue with no phone reception. The flat I rented was surrounded with many trees and hills, which unfortunately made it difficult to connect with the phone masts.
Both mobile networks I am a part of, which are Claro and Altice, unfortunately did not connect to the relays. The reception appeared only when I got away from the flat in the beach city center direction.
Traveloversky advises:

If you care about the internet connection, always check if there is good WiFi in the flat you want to rent. It will save you a lot of nerves during the stay.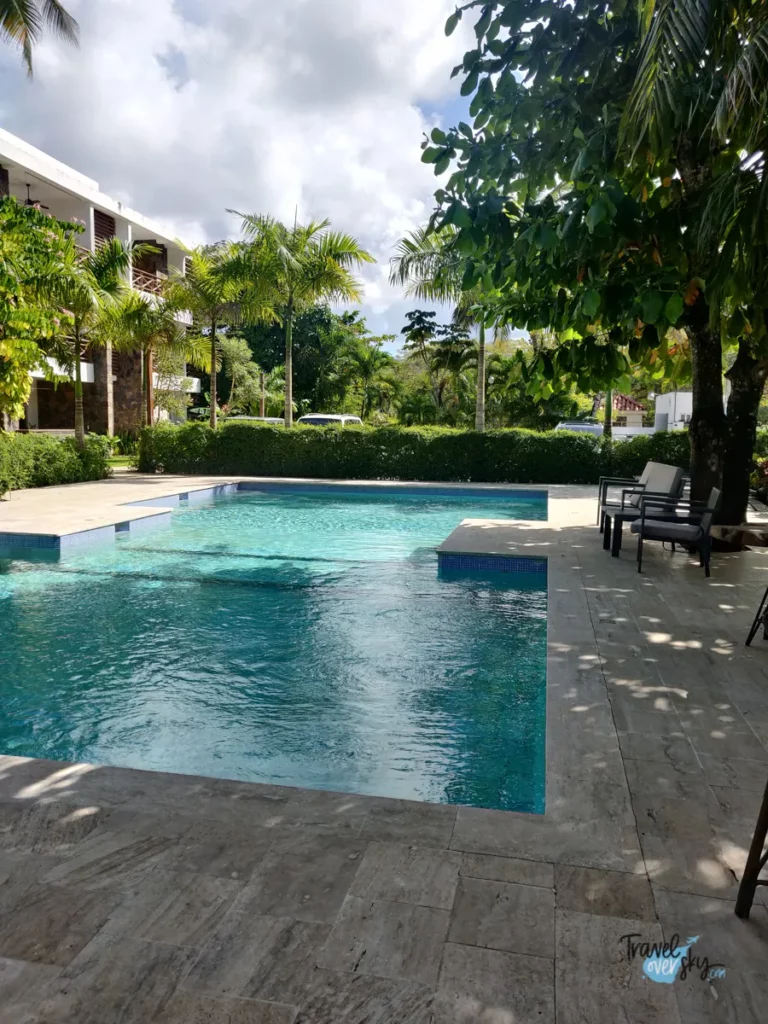 ***
I hope you liked the post. Feel free to follow TravelOverSky on social media: Instagram, Facebook and YouTube!
---
I love sharing my travels, experiences, thoughts and self-tested advices. A travel blog is also a bit of work that I do drinking coffee.
If you want to buy me a coffee, I'd be very pleased!
Virgin Catalina Island. Do you want to know how to get to Catalina Island? What can you do on Catalina...
Read More