Las Terrenas: where to eat? The best restaurants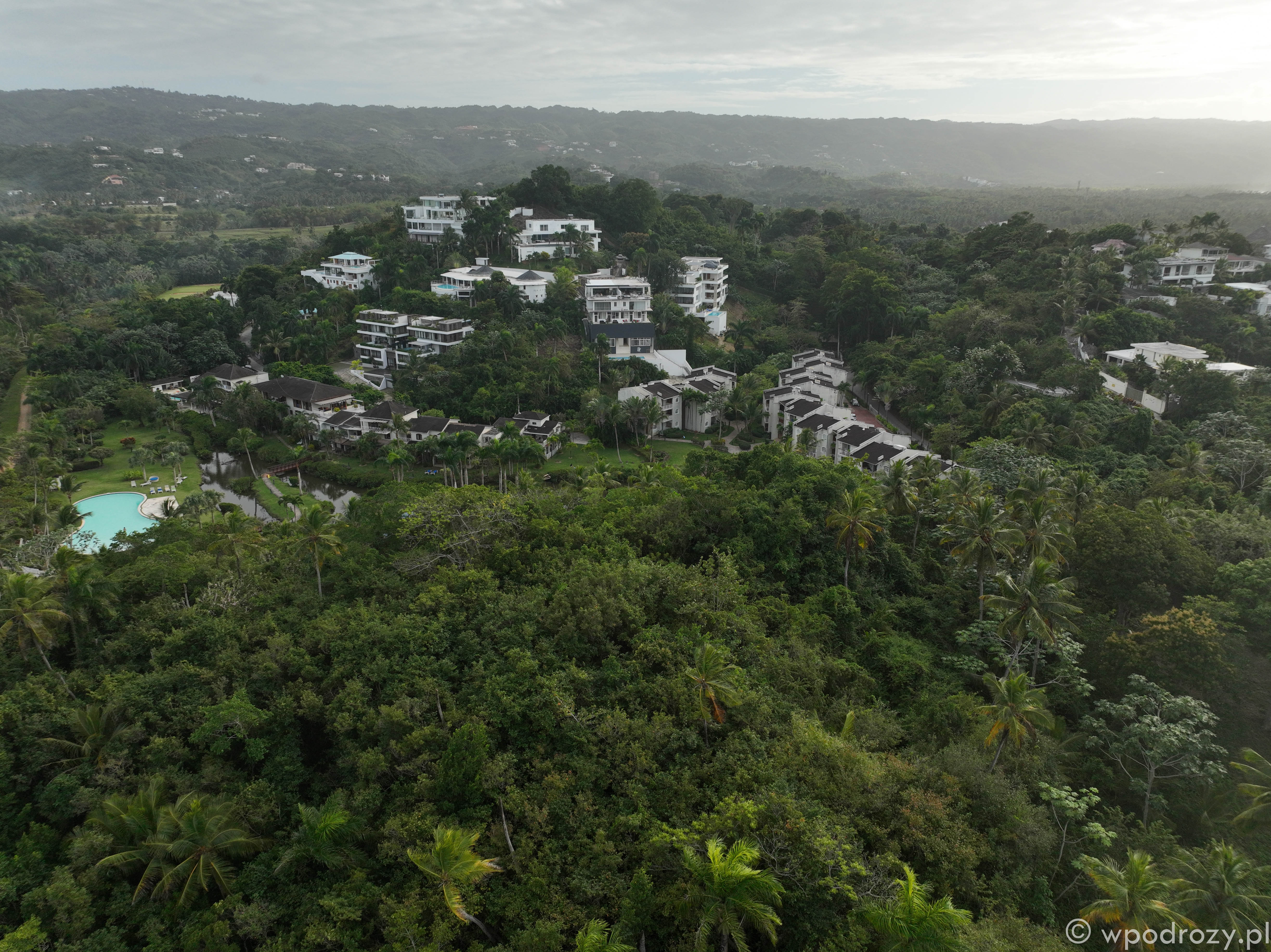 Traveling and visiting subsequent places is a perfect occasion for discovering new restaurants and flavors. This post will take you for a culinary trip to Las Terrenas. Which Las Terrenas restaurants are worth visiting? Let's check the best restaurants in Las Terrenas!
The Las Terrenas Restaurants – what to expect?
Las Terrenas is a place of many restaurants, pubs and food and beverage stalls. Literary every corner will greet you with a place where you can have something to eat. Small stands with barbecue will welcome you with baked pork (often the entire one!), poultry and fish. So let's check what Las Terrenas restaurants you can find.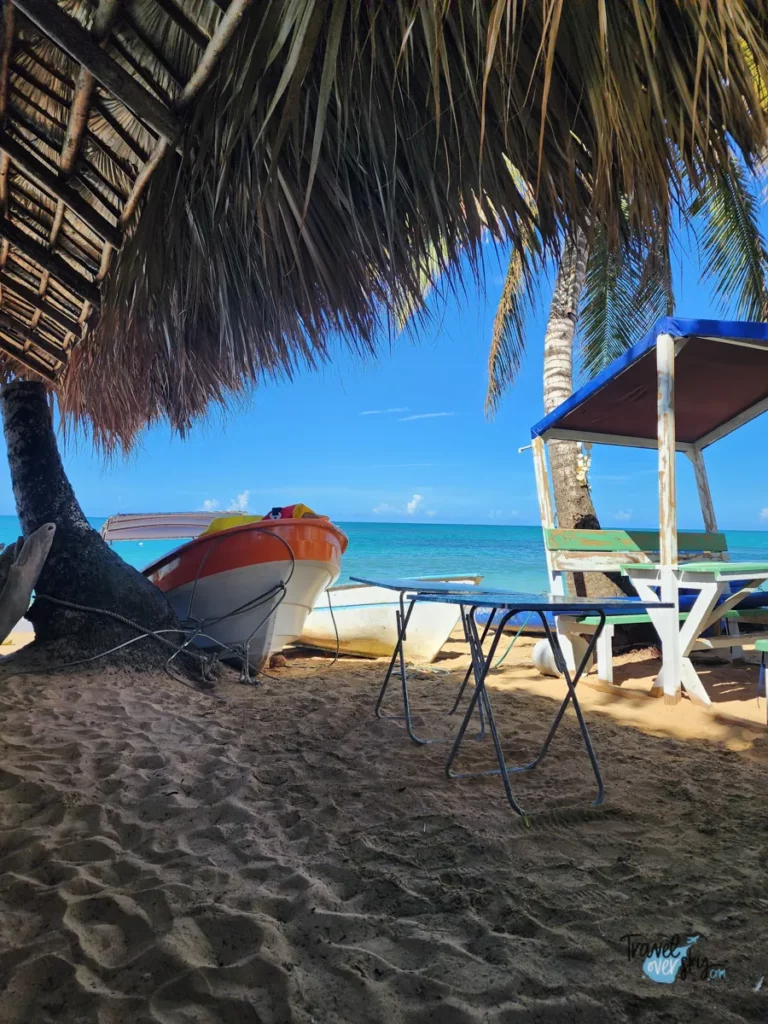 The Italian restaurants are especially worth special attention. There are many of those and mostly are of a high quality. It is due to the fact that we can meet many tourists and country residents there.
Traveloversky advises:

When choosing a restaurant make sure that you check if the tax and waiter service is included in the meal price. A detailed studying of the menu information is recommended. It is often displayed on the outside of the restaurant or you can scan a QR code from the table and learn about the prices. Many restaurants located near the shore add a 18% tax (ITBIS) and 10% for the service. Only one restaurant gave me an actual receipt (then ITBIS adding up makes sense), the rest of them only offered a piece of paper with your order and the price.
Le Tre Caravelle
Shortly after the arrival to Las Terrenas I went out for a little exploration. My place and the popular 27 de Febrero Street were apart for around 15 minutes of a stroll. Besides the beach you can also find many pubs, restaurants and hotels there.
On the first day I was not really interested in a place for dinner/supper. I especially liked a table at the beach that had a view of the sunset.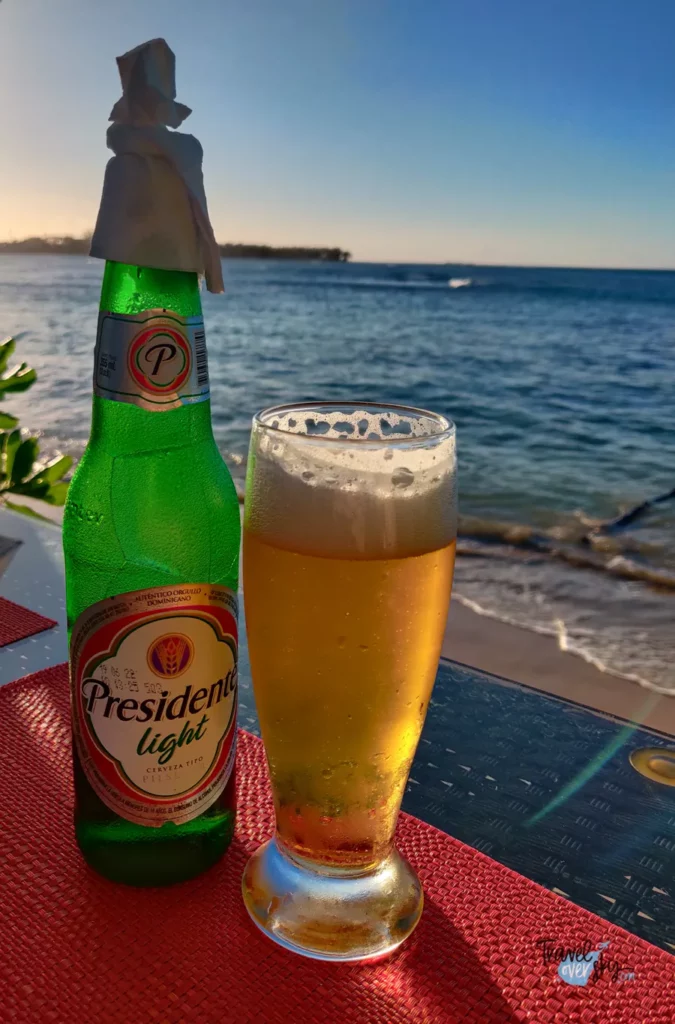 Le Tre Caravelle offers mainly Italian menu.
The restaurant shared its menu with the clients in QR code form that can be read directly from the table.
My choice went to penne with tomato sauce and minced meat, as well as to a grilled dorada with fries. The order included an additional fresh bread. The food was quite tasty and neatly presented on the plate.
At first, the prices did not seem high, as the pasta was for about 400RD$ (7 USD). The final price included an additional 28%, which unfortunately made it relatively high.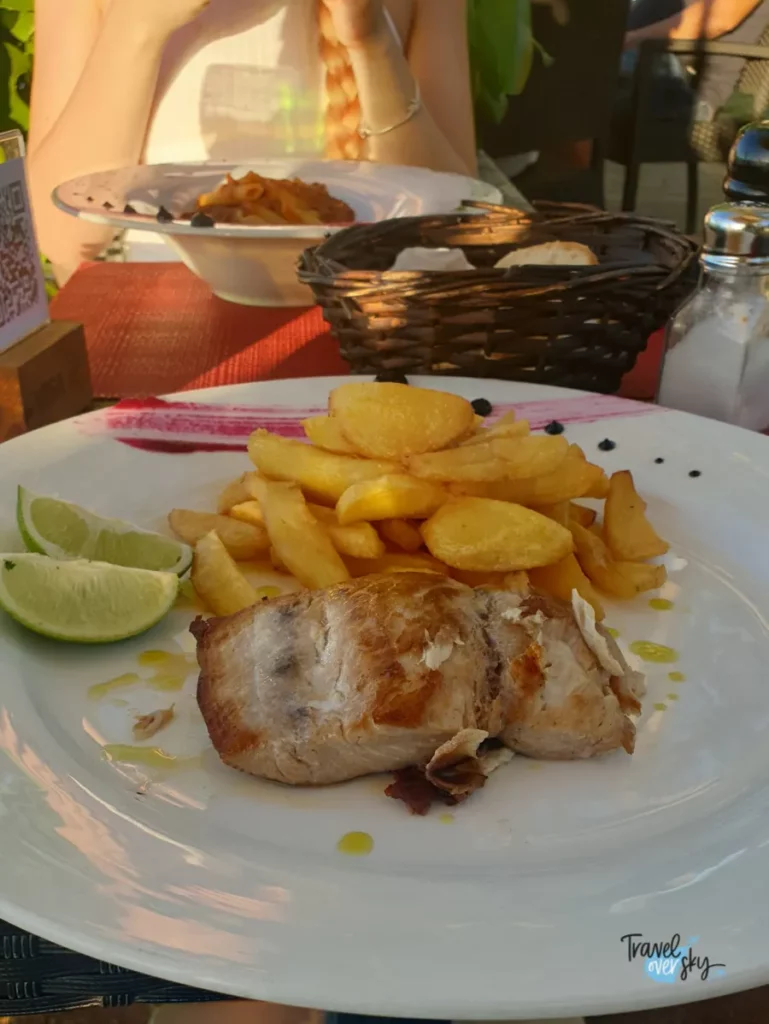 Grill Chez Sandro
Next time I visited Grill Chez Sandro, which is also located at 27 de Febrero Street, a little bit further from Le Tre Caravelle. Here you will also find mostly Italian cuisine, as well as fish and seafood. The prices for a single dish start from around 500RD$, which is 9 USD.
This restaurant tempted me with a chicken filet in a curry and grilled vegetables sauce, and penne with chicken breast. Both tasted properly, but…
Unfortunately, there were swarms of flies here, you had to guard your food and it was not very pleasant.
On the plus side there was a TV in this locale, so during soccer matches days you could eat, drink and watch it.
The final price in Grill Chez Sandro was also enlarged by 18% and 10% total.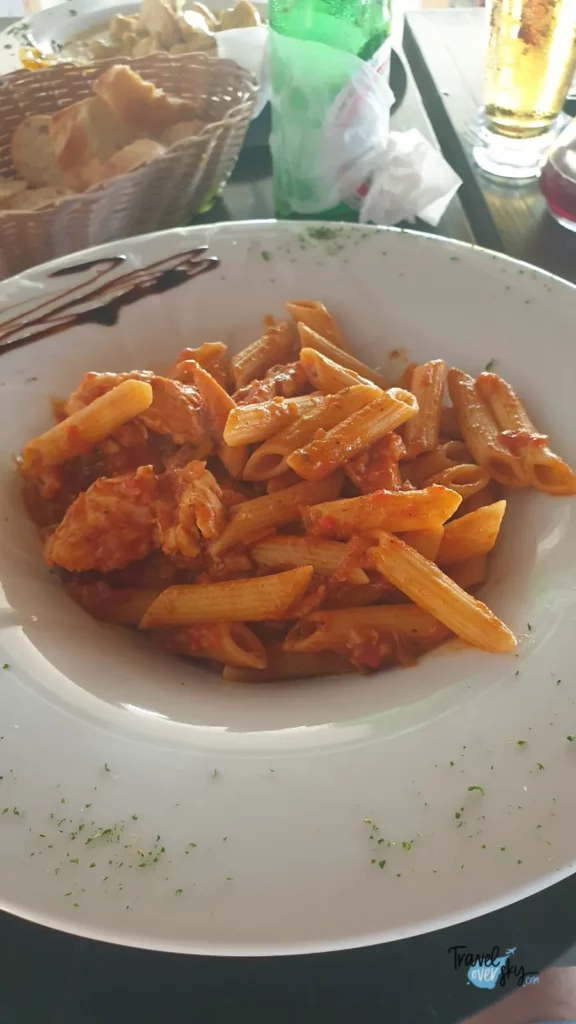 El Dieciocho
El Dieciocho is an exclusive Italian restaurant. The prices are not low, but the elegant decoration and waiter service are on a high level. I went there twice and each time I tried a different dish.
Menu is in a QR code form and the wine list is presented on a tablet.
During my first visit I picked spaghetti with baked paprika and lamb with herbs. Spaghetti was delicious, the baked paprika matched the macaroni perfectly. The lamb was prepared pretty well. After the dinner I also was tempted by a dessert, because I liked a few items from the dessert list.
I picked millefoglie with strawberries and caramelized banana brownie. The dessert came after a few moments of waiting. Both turned out to be tiny.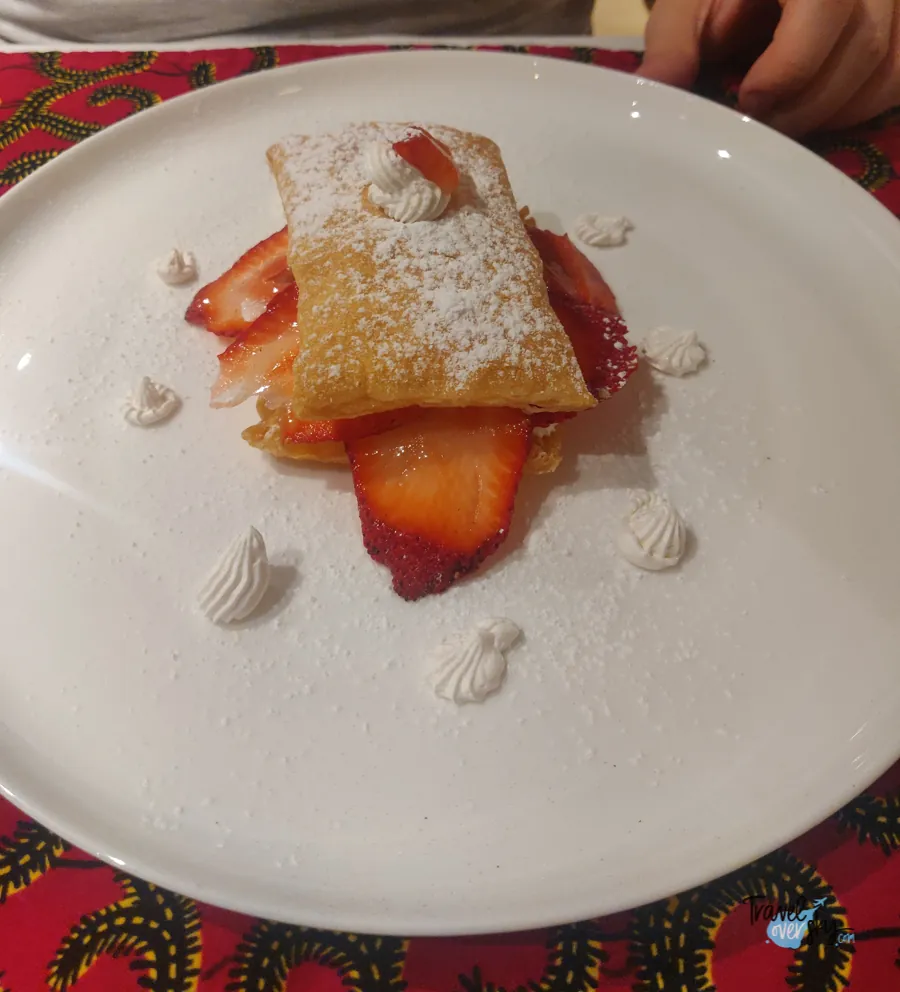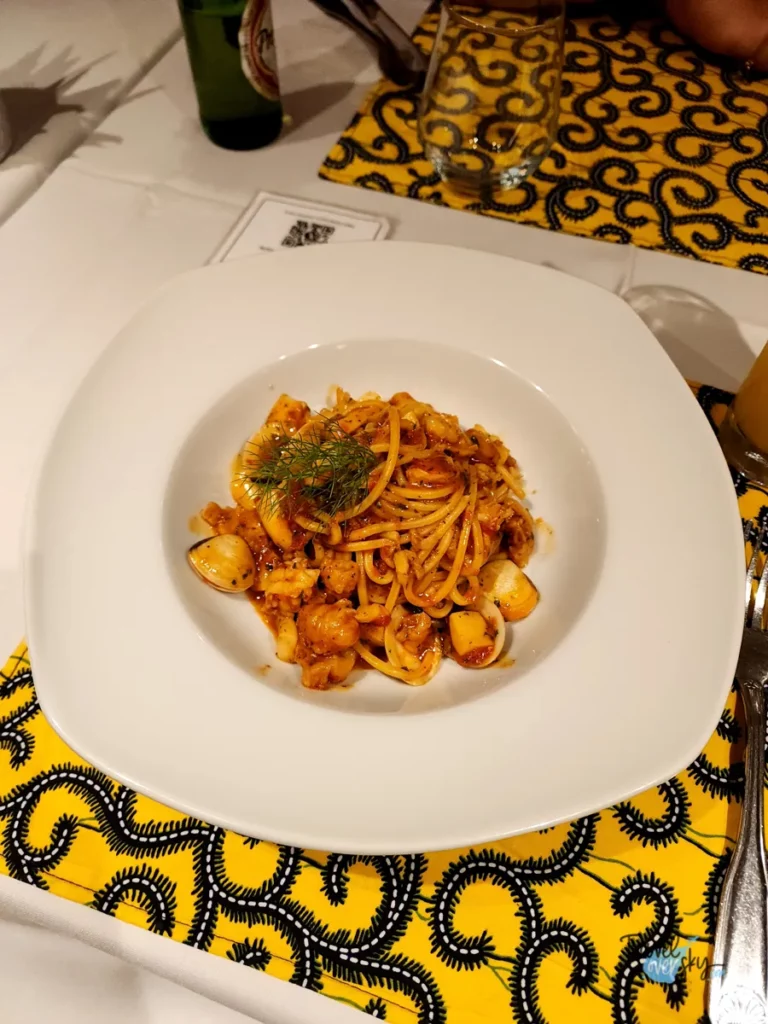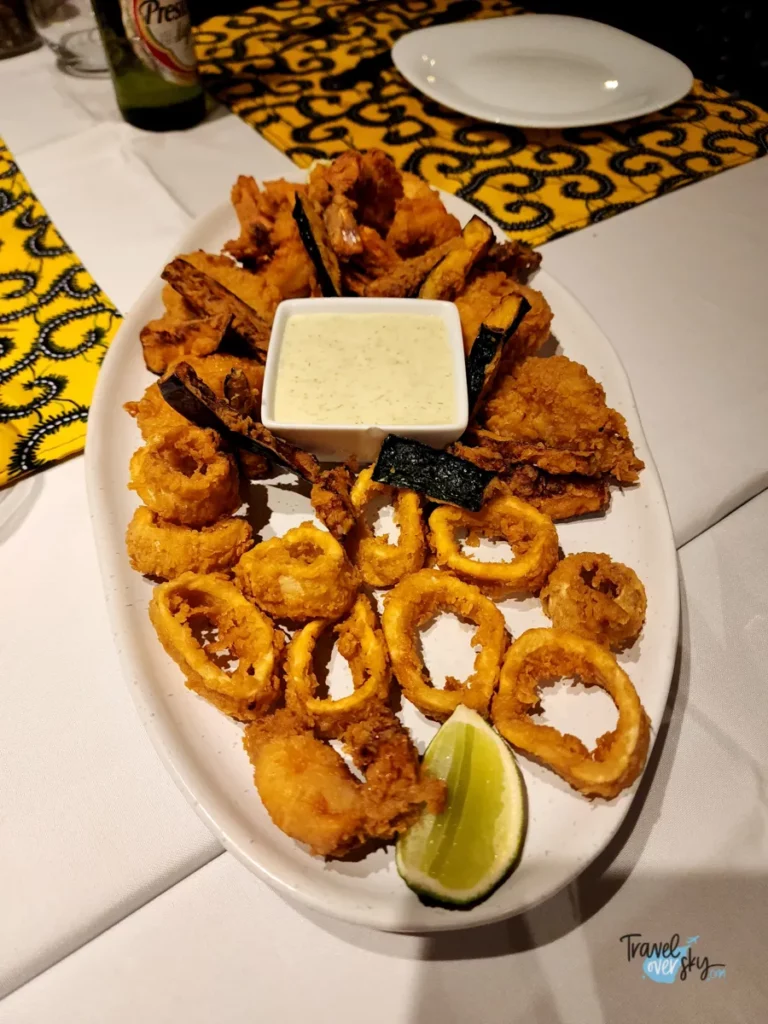 The pineapple juice definitely came as an advantage, as it was freshly squeezed just before serving. It tastes natural and is not over-sweetened (it happens in Dominicana quite often).
After the second visit in El Dieciocho it turned out that each woman received a rose on an International Women's Day occasion – which came out as a big surprise, as Dominicana is not known for caring about a customer.
My choice was pappardelle with Parma ham and cheese, and a fried fish with vegetables on the side. Both dishes were delicious. It was hard to say anything wrong about them, the fish was aromatic and cheese was slowly melting in my mouth.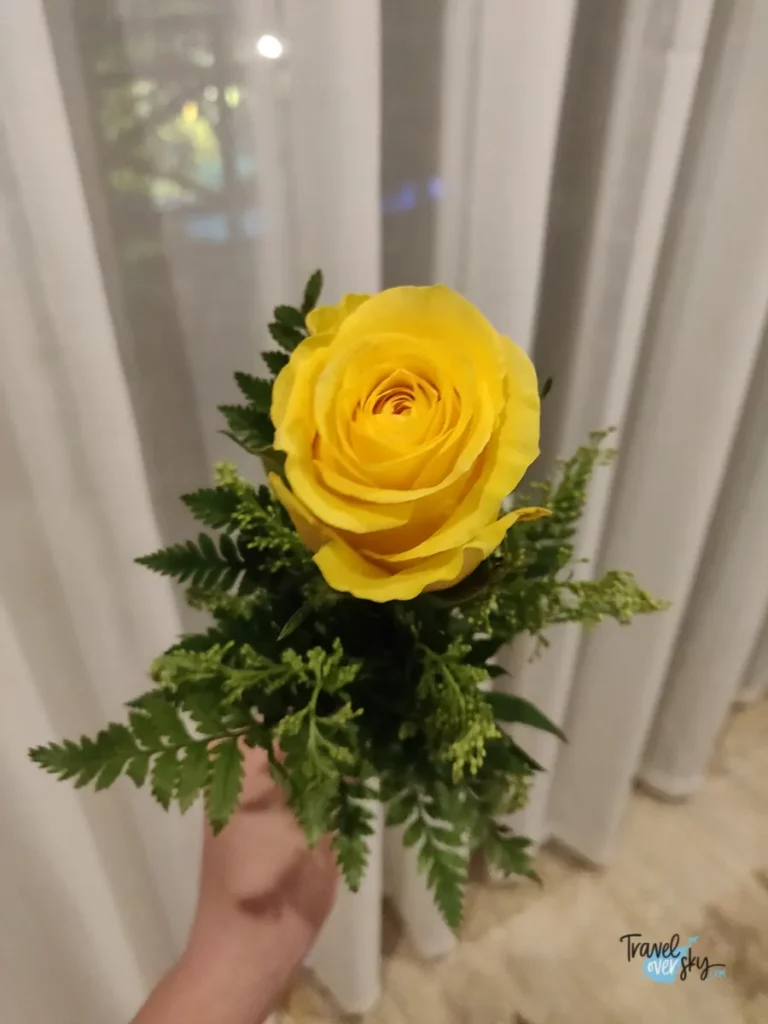 The Las Terrenas restaurants – amuse-bouche
It is worth mentioning that each time I received amuse-bouche, meaning small snacks. During the first time it was a classic pico de gallo in a plane-tree 'bowl', and during the second one it was the same bowl filled with seafood.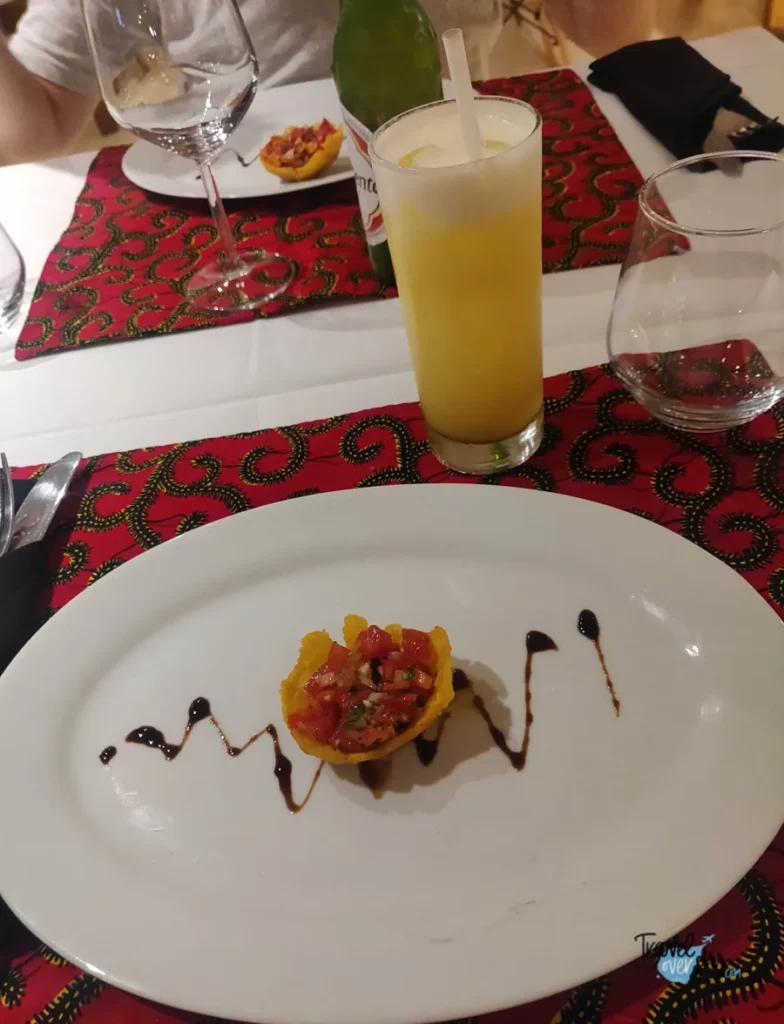 It is also worth adding that even if receiving such snacks in better restaurants in Europe is a standard procedure, it is not always so in Dominicana.
This restaurant is certainly worth visiting; the standard is high, which is why you need to be prepared for high prices. Additionally, the prices in the menu do not contain the 18% tax and 10% service, which makes the final price 28% higher. The receipts for a few thousand pesos for two are nothing extraordinary there… But if you will be visiting the Las Terrenas restaurants you certainly need to visit it, as it is one of the better Italian restaurants I have been to in Dominicana!
October 2022 update:
I visited this restaurant again with friends in October. We decided on a white wine from the list (you need to know that there is a wide range of wine in Dieciocho to choose from – red, pink and white). Unfortunately, during my visit it turned out that most of the wines are unavailable, the waitress proposed two out of around eight listed in the menu. The food quality did not change – they were delicious.
La Ola
It was kind of an accident that I found La Ola restaurant. I wanted to visit Empanadas y más, but it turned out that you needed a reservation. La Ola is located near the tourist street called Caamaño Deño and there are many other bars and pubs there.
This restaurant's menu is not very broad, but still, you can find some interesting options. I picked a burger with goat cheese and beet, and also a chicken in curry sauce with black rice. Both dishes were pretty good, I was also amazed by a combination of creamy goat cheese with meat in the burger. I tried passion fruit juice as well, which was nice to quench the thirst and was very tasty. I paid 770RD$ (around 14 USD) for a burger and 700RD$ (13 USD) for chicken.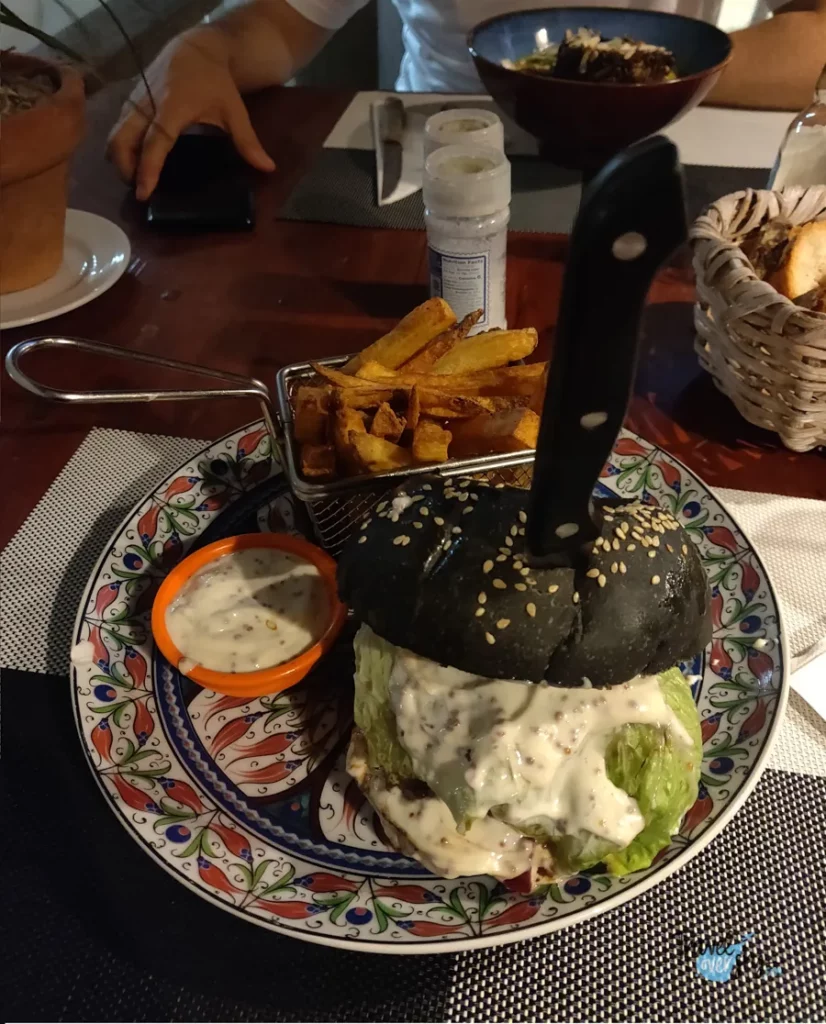 Empanadas y más
Now for something absolutely superior, meaning a must have place to check in Las Terrenas. And be sure to make reservation before you go there!
It is a tiny restaurant with a family atmosphere, owned by a Chilean couple.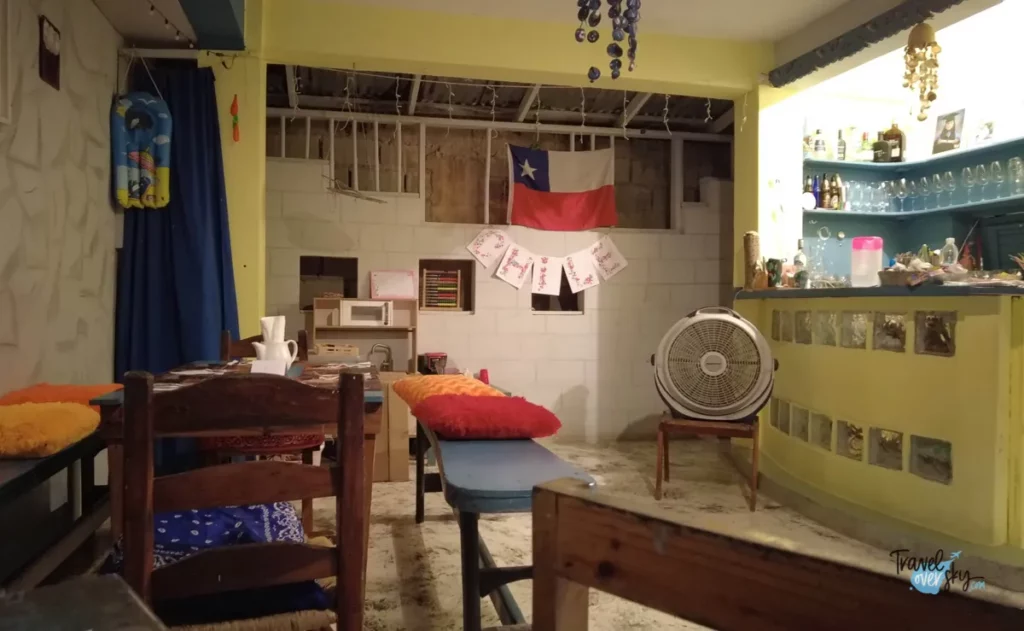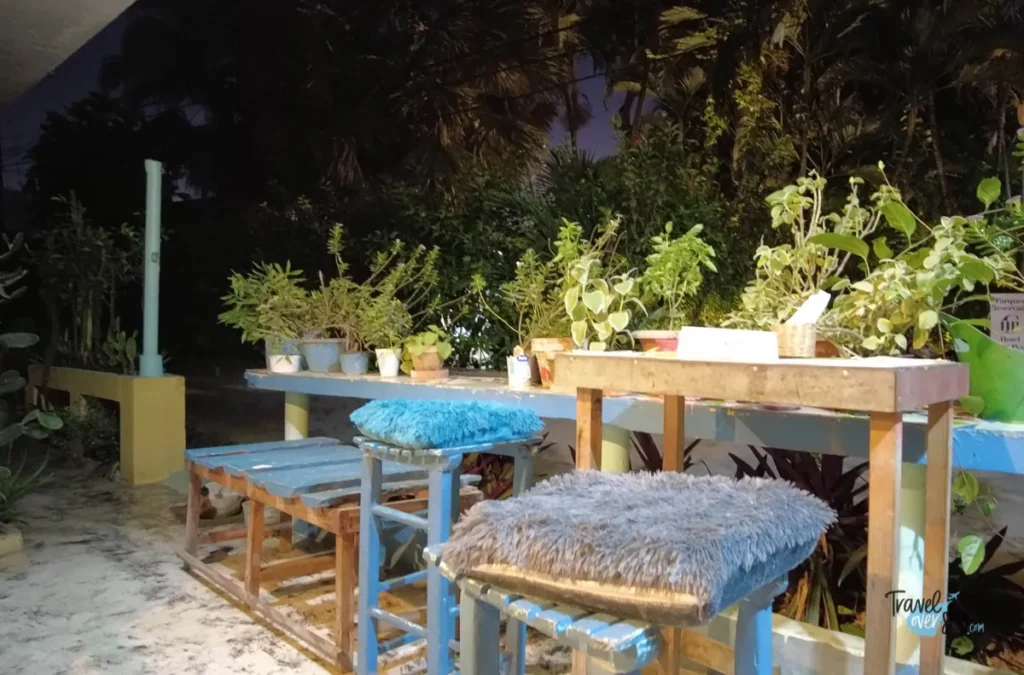 I got a feeling that the owners know each and every person who visits the place. You will find delicious empanadas there, prepared just before serving, and fish and seafood courses. The food is simply splendid!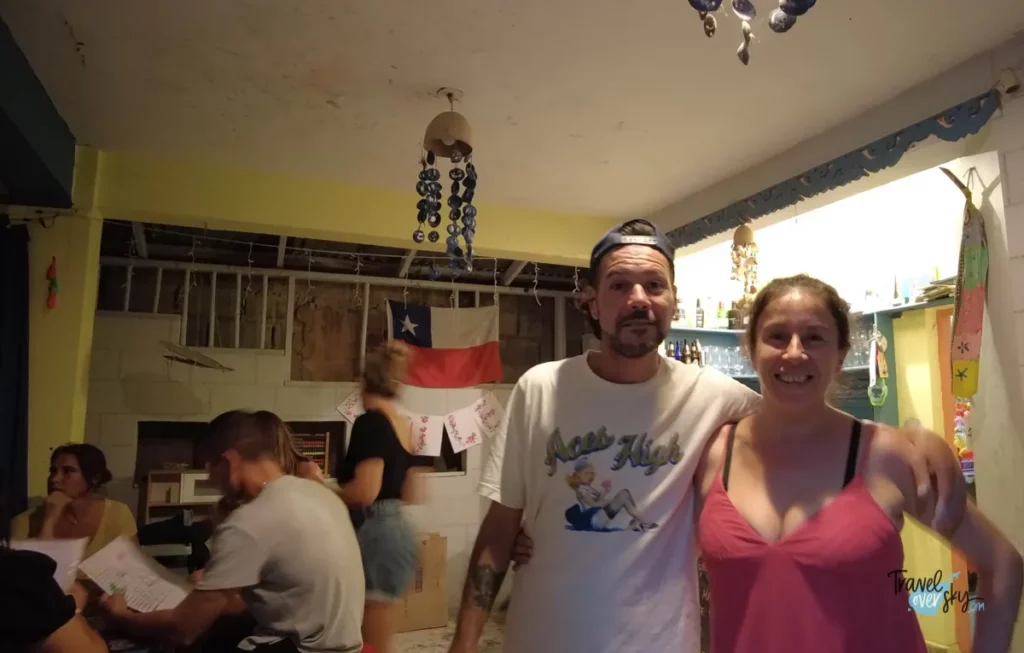 Traveloversky advises:

If you want to eat lunch or supper there, you will need to book a table on WhatsApp in the first place.
If you visit Empanadas y más, make sure to try an empanada with beef, cheese and pesto – yummy! When I ordered a fresh fish dish, the owner came to show me how the fish looked before serving. The portions are quite big, and empanadas are filled with stuffing which is mouth watering.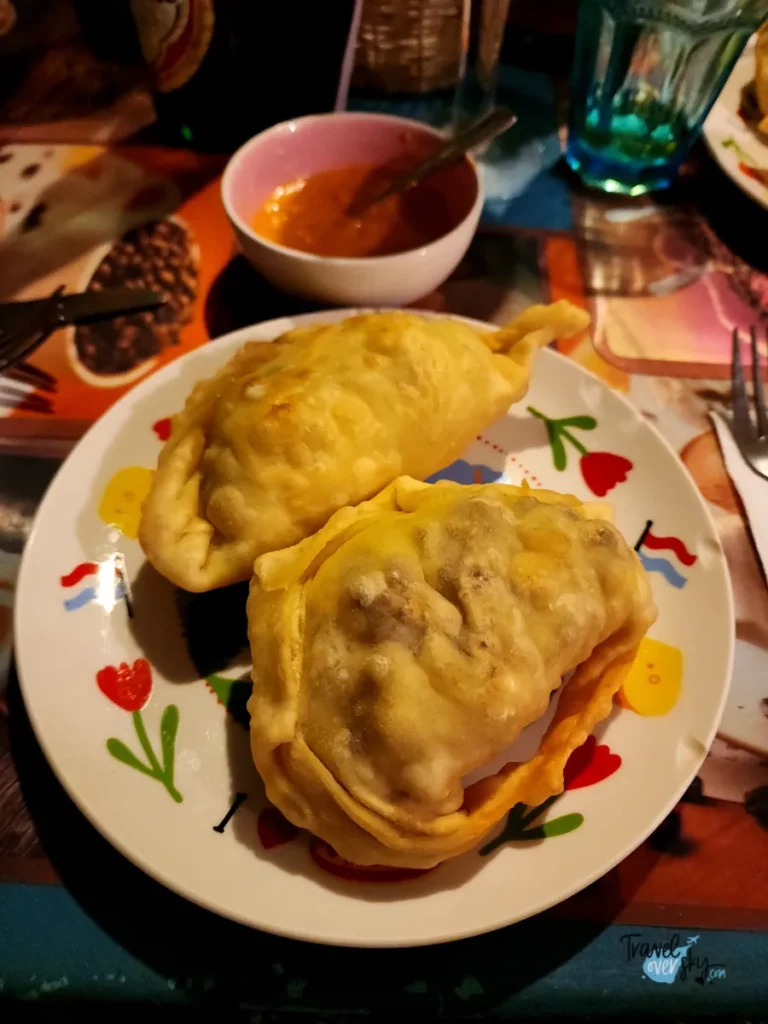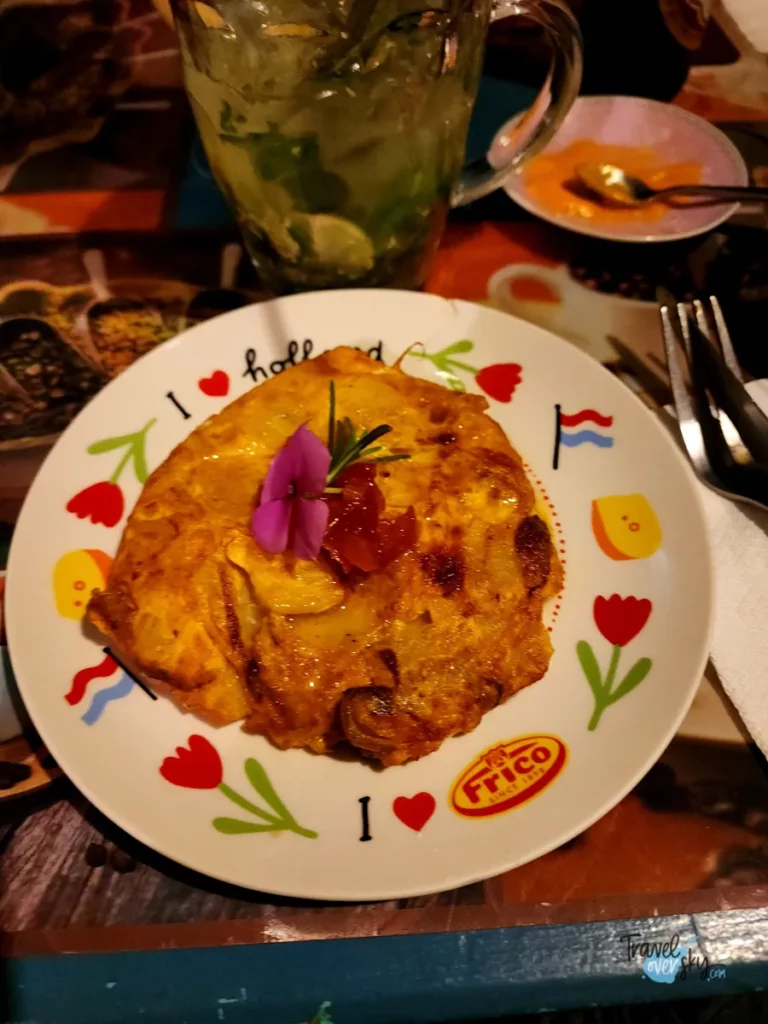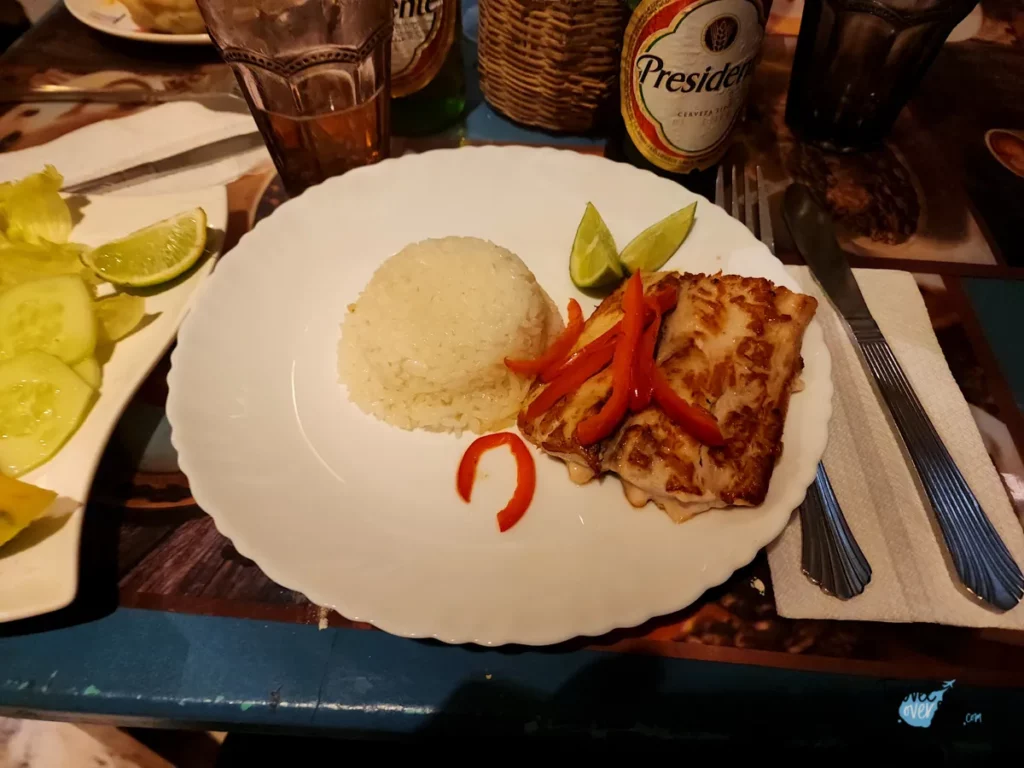 You can also try natural juices, drinks and Dominicana beer there.
Recently Empanadas y más shared information on their Facebook page that you can find them on Komida! app.
The prices in the restaurant are not high, the basic empanada is 70RD$ (1,9 USD), and fresh fish courses are starting from 400RD$ (7,3 USD). The prices in relate to the quality of food are really awesome, so if you are ever in Las Terrenas make sure to book a table in Empanadas y más 😀 In there I had a pleasure to taste an empanada with cheese and a classic chorizo with cheese and chicken, four cheeses (which melted in my mouth) and my favorite, which is minced beef, cheese and pesto. In addition to the empanadas I also received a salsa prepared by the chef.
To be honest, all of my friends confirmed my words that Empanadas y más is one of the best restaurants Las Terrenas.
The fish that you can see in the picture below is macarela salmón.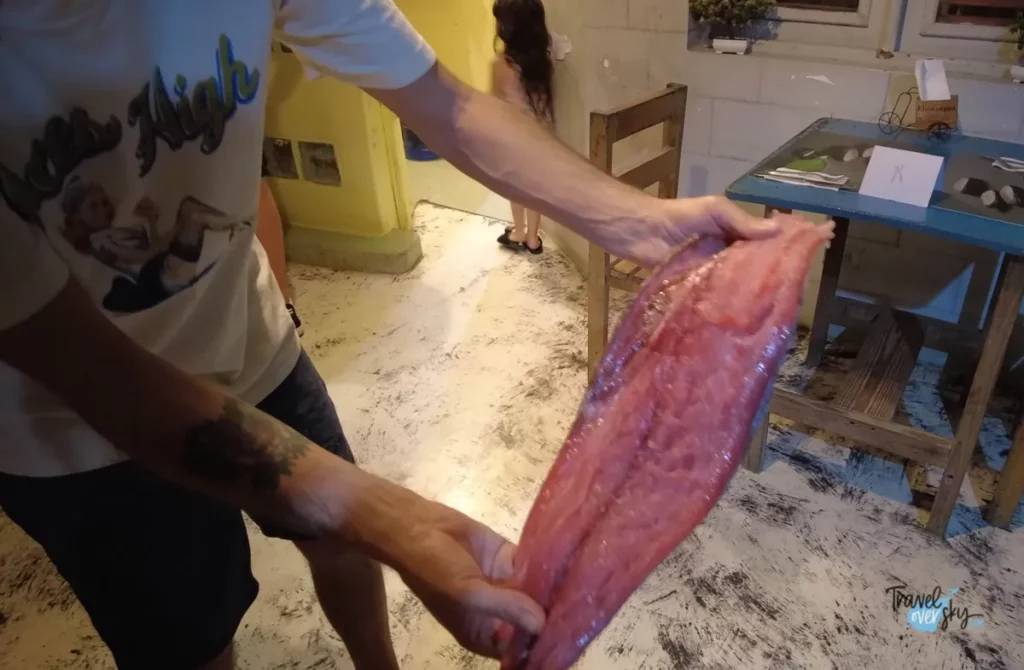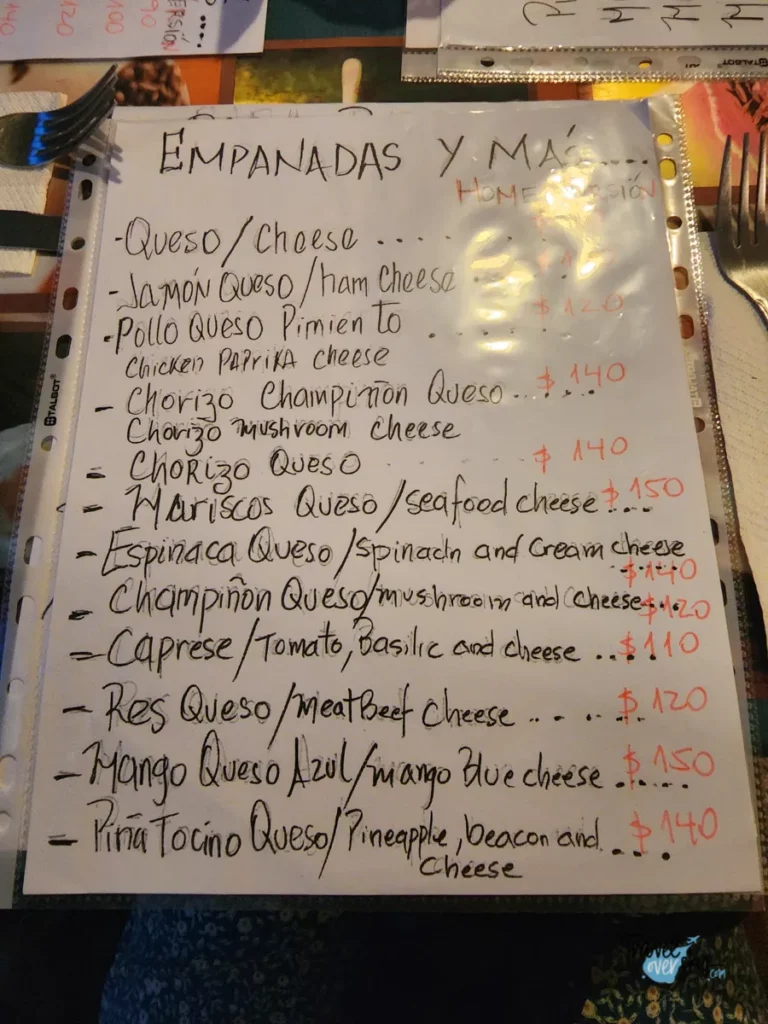 October 2022 update:
A trip to Las Terrenas without visiting Empanadas y mas would be incomplete! The restaurant was closed for a week after the Fiona Hurricane (the place lost access to water and electricity), but fortunately, after this time everything went back to normal and you could have visited it. Once again, the food amazed me (and my guests!). The menu of the day deserves special attention, as it is different every day – the owner changes it and adjusts it to the stock he currently has, because everything is fresh.
Even though the menu of that day had seafood and fish in the set, the owner suggested a few changes to me, which allowed him to prepare a dish without food that I do not eat. I am still holding on to my opinion that this is one of the best food places in Dominicana!
The Las Terrenas restaurants – delivery
People who do not wish to cook during their stay in Las Terrenas have nothing to worry about. The apps such as Komida! and PedidosYa are functioning pretty efficiently there. Of course many places offer their own delivery via WhatsApp as well.
L'industrie Pizzeria
During the visit in Las Terrenas I also had a chance to try the delivery food from Komida! app. I picked two pizzas from L'industrie – pepperoni and margherita, 35.5 cm each. The food came fairly quick, which kept the pizzas still warm. The dough was not very thick and the toppings were quite good.
The price was 700RD$ for margherita and 770RD$ for pepperoni. The delivery cost was 100RD$. The whole thing was around 30 USD.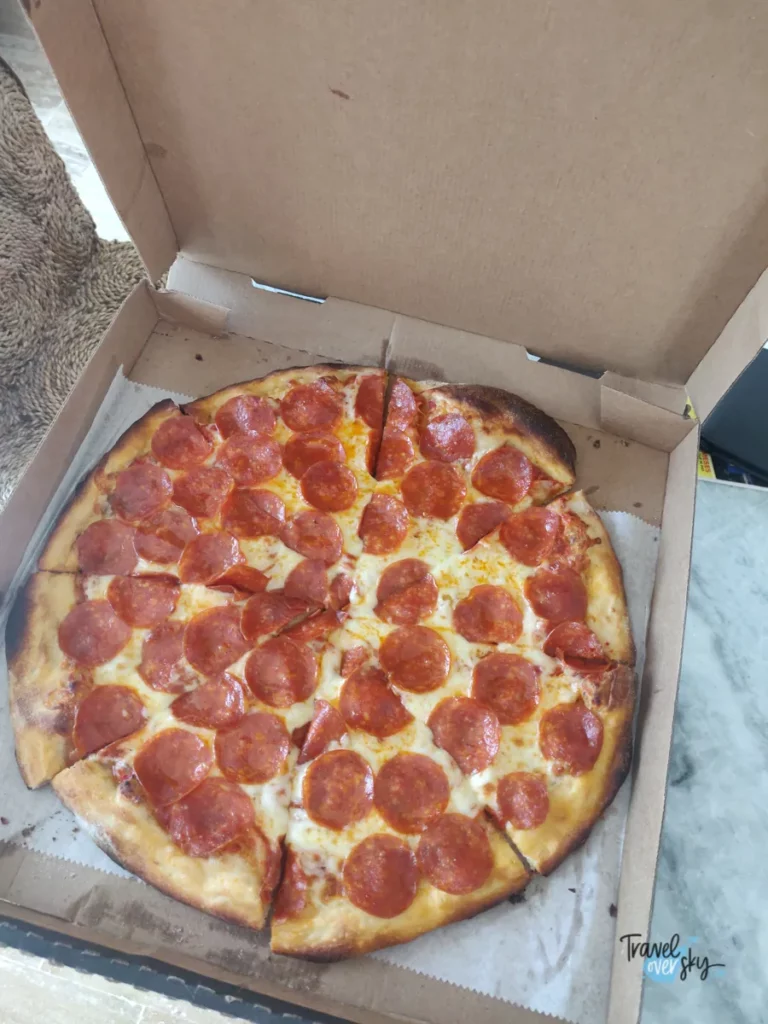 La Catrina
La Catrina is a restaurant that offers Mexican cuisine. You can order food with delivery to where you are or eat inside. I ordered the La Catrina meals twice during my stay in the city.
First time I ordered the food was delivered cold, but it was the fault of rain catching on the delivery guy, and he did not want to cycle when it was pouring. As a consequence the order came almost an hour late and was already cold. Second time it was delivered warm.
I had the pleasure of trying chicken fajitas, chicken burrito and enchilada. The food was ok, though the second time fajitas were oversalted and guacamole was not really spiced well. The chicken burrito did not really differ from the one you can prepare at home yourself.
The prices in the restaurant are not low, the cheapest main course starts from 400RD$ (7 USD), and you need to pay over 800RD$ (14 USD) for a fajita.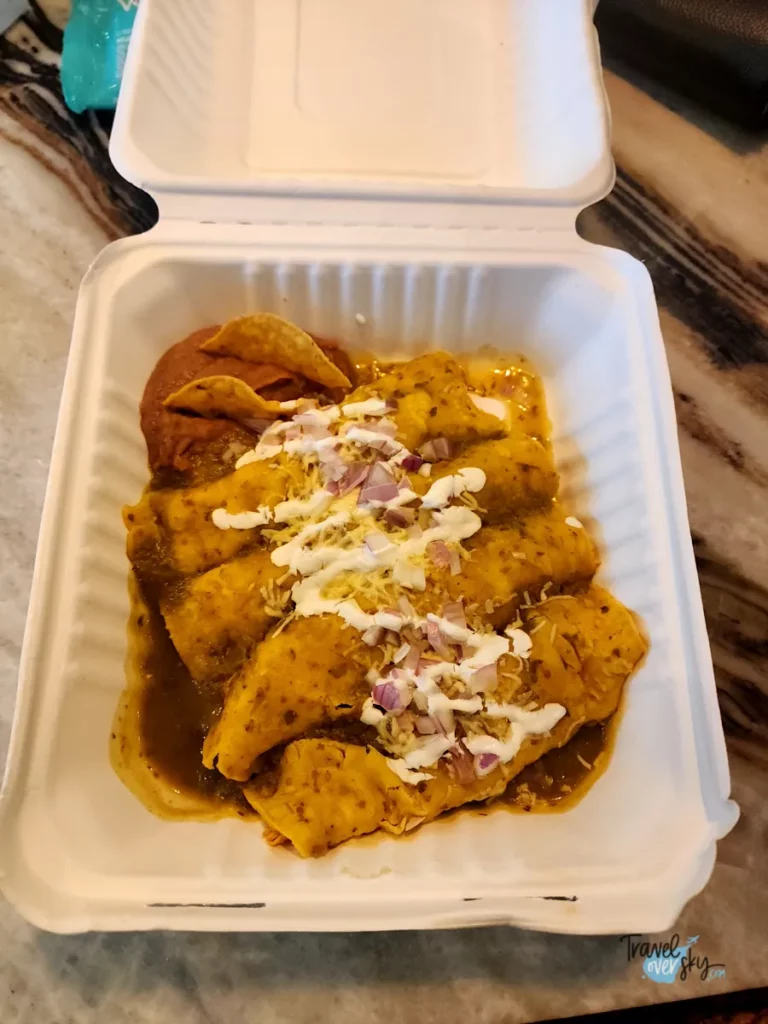 Casa Azul
The Casa Azul Pizza Place is located near the Las Terrenas beach, but you can also find them on the Komida! app.
I picked two pizzas from this restaurant – pepperoni and vegetarian. The disadvantage here is a lack of choice of the pizza size, and the meal is not very big. I paid almost 1000RD$ (17,7 USD) for two average sized pizzas with an additional delivery fee
Pizzas were tasty, similar to the Italian version of the dish.
Crepes Les Blonds
The Crepes Les Blonds restaurant, as the name is self explanatory, offers different kinds of pancakes. The place seems quite European, you can boldly say that it belongs to the most fancy ones in Las Terrenas.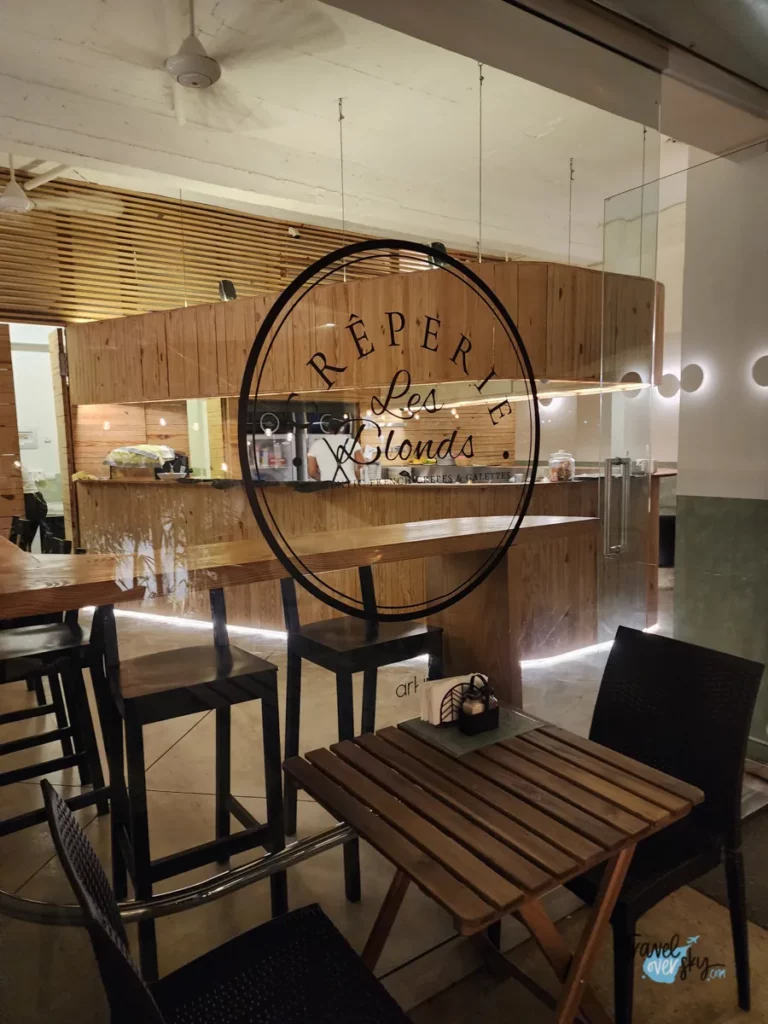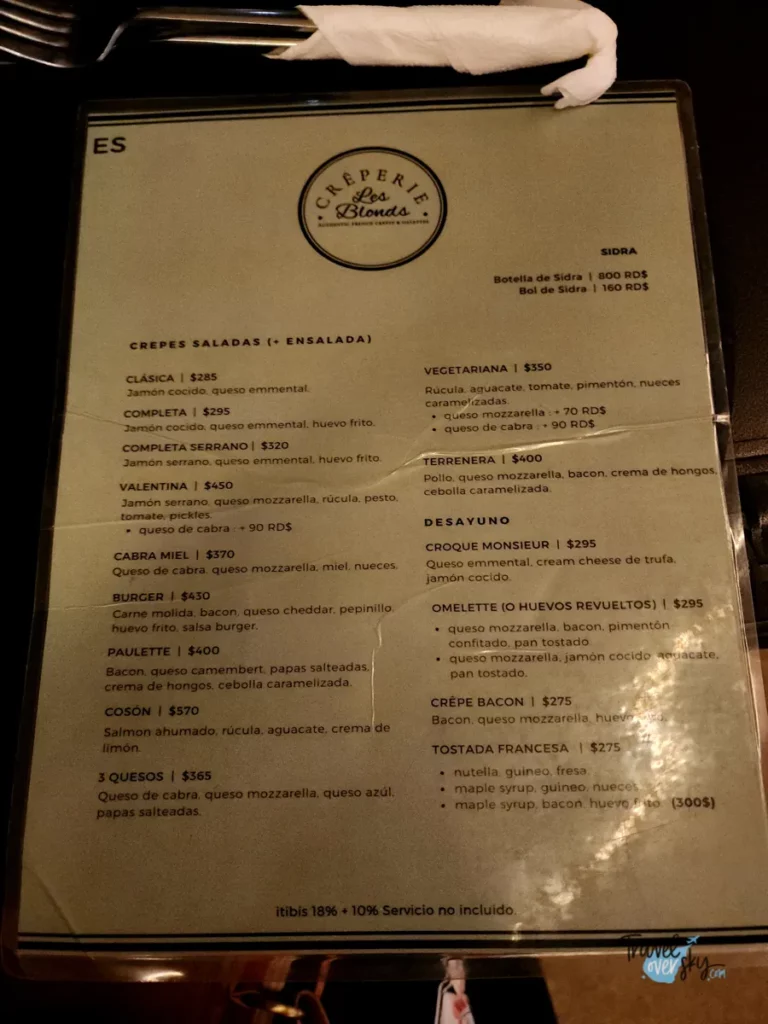 I had the opportunity to try their meals twice – once at the location and one delivered.
Unfortunately, the delivered ones arrived not too warm and this time it was not the delivery guy's fault, because I got them fairly quickly from the moment I ordered them.
The pancakes at this place are quite thin and neatly served. The one that I did not enjoy much was the one with homemade caramel (which was too bitter), but the classic versions with nutella and banana (or strawberry) were tasty. The portions are not small, but if you are starving you will most probably not satisfy your hunger.
The advantage of the restaurant is the fact that it is open from the morning hours until the late evening.
Every gourmand needs to visit this place in Las Terrenas.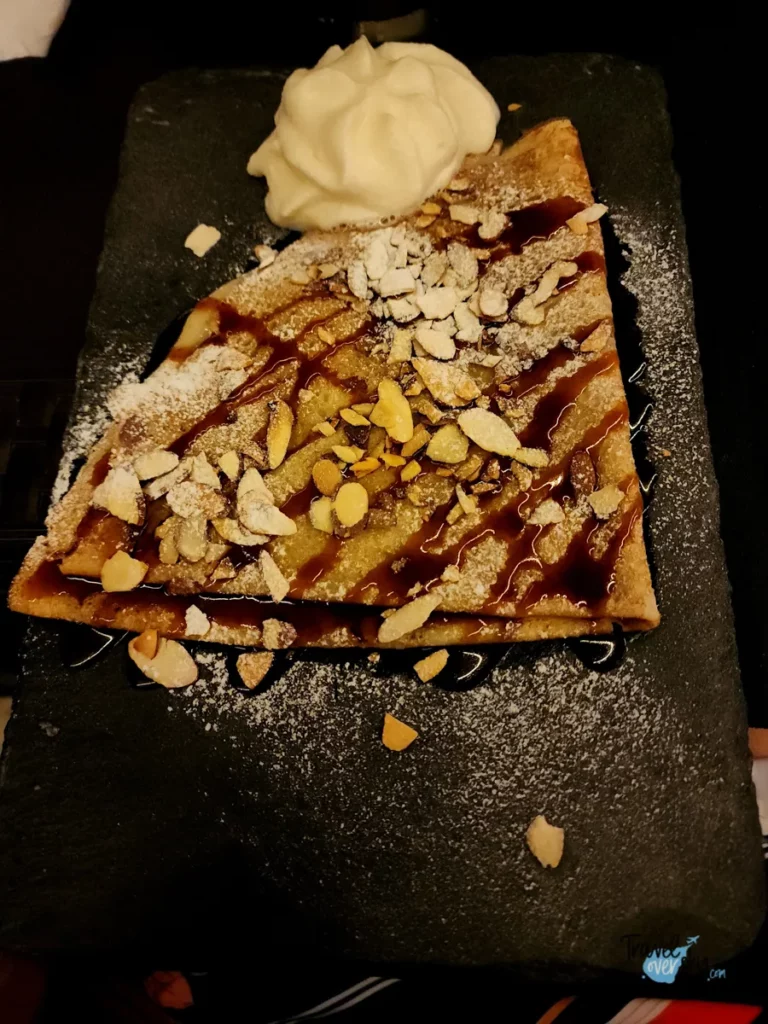 Solaz Hotel & Restaurant
The restaurant and hotel are located near the February 27th Str, you can sit inside or close by the beach. During my visit the service was very average, or bad even. The waitress was not very interested in us, and when we were about to order she suddenly stopped listening to talk to another employee. I had to pay at the bar because nobody turned up to collect the money.
Unfortunately it turned out that there was no meat to prepare the burger I ordered, so I had to quickly pick something else. This fact can be justified though, because it was a few days after the hurricane and it is highly possible that there was no delivery then.
I picked chicken in chinese style, mahi mahi and chicken fajitas. The food came after about 20 minutes since ordering. The portions of the chinese styled chicken were quite big. The dishes turned out to be tasty. The price of tax and service were added to the final receipt.
The Solaz restaurant needs to be praised for its attitude after the Fiona Hurricane. When most of the people were cut off from the electricity, Solaz shared its electricity (which they had from their aggregates) and Internet with each person who wanted to charge the phone or work.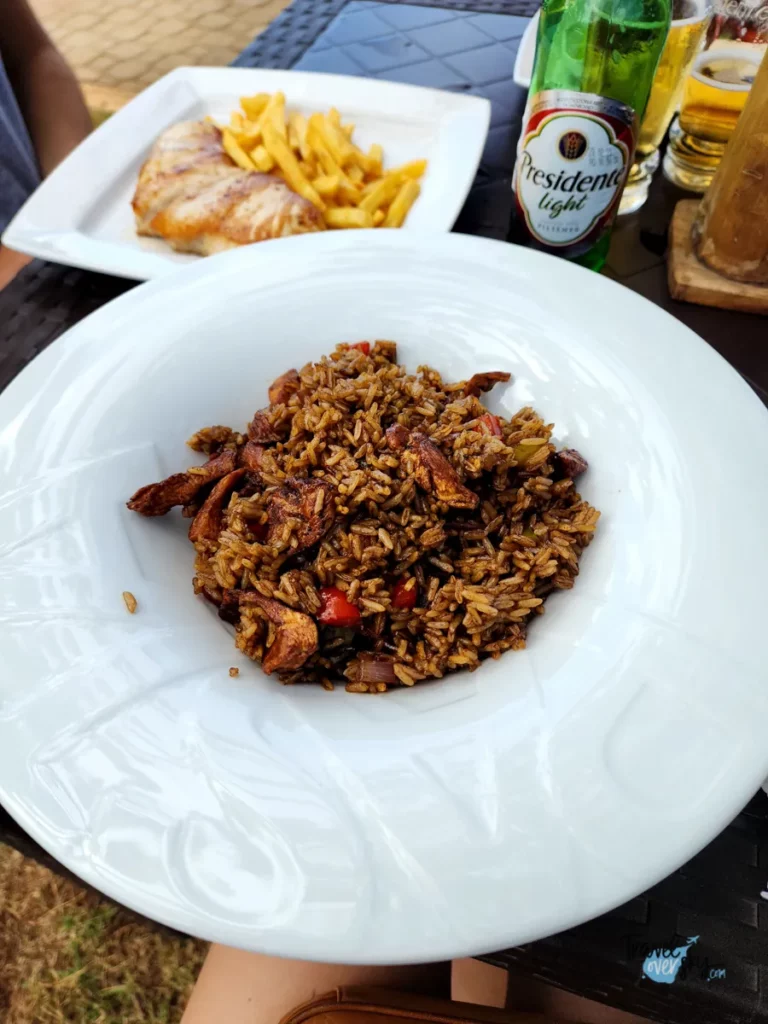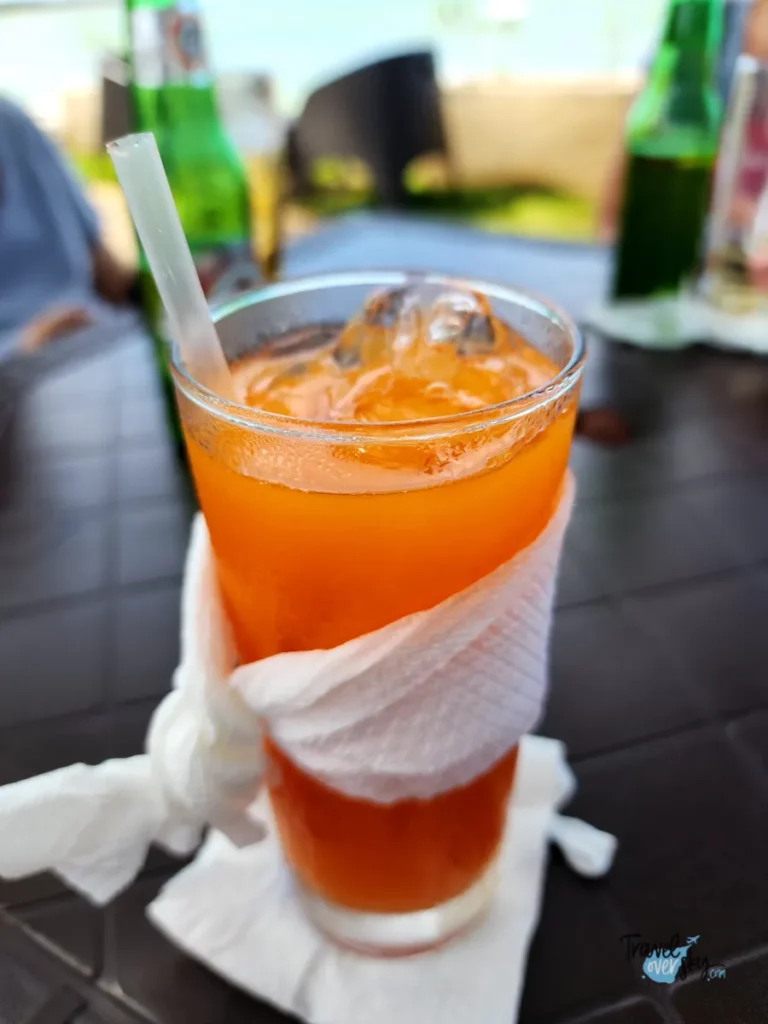 La Paneria
If you feel like eating delicious croissants accompanied by Italian coffee – be sure to pick this place! Baking and confectionery, which you can buy at La Paneria, are being prepared on the spot, which makes them always fresh.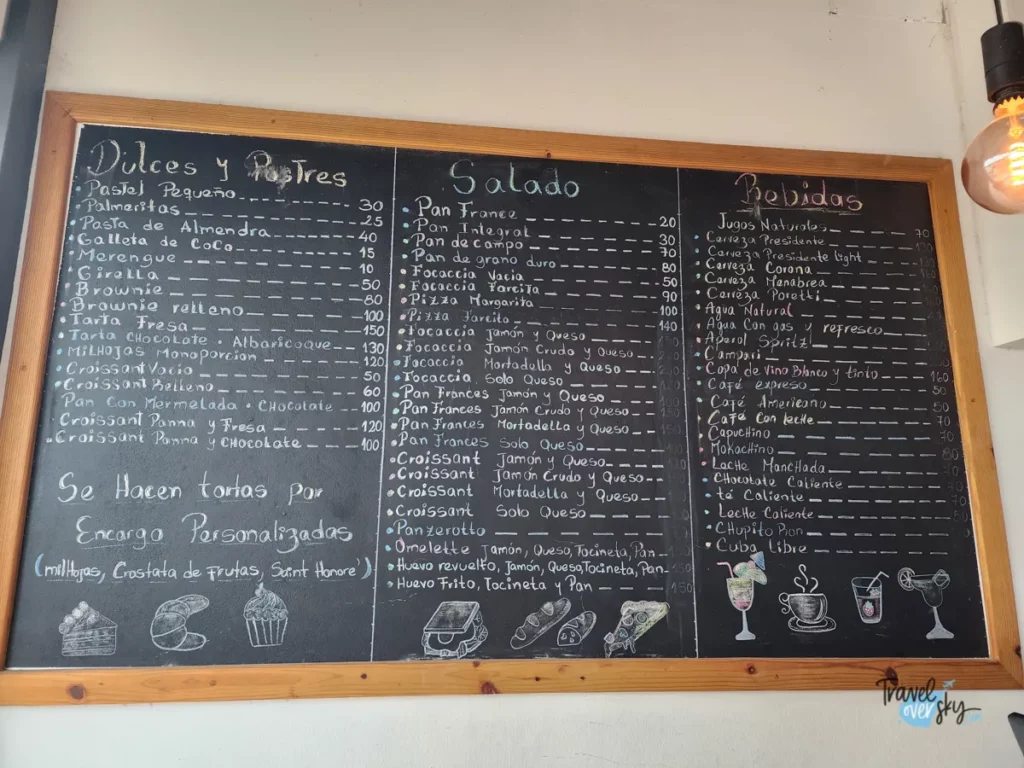 The croissants are really worth the attention, you can pick a no filling version or the one with chocolate, cream or jam. Apart from those, La Paneria has many focaccias, sweet and unsweet sandwiches and beverages to offer.
One croissant is less than 100RD$ (1,7 USD) at this place, same for an espresso. The cappuccino costs 150RD$ (2,6 USD) here.
La Paneria is equipped with small tables inside and a quite big garden. You can also order food via Komida! app, but the offer is quite limited there.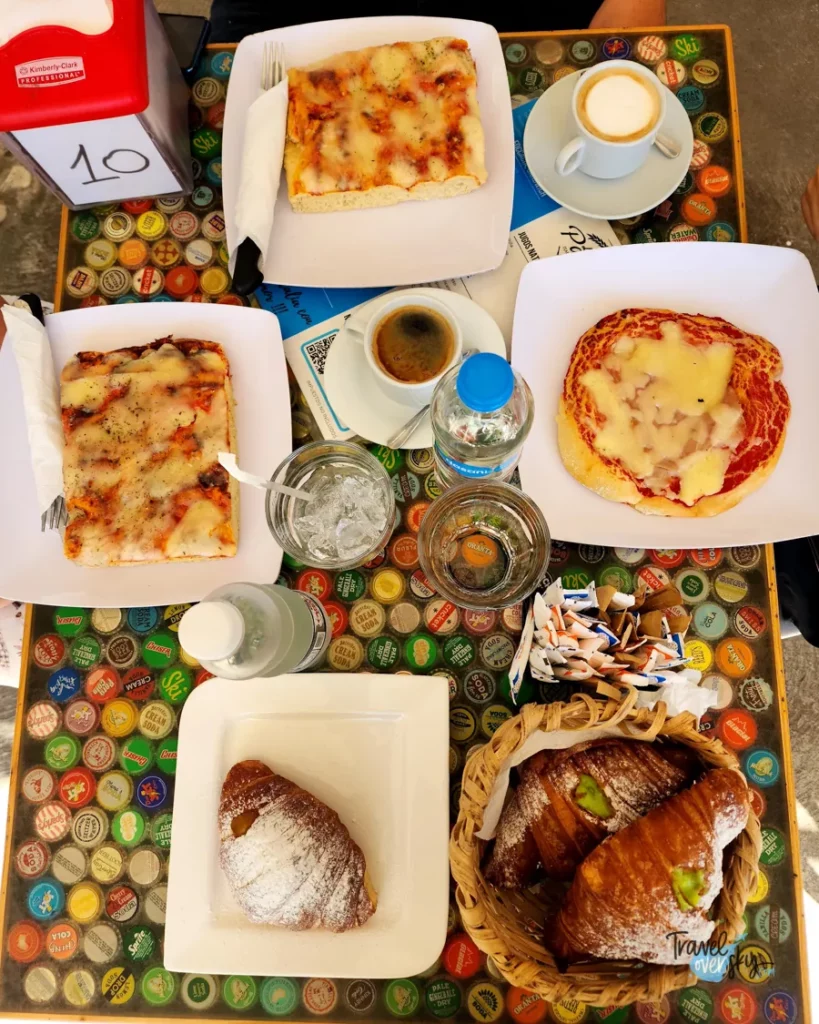 La Candelita
La Candelita is one of those places that you can find close to the beach in the Las Terrenas center. The place, although inconspicuous, can truly welcome many guests. If you are not a fan of seafood and fish, the only other thing on the menu is chicken breast with something on the side (fries for example), but this is a typical restaurant specializing in fish and seafood. Not everything on the menu was available during my visit there, but this is due to the fact that owners want to offer only fresh meals.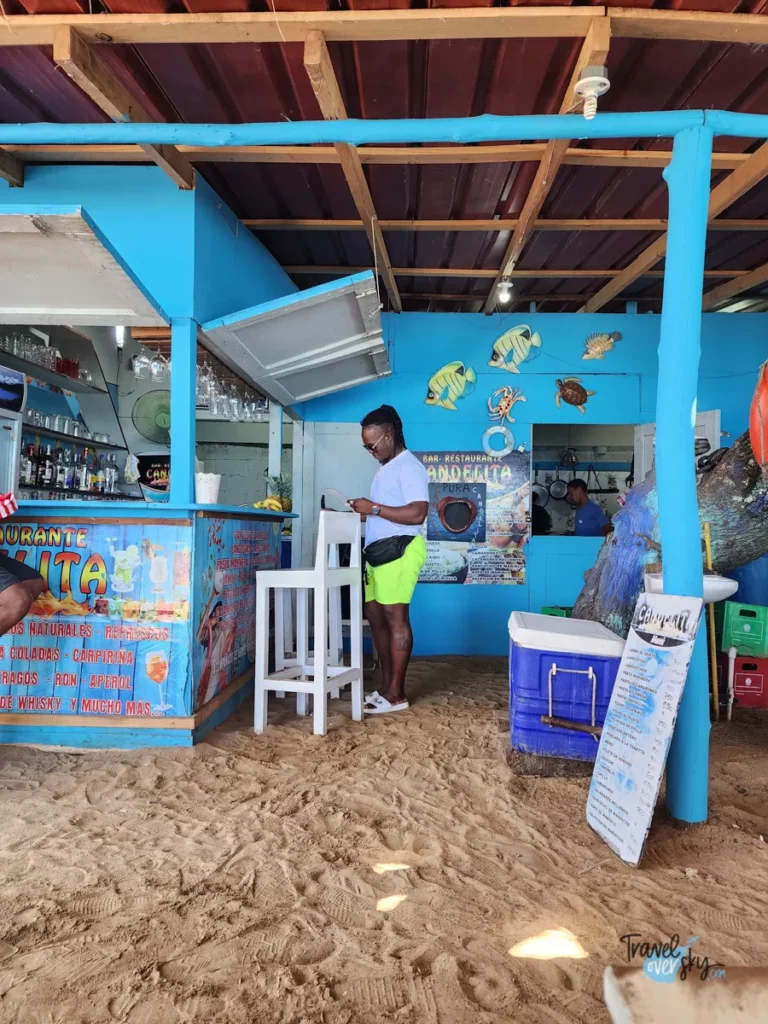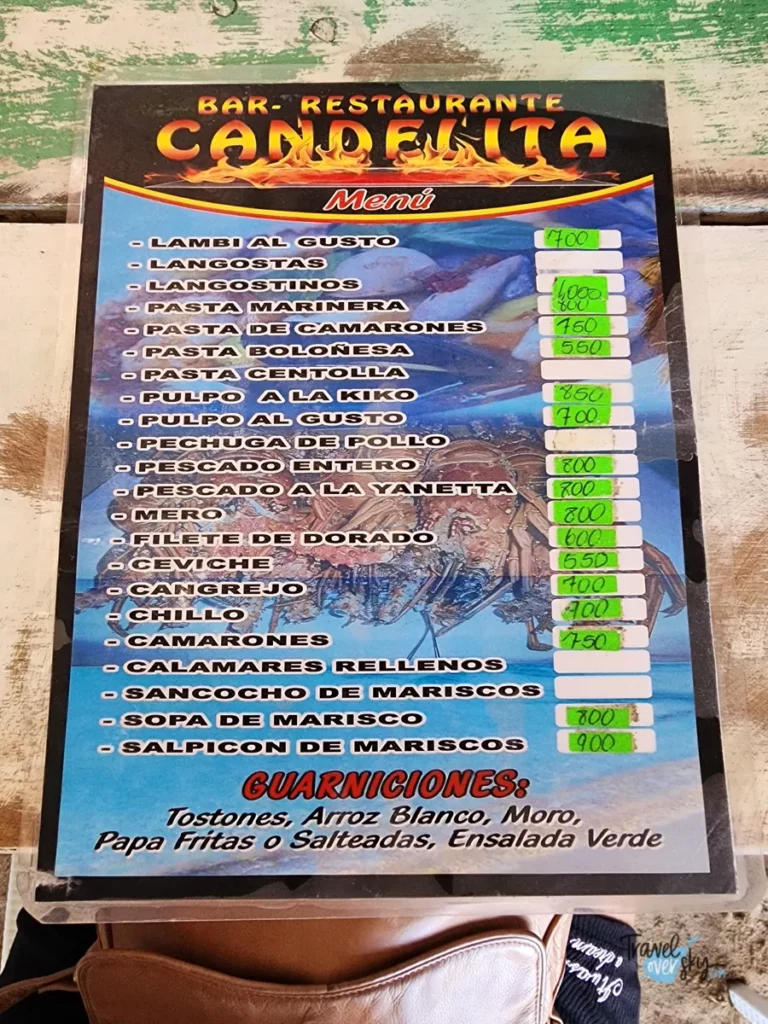 I was tempted by a chicken breast with moro (meaning a Dominican rice with beans). The dish was very tasty and quite light, the meat was well seasoned and not dry.
My companions chose a seafood soup, octopus and mero fish, which was caught on the same day and which you could have chosen yourself.
The seafood and fish were also good. We waited fairly long for the meals, but this was due to the fact that there were many other guests there who ordered before us.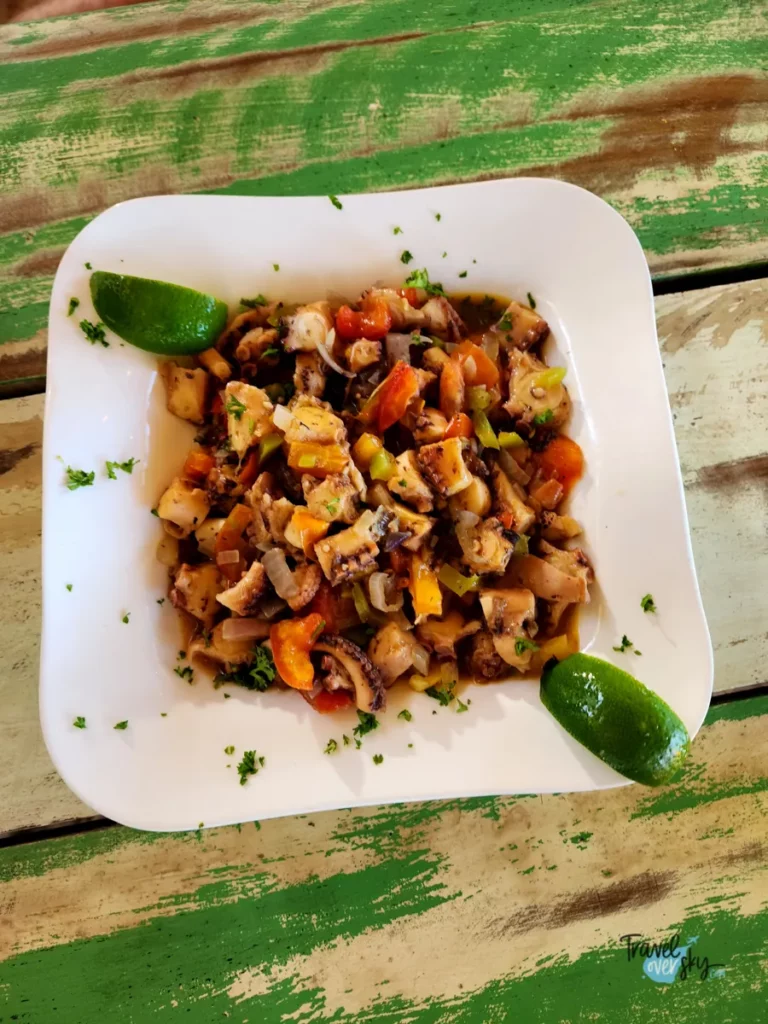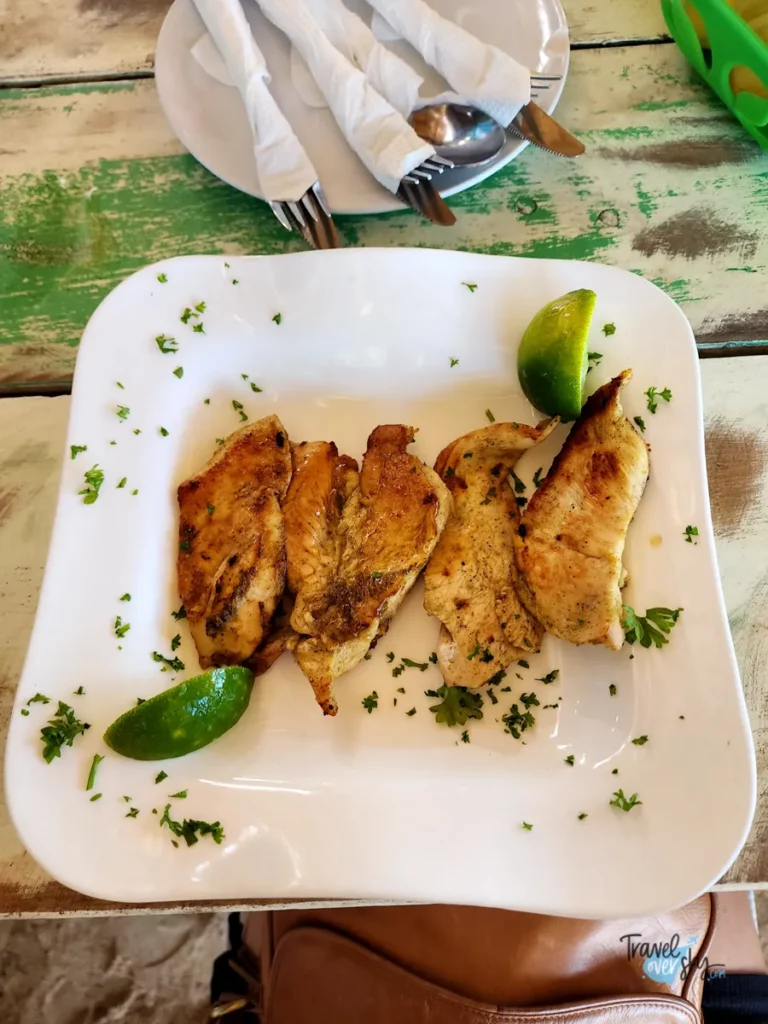 After we paid the receipt, which was 3800RD$ (67 USD), the waitress brought us treats that were incorporated in the price. I was very surprised by it, because basically I encountered serving amuse-bouche only in two restaurants (and these were the more exclusive ones), and here the atmosphere was very local and I did rather not expect it. Awesome! The treats turned out to be a popular habichuelas con dulce dessert (which is made from beans, coconut milk and spices, and is mainly served during Easter) and a fresh pineapple. The dessert was delicious, shame that it is not on the menu, because I would certainly have it again during the next visit in Las Terrenas 😀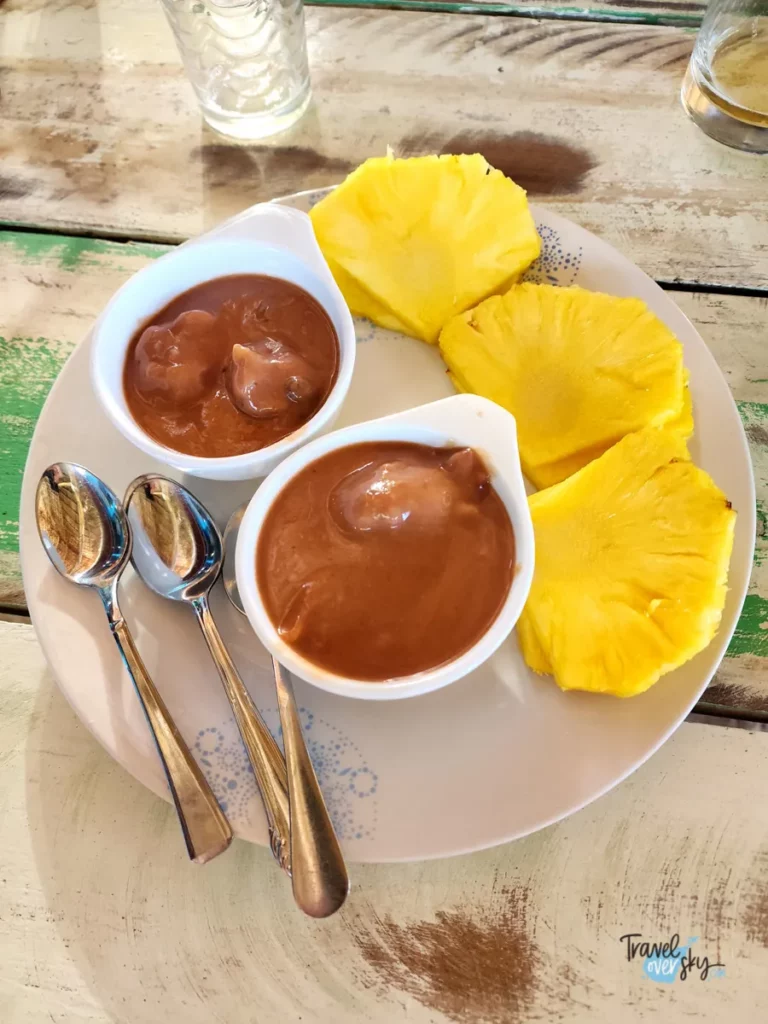 Gelateria Italiana Artesanal
I would not be myself if I had not mentioned an ice cream shop, which is located near Calle Libertad, meaning in the center of Las Terrenas.
This ice cream shop offers craft ice cream in an Italian style. You will find basic flavors there, such as strawberry, vanilla and chocolate, but also more sublime ones – cookies, melon and cinnamon.
No issues with eating tidbits on the spot and on the go, you can get your ice cream in wafer or in a cup, with sprinkles or classic ones.
If you do not know which flavor to choose, you can ask the staff to give you a tiny example of chosen flavors – it will make the decision easier. I really enjoyed pineapple, coconut and cinnamon flavored ice cream.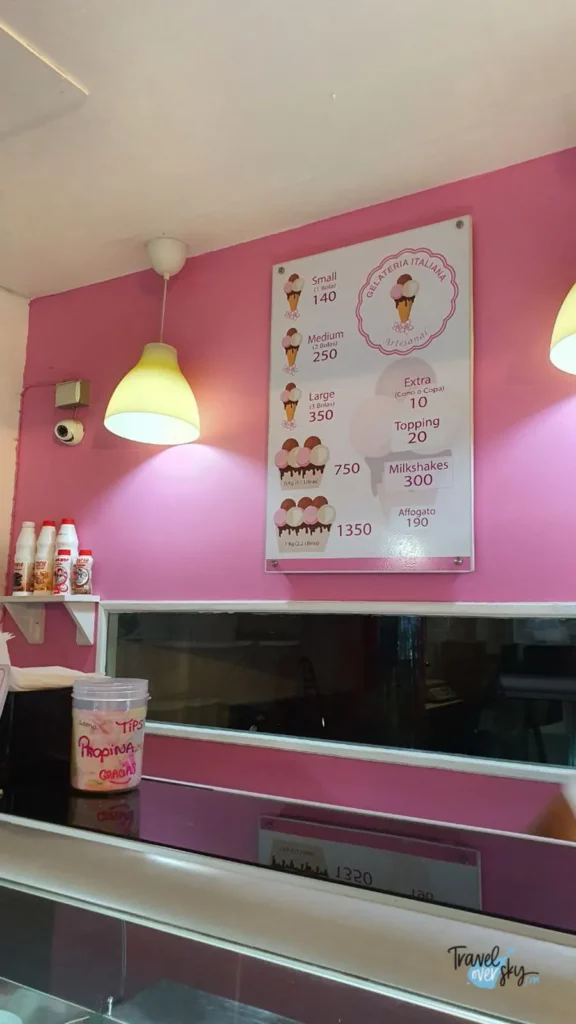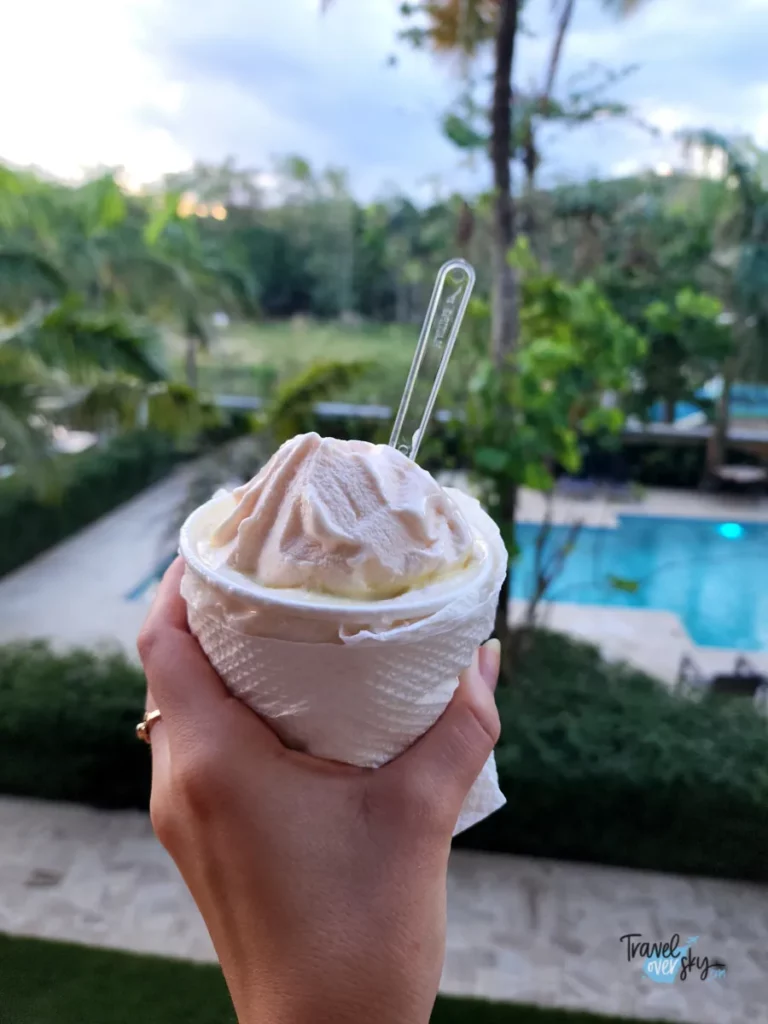 This ice cream shop does not offer its own parking place, which is why you need to look for the spots available in the nearby parking places or park your car on the edge of the road.
Traveloversky advises:

If you are wondering where to leave your car around Las Terrenas restaurant, make sure to check out the post about this city, where you will find a list of free parkings and other things.
Chez Alex y Angie
Looking for a perfect place for a date? Or maybe you want to dine in the best restaurant Las Terrenas? I think you should love this place!
This is a restaurant that you will find near the 27 de Febrero Street. The interior is very elegant, filled with furniture and wooden accessories that give the place a chic look. There is also a small car park for guests, which is a huge advantage, because parking on 27 Febrero Street is not the easiest.
Prices in the restaurant are relatively high, but the quality, presentation and portions are worth the money.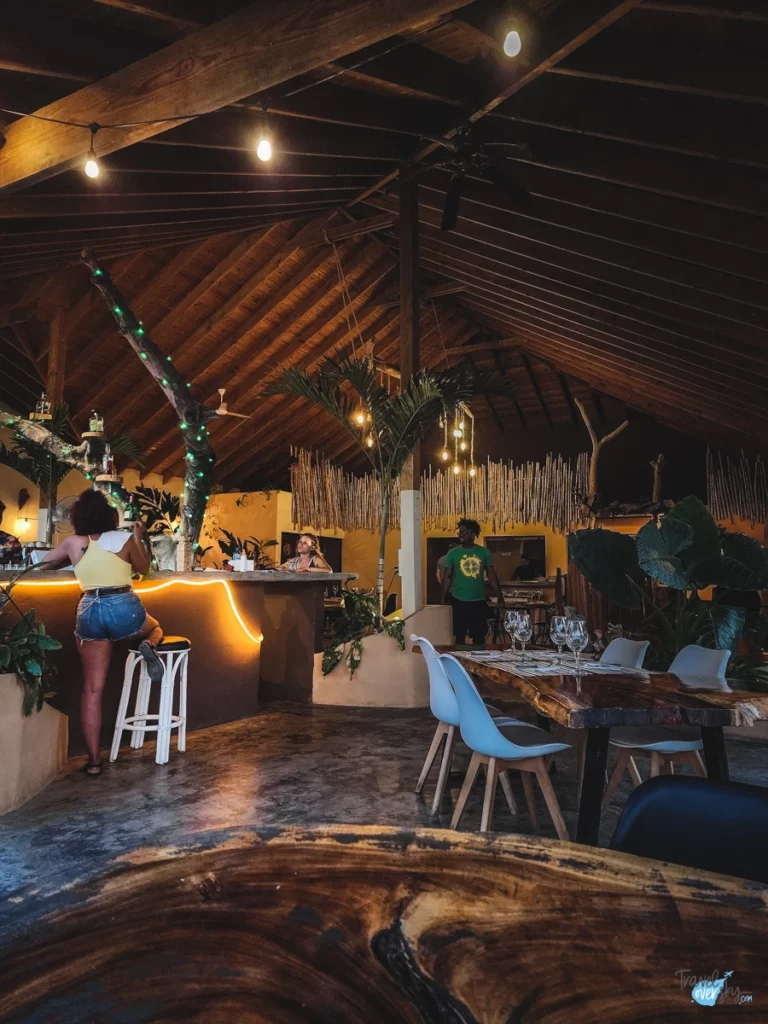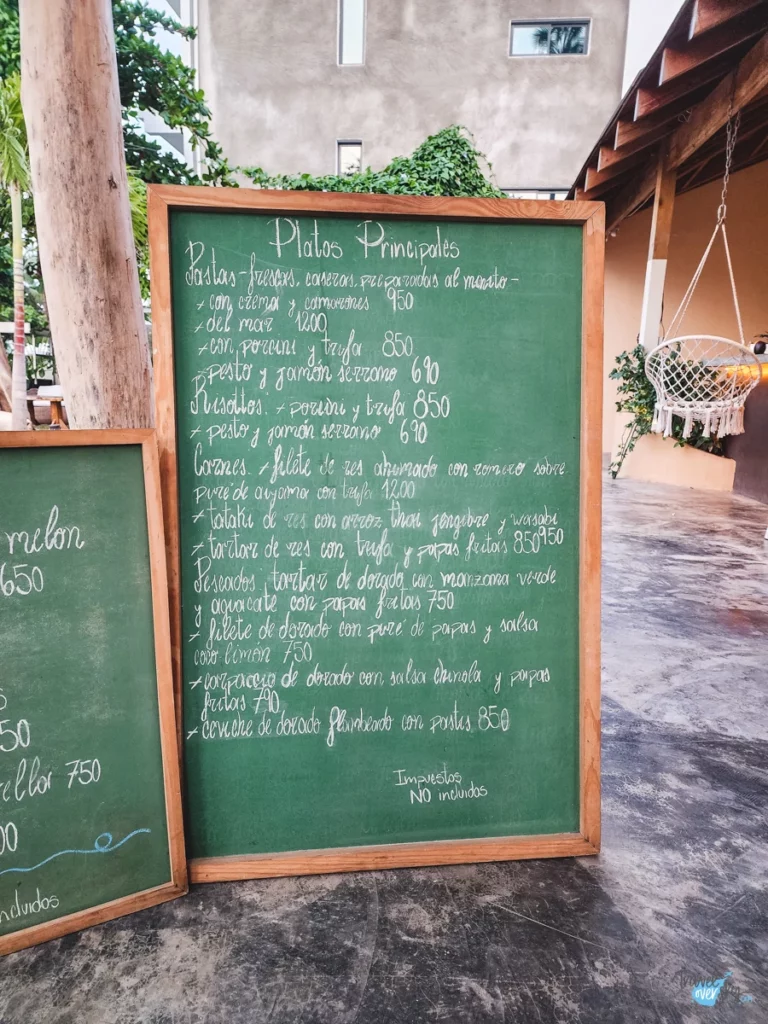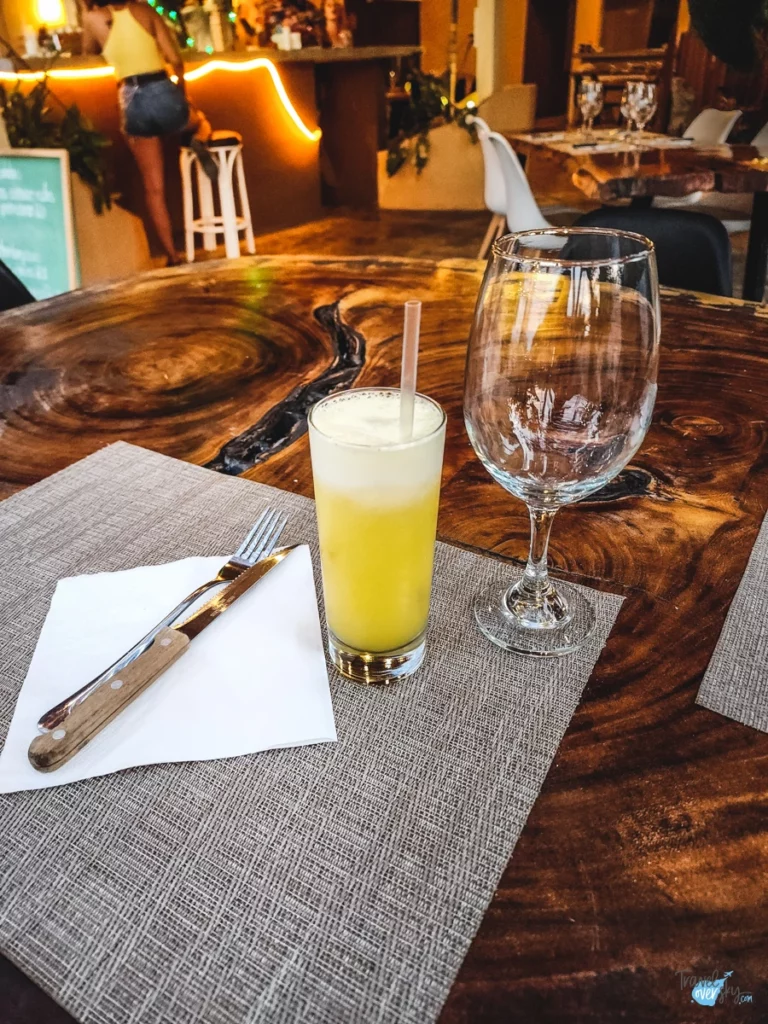 During the first visit, Konrad ordered ceviche, I wanted to order only fries, but it turned out that the dish is served with fries, salad and bread, so I did not order extra fries for myself.
The portion of ceviche was huge. As I mentioned before, we got a salad with balsamic vinegar, very tasty bread and great fries, which were handmade. For a long time I could not find such fries even in very good restaurants, so in my opinion this fact should be emphasized. Before serving, the ceviche was flambéed in front of our eyes, which additionally had a very positive impact on the reception of the restaurant.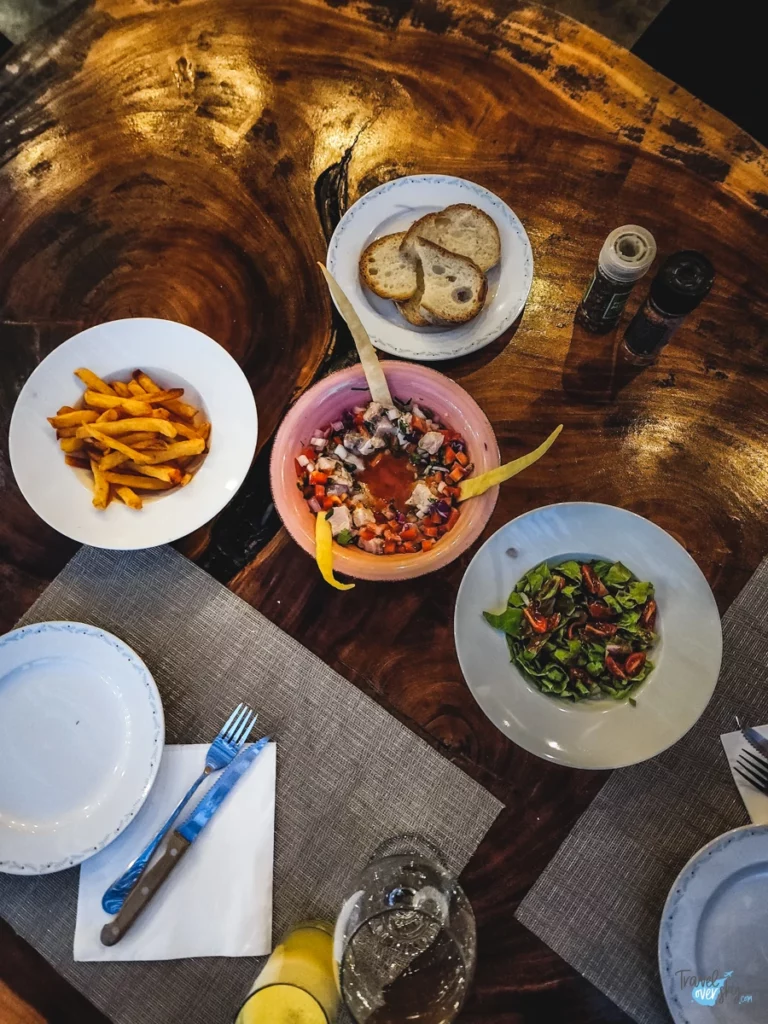 On my next visit to Chez Alex y Angie, I ordered pasta with pesto and ham. The portion given was huge and delicious. Which surprised me a lot, I had the pleasure of seeing the chef prepare the pasta for my dish – awesome! My friends chose dorado with cream cheese and potatoes and a delicious tuna tartare.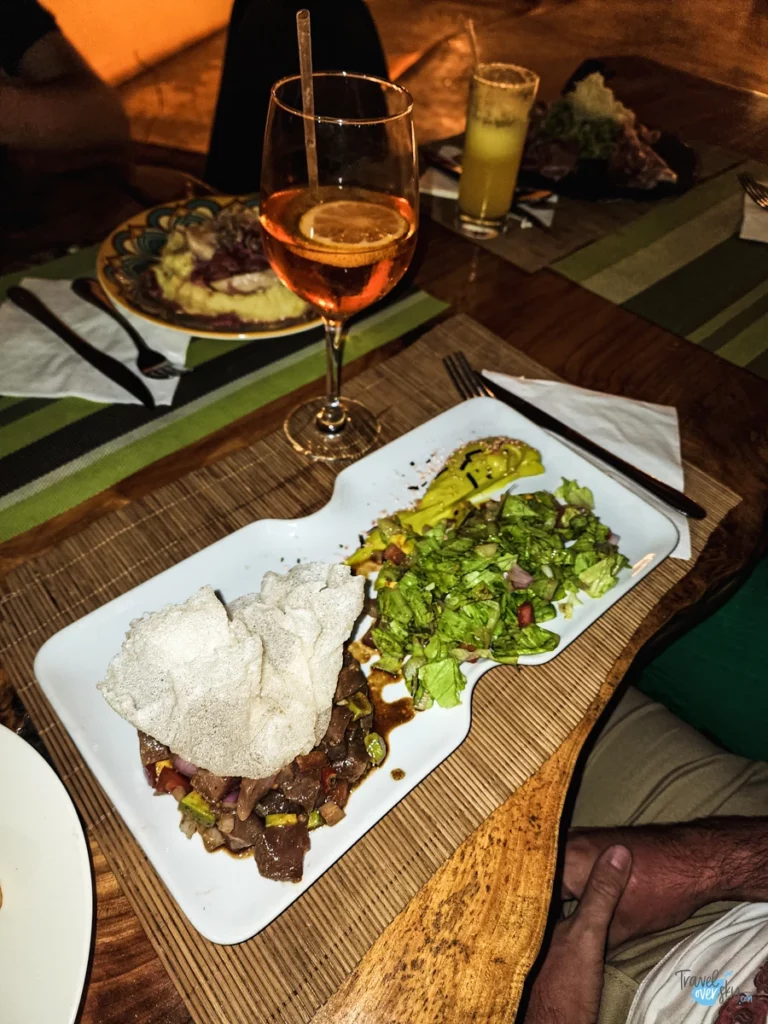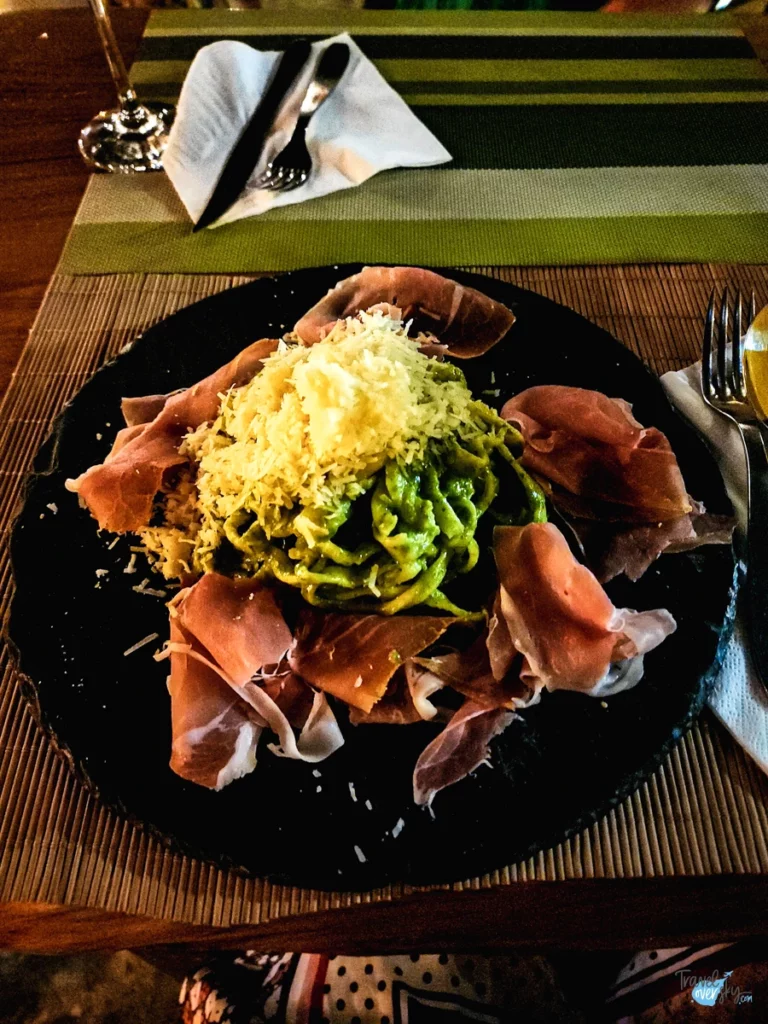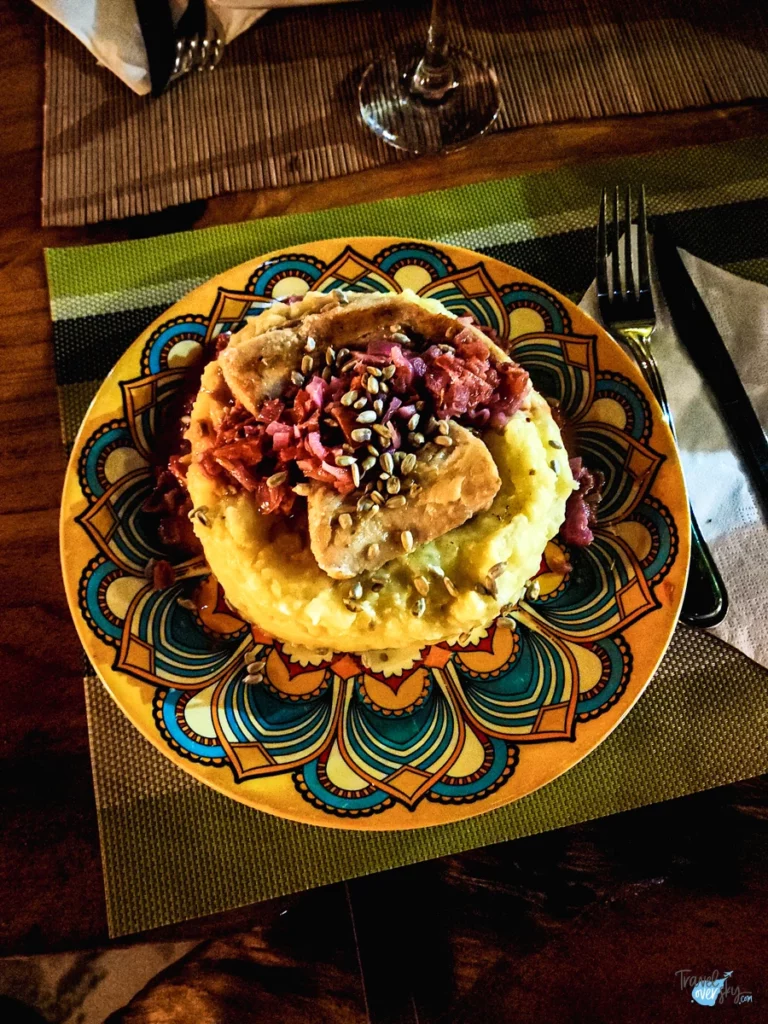 It is also worth adding that alcoholic beverages are not exorbitantly priced, these are prices that you will find in most restaurants in Las Terrenas.
180 Grados Restaurante & Longue
The restaurant is very elegant, it has a large hall and outside there is a swimming pool and a few tables. I think it's a great place to go there for a business meeting or a date.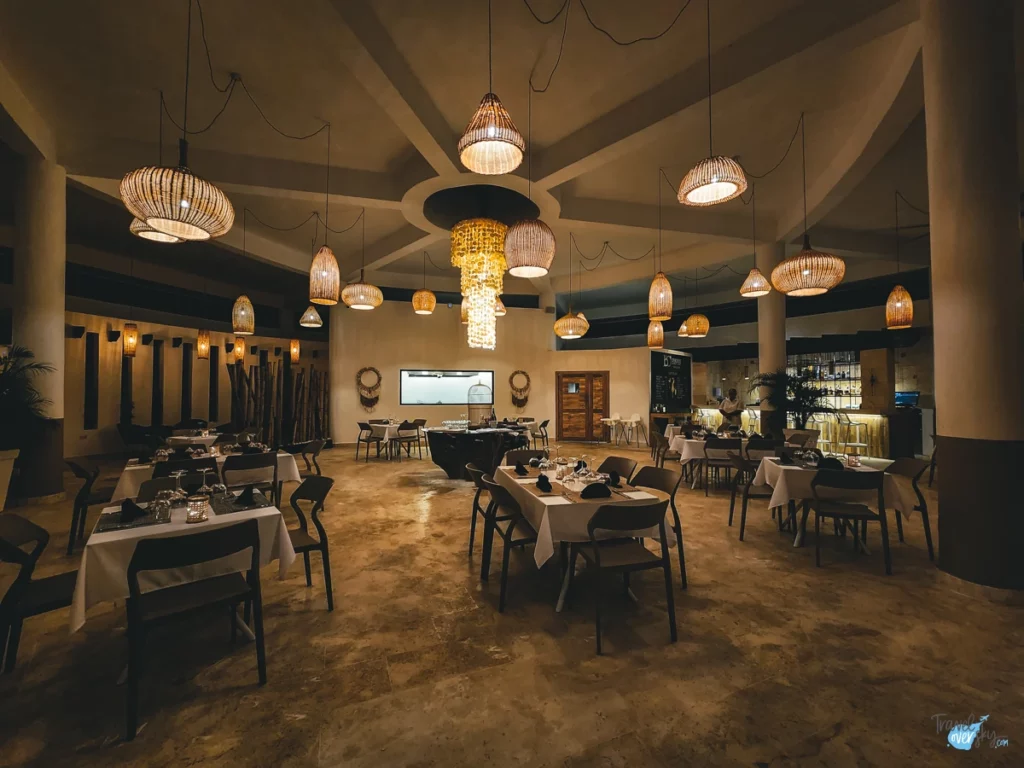 The restaurant specializes in fish and seafood dishes, you will find there a wide selection of sushi.
During my visit to the restaurant, I chose a vegan burger, and Konrad chose sushi.
The burger was a nice change from the classic meat dishes, the vegan chickpea chop was really tasty and went well with the soft bun.
The sushi was tasty and very nicely presented.
Prices in the menu do not include ITBIS tax and 10% service.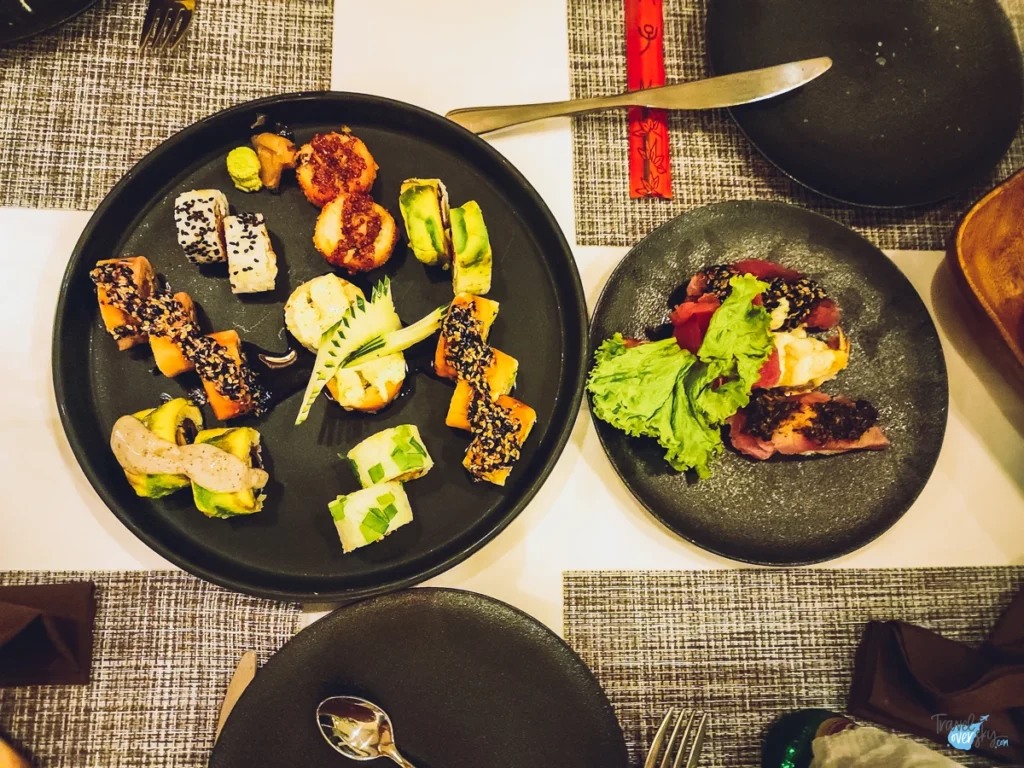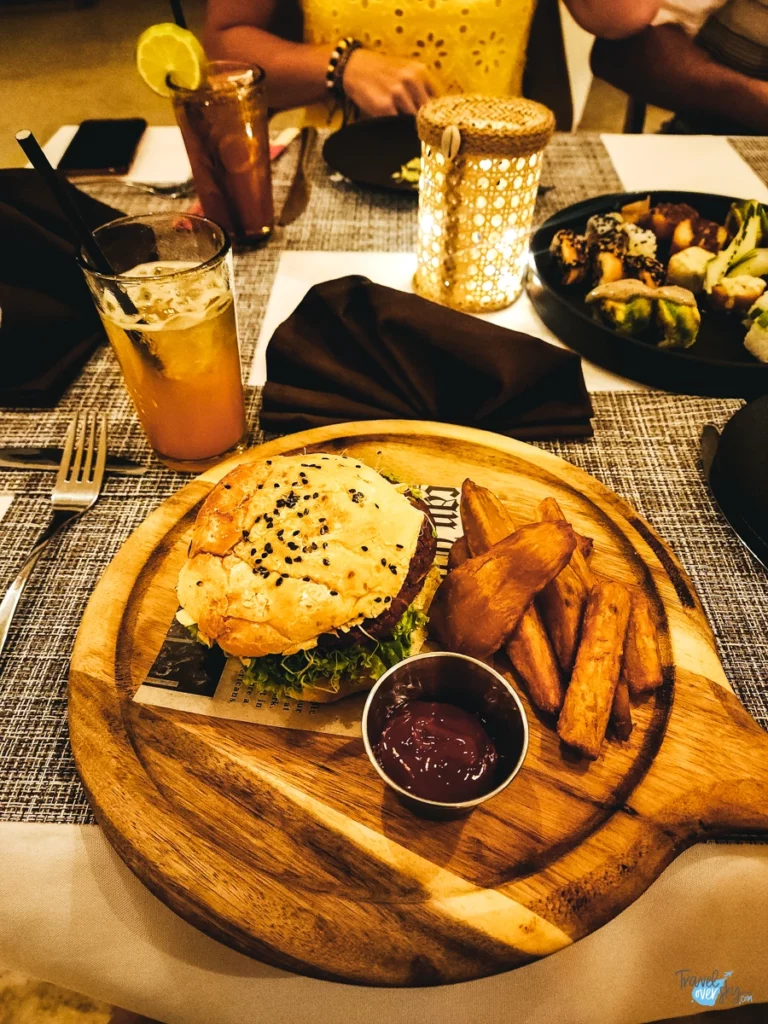 Los Kikis Desayunos by Gigi & Jo
Los Kikis Desyunos is a breakfast buffet with the classics of Canadian cuisine. The restaurant is run by a Canadian couple.
The restaurant is open from morning until 1 pm. Unfortunately, there is no dedicated parking on site, so you have to park on the road.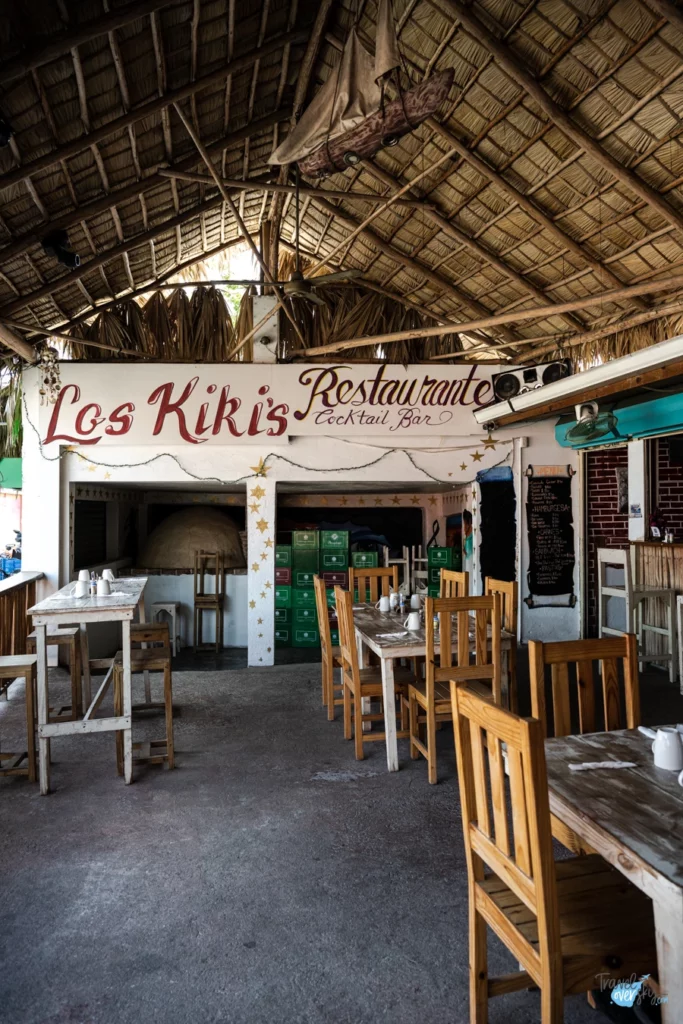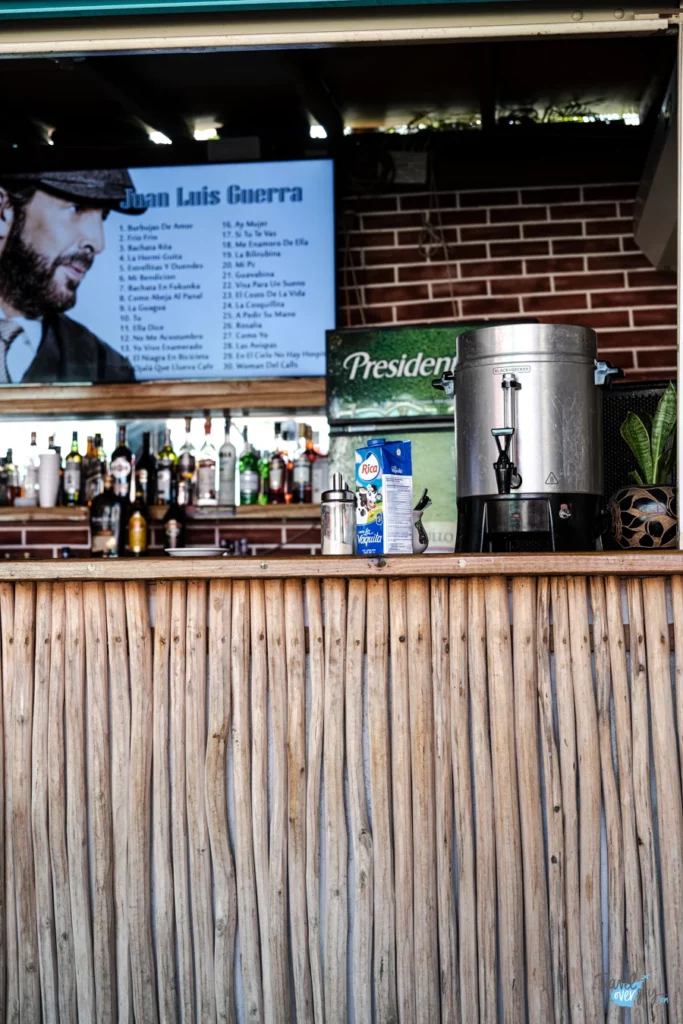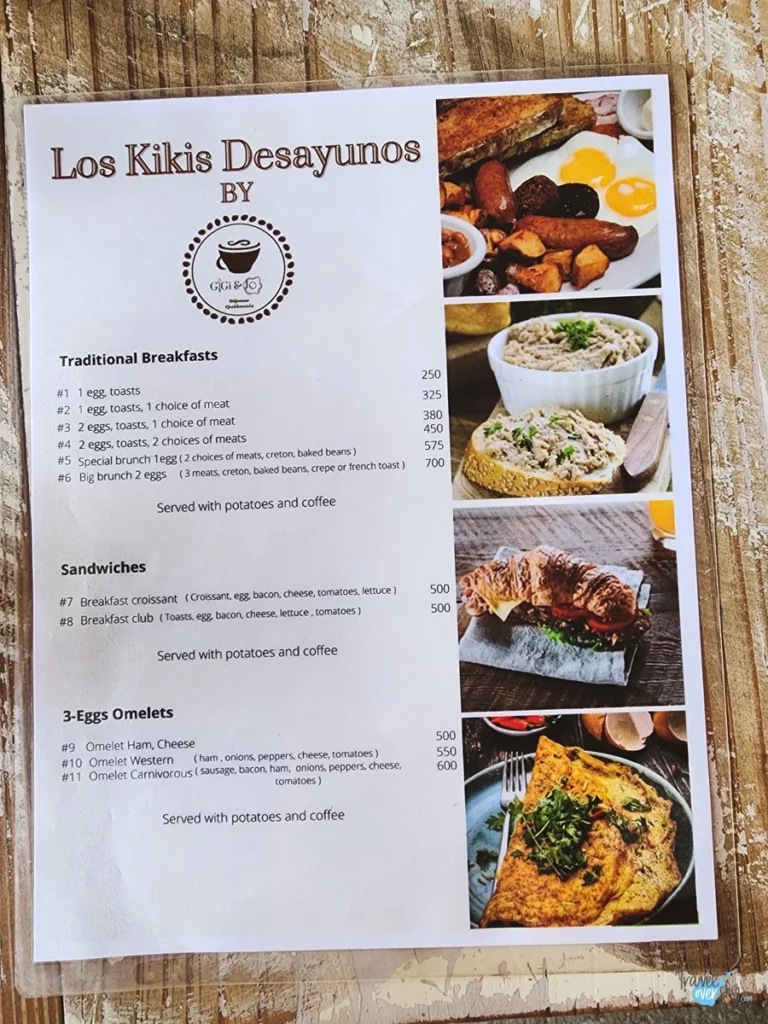 On the menu you will find different versions of omelettes, toasts, egg and bacon sandwiches and something sweet – French toast and pancakes. You will also get fresh fruit with every breakfast – great!
The restaurant also offers coffee included in the price of the meal – you can refill your cup during the meal.
Breakfast prices start at 400 DOP (7 USD), and the portions are huge. The ITBIS tax is not added to the final price.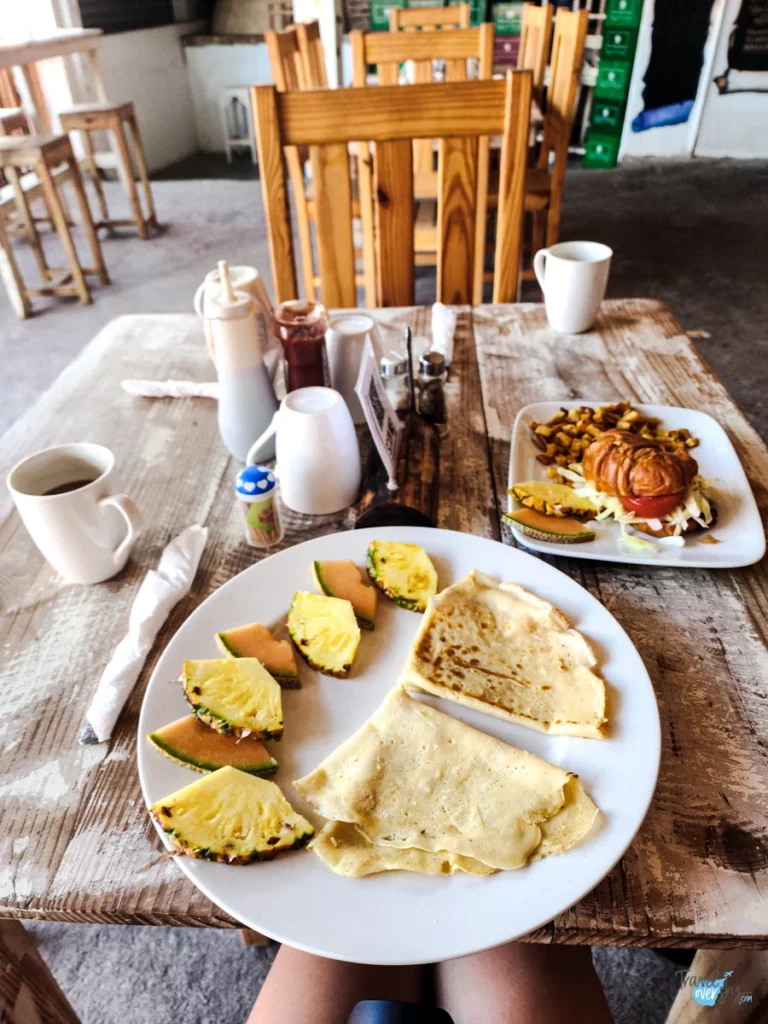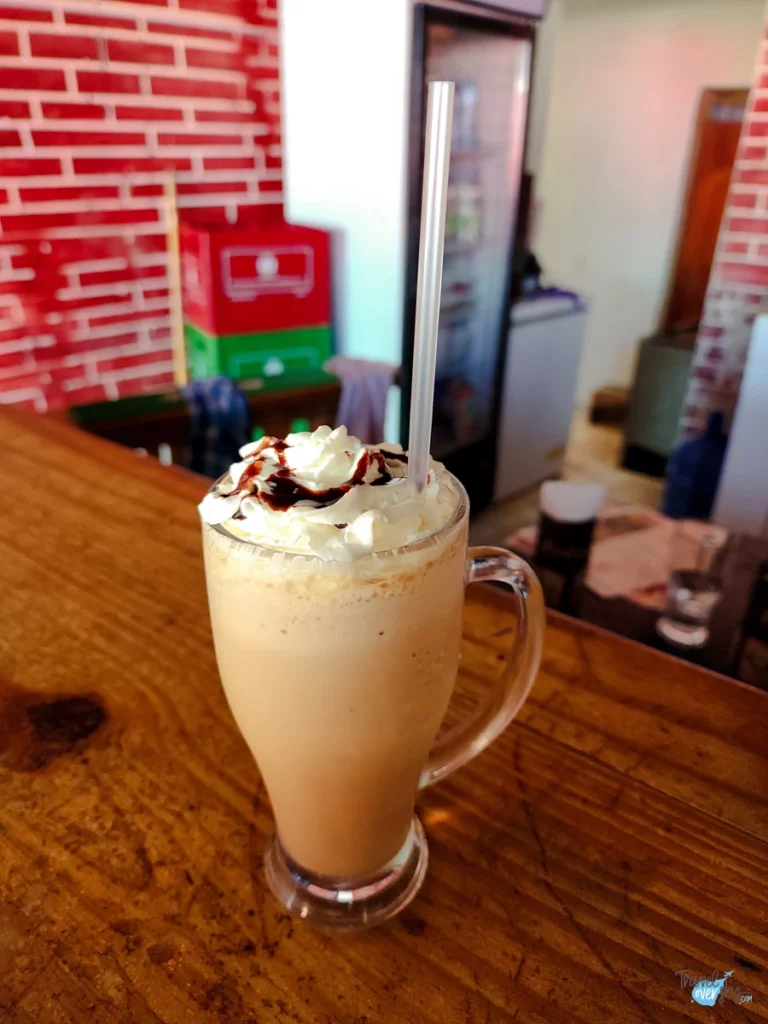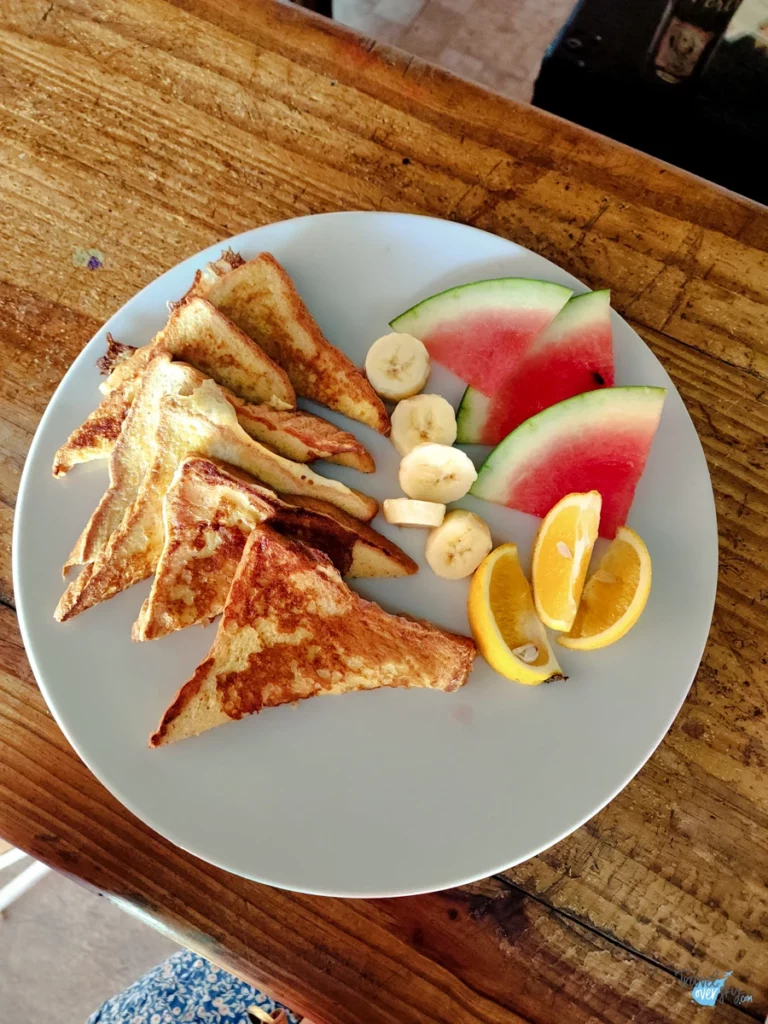 Reyenao
Reyenao is a foodtruck specializing mainly in burgers and American cuisine. I chose this place because it was one of the few that was open late in the evening when I got to Las Terrenas.
I ordered two burgers – Umami Explosion and La Yanqui. The entire order with delivery from Komida was 1100 RDS (19,5 USD).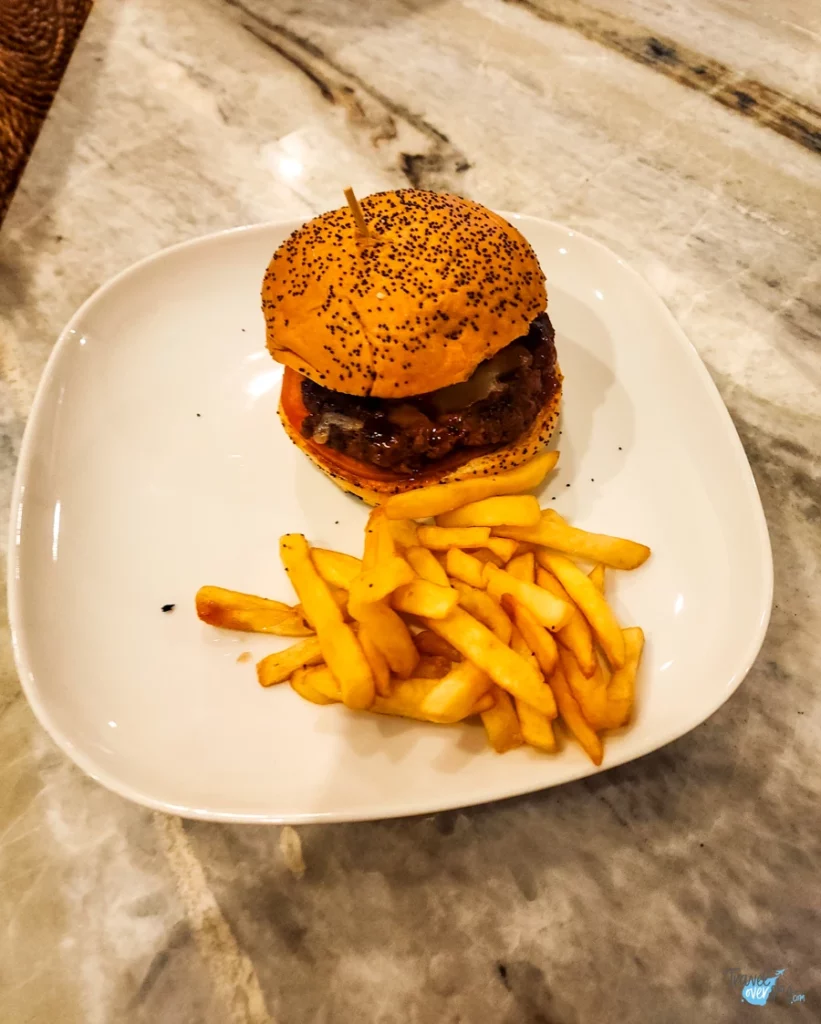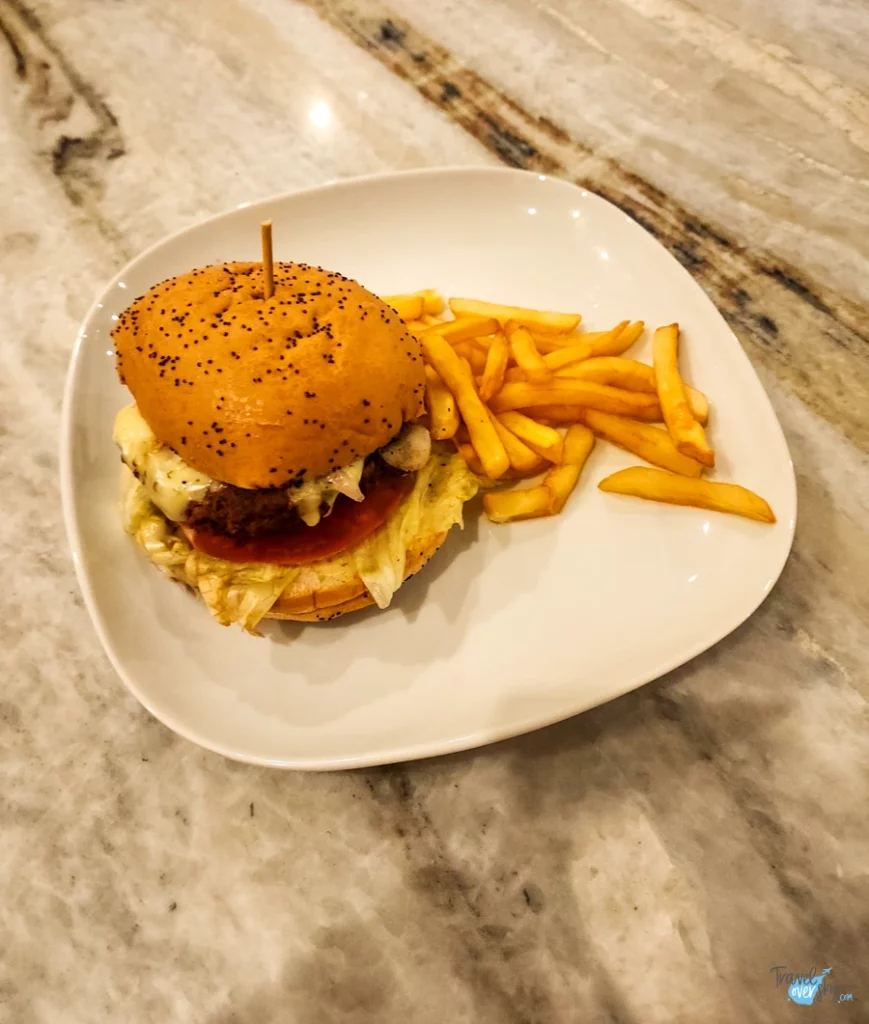 The burgers in my opinion were very homemade. The meat was not typical chain, but the kind you can make yourself at home from minced meat. The fries that arrived were not of the highest quality.
The downside was that the order arrived cold. It is difficult for me to verify whether it was the fault of the supplier or whether the restaurant prepared the dish very quickly, and it got cold while waiting for the supplier.
Nora's Kitchen
As you have probably noticed reading my posts, I have been looking for a good Asian restaurant for a long time. After some time, I managed to find a few places worthy of attention.
If you're craving traditional Chinese food, order food at Nora's Kitchen. Nora does not have her own restaurant, but you can place an order directly with her with personal reception or via the Komida app.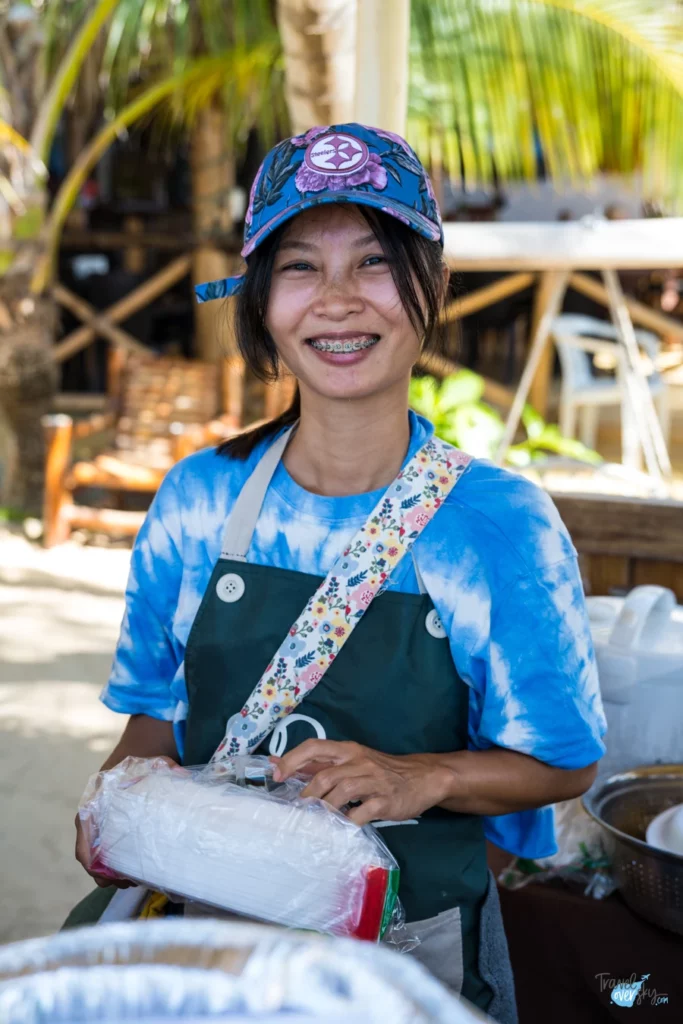 You can see the menu on Facebook Nora's Kitchen or in the Komida app.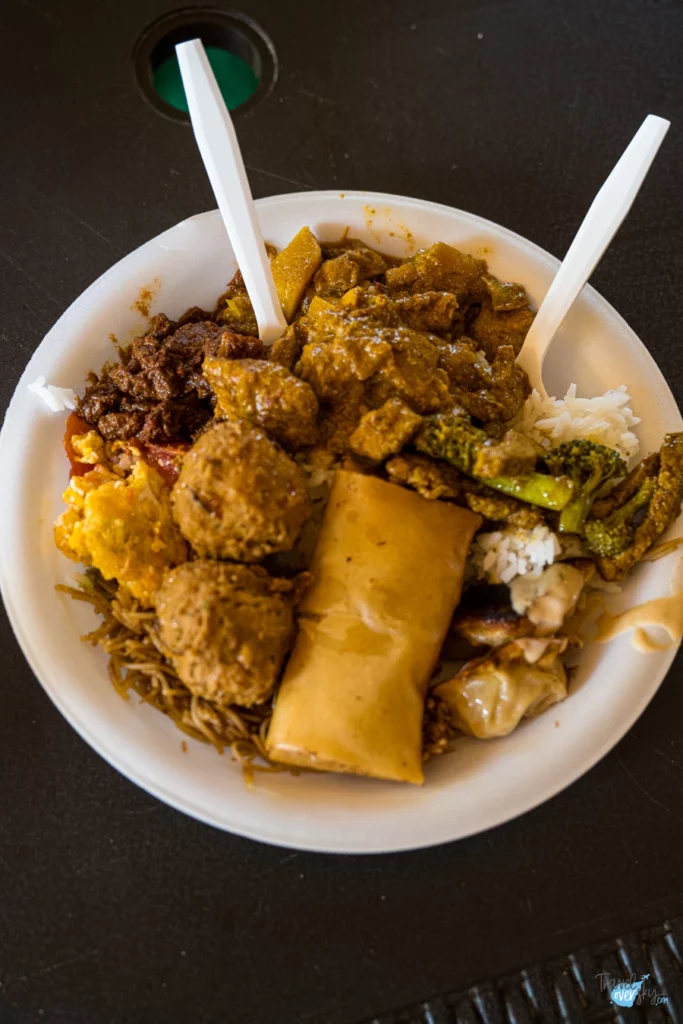 At Nora's you can order various chicken dishes, ramen with wonton dumplings and other delicacies. There will also be something for fans of seafood and very spicy food.
Pizzeria Raffaele
The pizzeria is located on the 27 de Febrero Street, right next to the famous sign Las Terrenas. The pizzeria does not have its own parking lot, but you can park at the edge of the road.
You can order a pizza and eat it in the premises, or order a takeaway pizza. Raffaele can also be found in the PedidosYa application.
The offer of pizzerias is quite wide, you will find there classic pizzas with cheese and tomato sauce and more sophisticated items – with seafood.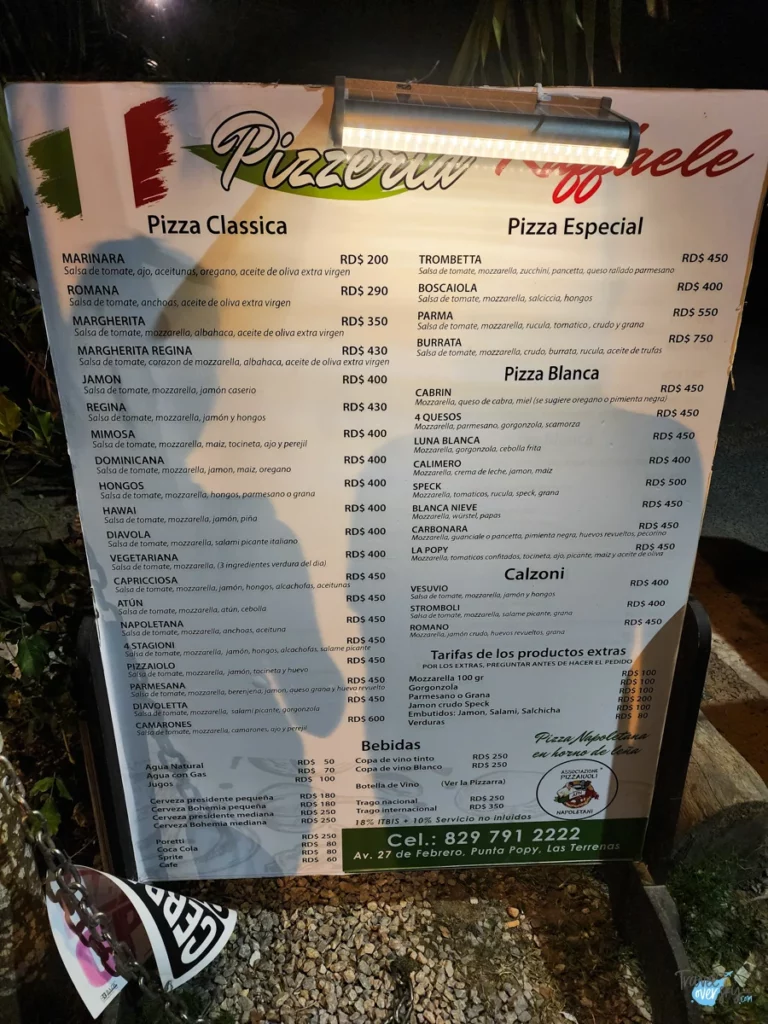 The prices are very affordable, especially for the quality. Pizza from Raffaele is certified by Associazione Pizzaivoli Neapoletani. For a long time I couldn't find a good Neapolitan pizza in the Dominican Republic, so after discovering Raffaele I was really happy.
You can buy a basic marinara for 200 DOP (3,5 USD). It is worth noting that the ITBIS tax is not added to the final price.
I had the opportunity to eat margherita regina, diavola and diavoletta. All three pizzas were really tasty and the waiting time for the order was not long.
In my opinion is one of the best restaurants in Las Terrenas.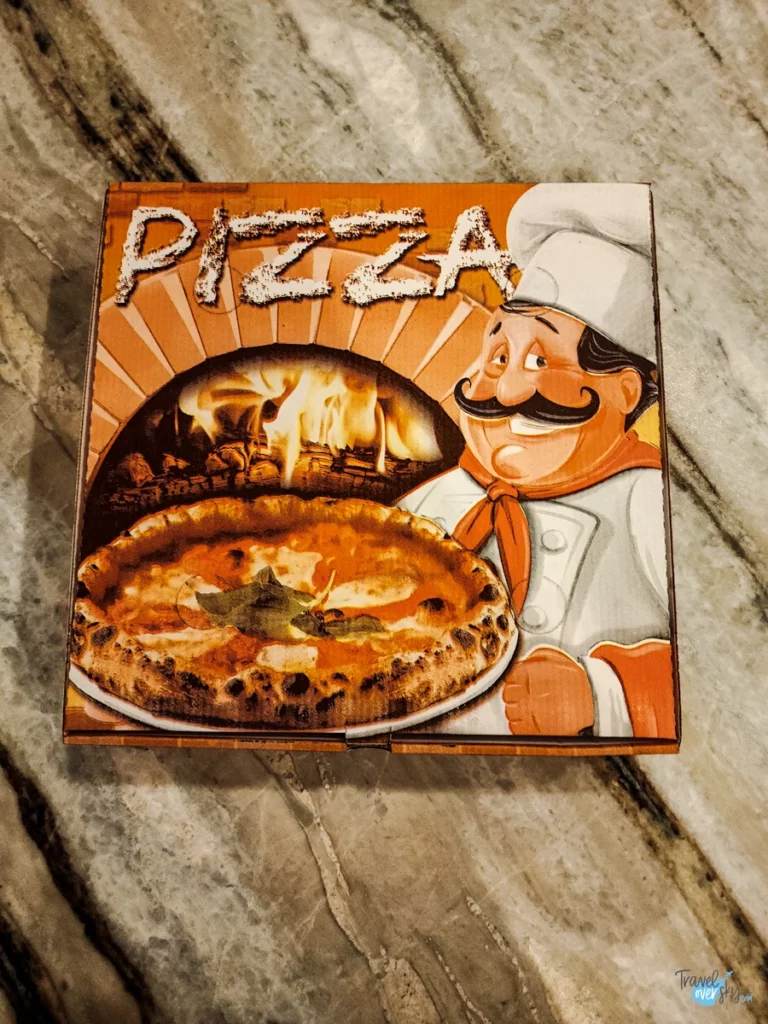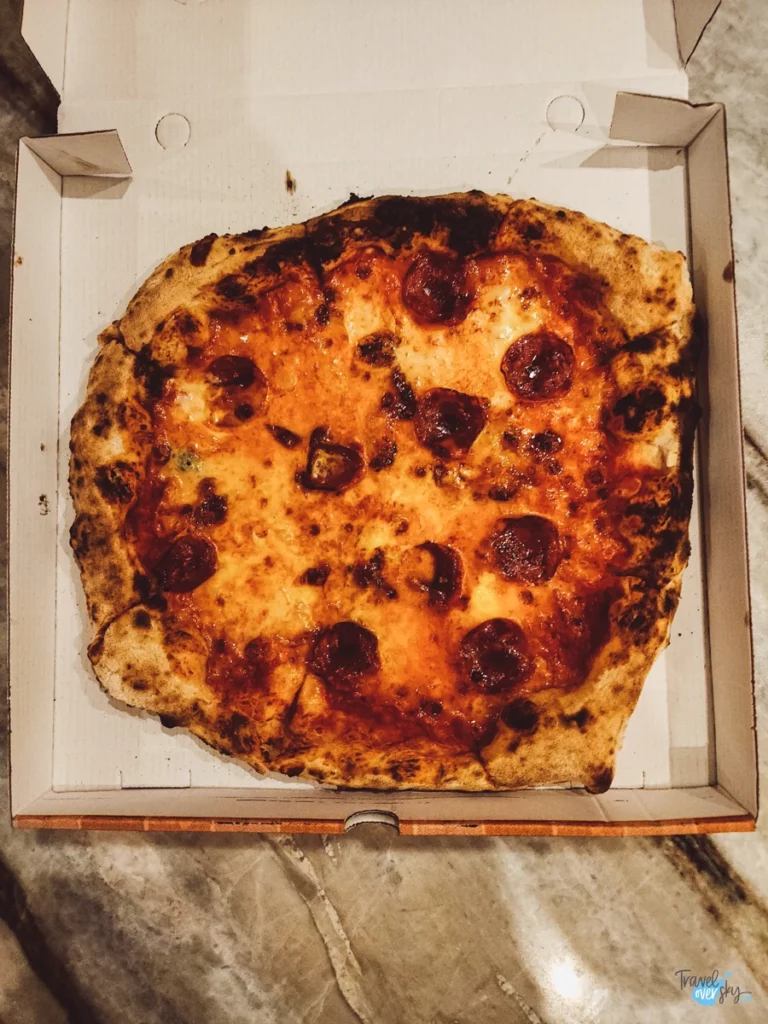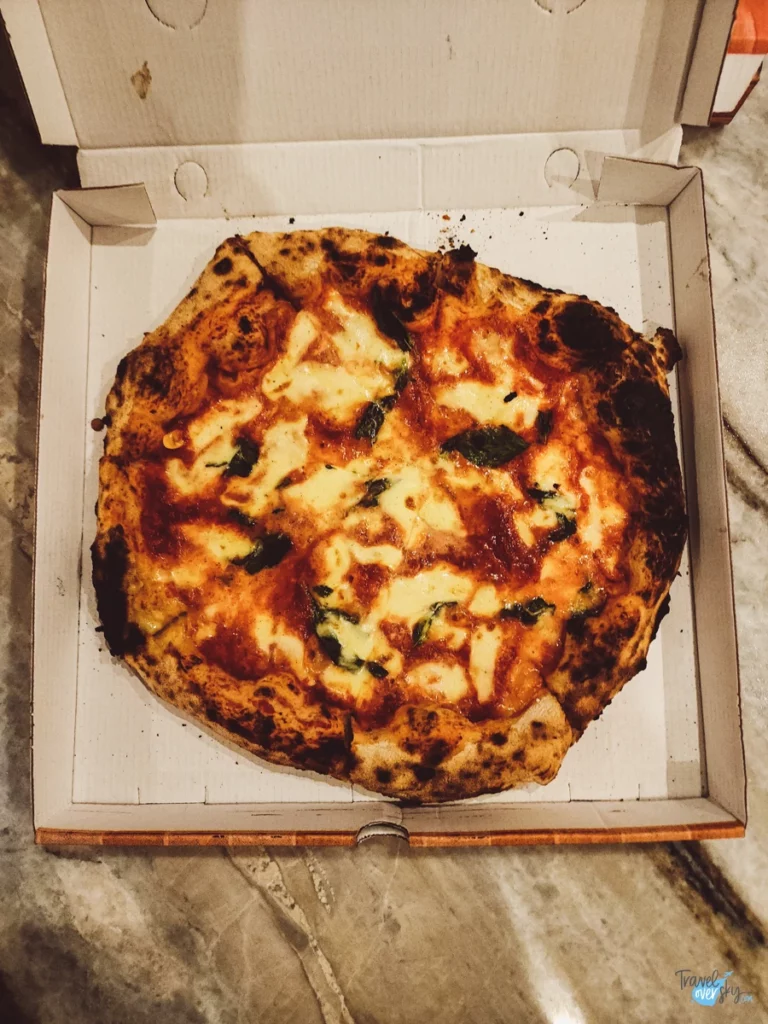 Dominican Thai
The restaurant is a relatively new place on the culinary map of Las Terrenas. The place is located on Calle Libertad, in the passage next to La Catrina and El Dieciocho restaurants.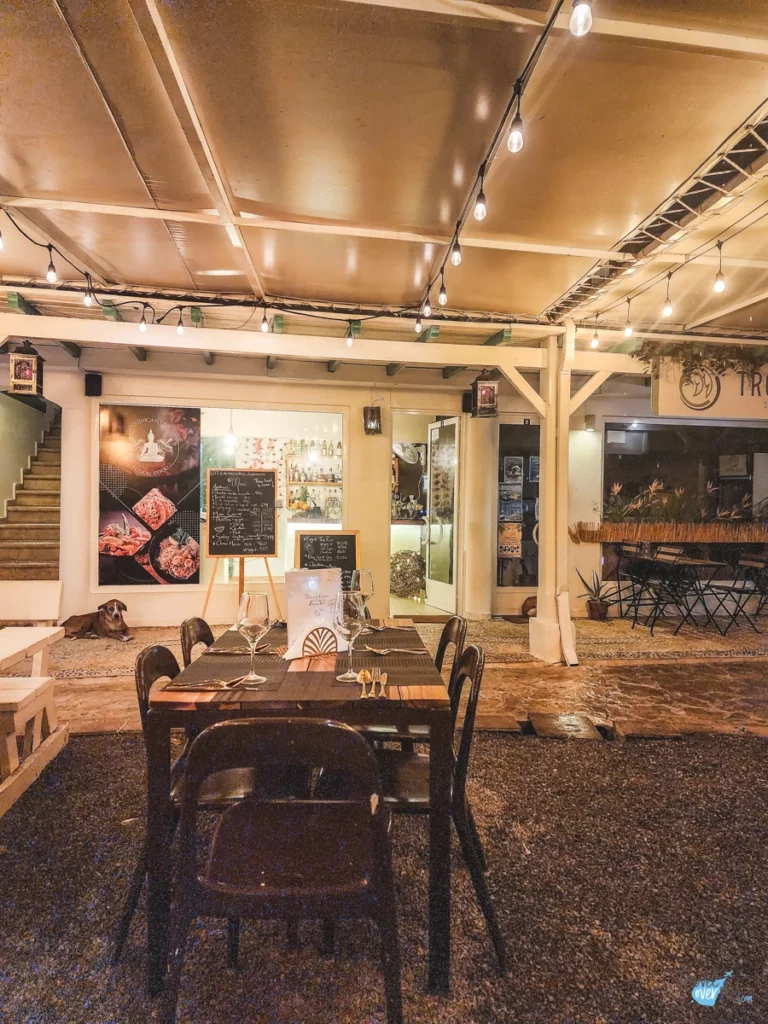 The restaurant has tables outside, so during heavy rains you can unfortunately get wet, because the rain leaks here and there from the roof.
The menu is not extensive, you will find some of the most popular classics of Thai cuisine there. Prices are high and unfortunately do not include ITBIS tax. The cheapest main dishes are priced from 600 RD$ (10,6 USD) and up.
What surprised me negatively was the price of the most ordinary chinola (passion fruit) juices, because they were included in the price of beer! 180 RD$ (3 USD) for plain chinola juice is really a lot.
During my visit to Dominican Thai, I chose pad thai with chicken and chicken satay with rice. I wasn't expecting anything special from this restaurant, but the dishes were quite tasty.
During my visit to Dominican Thai, I chose pad thai with chicken and chicken satay with rice. I wasn't expecting anything special from this restaurant, but the dishes were quite tasty.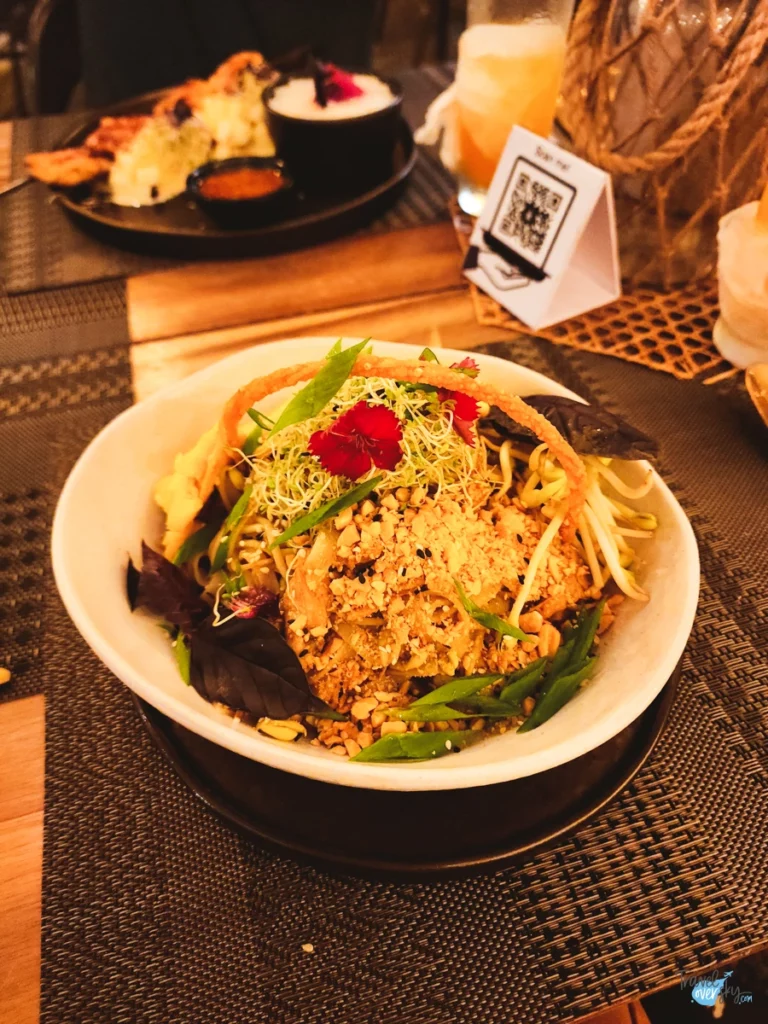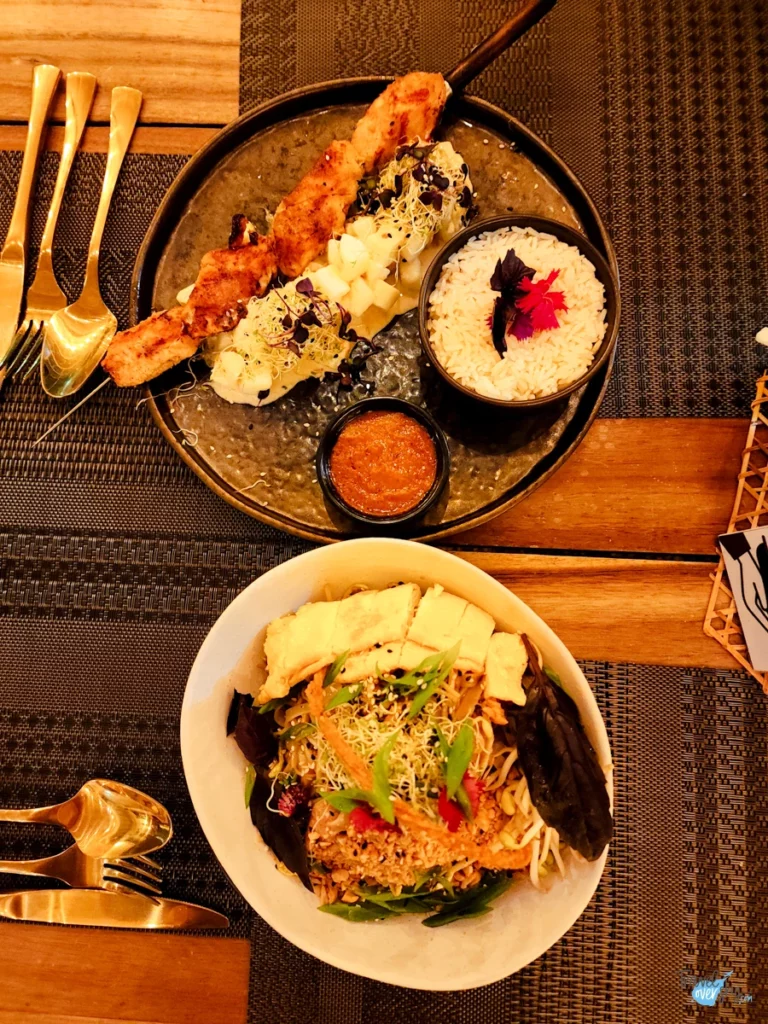 The portion of pad thai was huge and served very nicely and surprisingly – the dish imitated a basket.
The satay chicken was also nicely presented, but the portion was much smaller.
The service in the restaurant was of a high standard.
Get the Gringo Burger
The restaurant is located right next to the famous Las Terrenas sign on the 27 de Febrero Street. Apart from a small place where you can park your two-wheeler, there is no car park for customers, so I recommend you to visit the entry about Las Terrenas and look at the parking section in this city.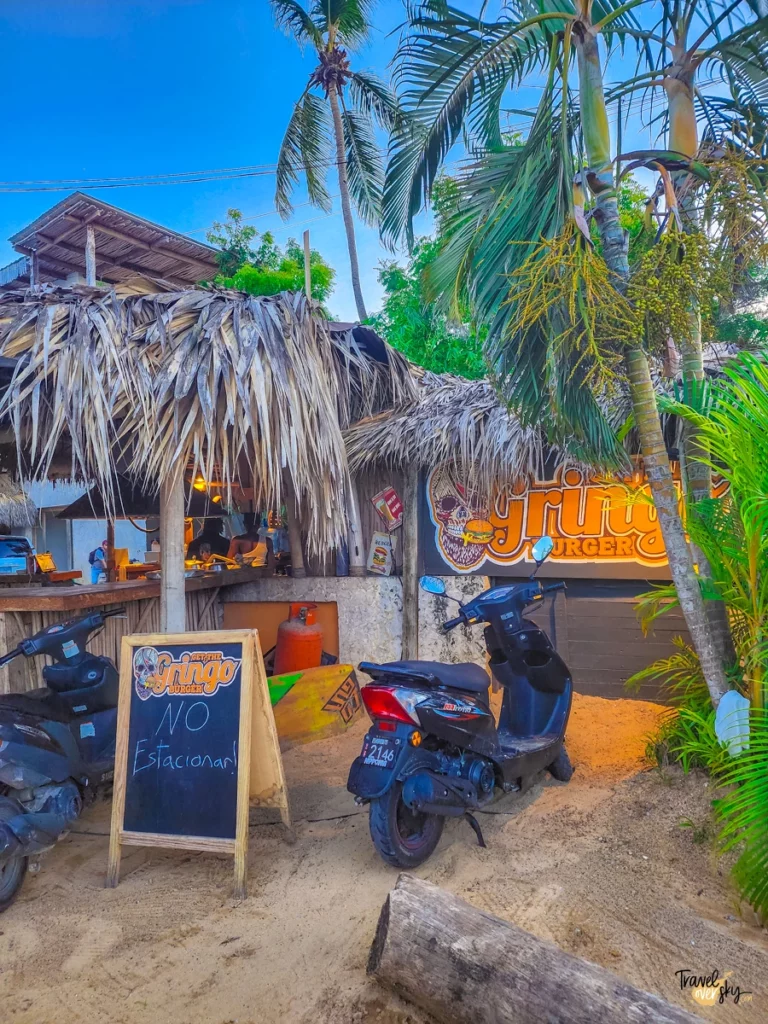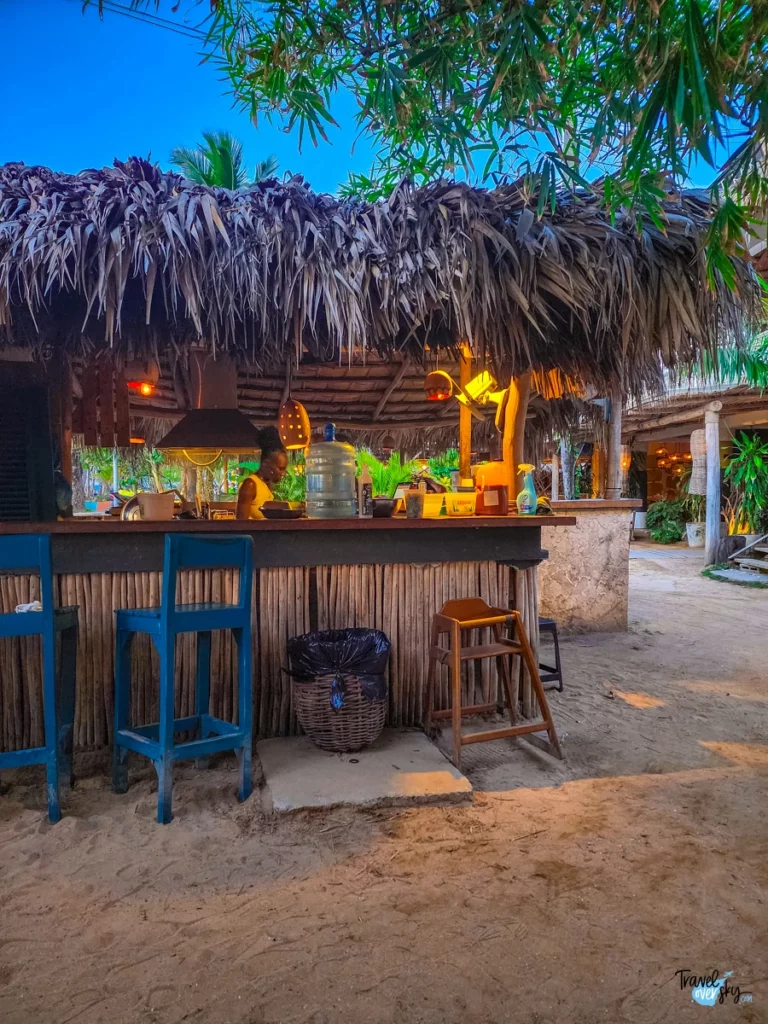 The restaurant is open from all sides, so you can fully enjoy the Dominican climate. In the evenings, I recommend getting mosquito repellents.
At the restaurant, I ordered Chilli Cheese Burger and Gringo Special. We got the order very quickly. The portions of the sandwiches were huge and the quality of the products used was worth the price. The waitress did not ask us about the degree of doneness of the meat, so if you prefer rare – be sure to ask for it. The meat was very tasty and well seasoned, the chilli burger was not overly spicy, but the peppers emphasized the whole thing well.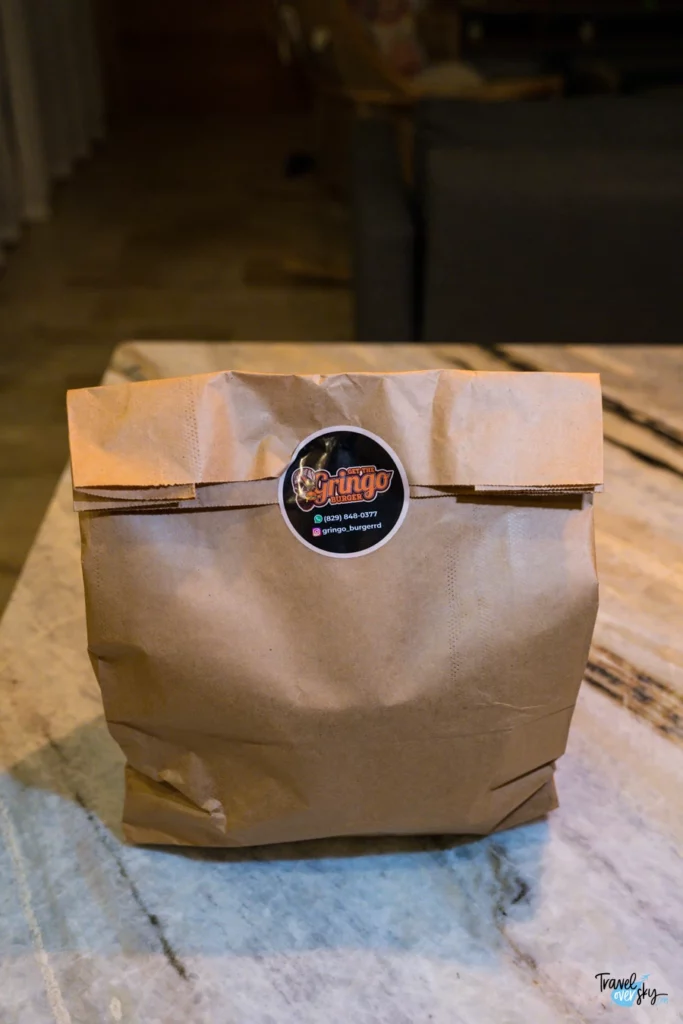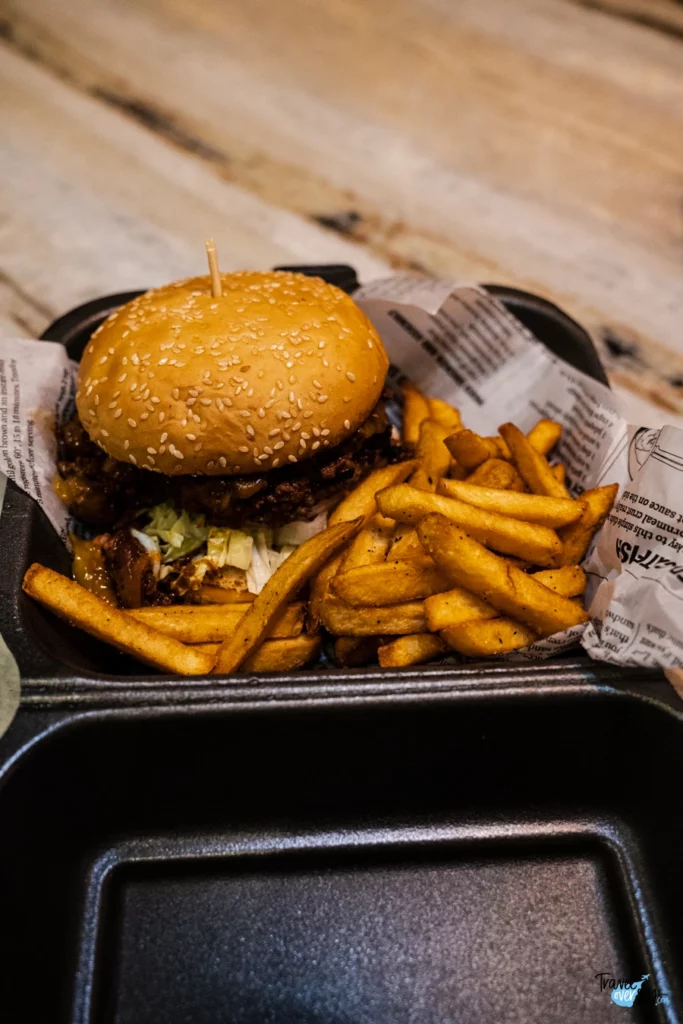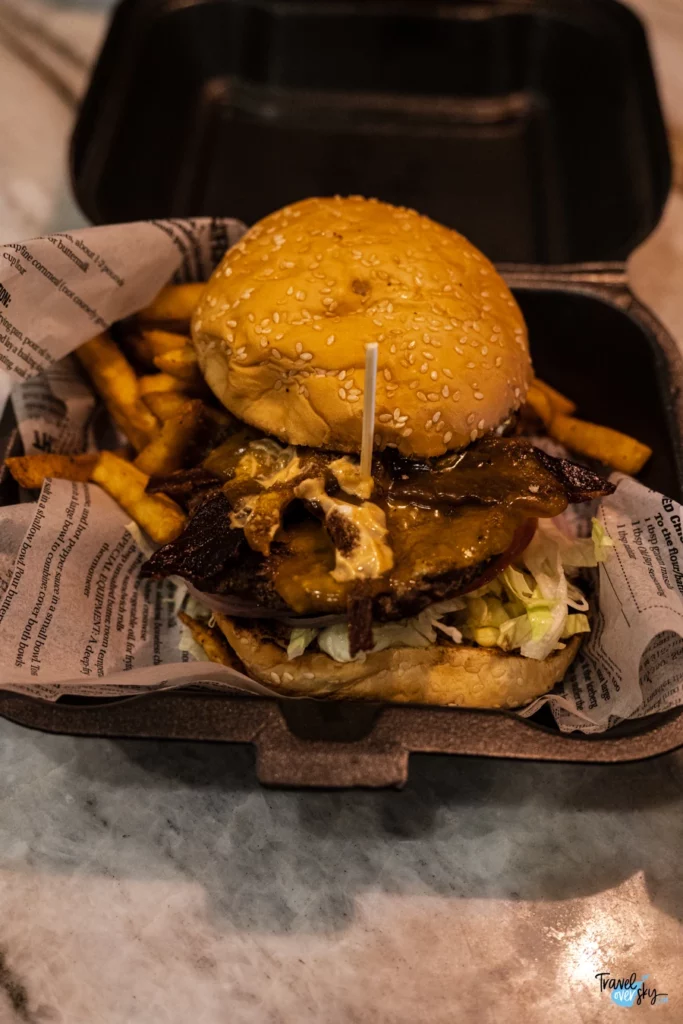 For each burger, you get fries included in the price. It is worth adding that the fries are really tasty and spiced.
I ordered my burgers to take away, service was added to the final bill, which is rather not practiced in takeaway orders. I just saw it at home. On the plus side – ITBIS tax is not added.
I paid RD$1265 (22 USD) for two burgers.
***
I hope you really enjoyed it and you already know which are best restaurants in Las Terrenas and are worth visiting. Remember that you can also look for Traveloversky on social media – Instagram and Facebook.
---
I love sharing my travels, experiences, thoughts and self-tested advices. A travel blog is also a bit of work that I do drinking coffee.
If you want to buy me a coffee, I'd be very pleased!
Virgin Catalina Island. Do you want to know how to get to Catalina Island? What can you do on Catalina...
Read More