Where to eat in Costa Rica? | Costa Rica restaurants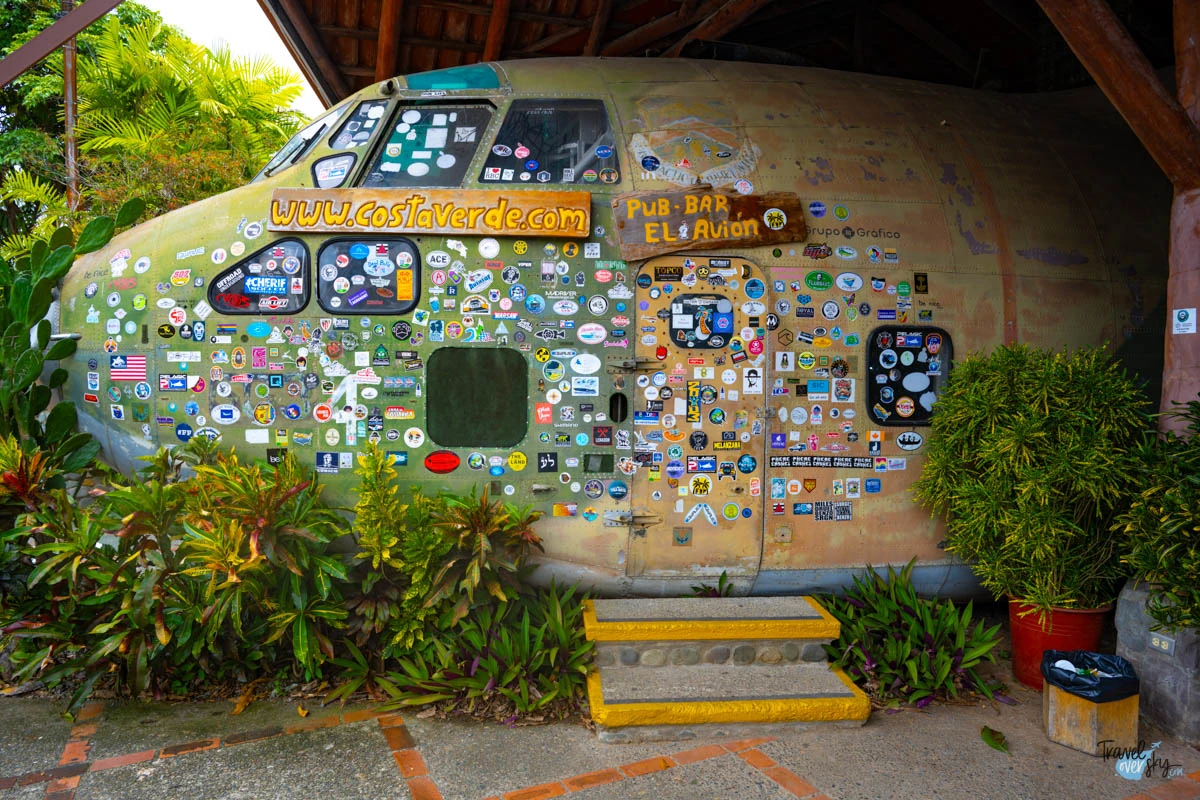 Costa Rica restaurants – what restaurants are available in Costa Rica. Which dish is a national one? Can you pay using a card in the restaurants? Where will you eat a delicious meal in Costa Rica?
---
I visited a few restaurants in Costa Rica, some of which turned out to be mediocre, and others were a total hit. This article will guide you through all the restaurants I visited during this trip, and it will be sorted by the city name.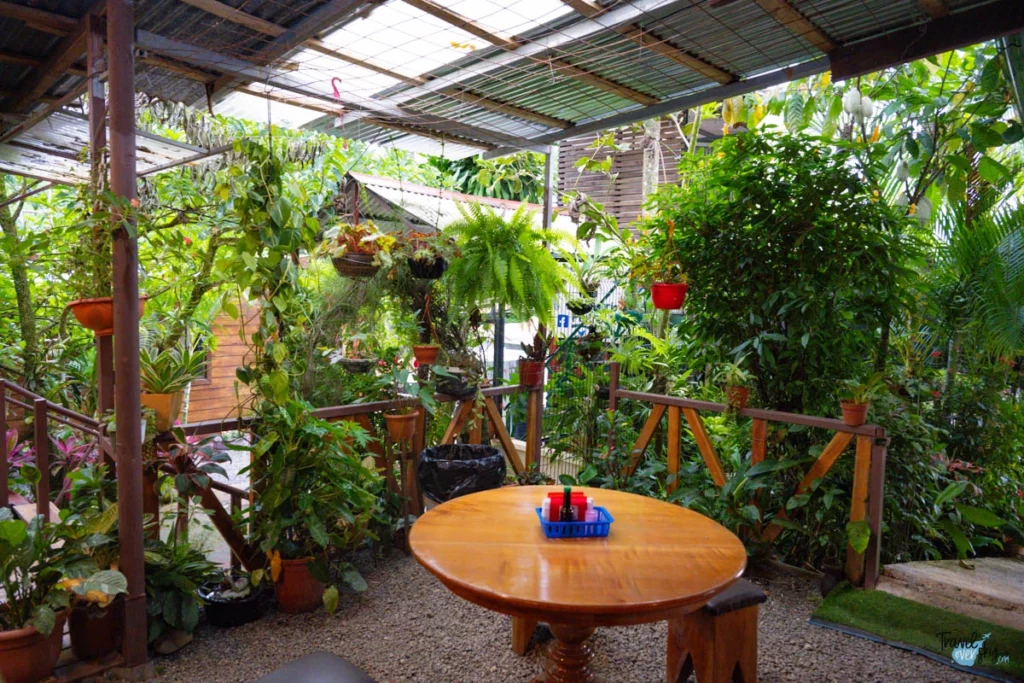 The places that serve food can be spotted literally at every corner in Costa Rica – wayside bars, bistros, stands and luxurious restaurants. You can see that the country map shows many places, which are called 'Soda' – those are typical Costa Rican restaurants where you can usually eat local food.
Cash or credit?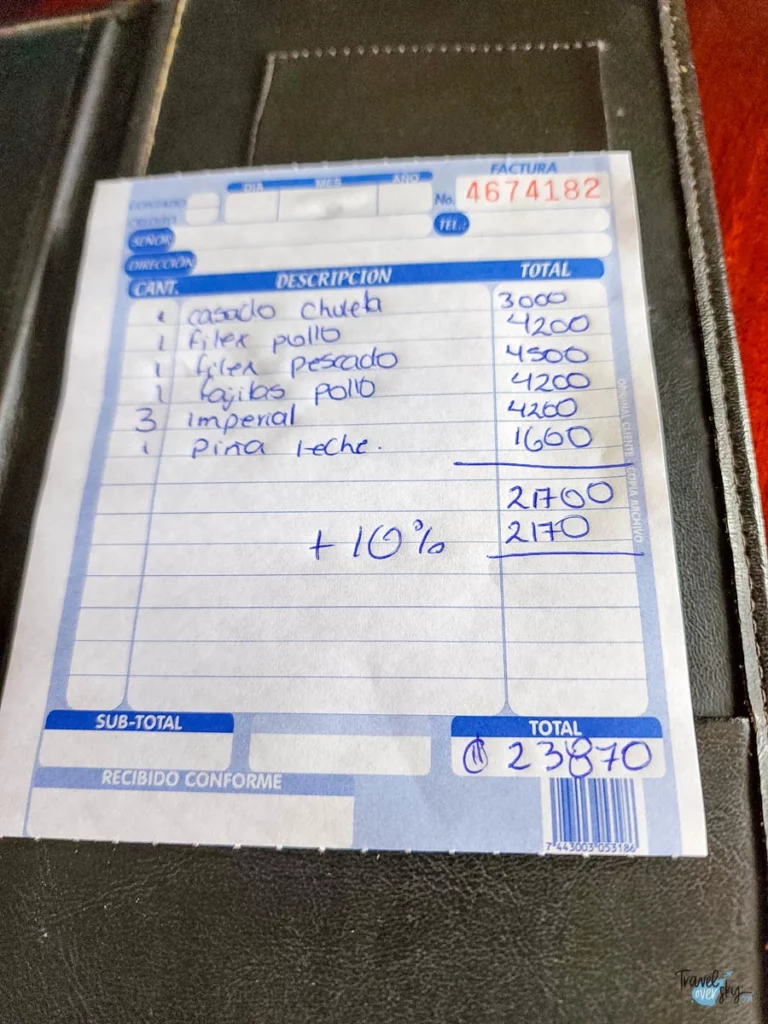 In the most popular tourist places there would be no problem with paying by card at the restaurant. You need however to have some cash on you when you pick a less popular restaurant in more local areas. Cards are also not accepted in the whole Tortuguero (not only in the restaurants).
Quepos
The El Avion restaurant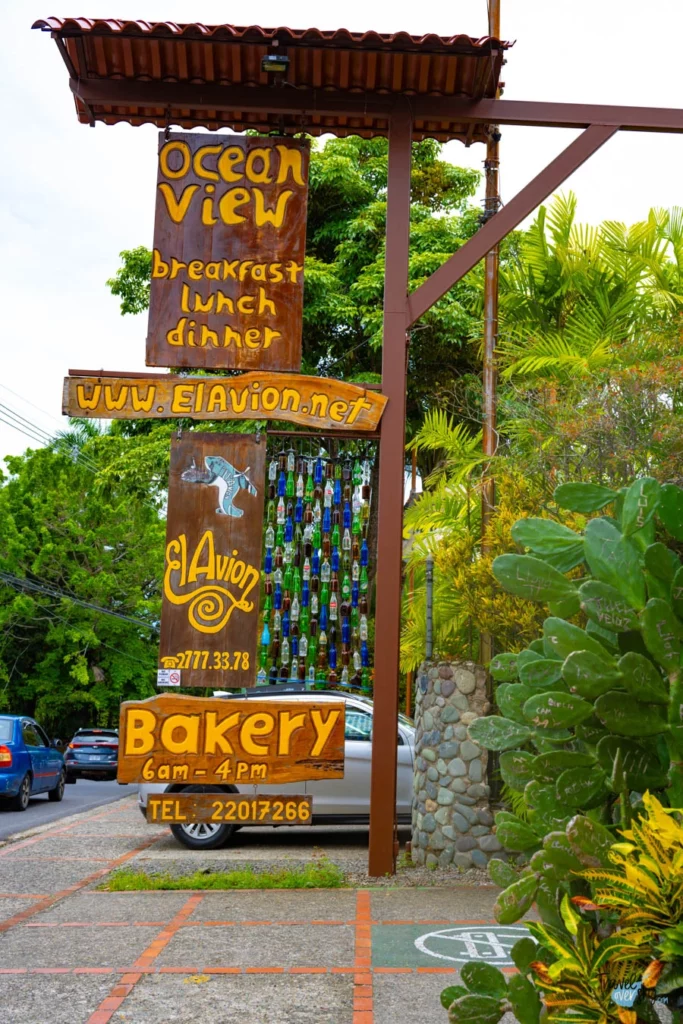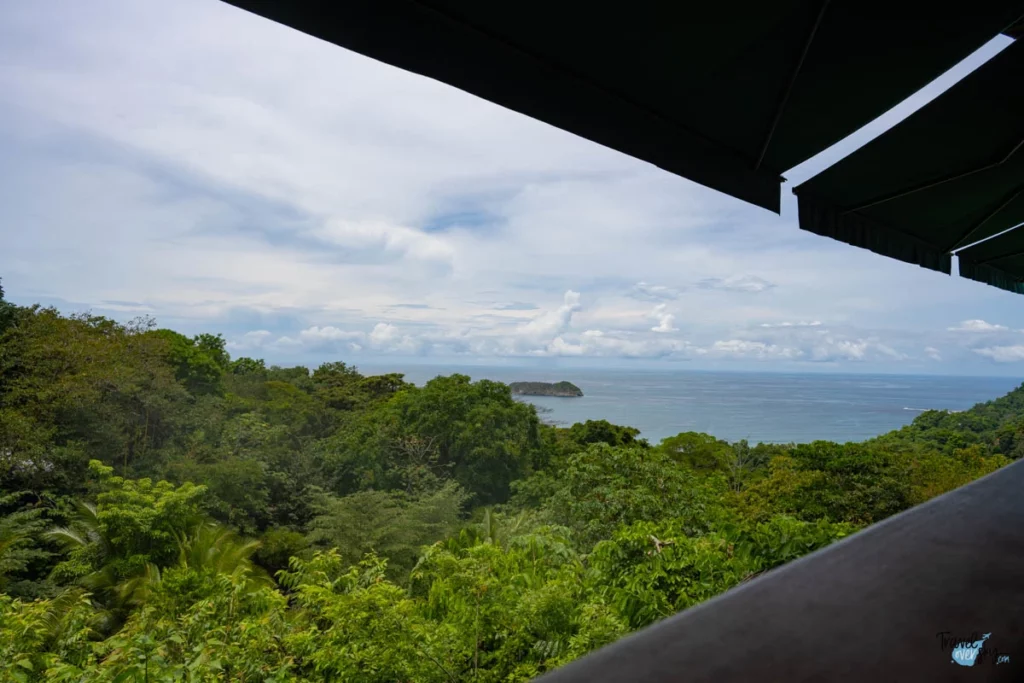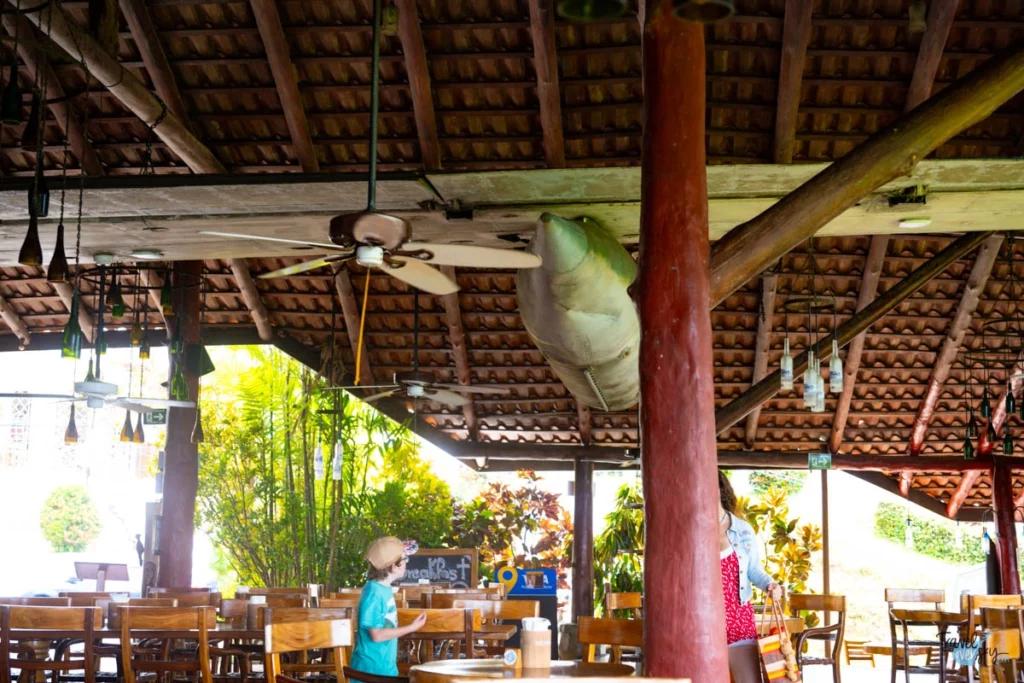 El Avion is one of the most popular restaurants of Quepos. It is located near the main entry road to the Manuel Antonio National Park, and the building catches the eye quickly as it is plane-shaped!
Additionally, the restaurant has its own observation deck with a view of the Pacific Ocean, mountains and forests. The menu at the restaurant is varied, and the prices are not too high.
I ordered fajitas with chicken, and my friends a grilled sea bream and a tropical salad with mango.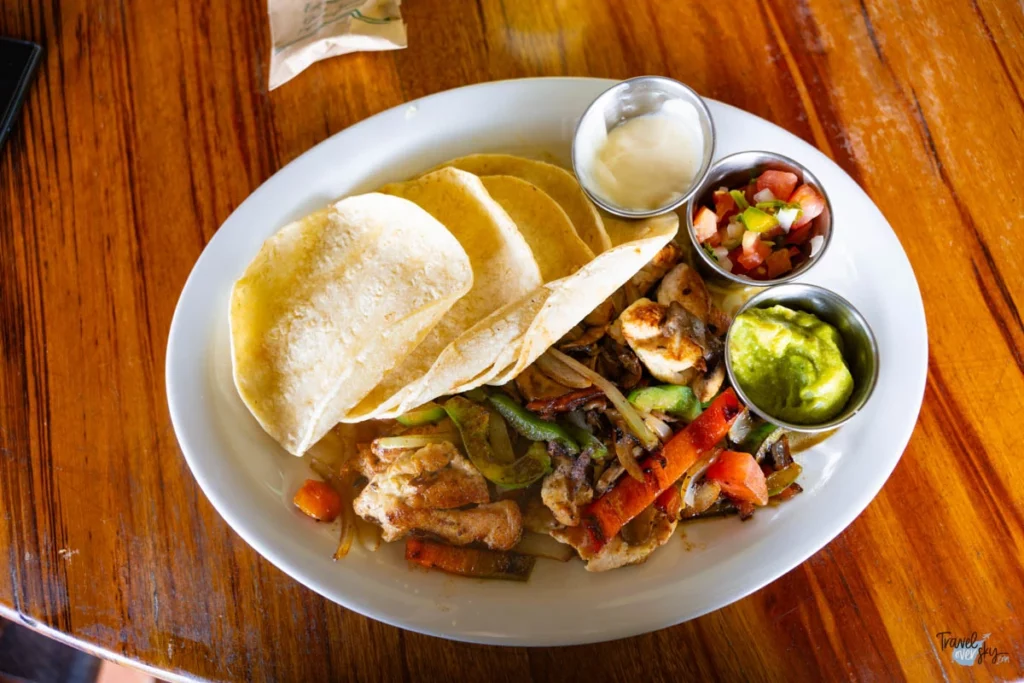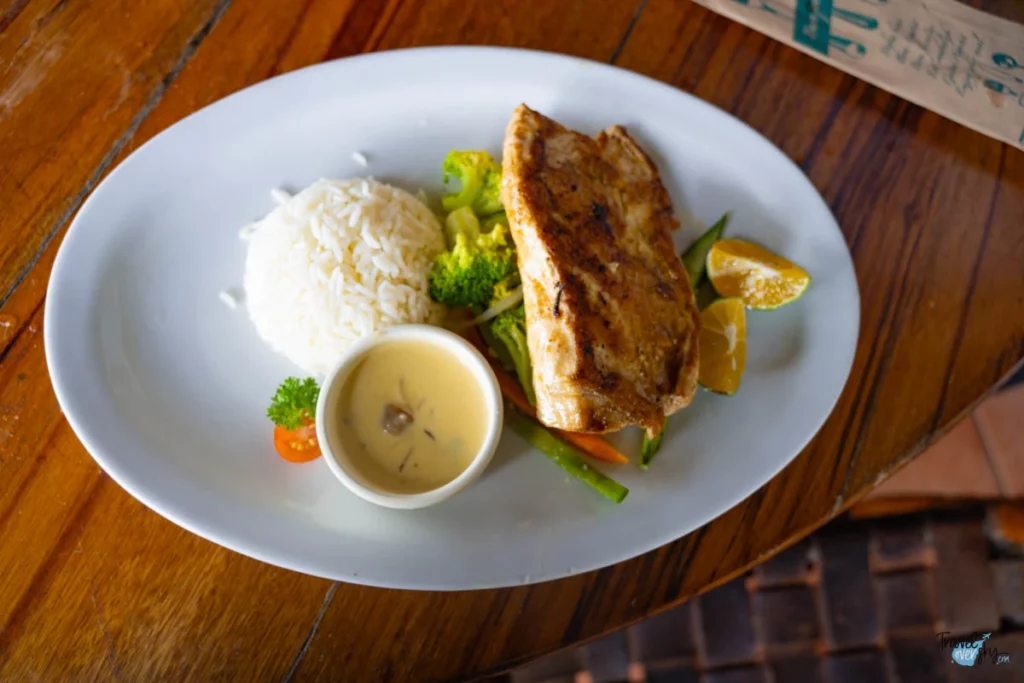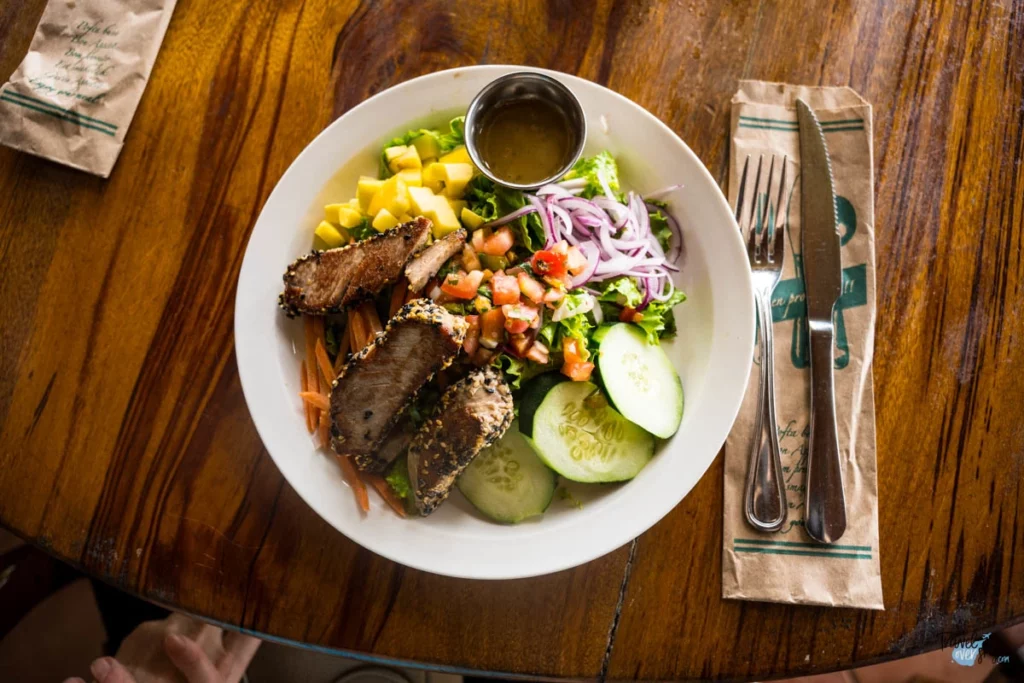 The food I ordered was quite tasty, however, I ate better fajitas in my life. The salad turned out to be the best out of the whole order, as it was very fresh and tasty.
The natural papaya and pineapple juices were quite good as well. They were dense and very refreshing.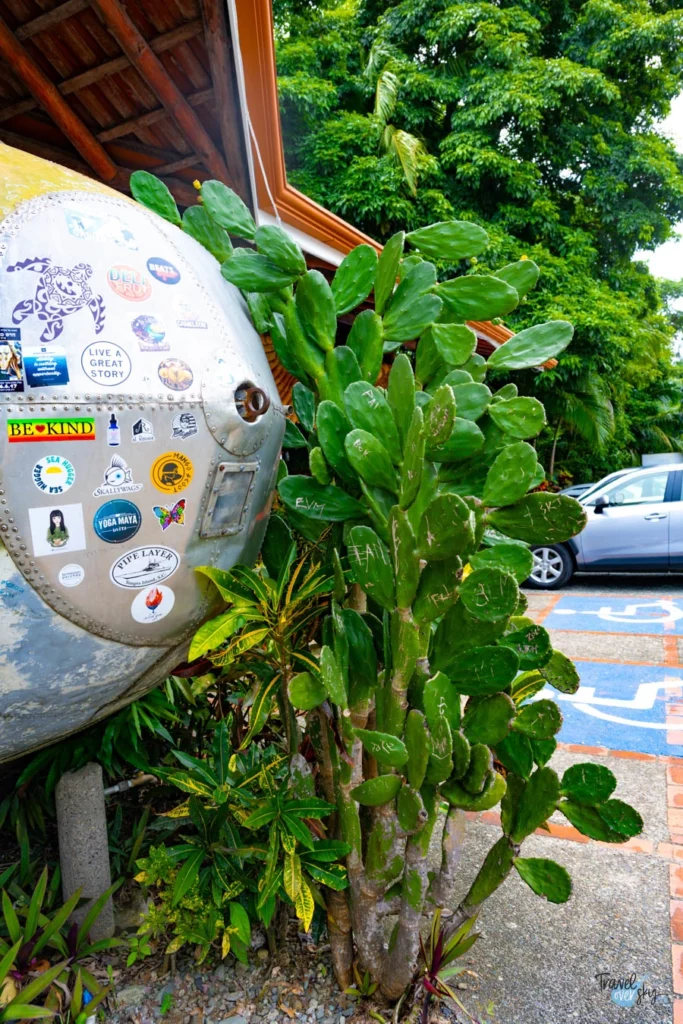 The whole order, meaning fajitas, two sea breams, a salad, two Imperial beers and two juices was nearly 54 000 colones (100 USD).
Bijagua de Upala
The El Sabor de Dona Carmen restaurant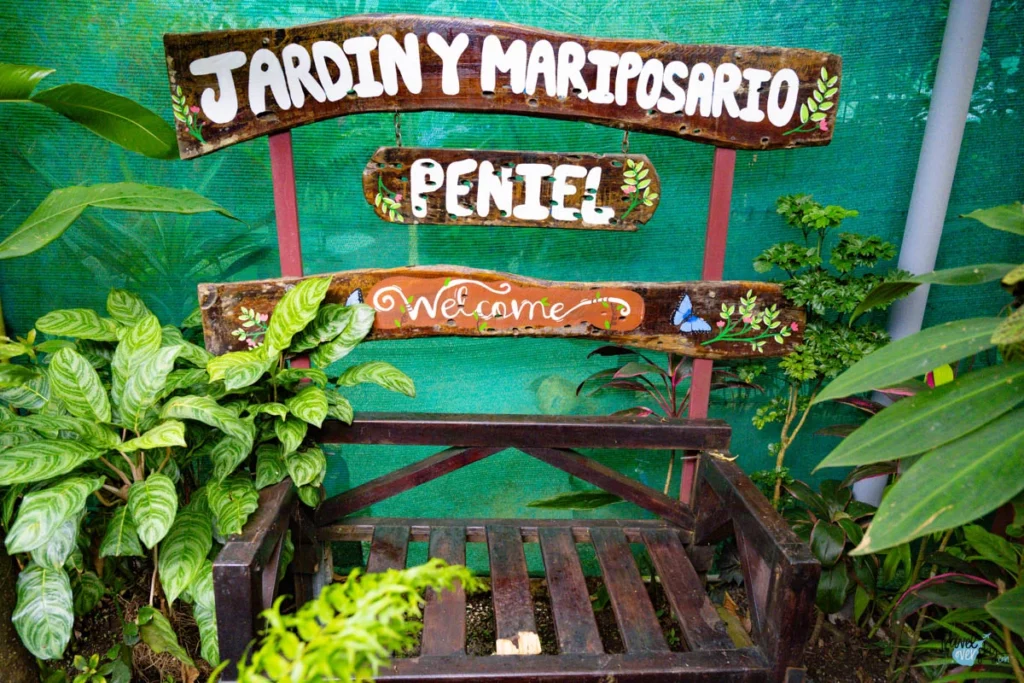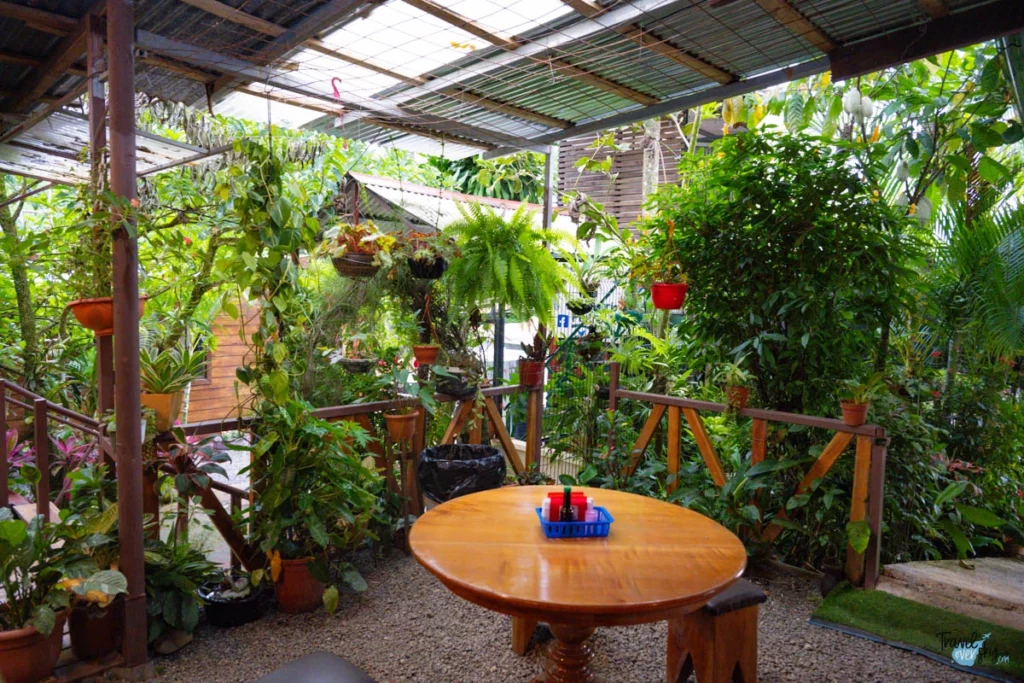 It is a typical Costa Rican restaurant. You will find a butterfly garden there, which can be enjoyed while waiting for the meal. The entry is free.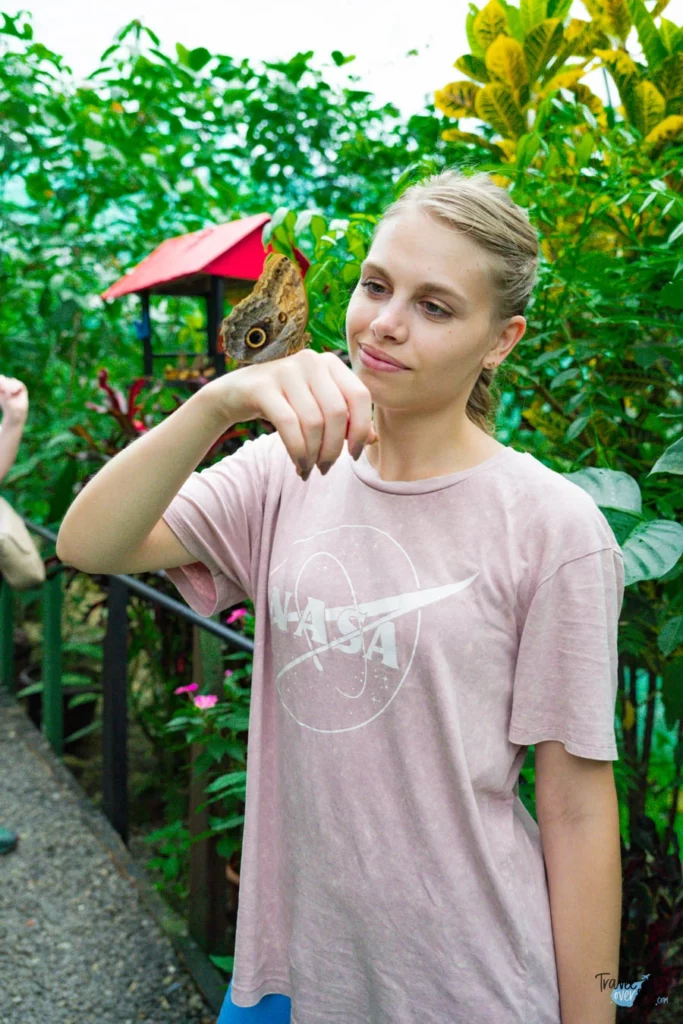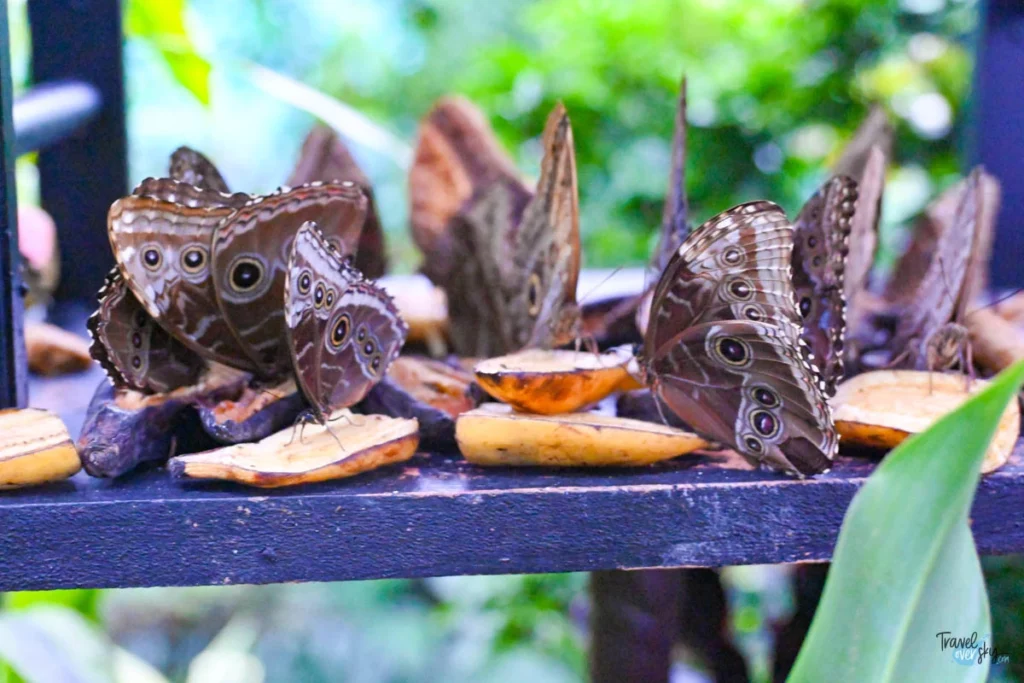 The food here was very delicious and portions were quite big. You can taste the most popular Costa Rican cuisine's dish there.
I can without any doubts recommend a casado, which is a popular dish made of rice, beans, platanus, salad and a meat addition. Delicious and very filling was an Aztec soup as well.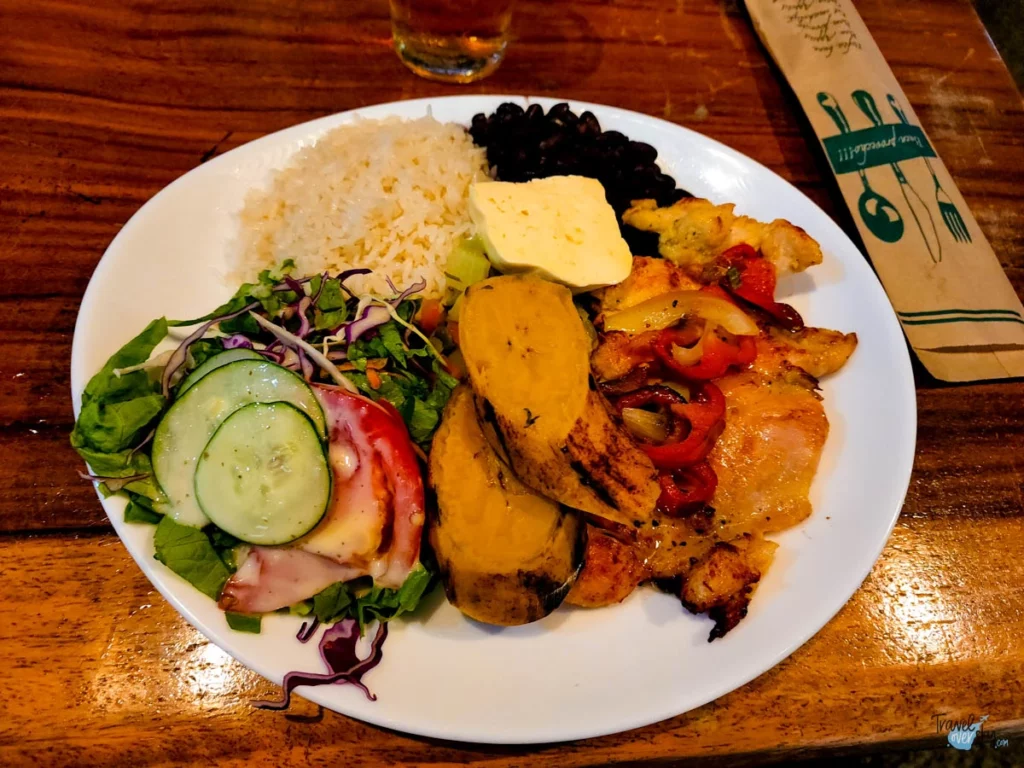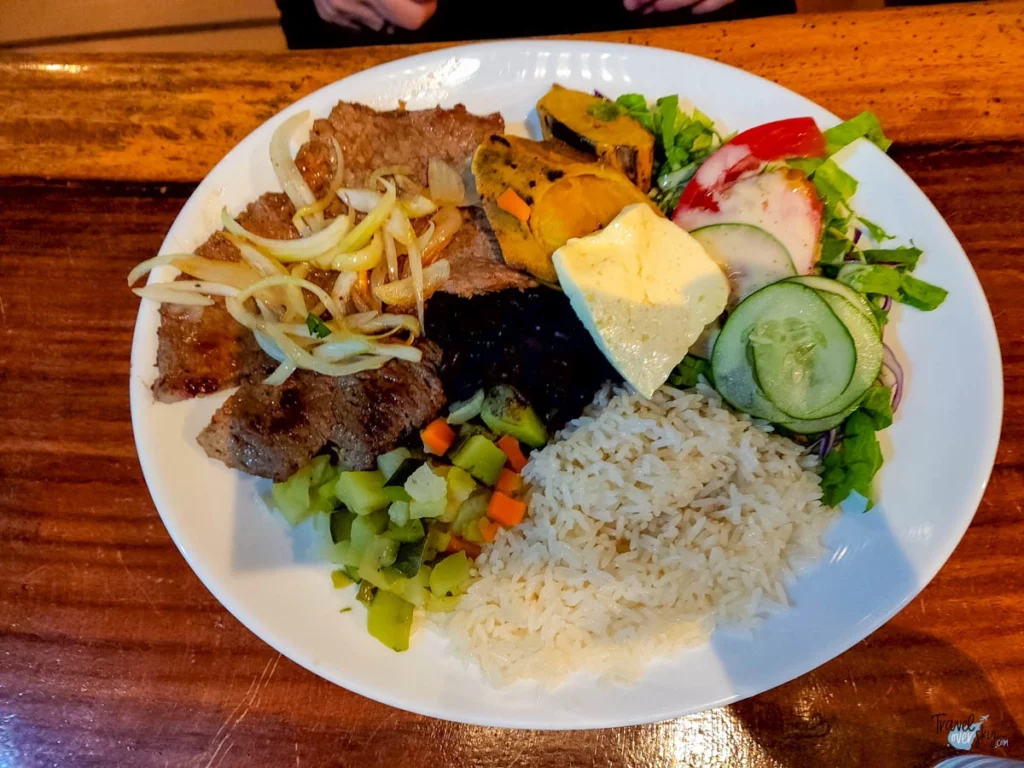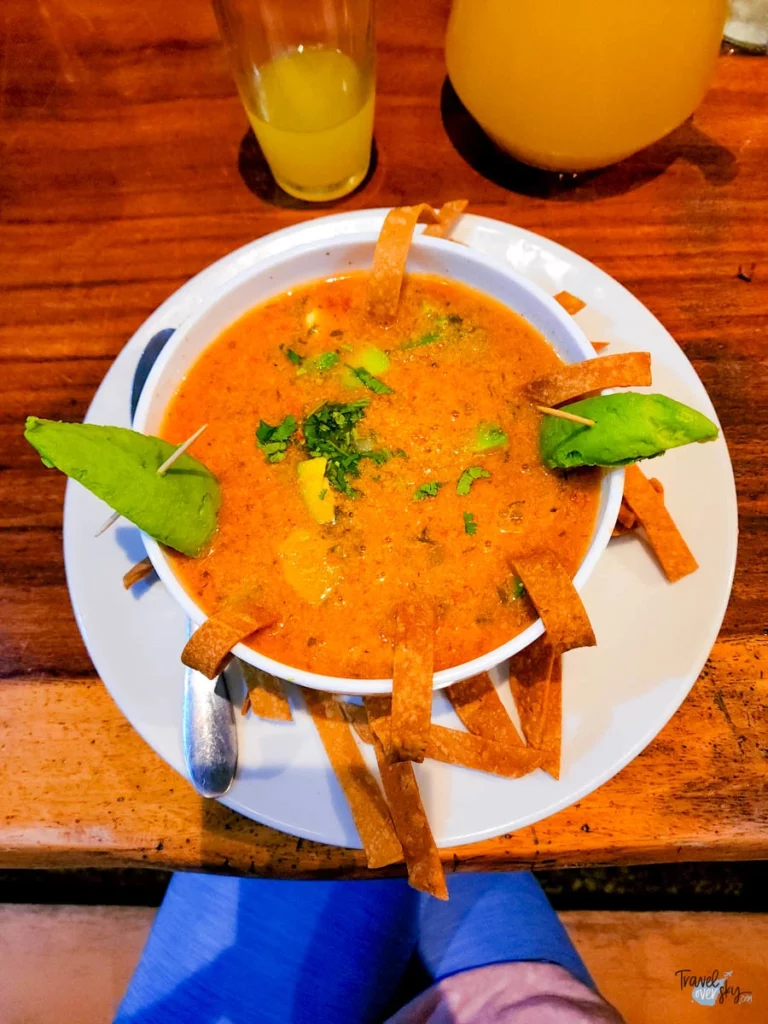 After I was done eating, I also received a small desert – classic rice with milk.
The prices in the restaurant were quite affordable. I paid 22 000 colones (40 USD) for four meals.
Restaurante y Marisqueria Poro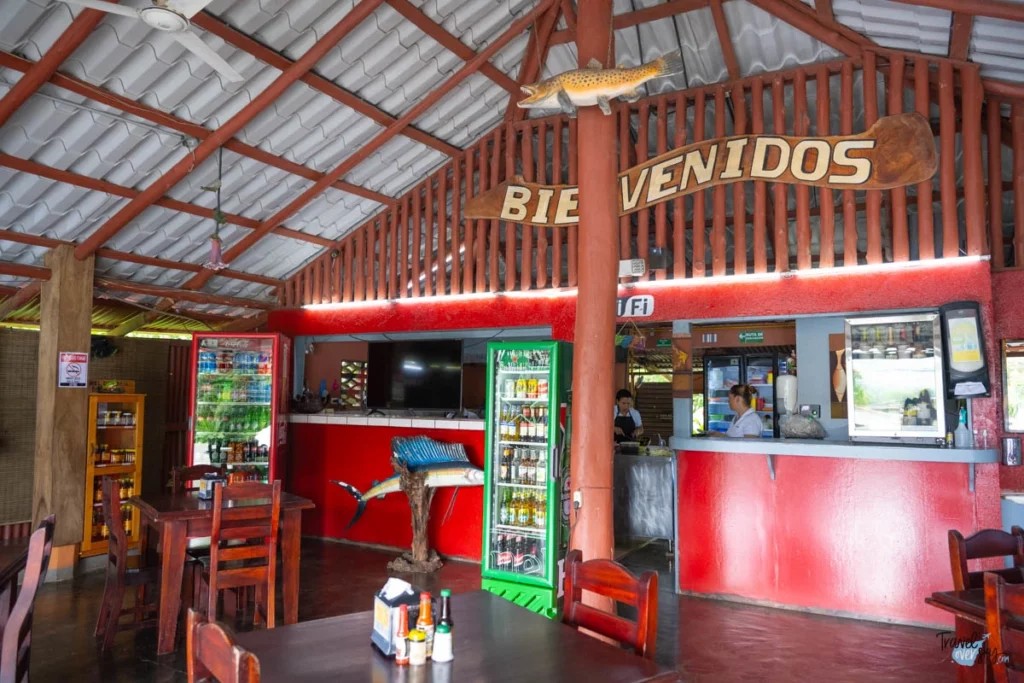 Apart from serving classical Costa Rican dishes, this restaurant also specializes in fish and seafood.
The meals were not bad, but compared to the Soda El Sabor de Dona Carmen they have some room for improvement.
My companions and I picked chicken filet and fish with a salad and fries, casado with a portion of pork and chicken fajitas.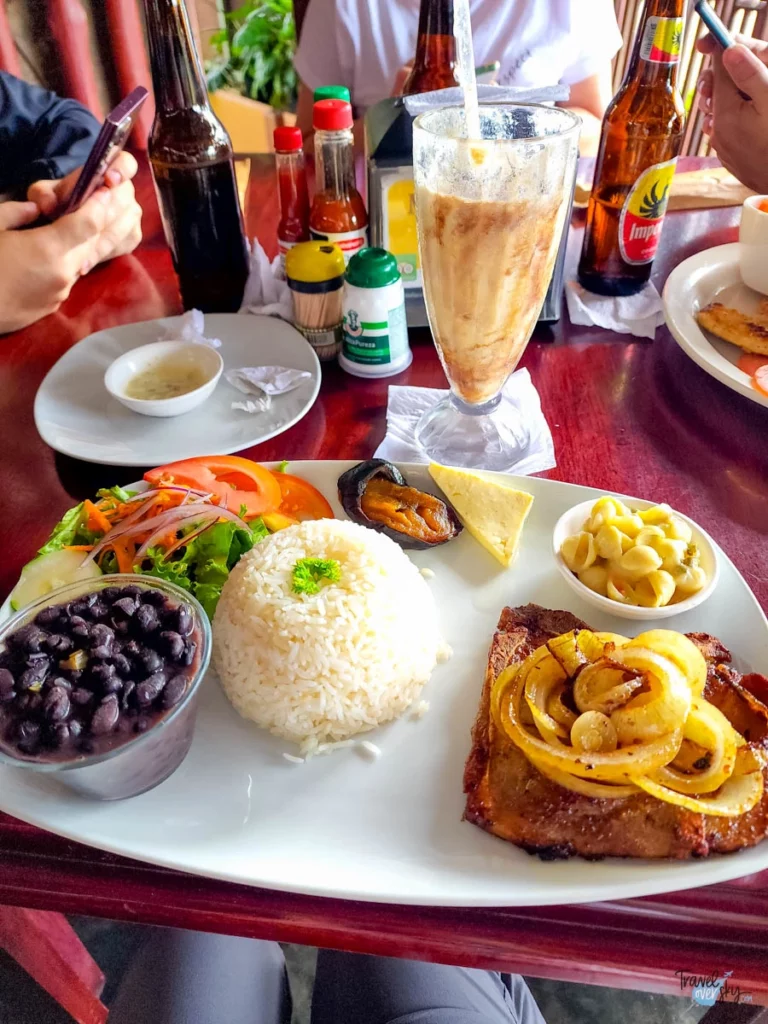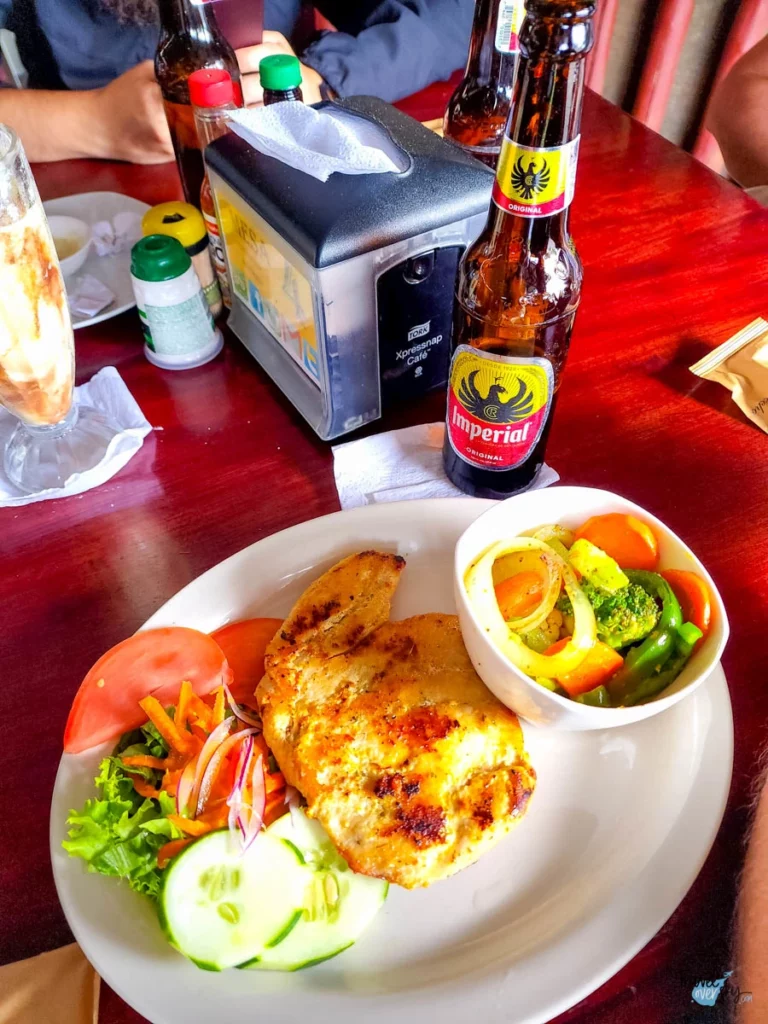 Taking into consideration that this restaurant specializes in fish and seafood – the fish did not taste too good.
I also received marshmallows with condensed milk and coconut.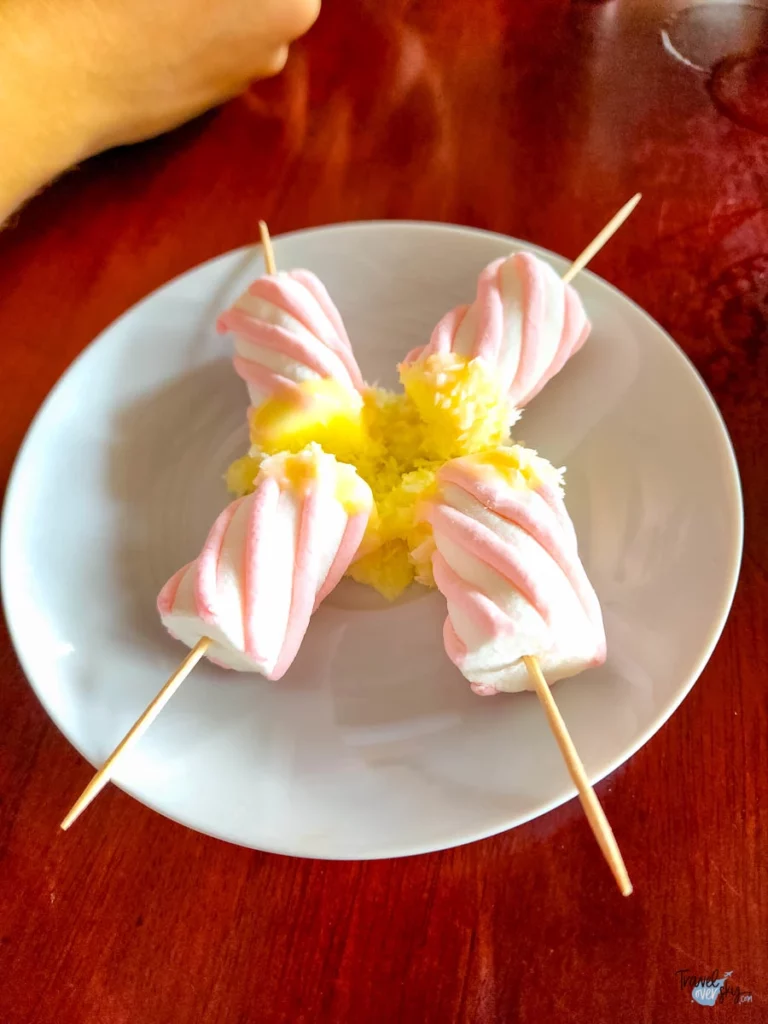 I paid almost 24 000 colones (45 USD) for four dishes, three beers and batido.
La Fortuna
El Jardin de Frida restaurant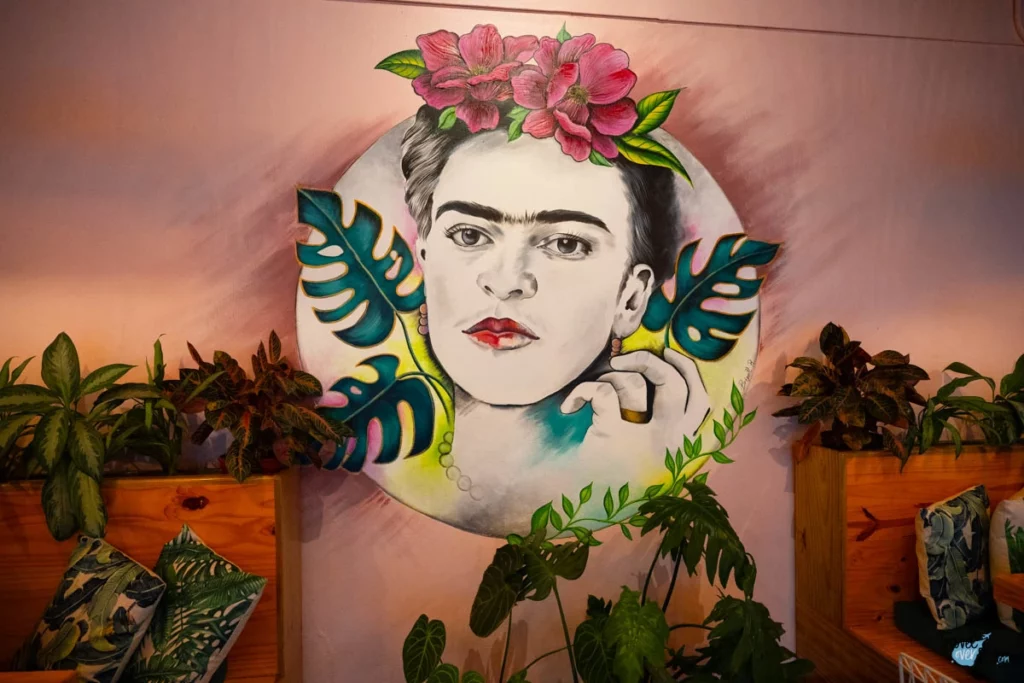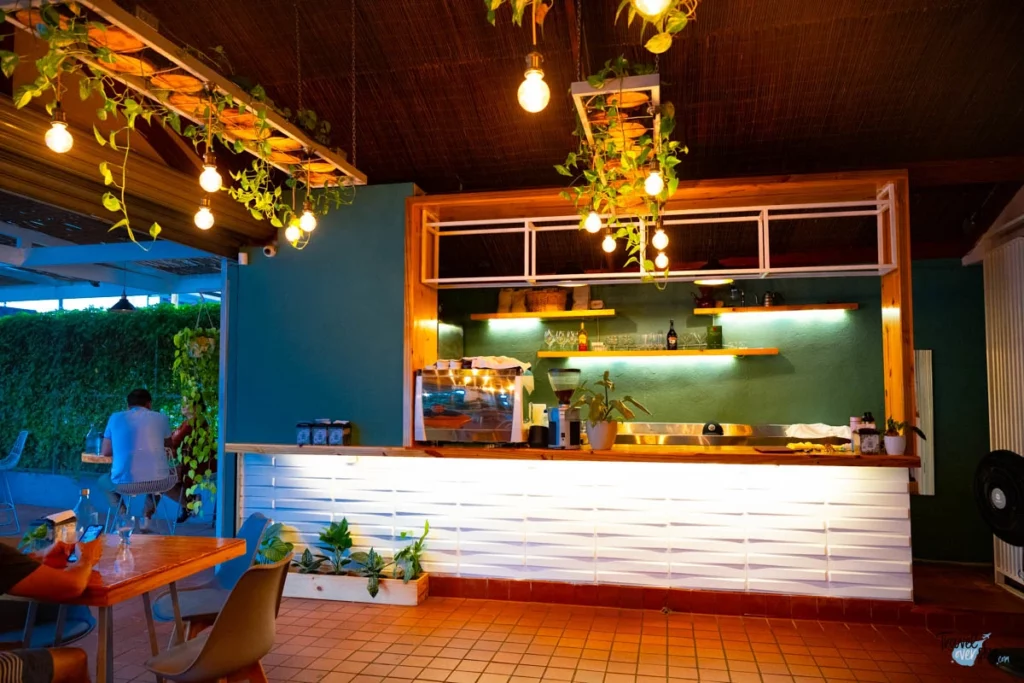 The restaurant is located near one of the main roads in La Fortuna. The parking space for the restaurant guests has only three spots available, which is why on weekends and during evening hours it can be problematic to park there.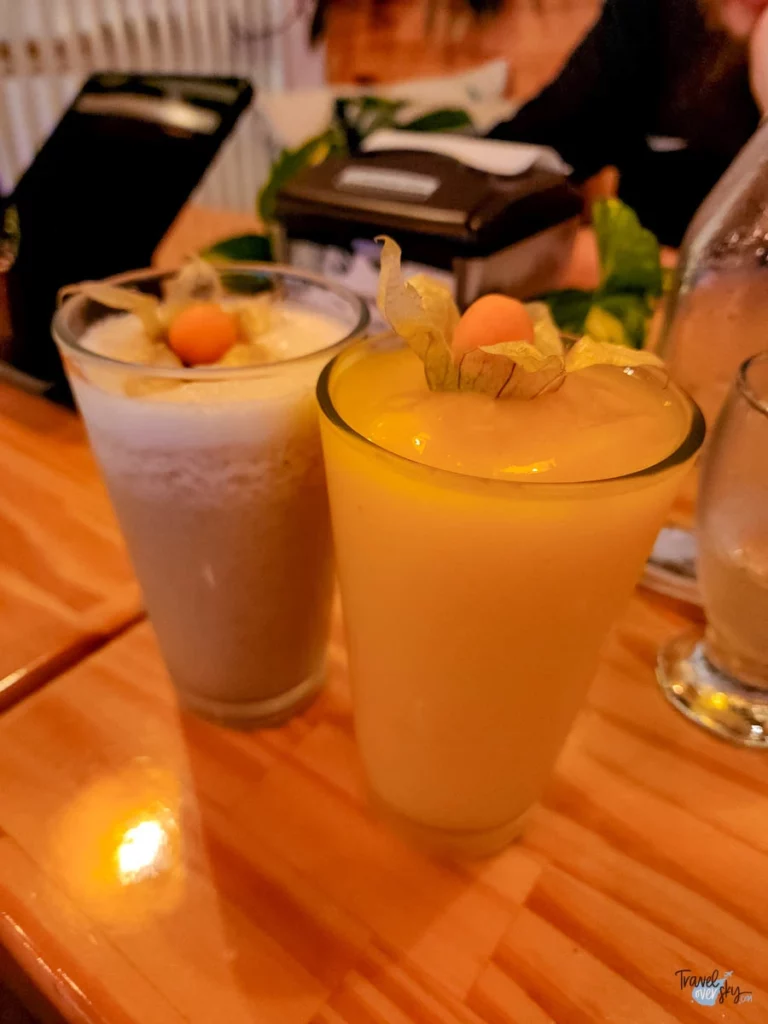 The inside is very modern and elegant, which makes it look very European-like. The waiter service is very high level.
The prices are high, but one needs to take into consideration that this is a very tourist oriented city, and it was not a random wayside restaurant.
We picked salmon with butter and fries, chicken breast with vegetables on the side, hamburger and tropical salad from the menu.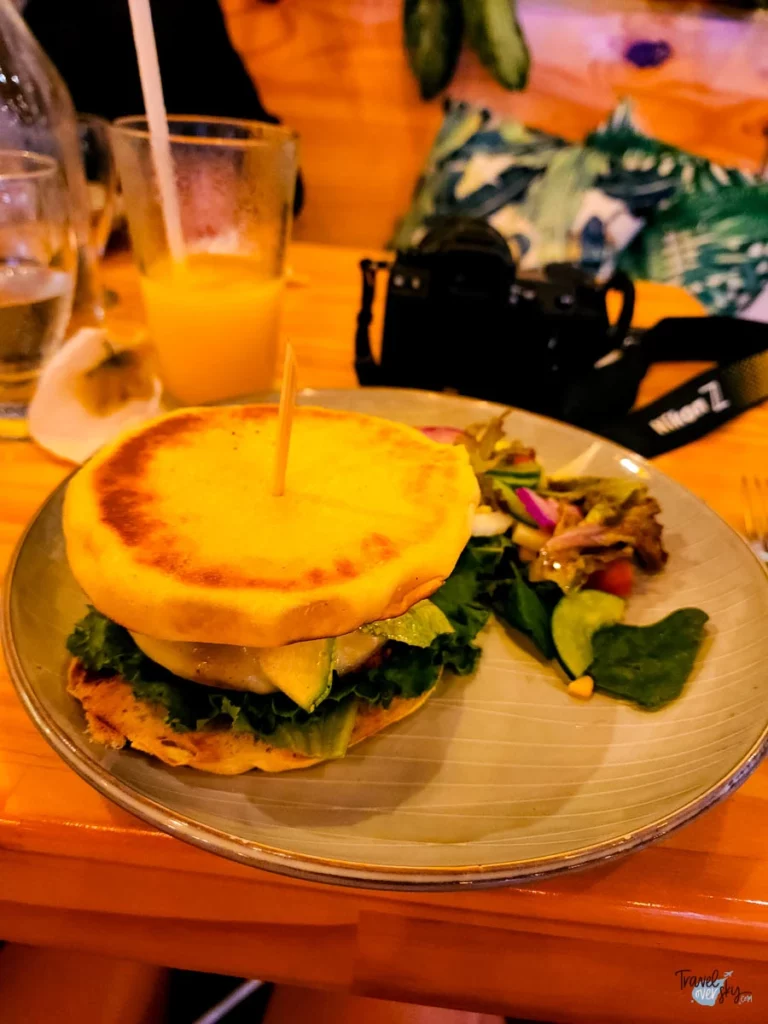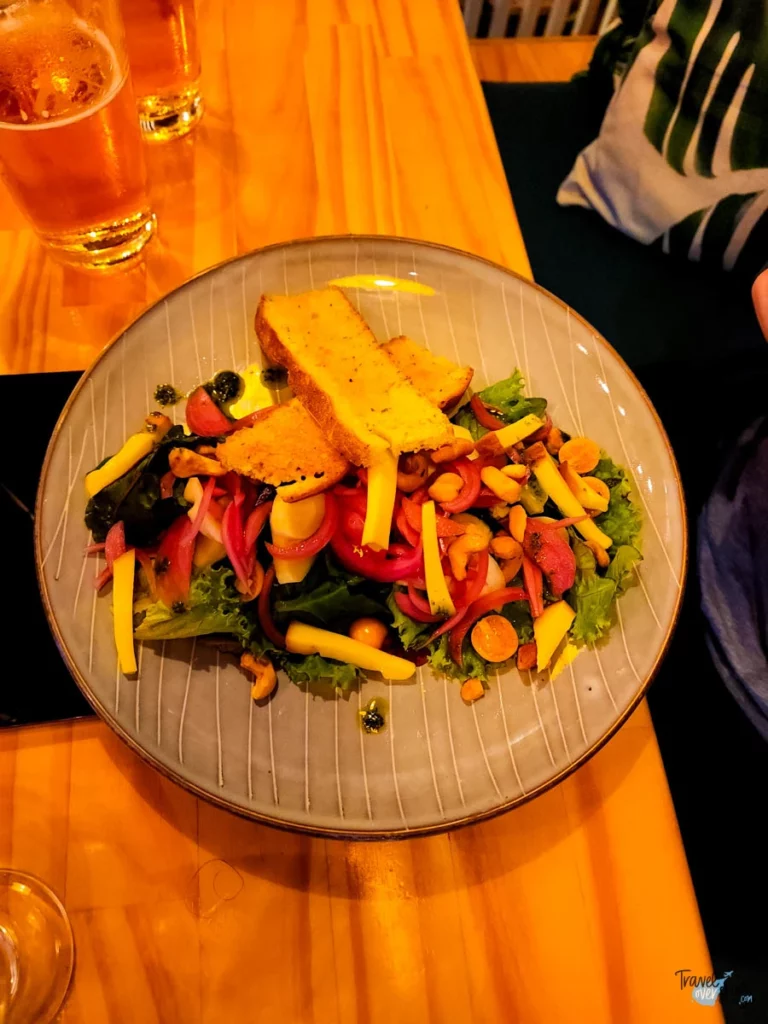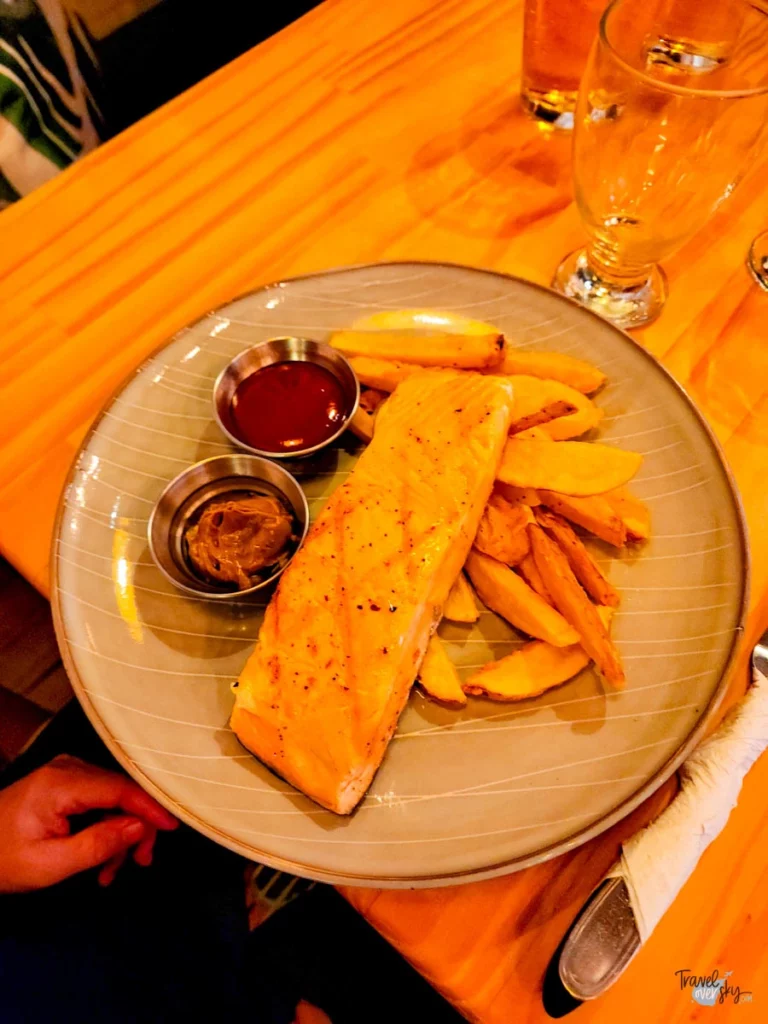 Each meal was delicious and served in a very elegant way.
The receipt for four people was almost 40 000 colones (74 USD).
Travesia restaurant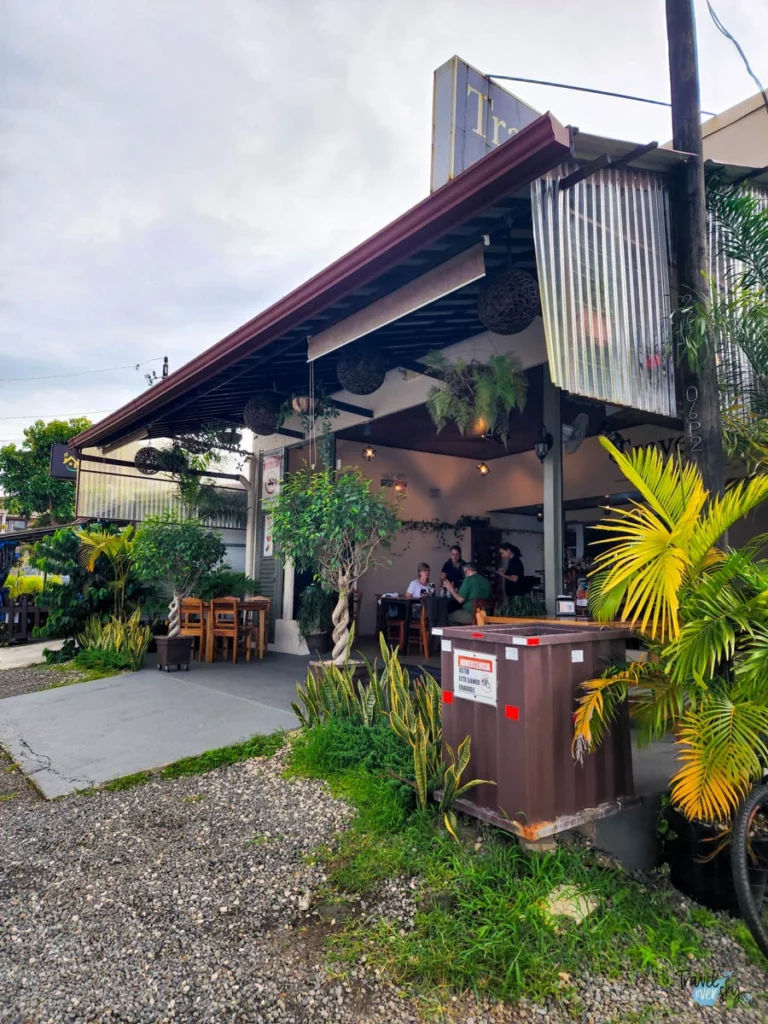 The restaurant was elegant and the waiter service was on a high level.
We picked grilled chicken breast, spaghetti with loin and chicken cordon bleu from the menu. It is worth mentioning that the waiter immediately offered some water, which was not added to the receipt afterwards.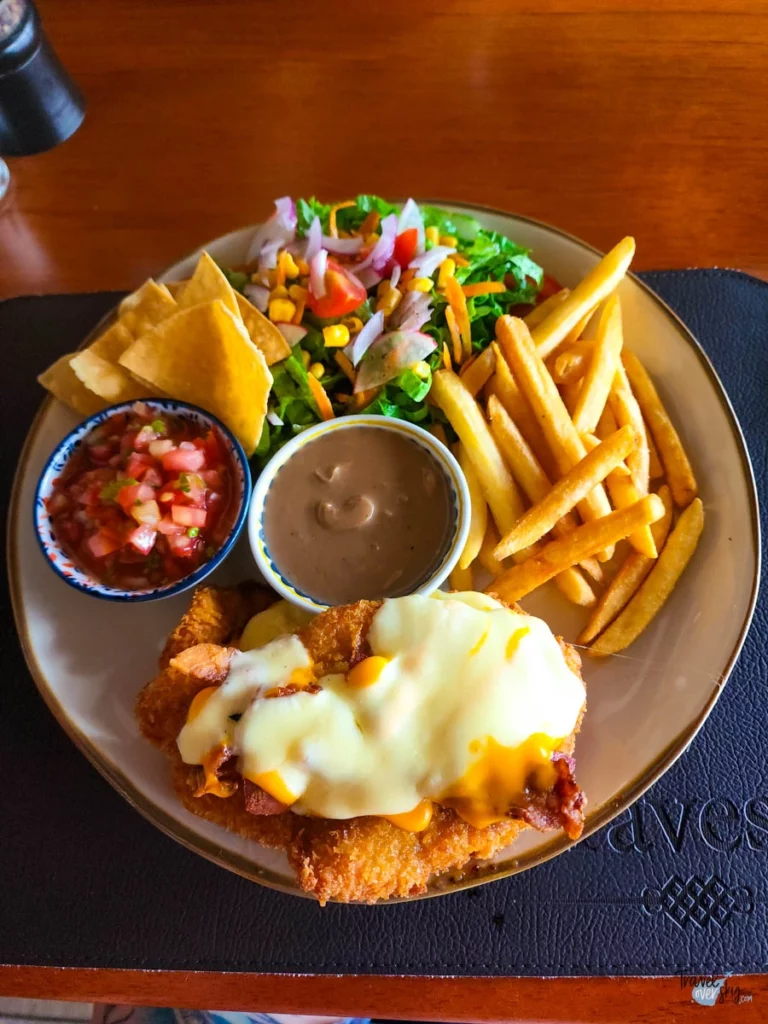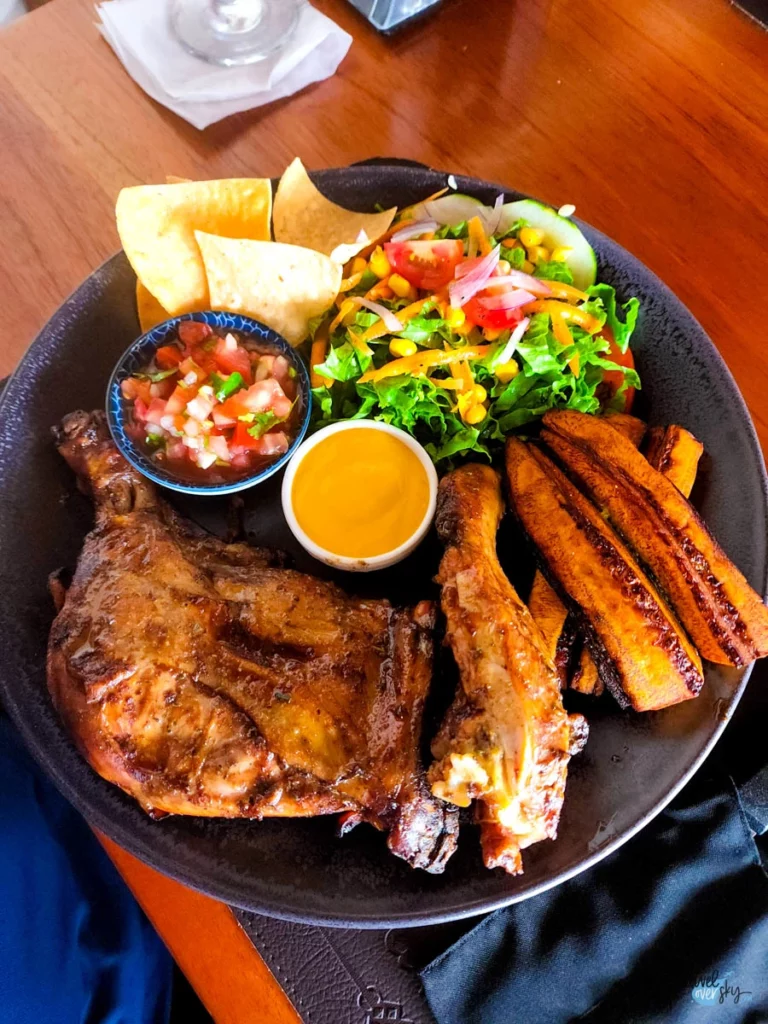 The food was quite good and the portions were huge. Each dish had something on the side – salad, fries or platanus, pico de gallo and beans.
The receipt for four meals (no alcohol included) was almost 27 000 colones (50 USD).
Tortuguero
El Patio restaurant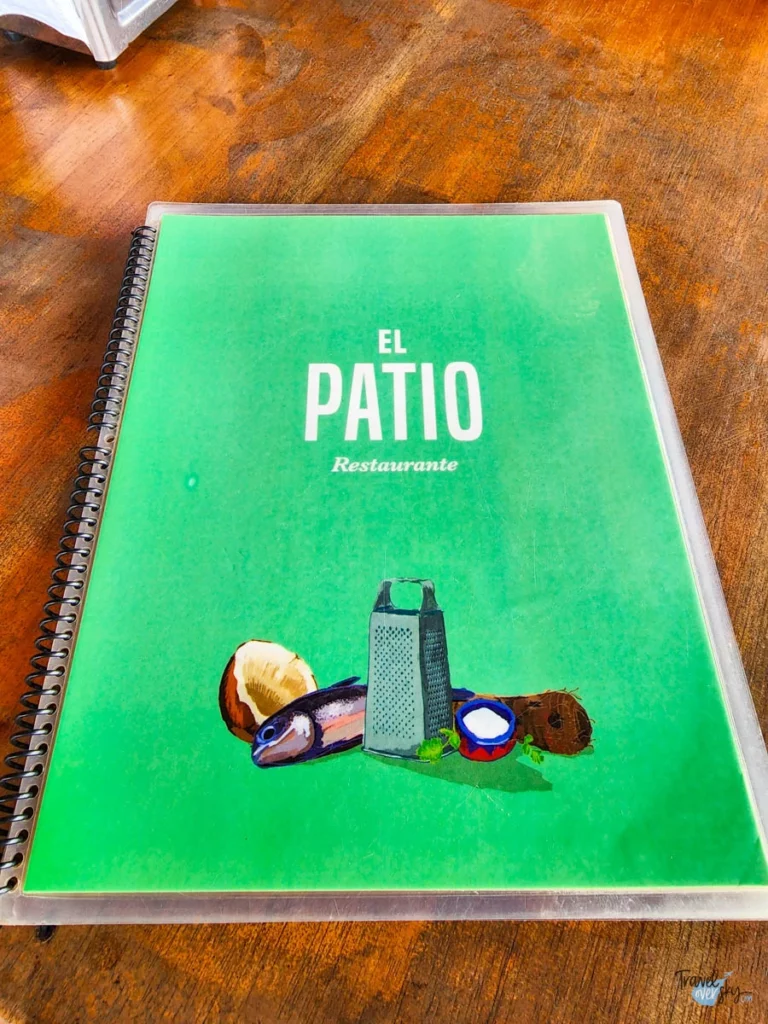 It was one of the best rated on Google restaurants in Tortuguero, however the food they serve turned out mediocre. The issue with restaurants in Tortuguero is that it is a small and not very tourist oriented place, which is why the restaurants (and there are not many of those there) do not need to fight for the customers.
I picked a portion of fish with additions on the side, chicken with additions and chicken spaghetti here. Each meal (except for the spaghetti) was served with tostones and salad, which unfortunately was not the freshest. The pasta dish was the least tasty – the chicken was very fat and (and sometimes too dry) and pasta was reheated and very fat as well.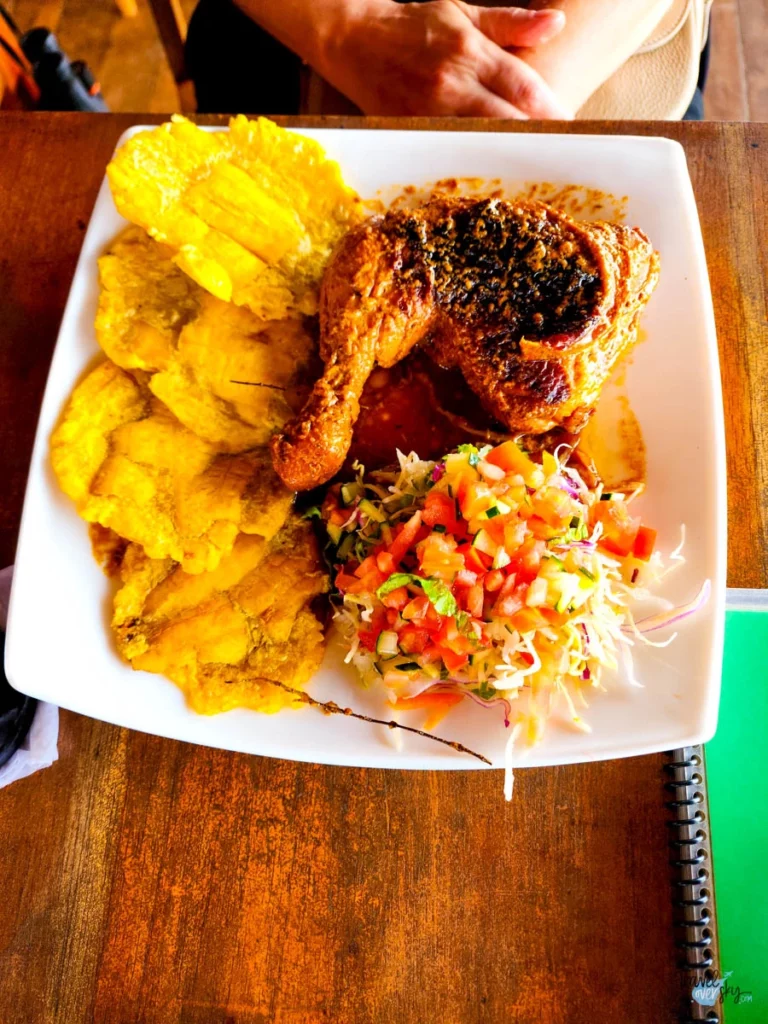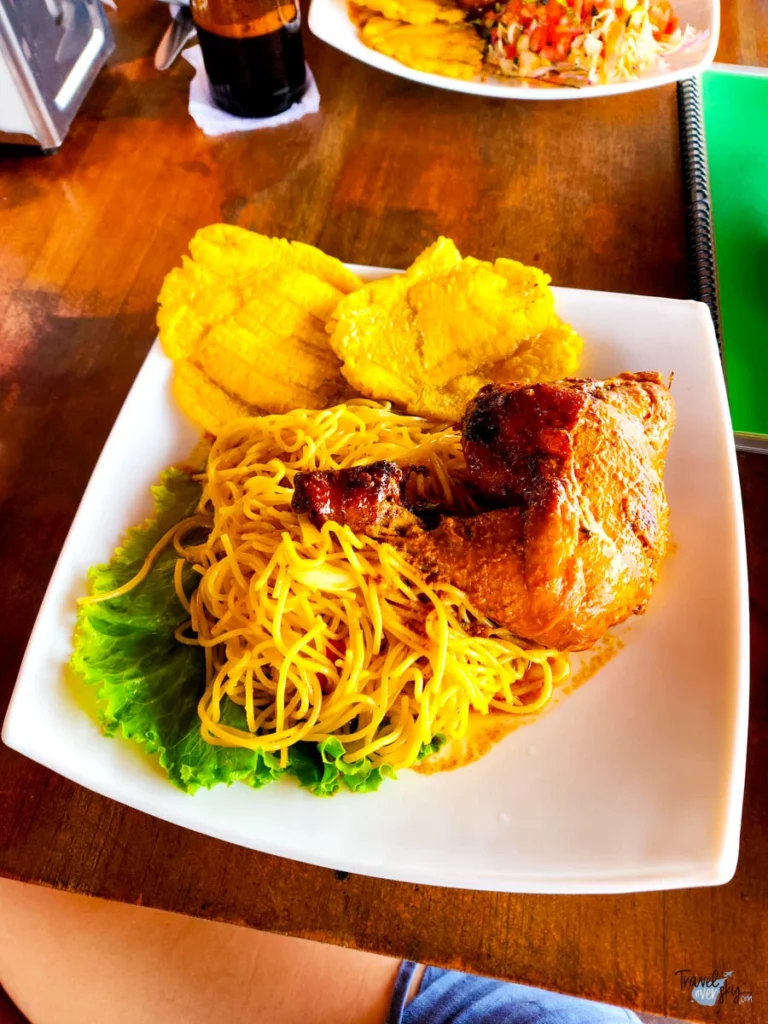 The restaurant definitely has a beautiful view on the Tortuguero canals, which I considered the biggest (and the only) advantage of this place.
The whole order, eight small beers included, was nearly 47 000 colones (87 USD).
Puerto Viejo
De Gustibus Bakery (restaurant/bakery)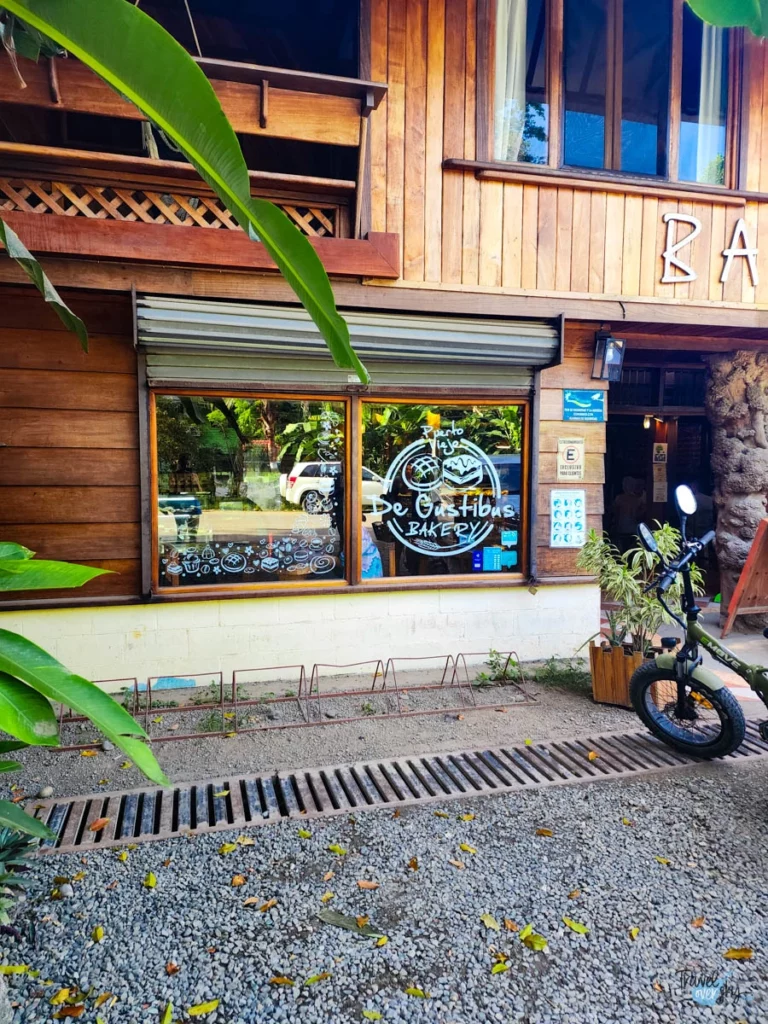 The bakery was located in the same building I was spending the night in, so it would be a sin not visiting it.
I can definitely say that it was one of the most fancy places I visited during my trip to Costa Rica. The pastries and meals that were served there were truly delicious!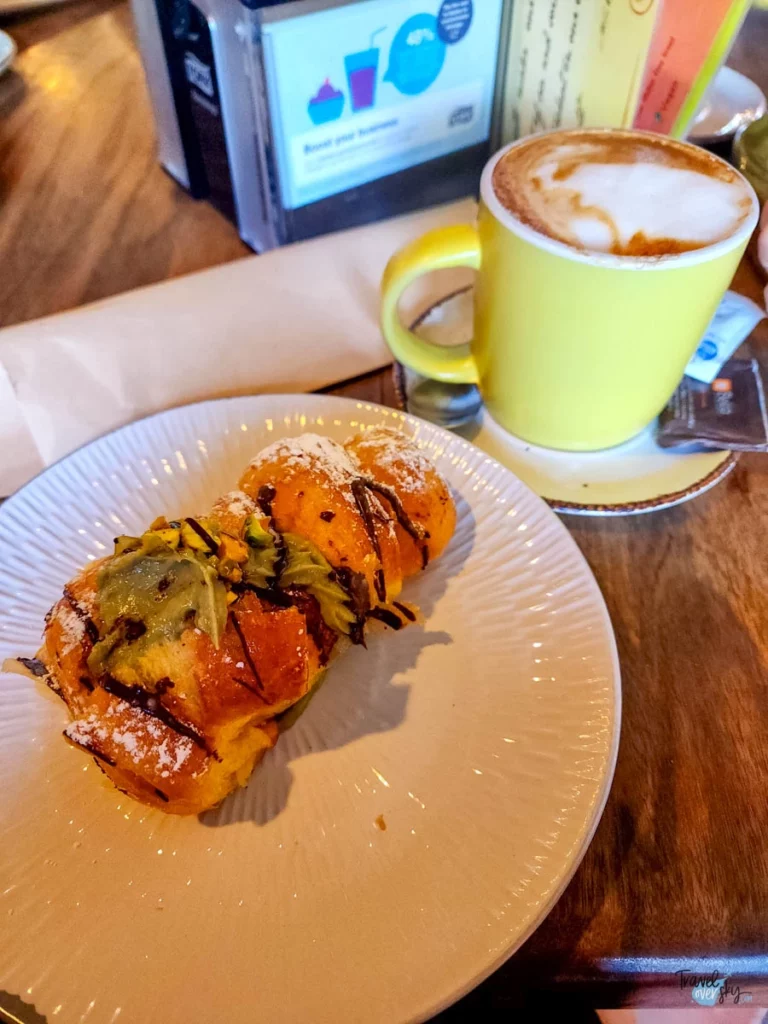 Unfortunately, during my stay in Puerto Viejo I only once had the pleasure of visiting it.
I ordered two pistachio croissants, one chocolate and one with cream. I did not expect that those sweets would satisfy the morning hunger, so we were also tempted by granola, cream cheese toasts and two classic sandwiches. The portions turned out so big that we ended up taking half of them as a takeaway.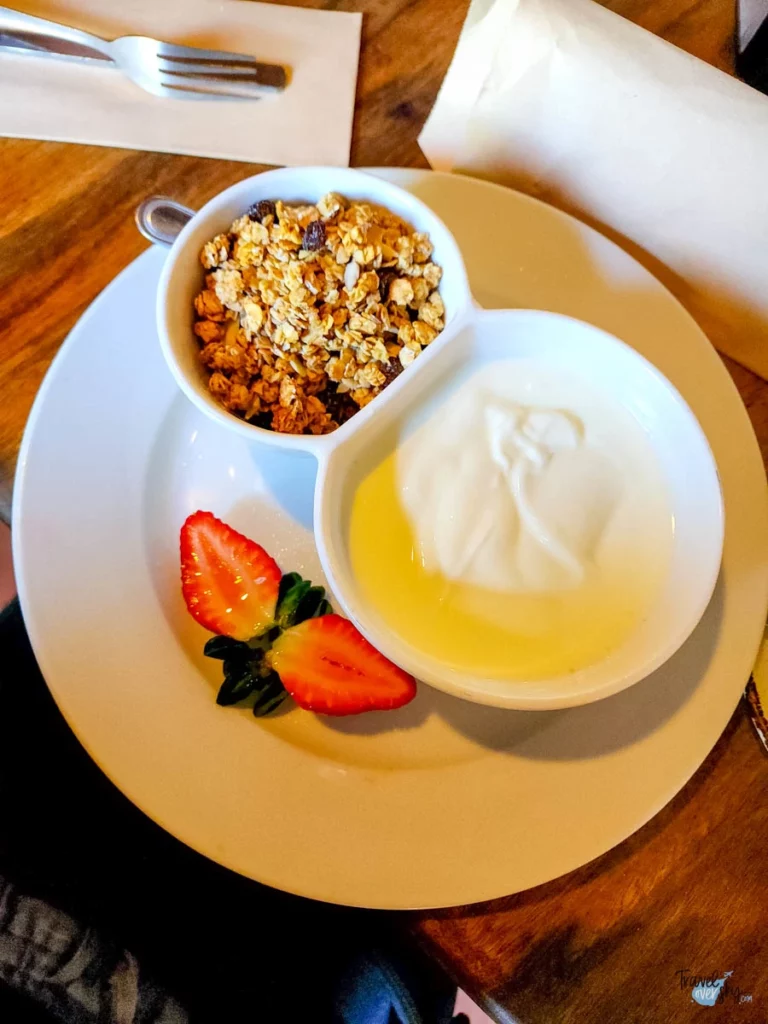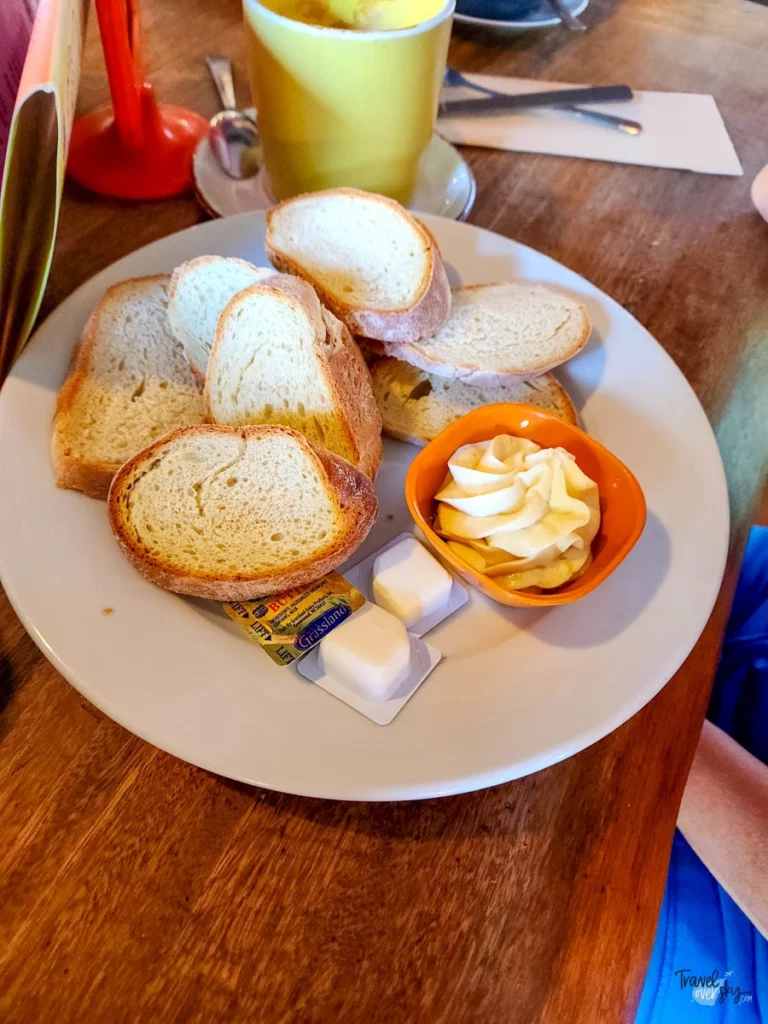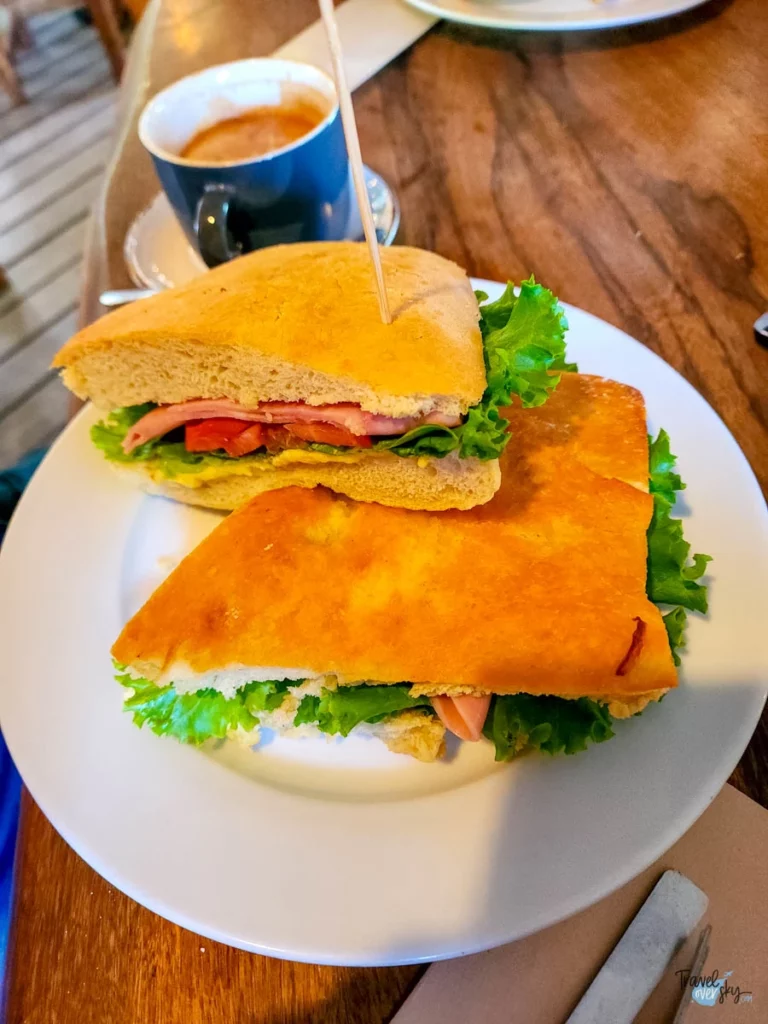 The prices in this place were not the lowest, but delicious coffee and the quality of pastries served there made it really worth paying for.
I paid around 40 000 colones (74 USD) for the whole order.
Jammin restaurant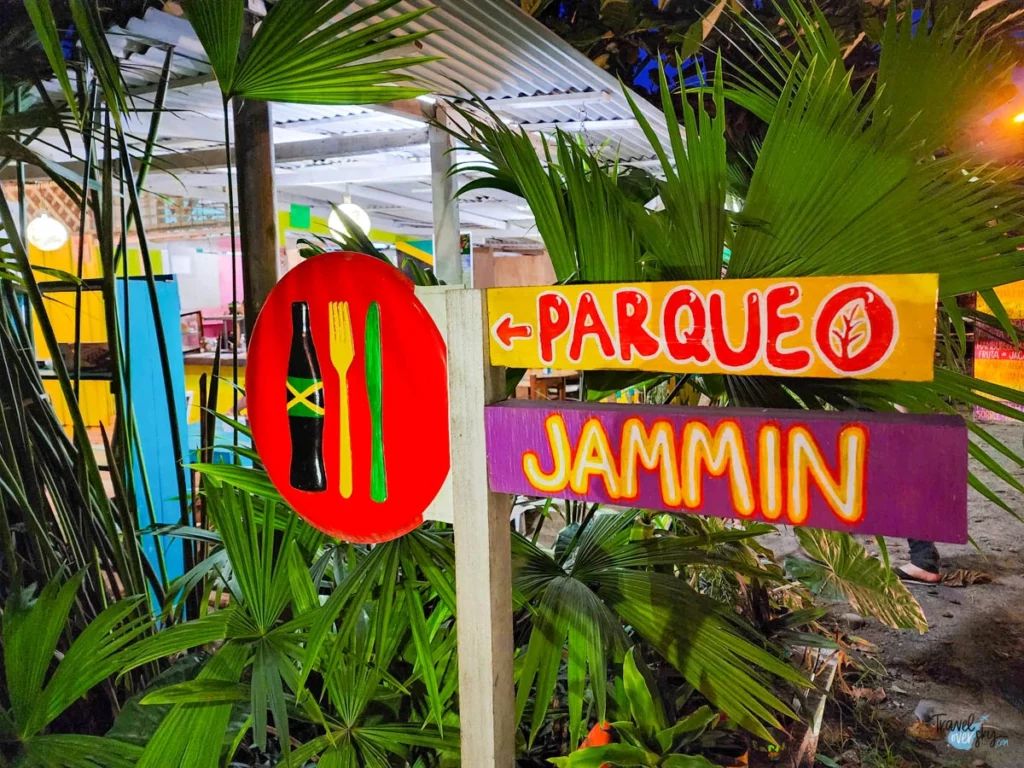 My first supper in Puerto Viejo was in a Jamaican vegan Jammin restaurant. The food there was cheap, and the taste was exceptional! It was another proof that small inconspicuous places are always the best tasting!
The restaurant menu was not very varied, but I found some interesting meals for myself.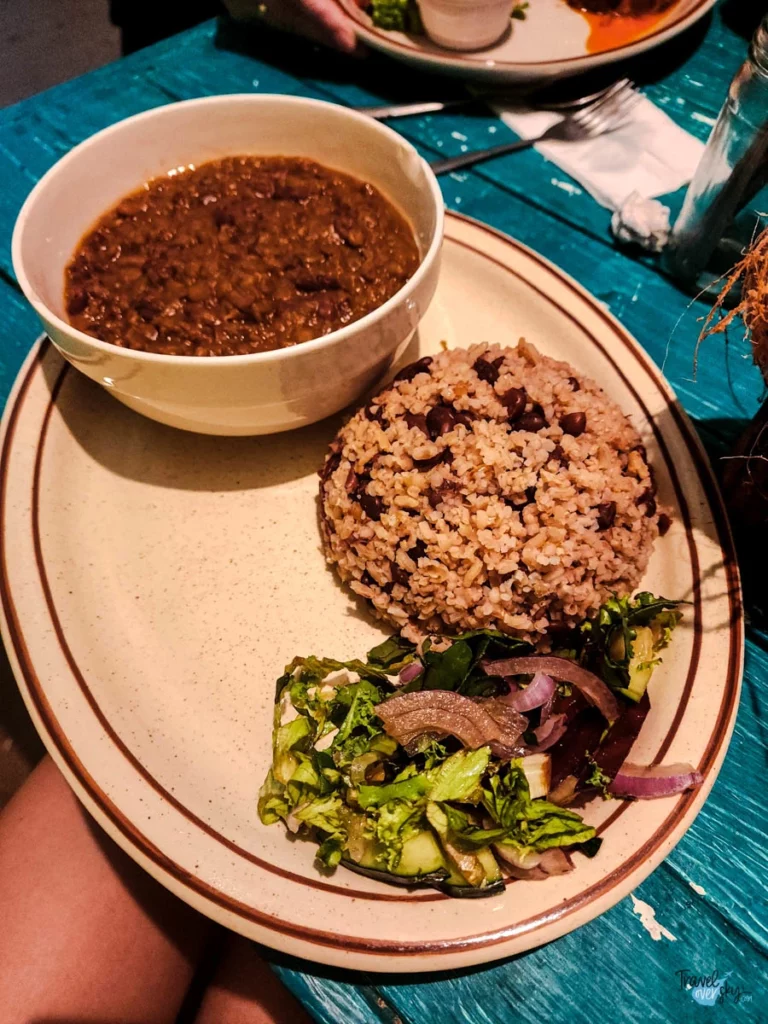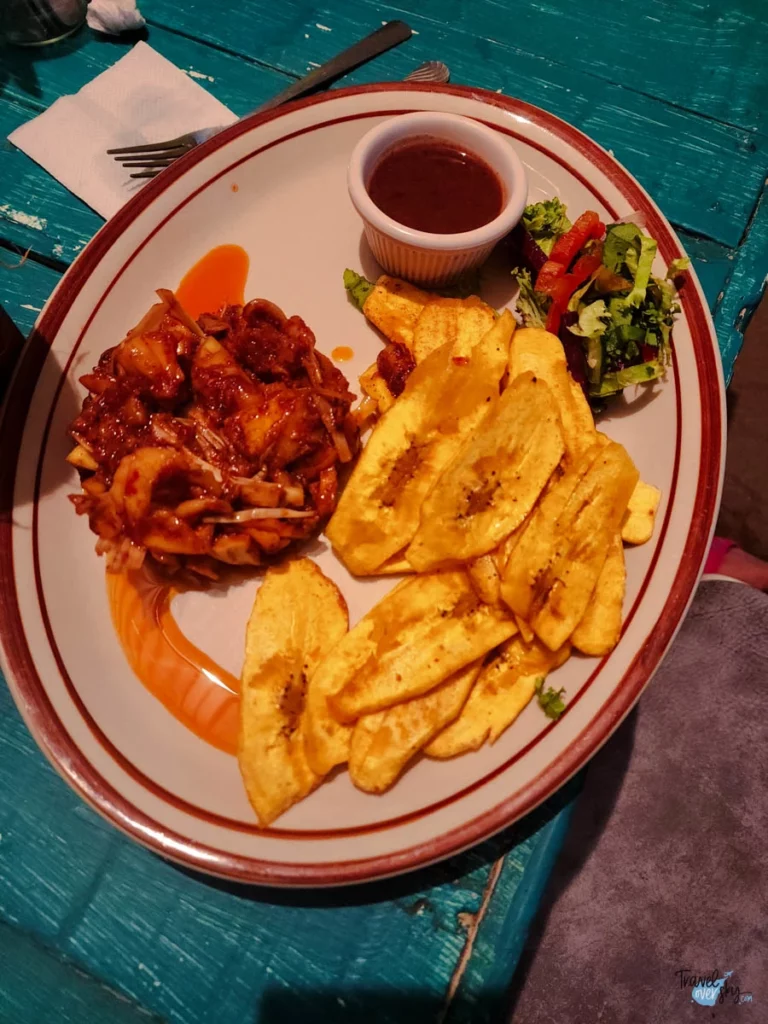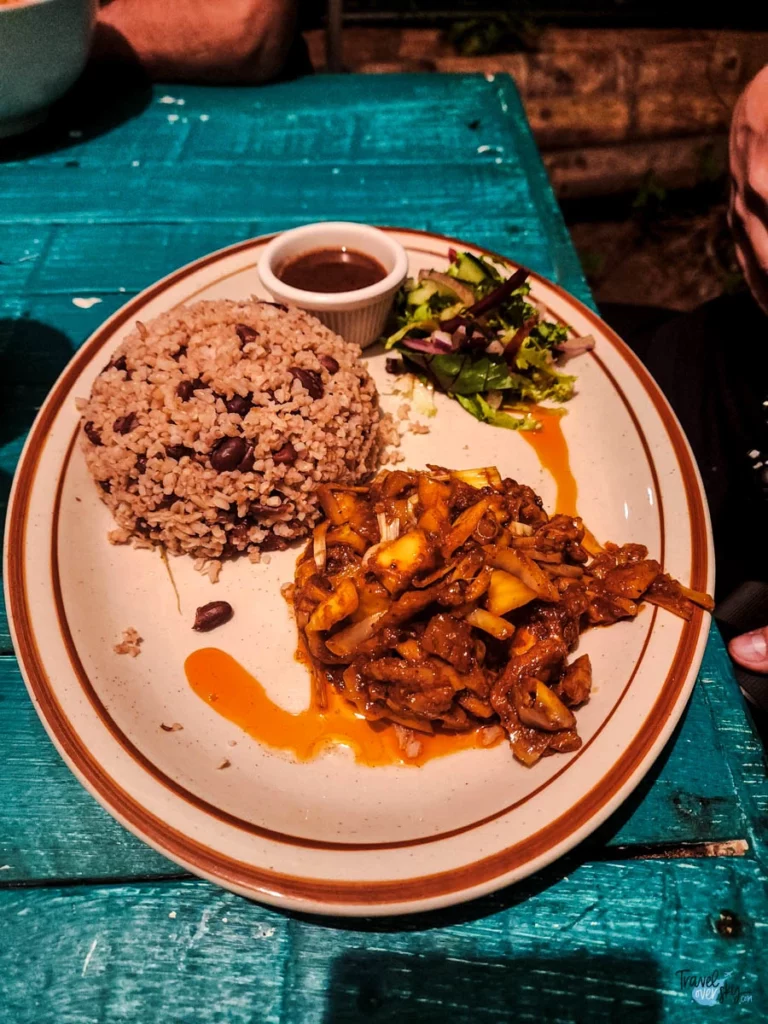 I chose penne pasta with pesto, BBQ styled jackfruit and chili sin carne. I also received side dishes to the ordered food: rice, platanas and beans.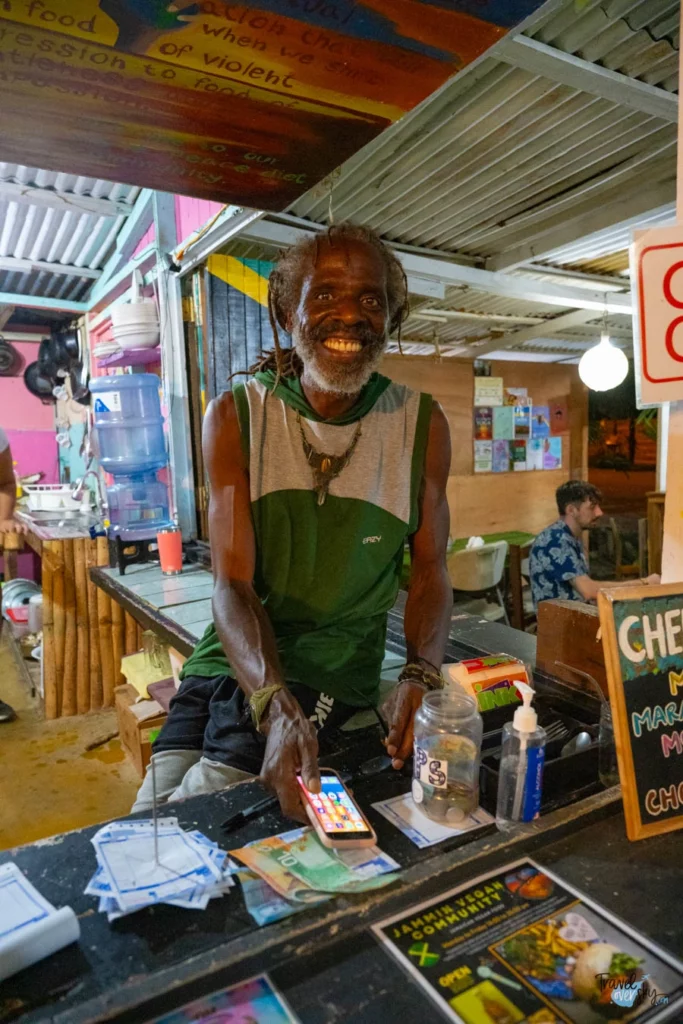 The food is prepared by the cute restaurant owner from Jamaica, who is a very friendly guy.
For four dishes and four natural coconut water, I paid 24 000 colones (44 USD).
La Chilanga restaurant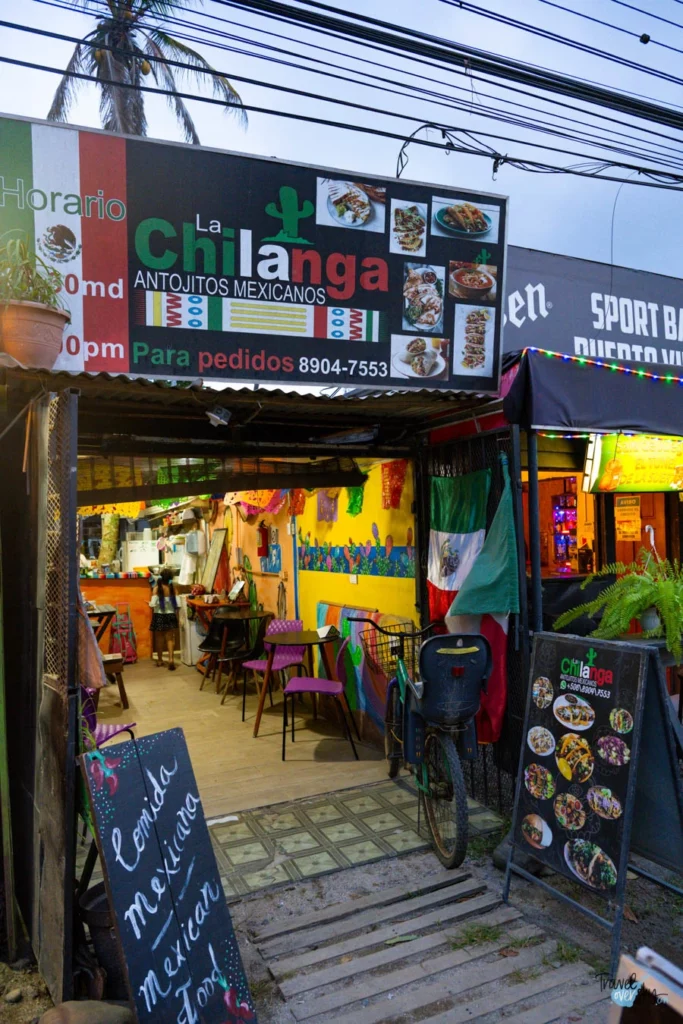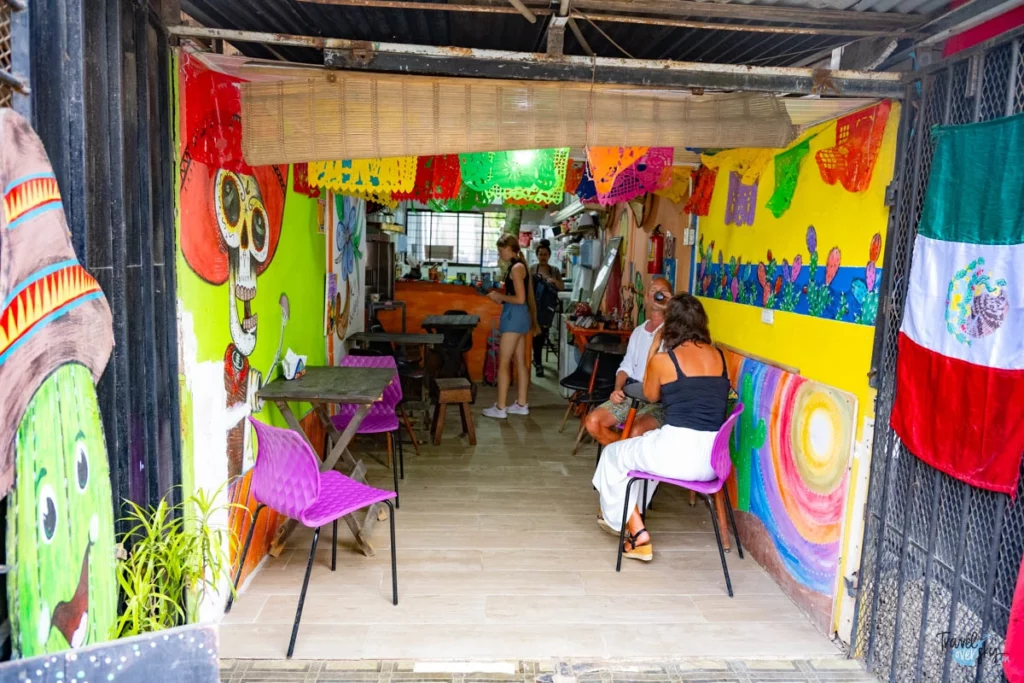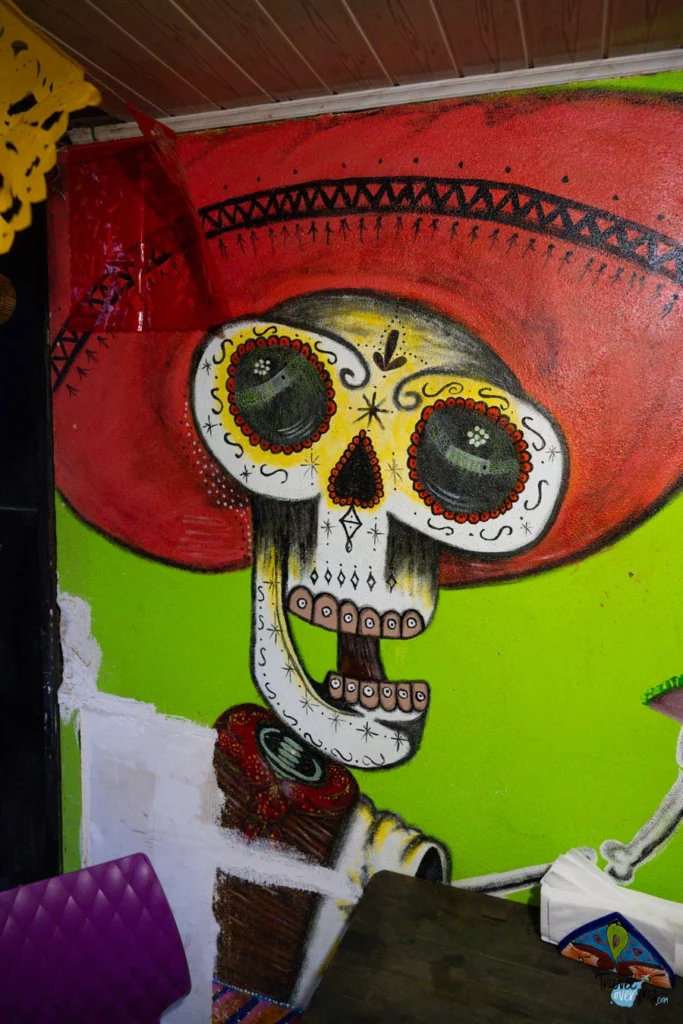 This restaurant turned out to be another hit in Puerto Viejo! This place was run by two women – one was a Mexican, and the other one a Costa Rican. The food was authentic Mexican cuisine wholeheartedly. All the dishes we ordered were exceptionally delicious.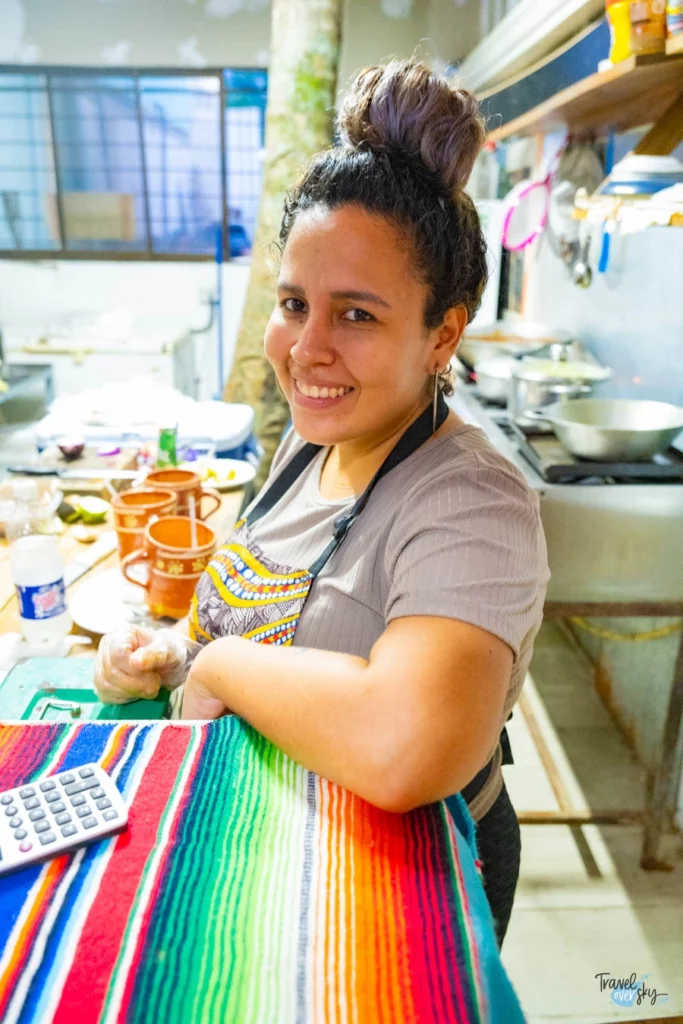 We chose classic al pastor chicken tacos, birria with pork and chicken chimichanga (which was quite big, but also very tasty).
We ate all while drinking natural tamarind juices and water from hibiscus flowers.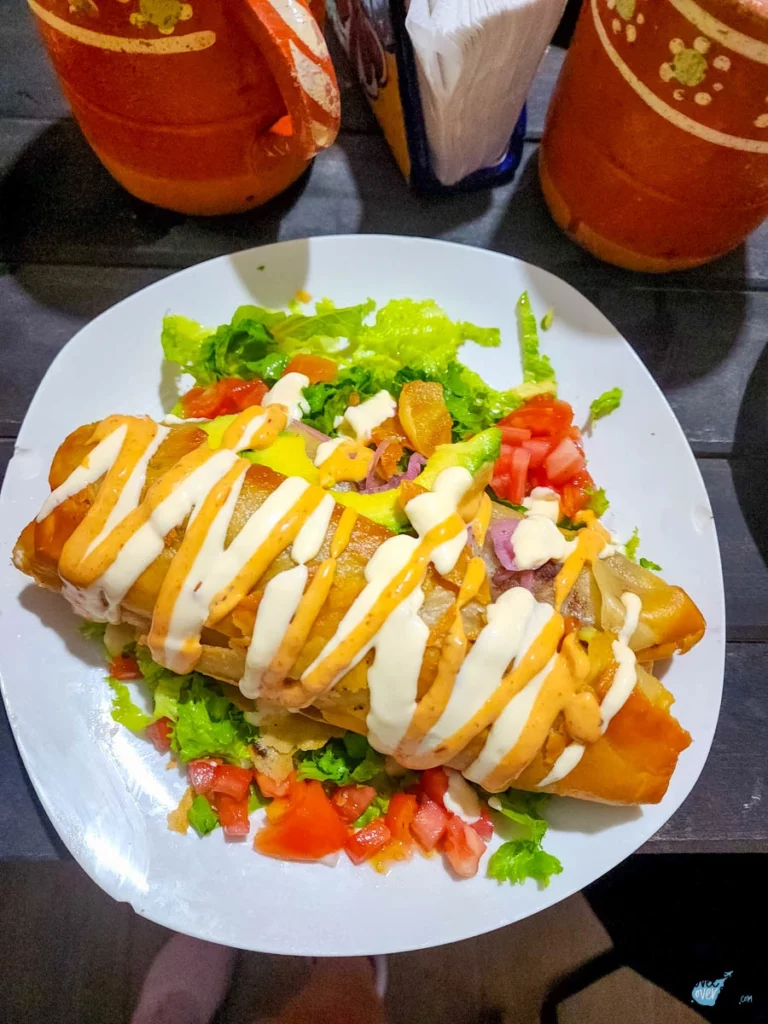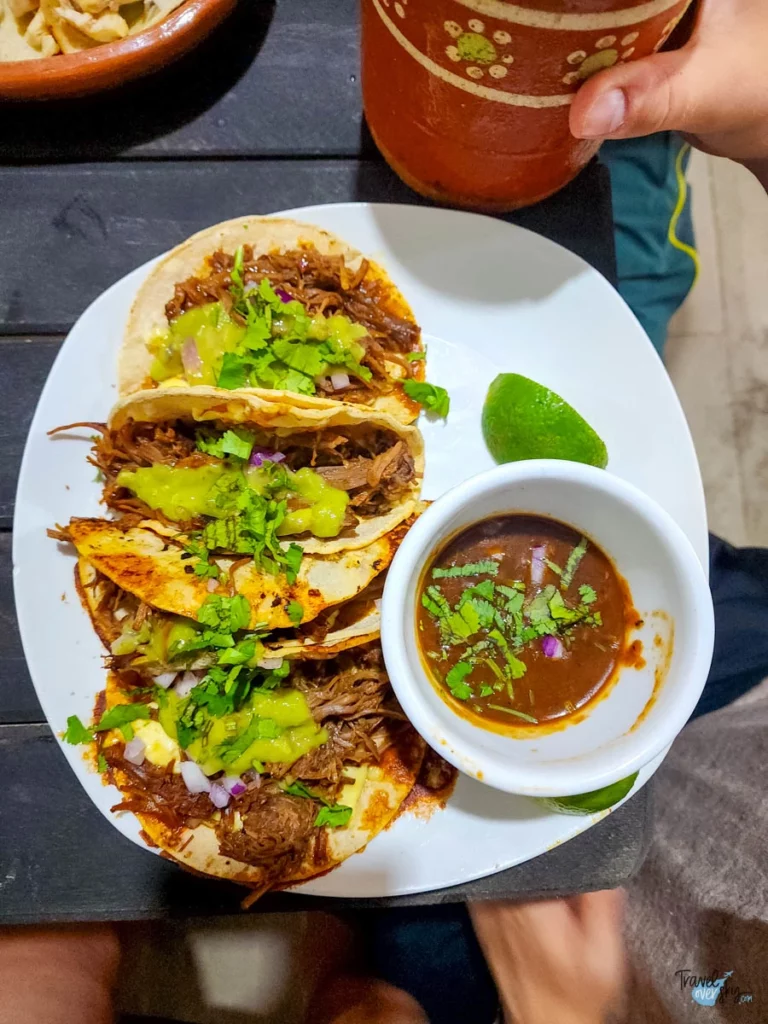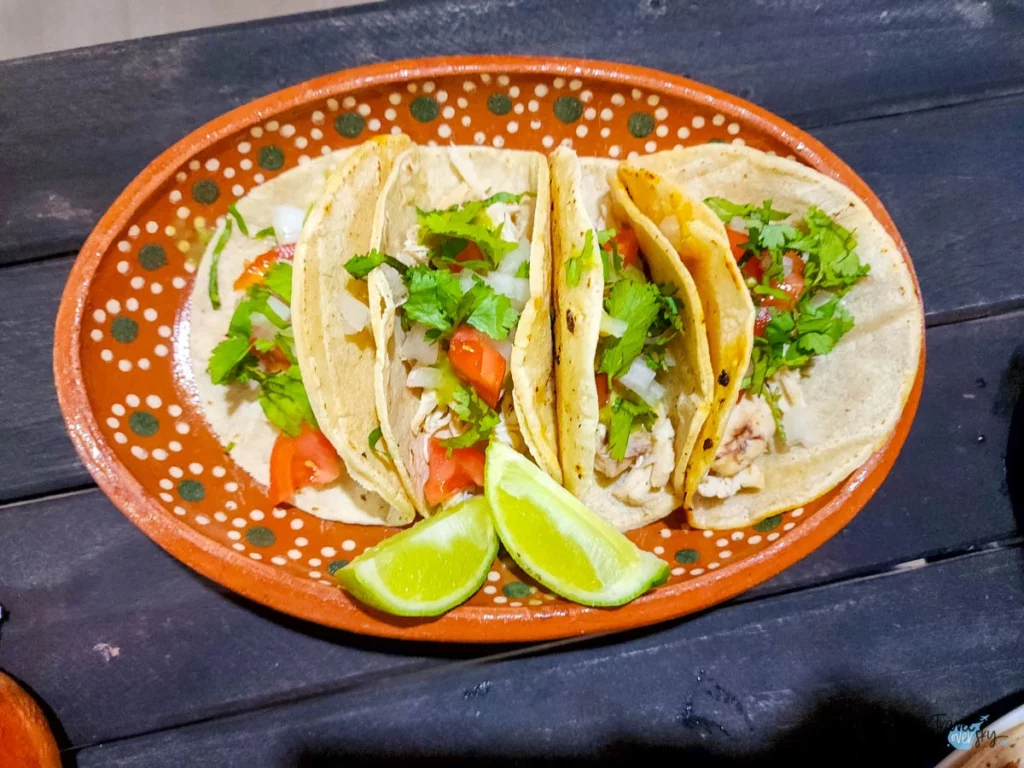 I paid 24 000 colones (45 USD) for the whole order, and we were bidded farewell with a traditional coconut pie by the ladies.
If you are ever in Puerto Viejo, make sure to not miss this restaurant!
San Jose
Taj Mahal Plaza Real Alajuela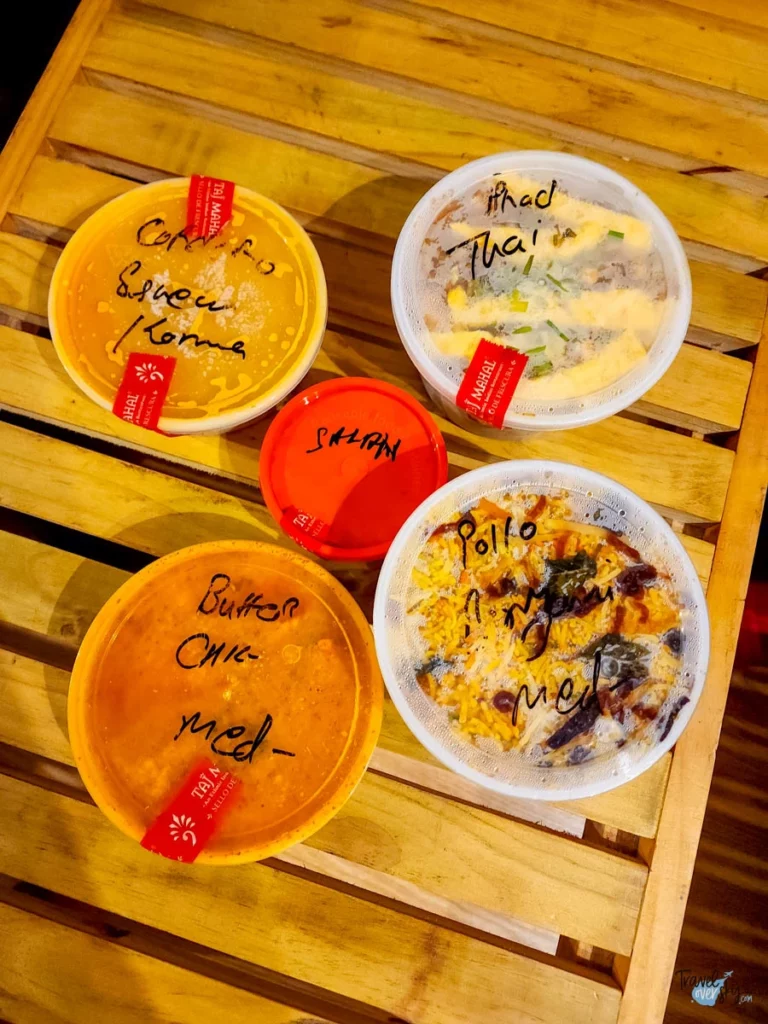 I picked the Taj Mahal restaurant's offer from Uber Eats. It took some time for the restaurant to prepare the order, but the delivery was quite fast, thanks to which everything I ordered was still warm.
I ordered pad thai with chicken, butter chicken with naan bread, biryani chicken, korma pork and additional naan bread – classic and garlic ones.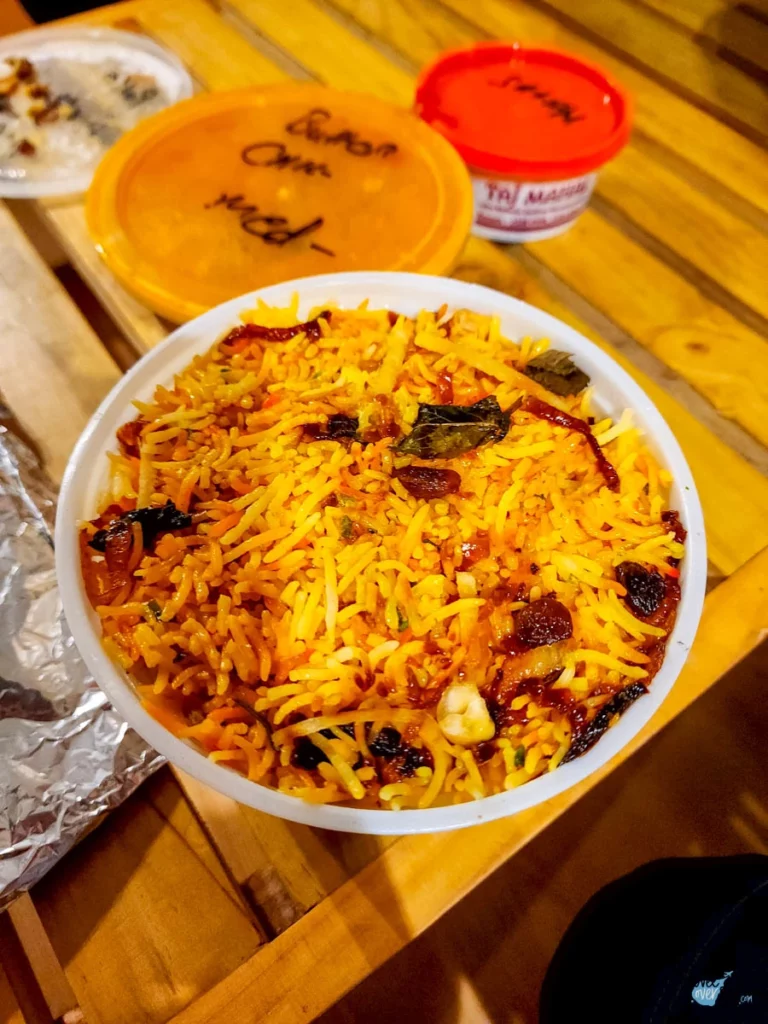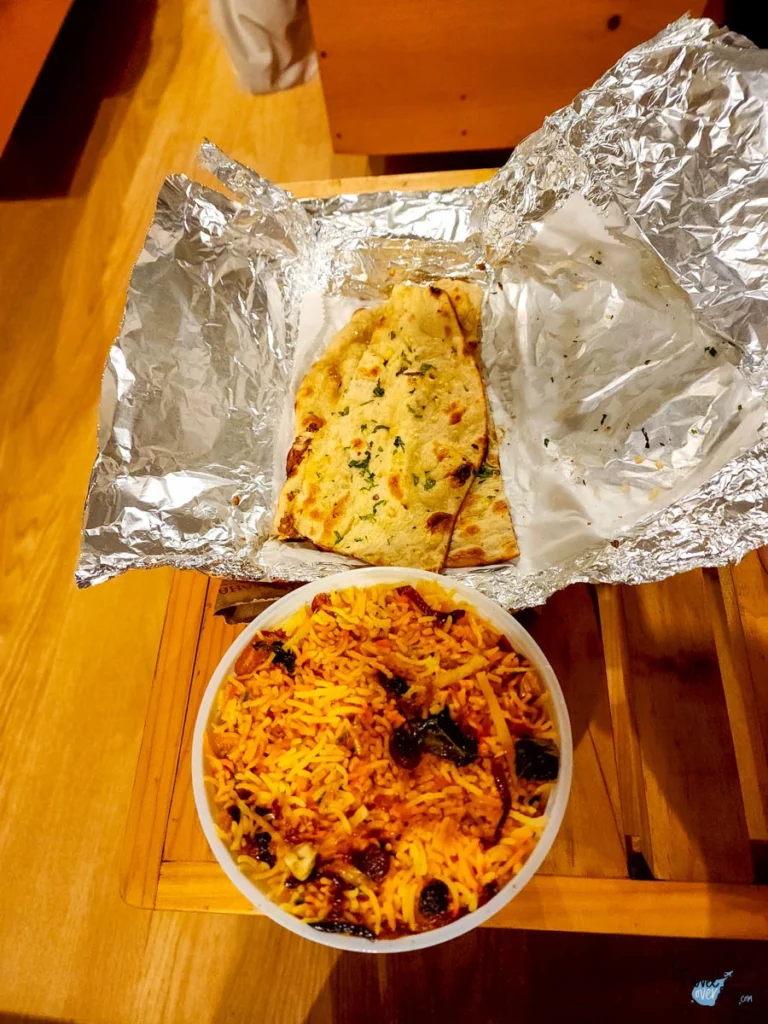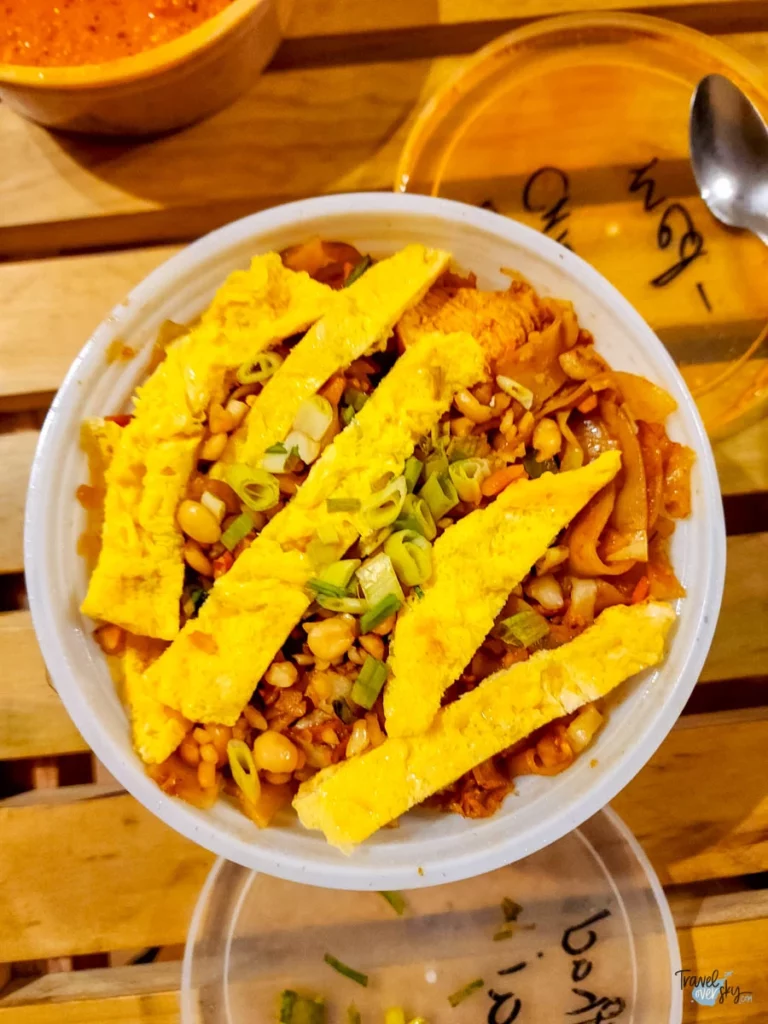 The portions were quite big, half of it would be more than enough for the four of us.
Even though the food was packed as a takeout, it looked very tasty. The meals were well seasoned and delicious.
Unfortunately, even though I chose the cutlery option, they were not delivered, which was a huge impediment, as the hotel did not offer anything other than tiny coffee spoons.
The whole order with Uber Eats delivery included was 56 000 colones (104 USD).
El Balcon del Marisco restaurant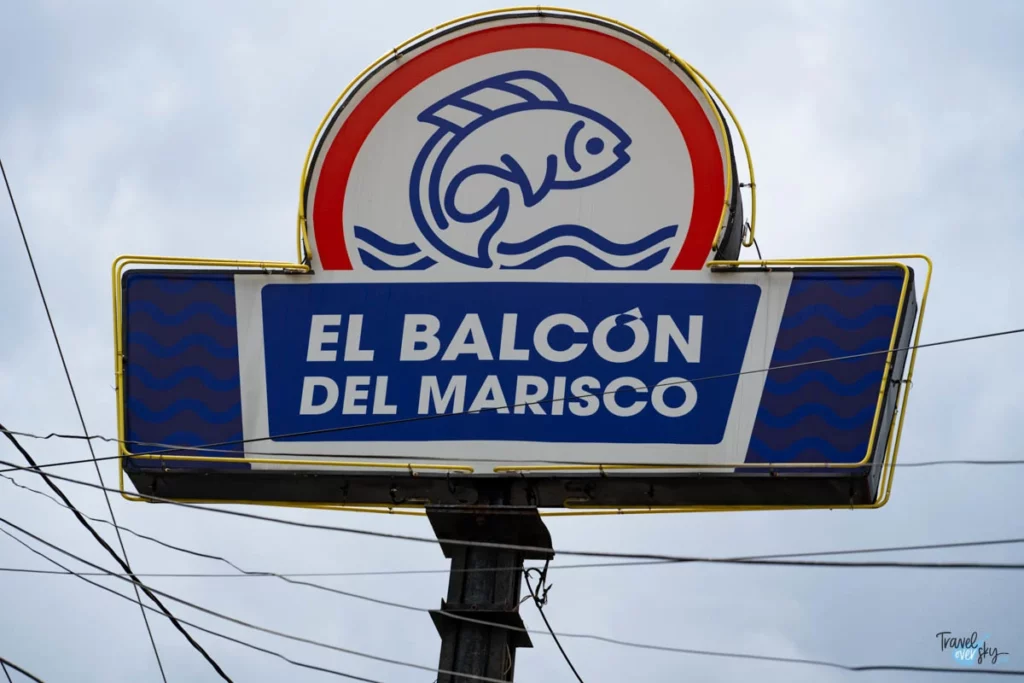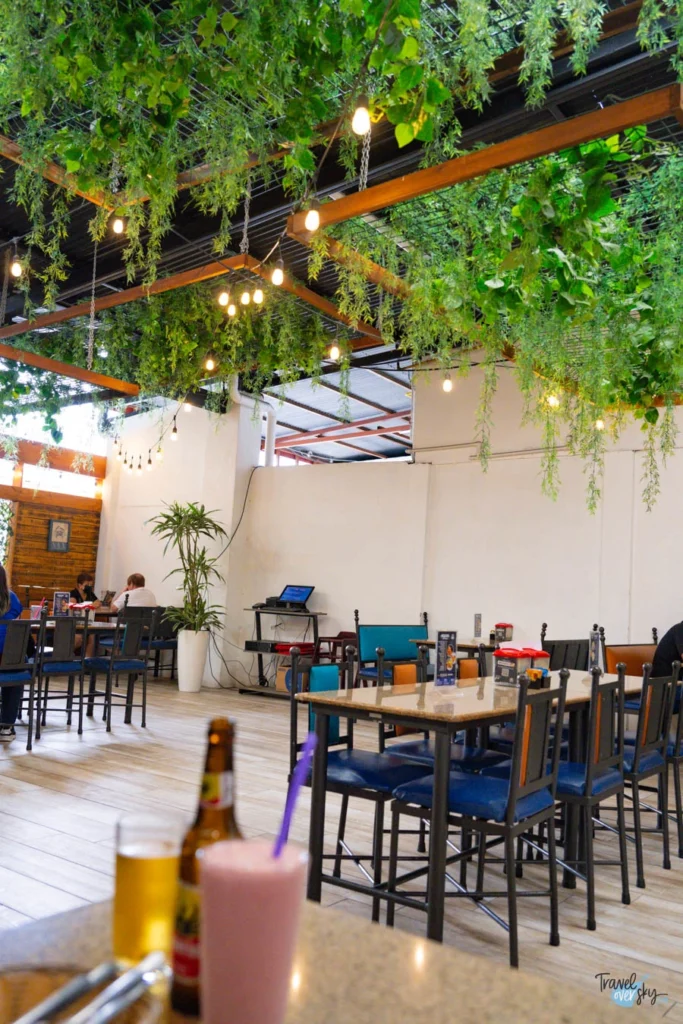 This restaurant has a huge amount of reviews on Google Maps, which made me want to visit it, even though the drive from my hotel took me around one hour. It is also worth adding that this place is famous for its fish and seafood.
The restaurant's interior is huge, and based on the information I managed to get, this restaurant can fit up to 1000 guests at the time!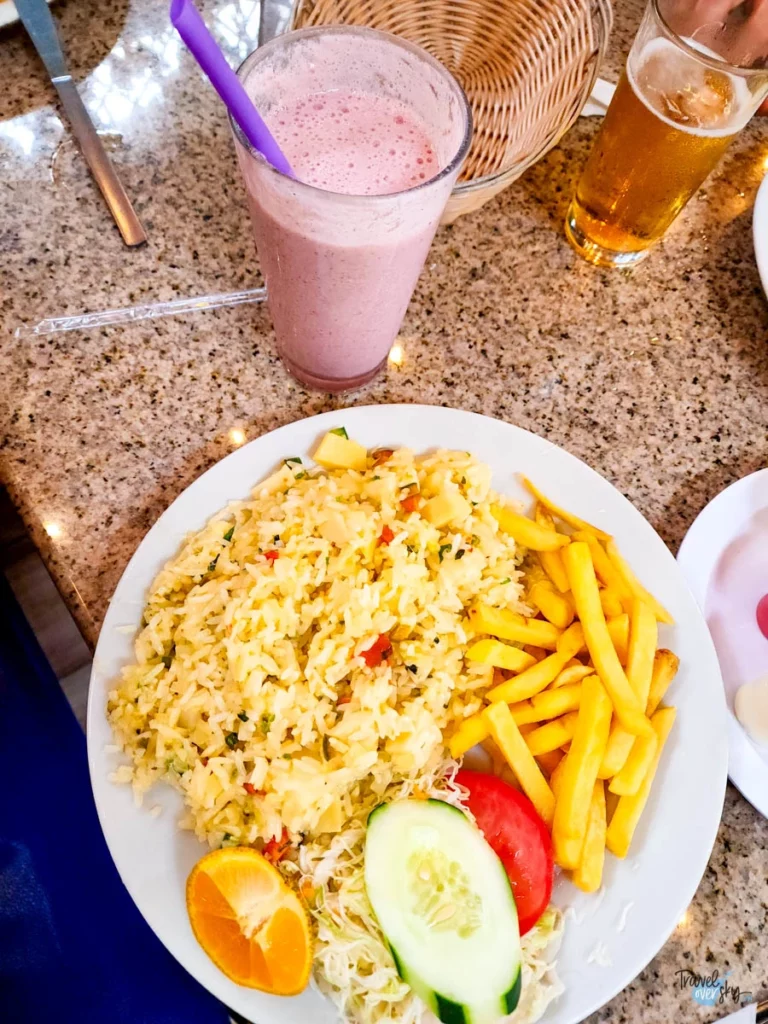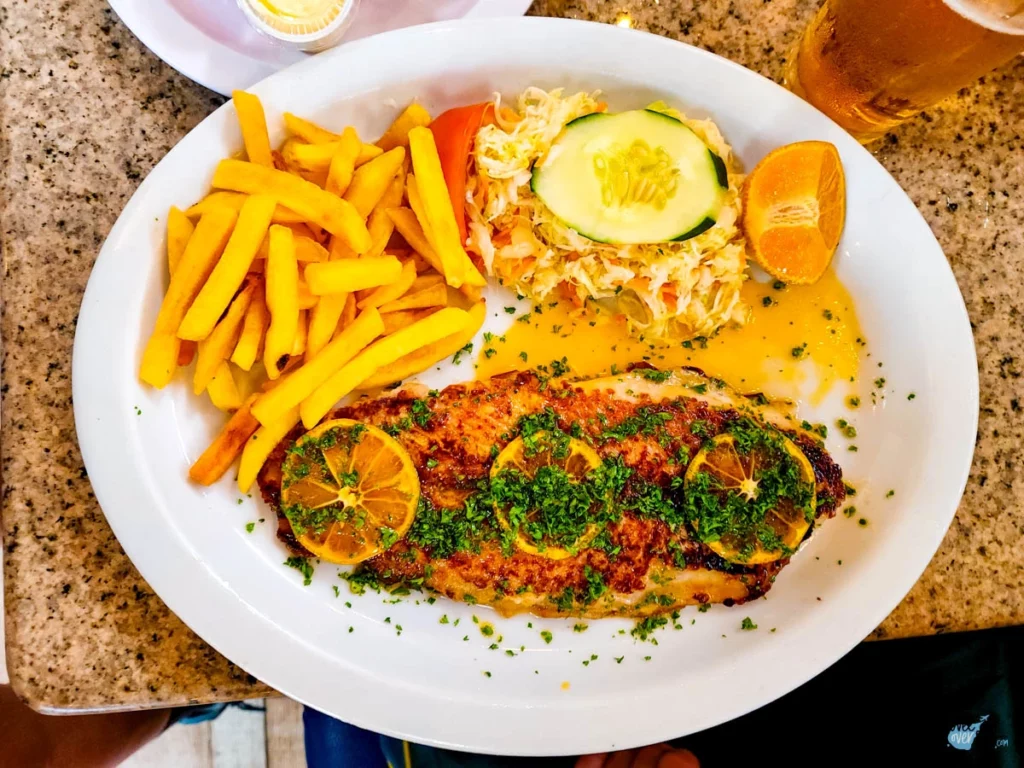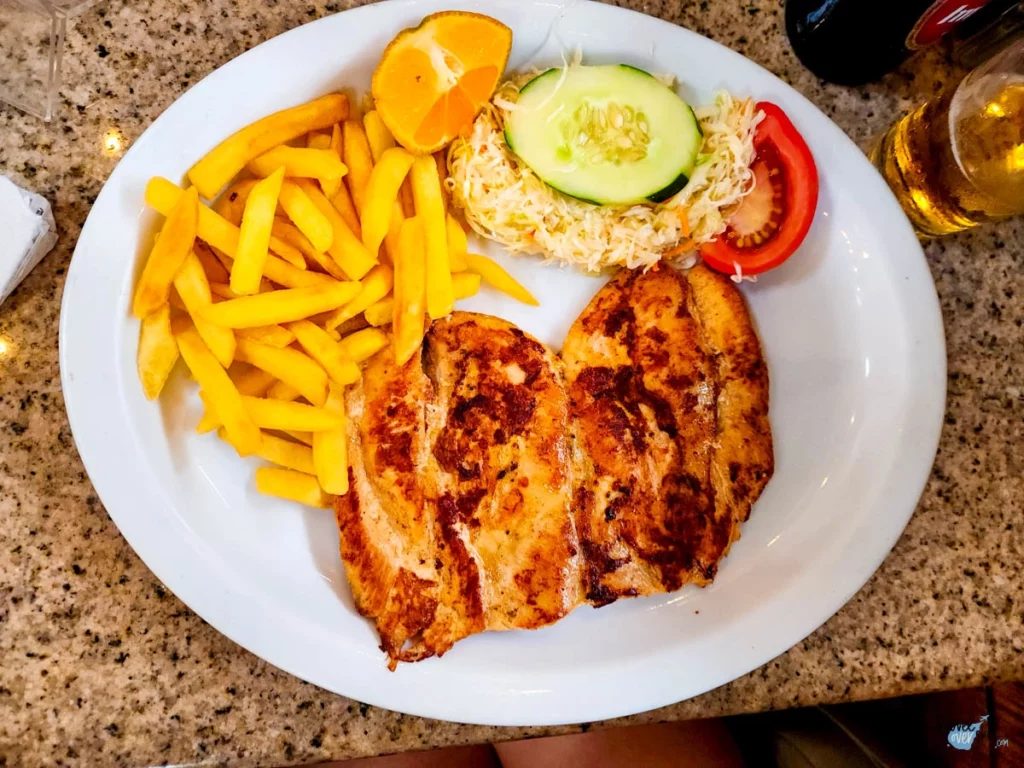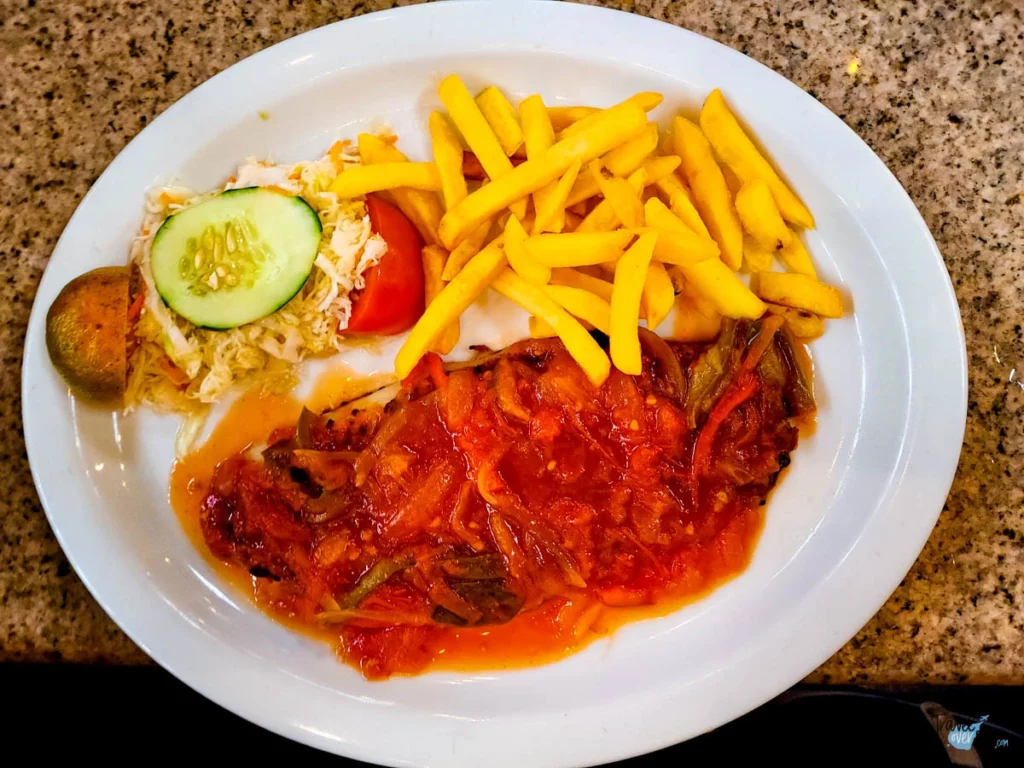 I ordered a chicken with tomato sauce, a grilled chicken breast, grilled fish and palm's hearts with rice on the side. Of course, each meal had a vegetable addition and fries.
Fish was quite good. My meal, meaning palm's hearts, was undoubtedly too big for one person. A mix of rice and fries was not too fortunate in my opinion. The palm's hearts had an interesting taste, but I would not be tempted by them for the second time.
The whole order, three beers and strawberry batido included, was 36 500 colones (68 USD).
I believe that due to the fact that the restaurant is so huge, and it is destined to fit such a big amount of customers, is unfortunately a mass one. Even though the food was not bad, there was no soul in the meals and the restaurant itself.
Ragu Tratoria Restaurante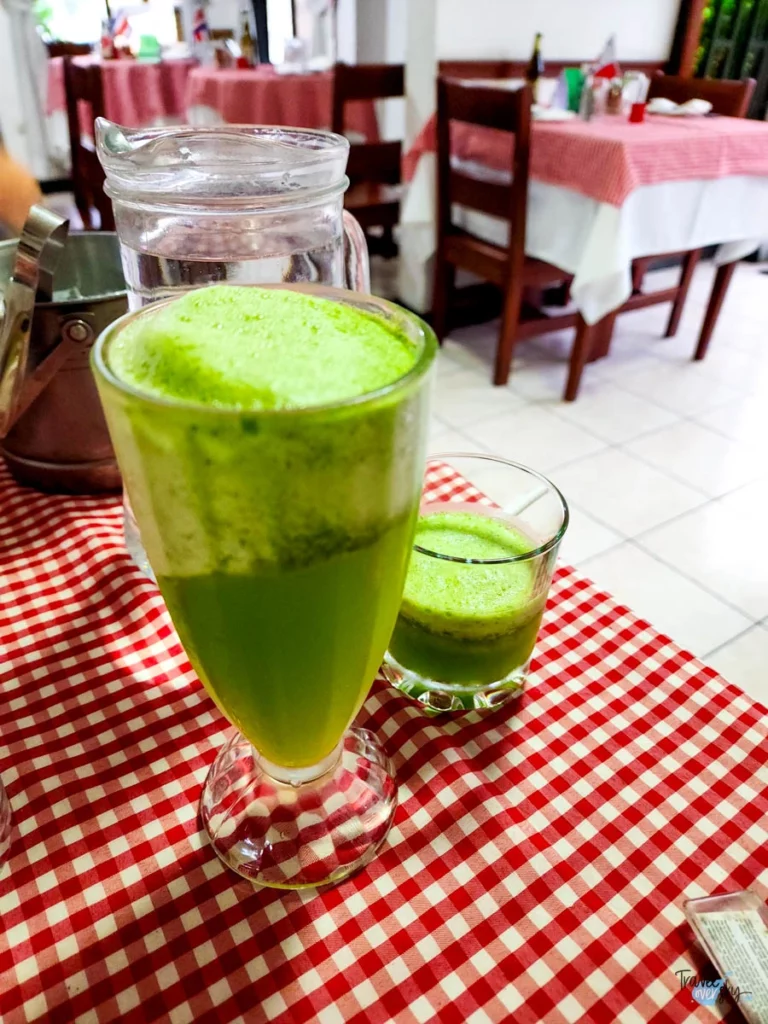 The last restaurant I managed to visit during my trip to Costa Rica was Ragu Tratoria in San Jose. It is an Italian restaurant run by a couple of Italians, who immigrated to Costa Rica.
Before the main order was served, we received amuse-bouche in the form of four bruschettas.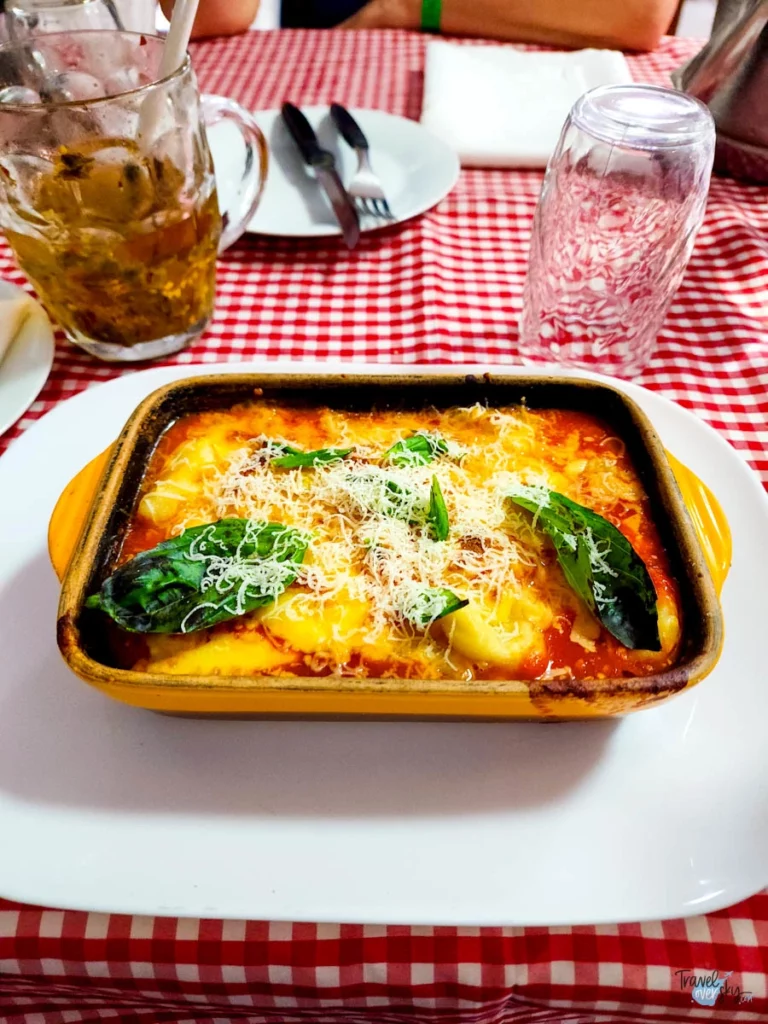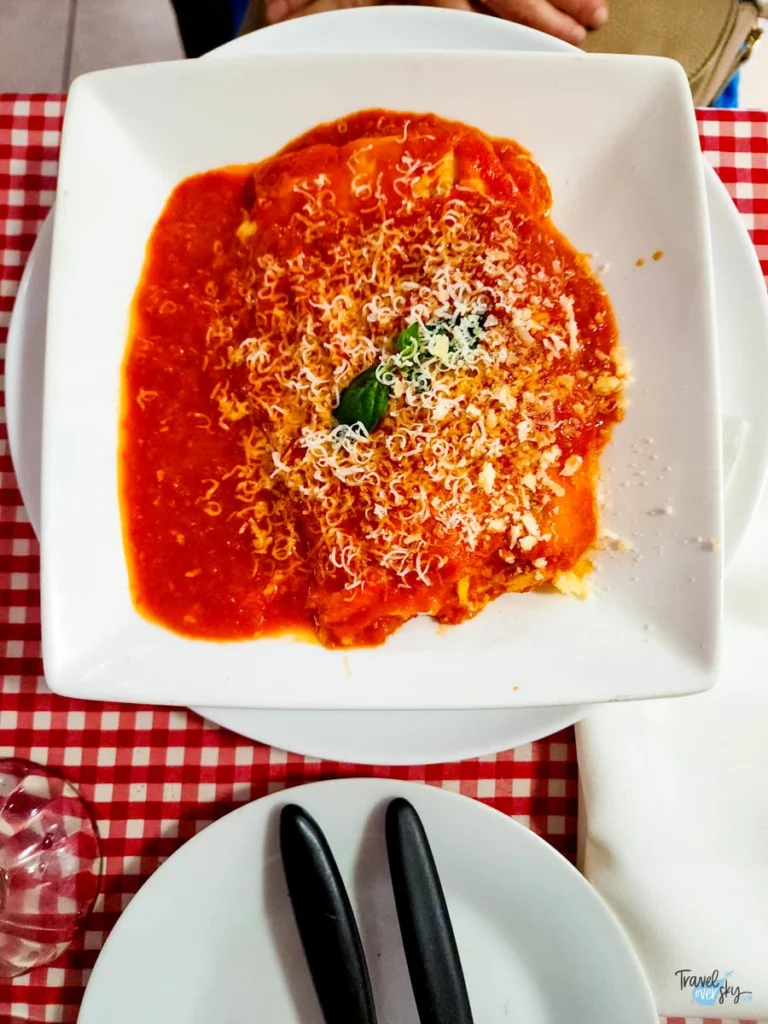 I ordered classic gnocchi, chicken breast with a tomato sauce and parmesan, spaghetti bolognese and chicken breast with rice and vegetables.
Of course, the owner offered some desserts as well, meaning a classic panna cota and tiramisu. When we were done with eating, we got treated with a home-made lemon vodka, which was quite as I heard (I was the driver, so did not have a chance to taste it).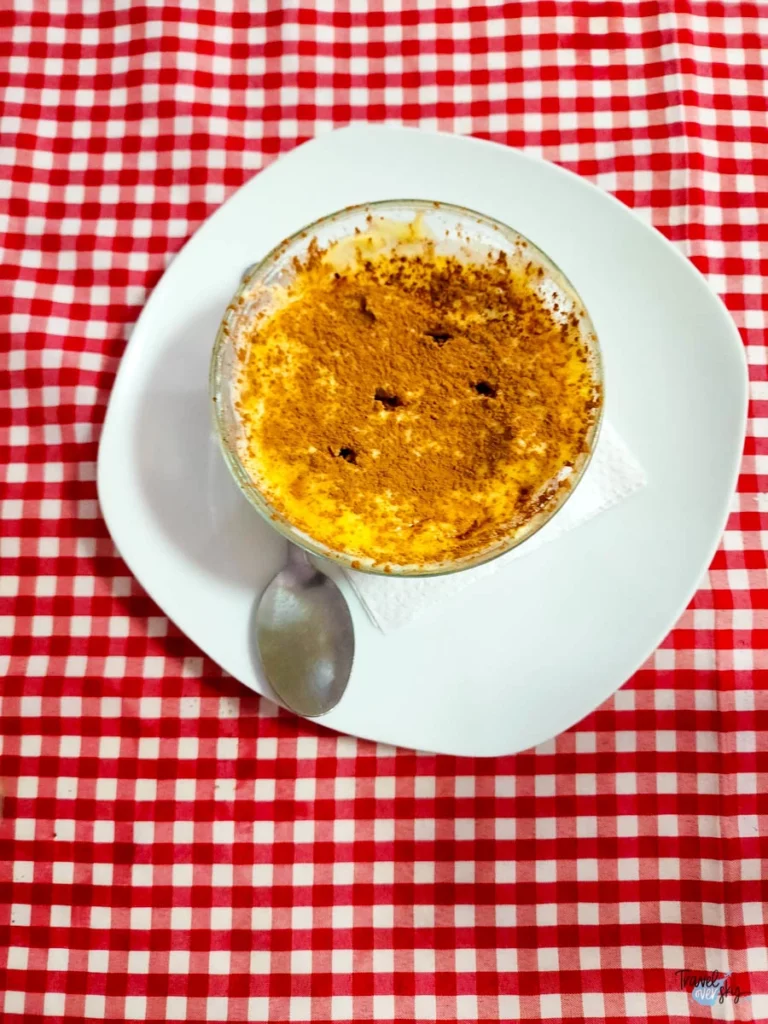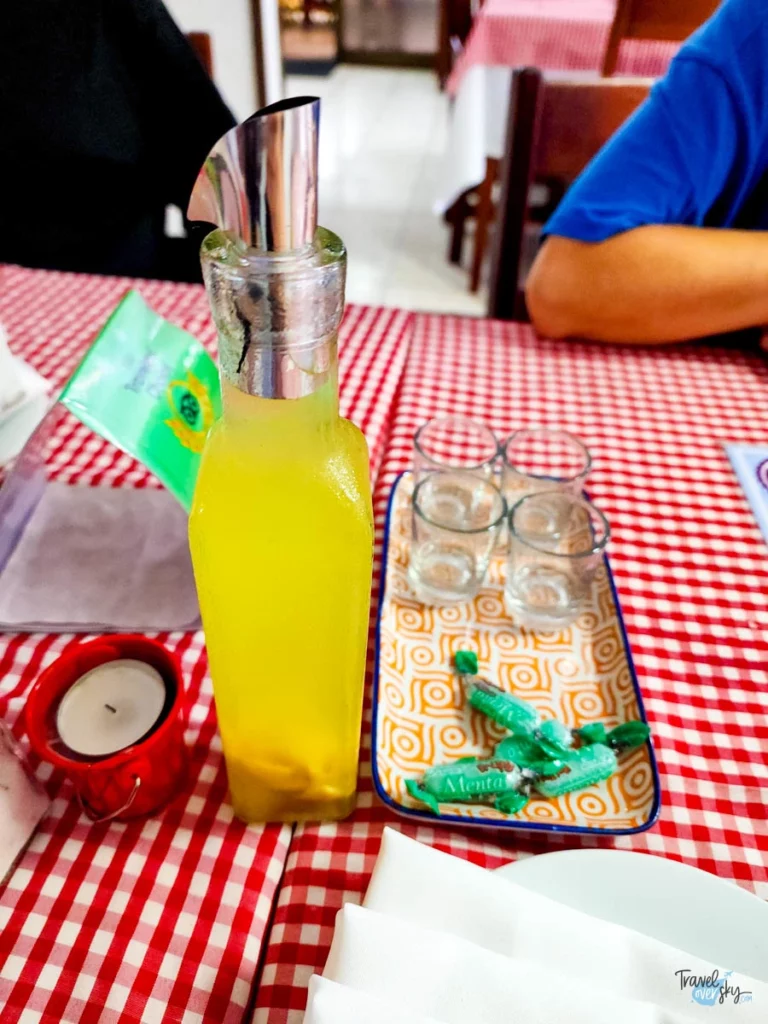 The food was so good that it made you get back to the Apennine Peninsula, European continent. Gnocchi was very soft, and the portions were huge.
***
More information, recommendations and trivia about Costa Rica can be found in the Costa Rica tab.
---
I love sharing my travels, experiences, thoughts and self-tested advices. A travel blog is also a bit of work that I do, drinking coffee.
If you want to buy me a coffee, I'd be very pleased!
Virgin Catalina Island. Do you want to know how to get to Catalina Island? What can you do on Catalina...
Read More