Where to exchange currency in Costa Rica?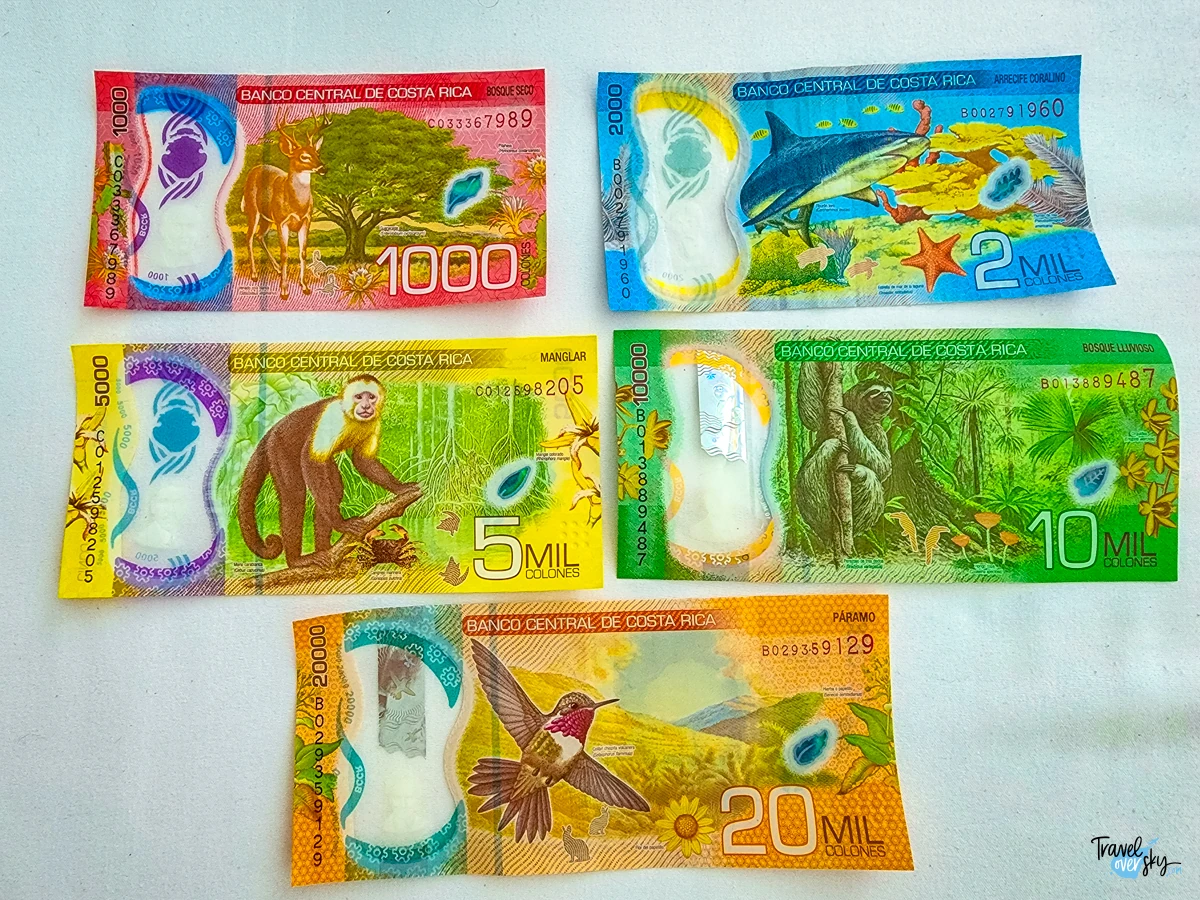 What currency is used in Costa Rica? Is it better to take US dollars or Euros to Costa Rica? Where to exchange currency? Is it possible to pay using a card in Costa Rica? Check out the most important questions in regards to money in Costa Rica!
---
Currency in Costa Rica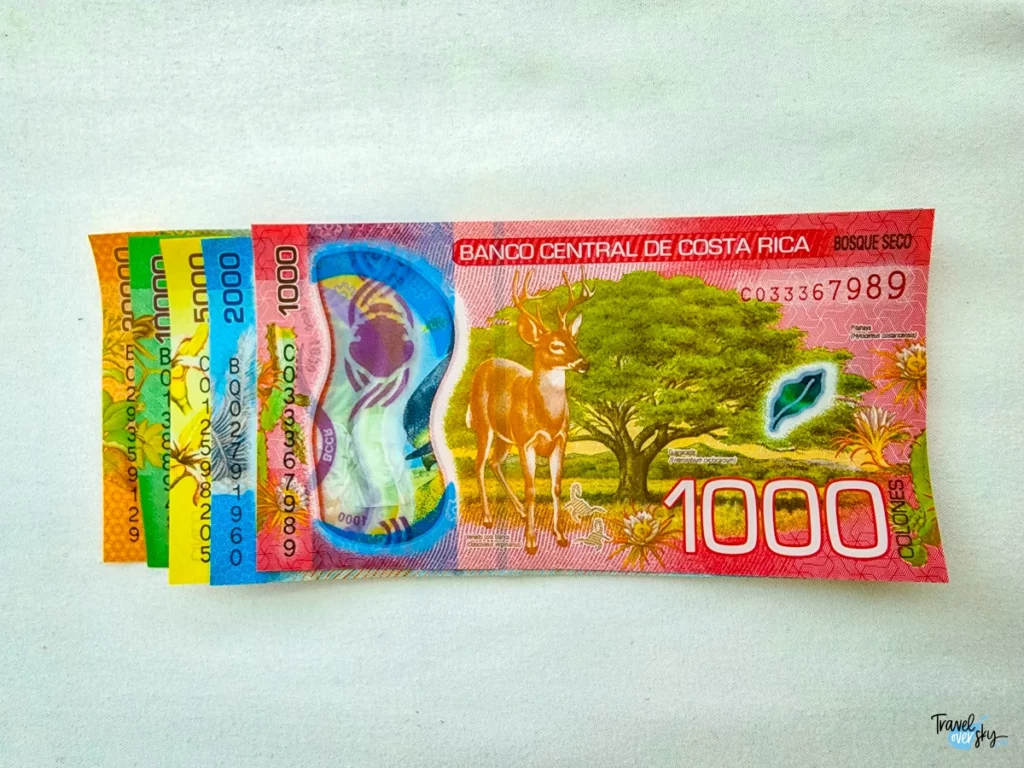 Costa Rica uses colones, which got its name after Christopher Columbus. Colones coins are available in 10, 25, 50, 100 and 500 denominations, and banknotes in 1000, 2000, 5000, 10 000 and 20 000. They are made of plastic. Additionally, each banknote has famous historical figures related to Costa Rica on the obverse, and the most famous representatives of flora and fauna of this country on the reverse.
To me, these are one of the prettiest banknotes I have seen in the world!
What money to take with you?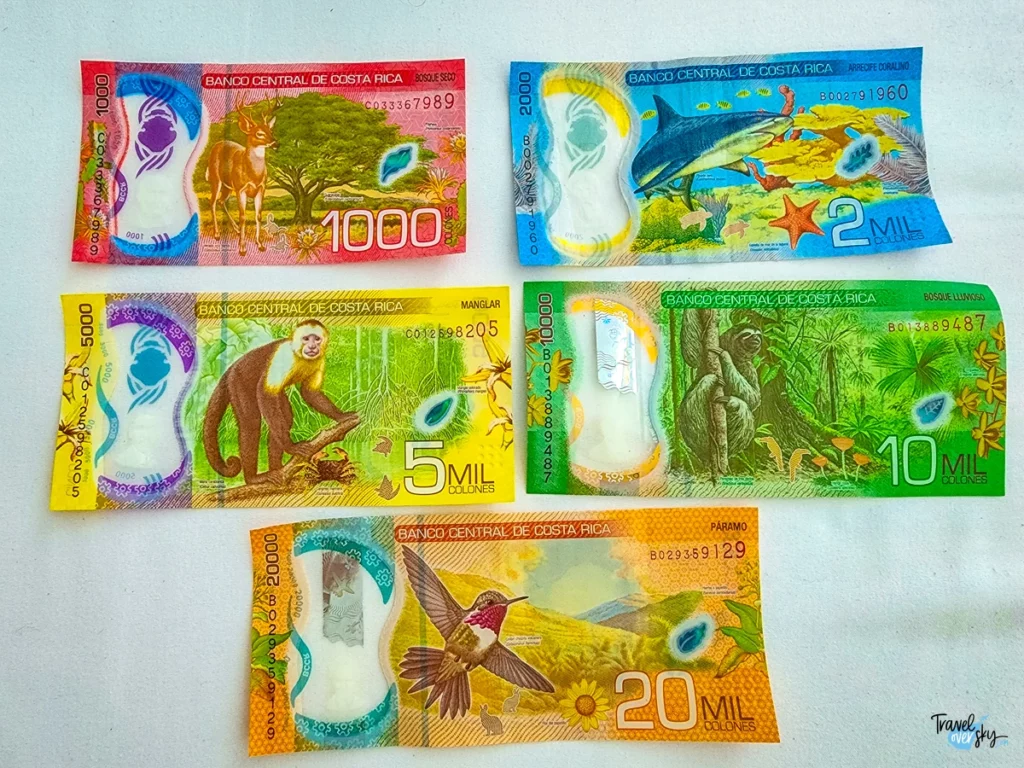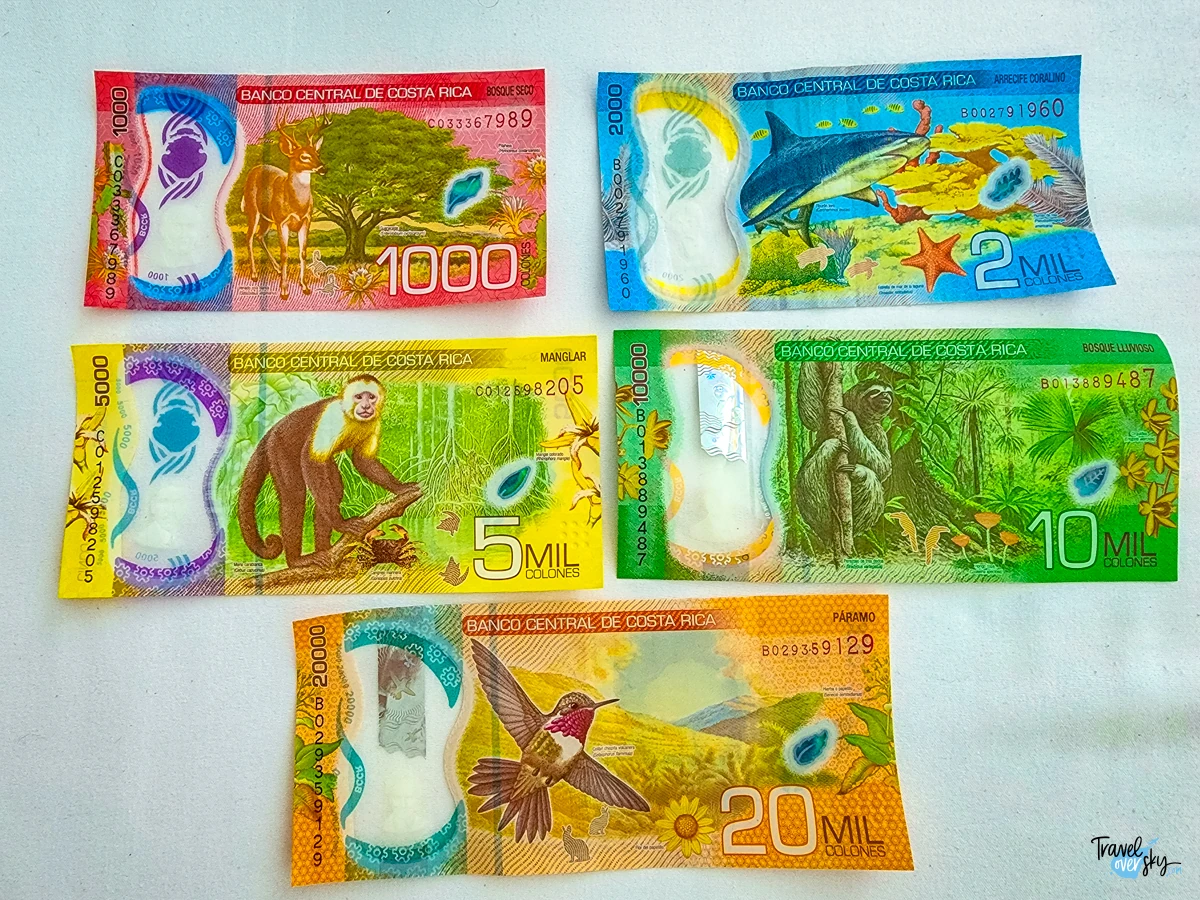 There is no issue with exchanging euros or USDs to a local currency in Costa Rica. You can also exchange Canadian dollars, British pounds and Swiss francs.
If you plan to exchange money to a local currency, I strongly recommend taking one with a better exchange rate (if there is such a possibility) to Costa Rica.
If you want to pay for facultative trips – take American dollars with you. Most of the prices are presented in colones and US dollars. Conversion of the euro to the American dollar is almost always 1:1.
Mind it, as it often happens that paying in dollars or euros you will get an unfavorable rate offered by hotels, restaurants or travel companies.
Paying with a card in Costa Rica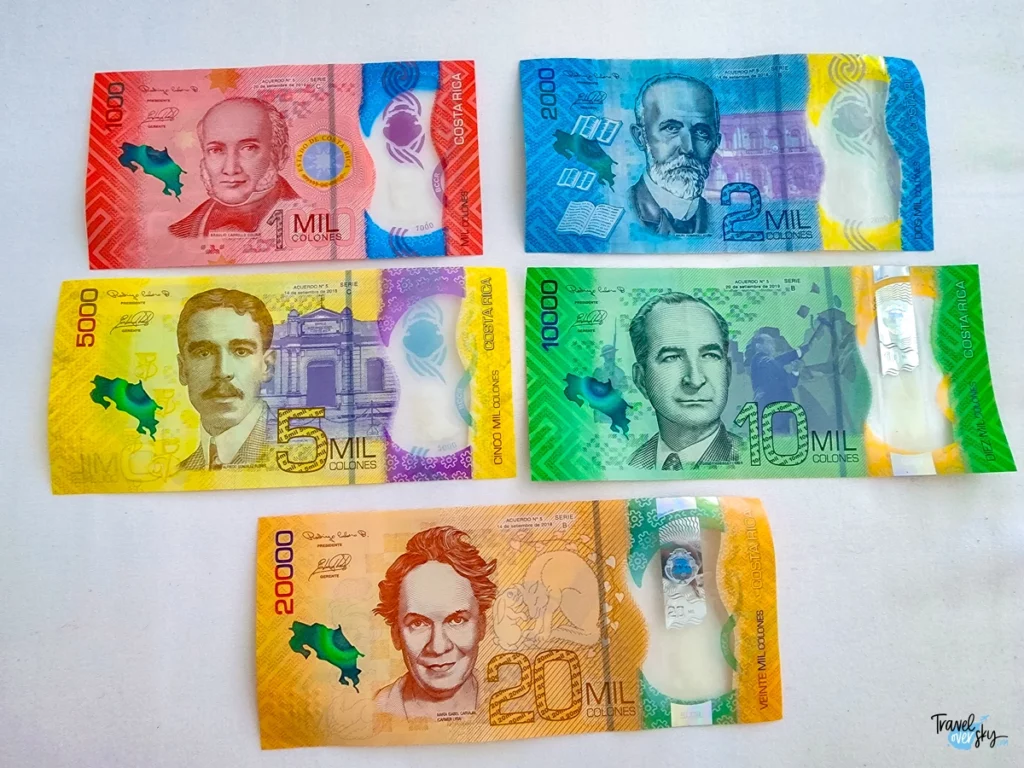 Card payments in Costa Rica are quite similar to most Caribbean countries. There are no issues with using a card in the capital and most tourist places. If you pick more local places, always have some cash on you, as it often happens that they do not have terminals or ATMs in those.
---
Be extra careful when you pay using a card. It happens that sellers are deliberately trying to rob tourists. Instead of 50$ for a taxi fee, the receipt is for 500$. If you will not see this on time, you can lose a big amount of money.

— TravelOverSky advises
---
Where to exchange currency in Costa Rica?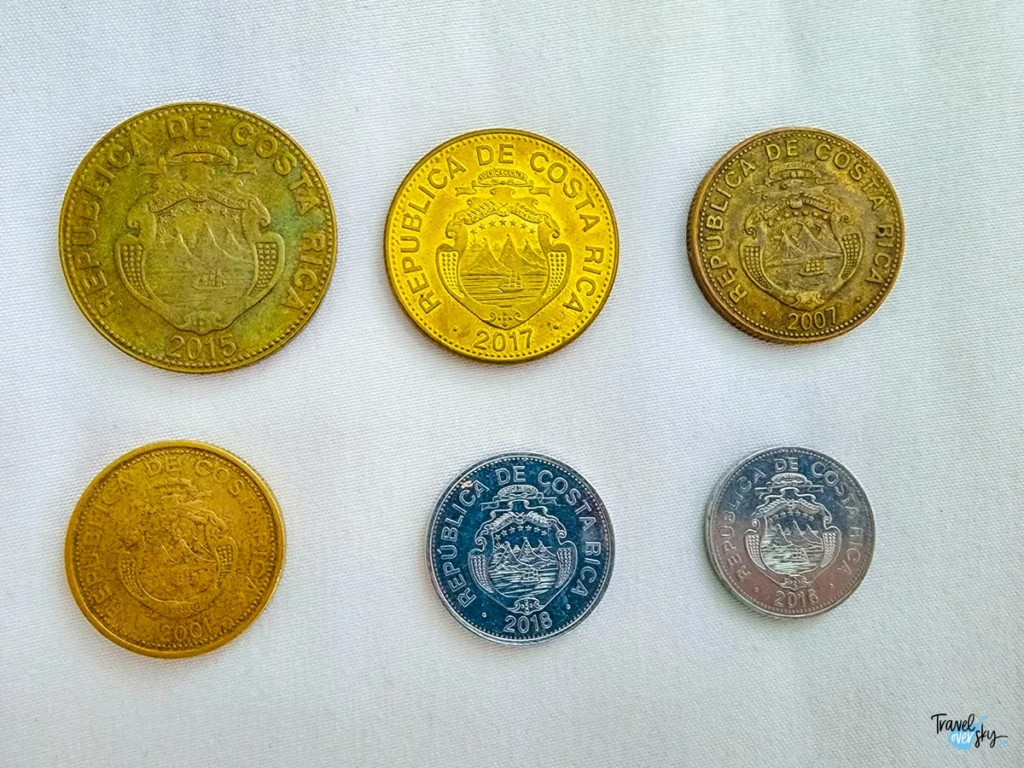 You can always exchange currency at the airport, however I personally do not recommend it, as the exchange rates are not favorable. You can lose even 30%.
The easiest and most safe option is the exchange at a bank. You need to know that foreigners can exchange currency without a bank account in Banco De Costa Rica (BCR). The institution is located, among other, in City Mall Costa Rica – a shopping mall located around 3 kilometers from San Jose airport.
Other institutions of Banco de Costa Rica are in the capital, for example in Plaza Real Alajuela and next to Plaza Cultural. If you want to exchange currency in the capital, the easiest way to find the nearest institution would be via Google Maps.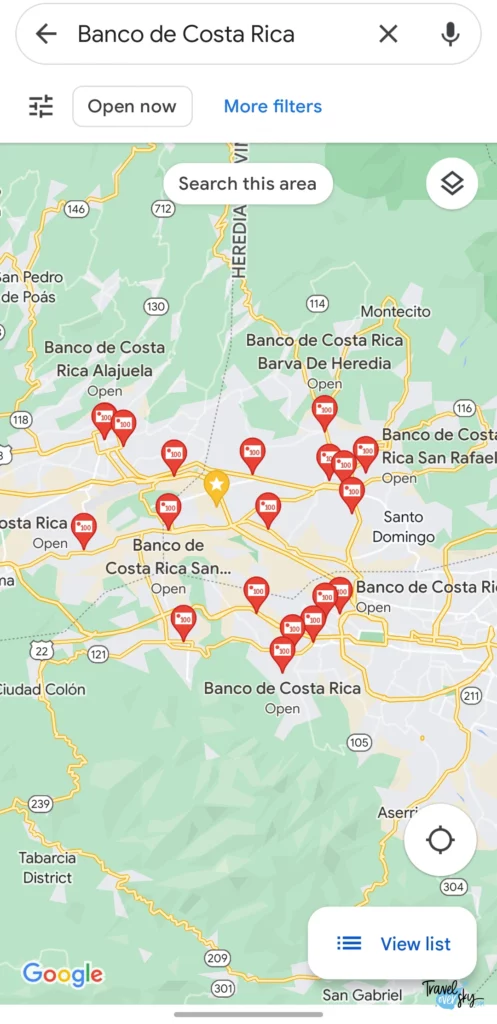 To exchange currency in Costa Rica you will need a valid passport.
Aside from the BCR bank, you can also exchange currency in the Western Union institutions. The Western Union institutions are located, among others, in San Jose, Quepos, Jacó and Coco.
ATMs in Costa Rica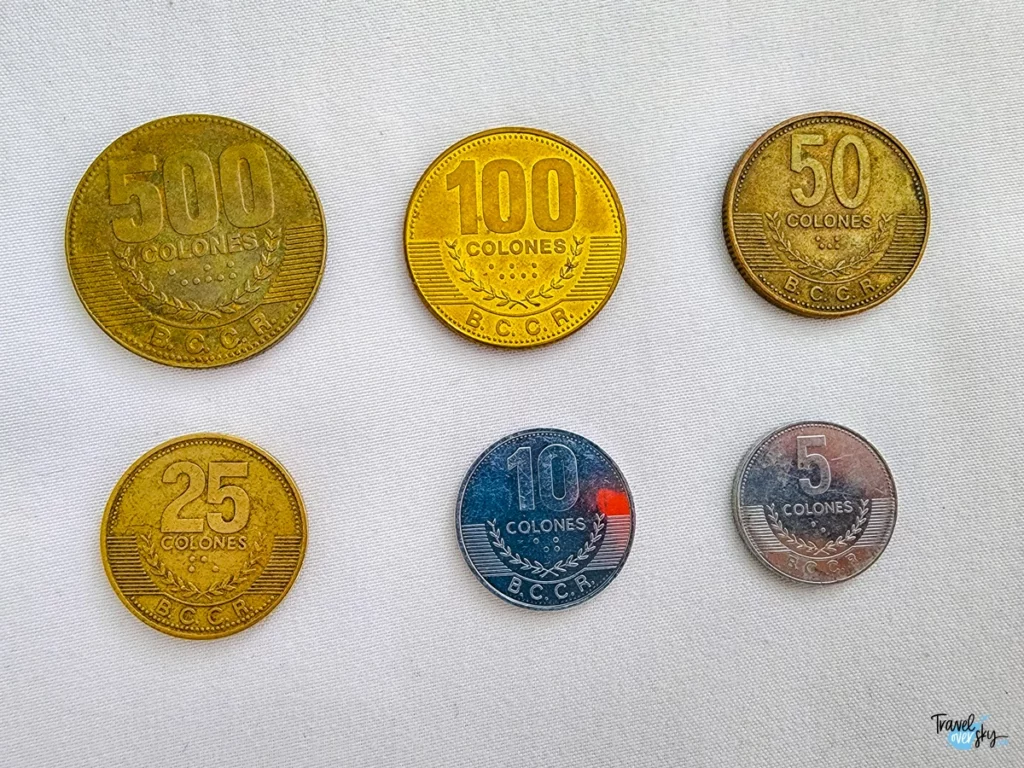 The cards that are being accepted in Costa Rica are Visa and Mastercard. American Express cards are not accepted everywhere, which is why it is worth it to always have some cash on you.
In Costa Rica you can use many ATM networks, with the most popular being ATH, ATM and Banco de Costa Rica.
The BCR ATMs are located in many corners of the country, such as Quepos, Uvita, Puerto Jimenez, Jacó, Liberia, Samara, Limon and Puerto Viejo. The full list of ATMs can be found here.
ATMs can be used to withdraw colones and USDs.
They are located in San Jose, Puerto Viejo, Santa Elena and Tamarindo.
If you are curious about the costs that need to be taken into consideration while traveling in Costa Rica, make sure to check out the Costa Rica Travel Guide post.
***
More information, recommendations and trivia about Costa Rica can be found in the Costa Rica tab.
---
I love sharing my travels, experiences, thoughts and self-tested advices. A travel blog is also a bit of work that I do drinking coffee.
If you want to buy me a coffee, I'd be very pleased!
Virgin Catalina Island. Do you want to know how to get to Catalina Island? What can you do on Catalina...
Read More