Ultimate Travel Guide to Costa Rica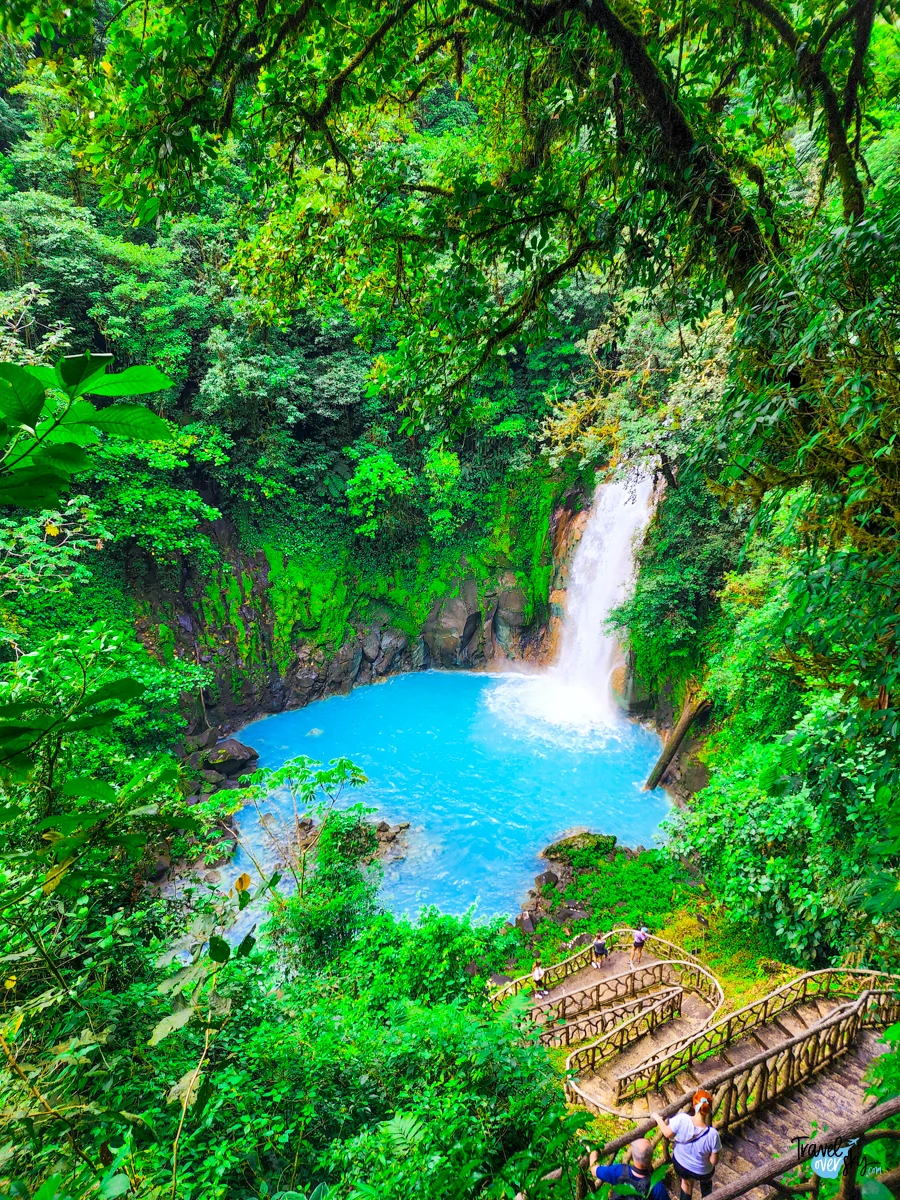 The Ultimate Travel Guide to Costa Rica is a set of information and practical tips which you use while planning your trip to Costa Rica.
---
If you will not find answers to the questions bothering you – feel free to shoot us an email or contact us on social media!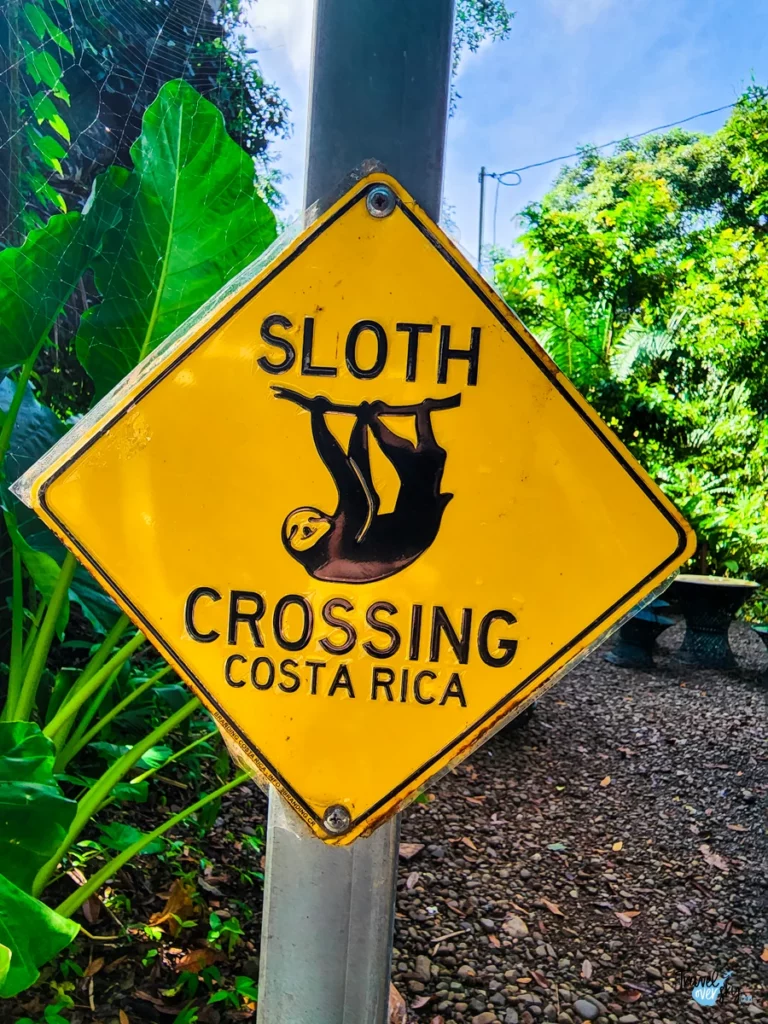 What to do?
Costa Rica is a country offering many attractions for tourists, it is in fact one huge national park. Each person will find something for oneself. You can not only sunbathe on beautiful and not crowded beaches, but also spend time in an active manner. Before heading out, I strongly recommend carefully studying national parks, attractions and places you would like to see.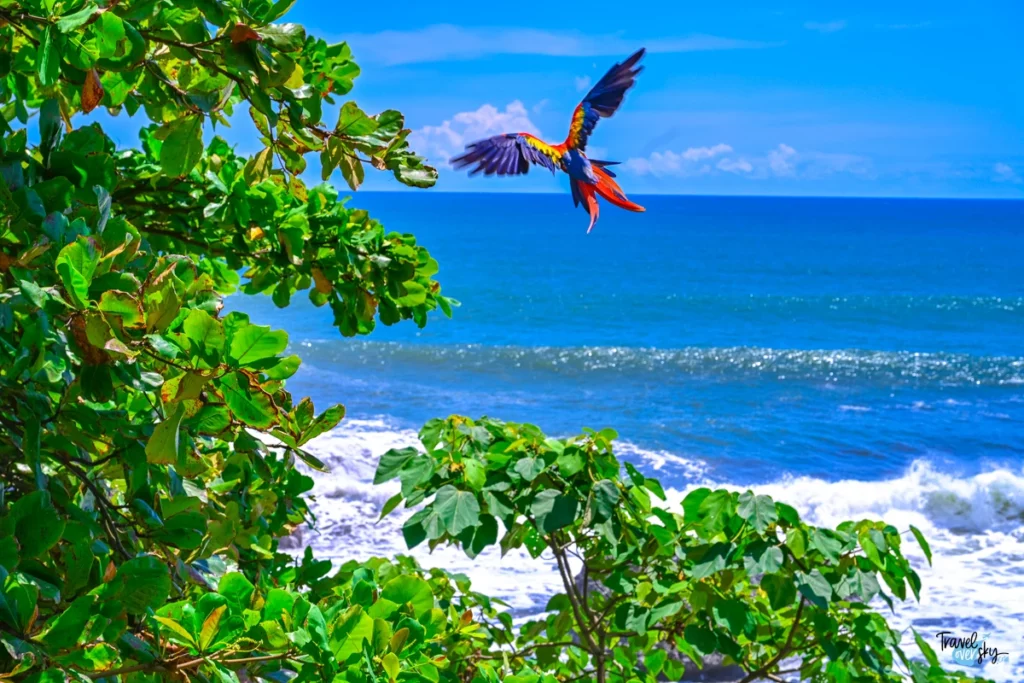 The best tourist attractions in Costa Rica (according to TravelOverSky):
Corcovado National Park – my number one in Costa Rica, this park is the most wild one. Apart from short trips you can also visit it for nocturnal animal watch (there is a possibility of booking a night stay in a base camp).
Rio Celeste and the waterfall – one of the most beautiful places in Costa Rica, the hike ends with a lovely waterfall and a blue river.
The Arenal Volcano – a very picturesque volcano, that you simply have to take a picture of!
A 14-day journey plan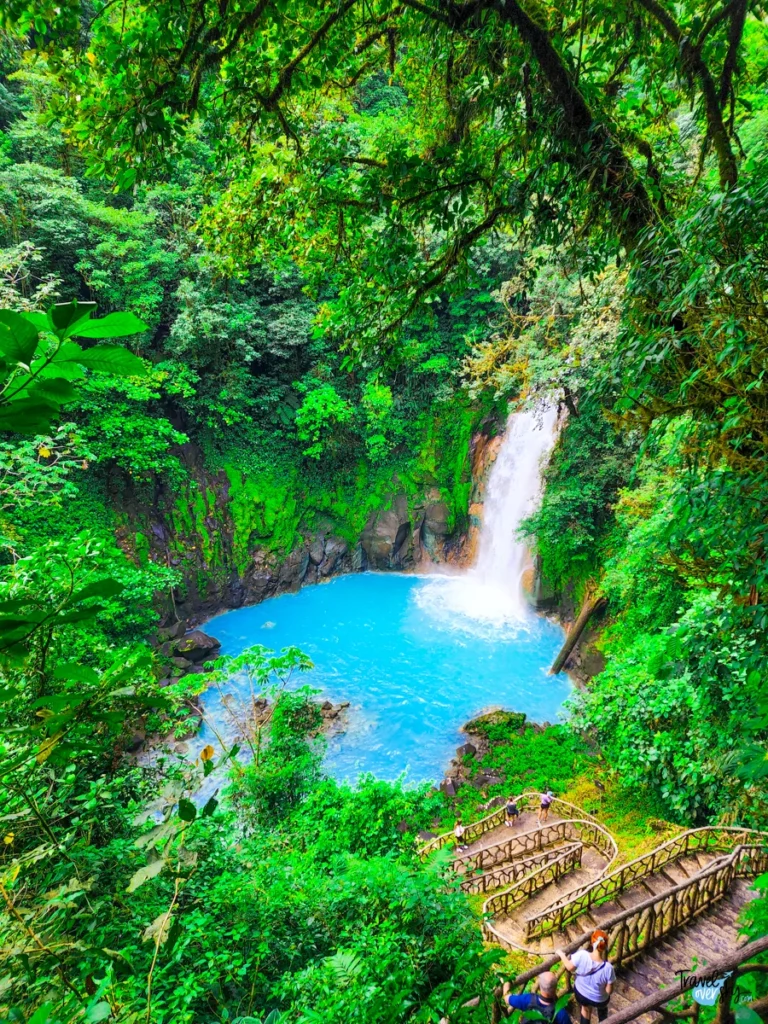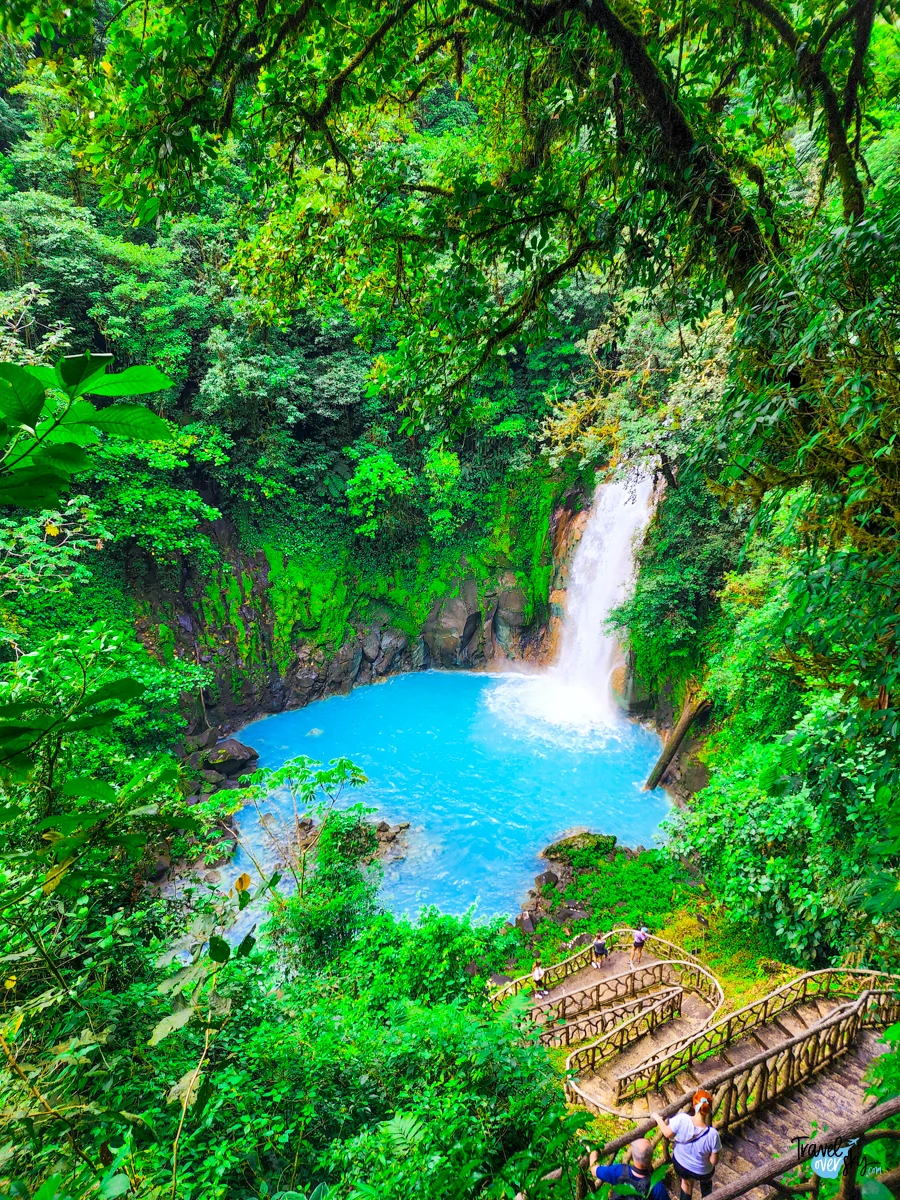 Day 1: The arrival to Costa Rica, we are heading to Quepos
Day 2: Manuel Antonio National Park, a dinner in Quepos, a route to Drake Bay
Day 3: Corcovado National Park, free time in the afternoon
Day 4: We are heading to Monteverde
Day 5: The hanging bridges in Monteverde, we are heading to Bijagua de Upala
Day 6: A trip to Rio Celeste and to the Tenorio Volcano viewing point
Day 7: We are getting to La Fortuna. A hike to the Arenal Volcano viewing point
Day 8: La Fortuna Waterfall. We are heading to Tortuguero
Day 9: Tortuguero National Park. We are getting to Puerto Viejo
Day 10: Cahuita National Park. Ara Manzanilla Reserve
Day 11: The Jaguar Reserve. We are heading to San Jose
Day 12: A free day
Day 13: Waterfall Gardens Park
Day 14: We are reaching the airport for the flight back
A full Costa Rica trip plan is available to check out in 14 Days in Costa Rica post.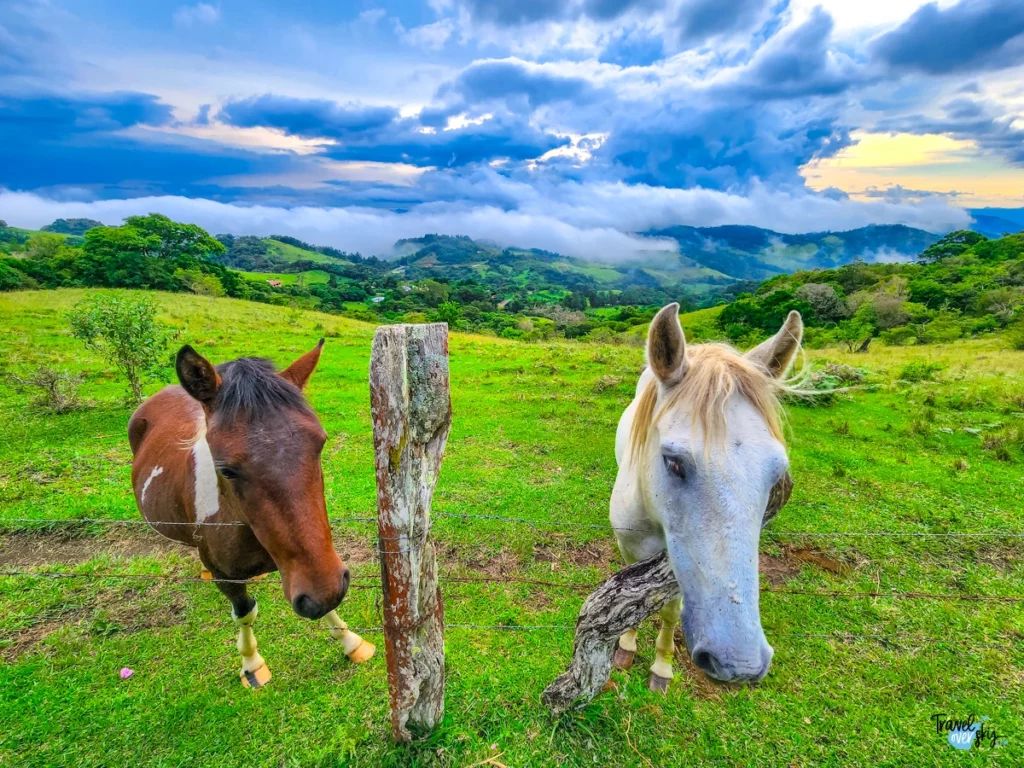 If you need help with planning your journey – hit me up with a message. I will try to help as best as I can!
How to sightsee?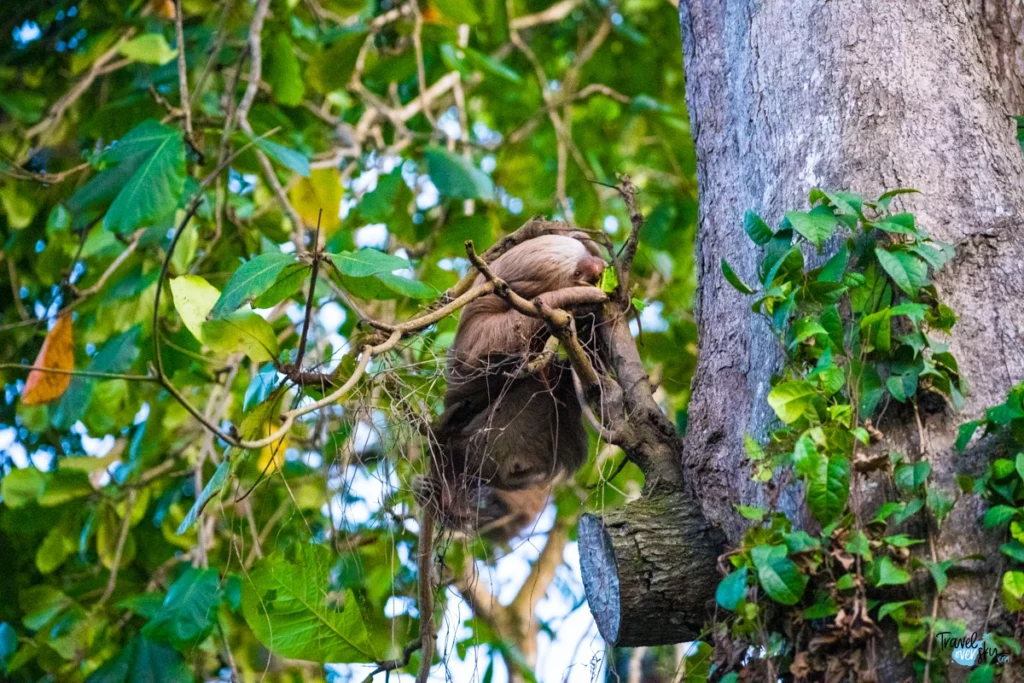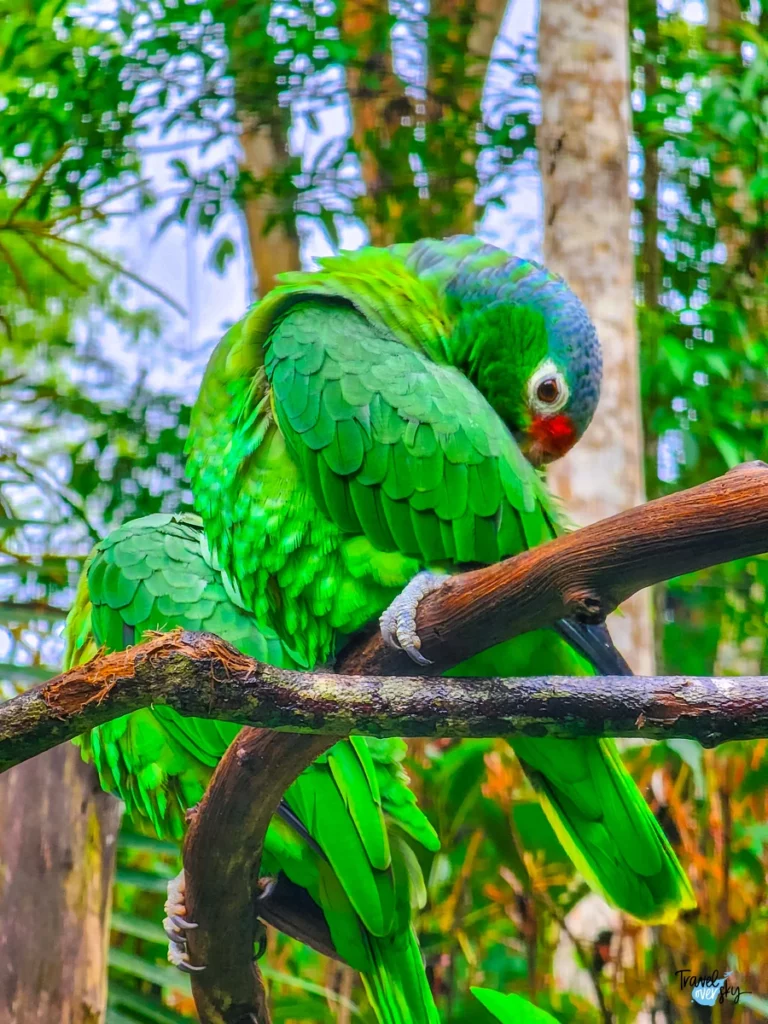 Most of the national parks do not require a presence of a guide during the walks, they are optional. Using the guide service is up to you. An advantage of the trip with a guide is a chance of observing a bigger amount of animals and receiving information about the park, animals and plants. If you decide to take a guide off the street, do not forget to bargain, because the initial prices will knock you off your feet.
My experience shows that you will not be able to spot some of the animals on your own. I observed most of the animals off the official tracks, which are mostly overcrowded. If you can, avoid crowds and have a walk in more quiet surroundings.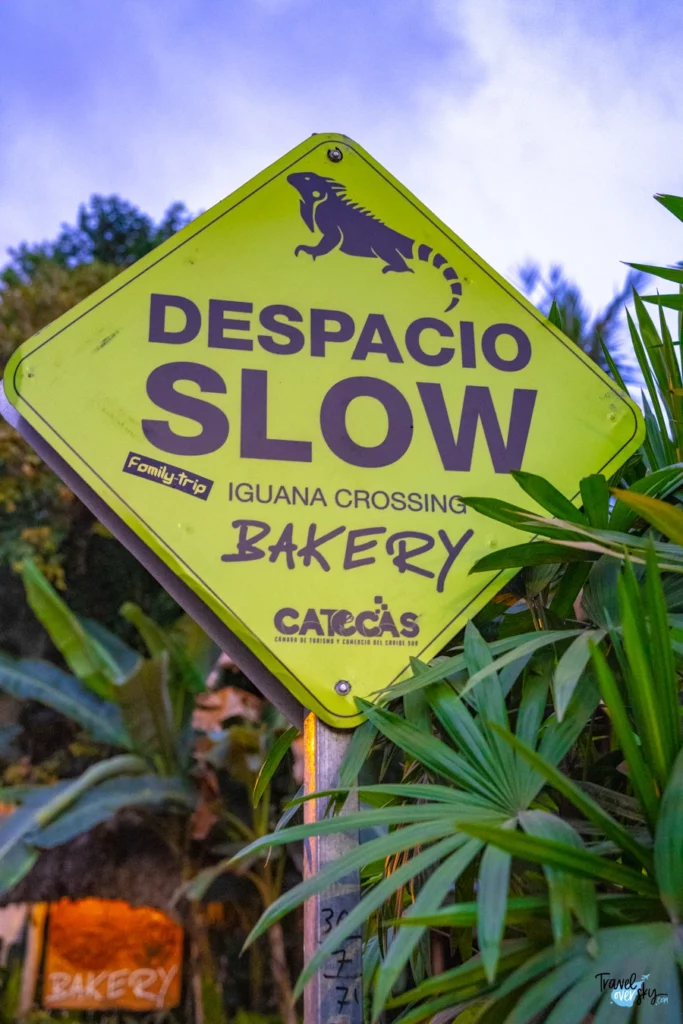 In some of the places the ticket price already includes a guide, but it mostly happens in small, private parks – like Jaguar Rescue Center, Ranario or Butterfly House.
The park that made a trip with a guide mandatory is Corcovado National Park.
Where to spend a night?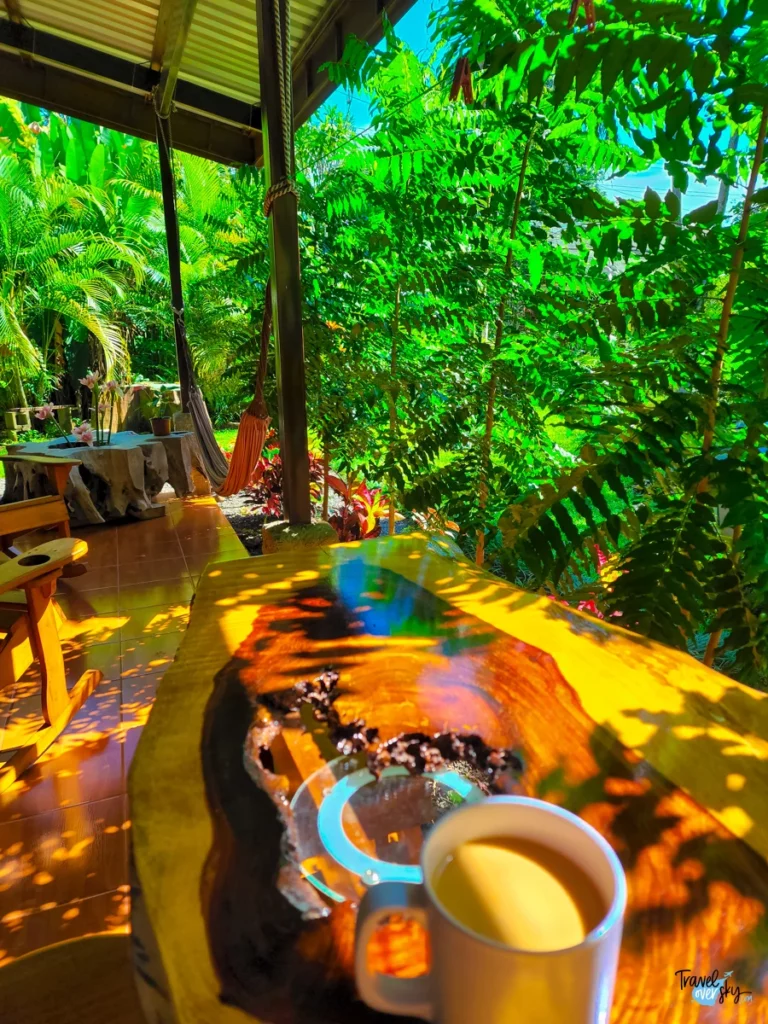 All the accommodations I used can be found in a Where to Stay in Costa Rica post.
The 3 best accommodations in Costa Rica:
Puerto Viejo – a very well-equipped flat, located in the center of Puerto Viejo, thanks to which all the restaurants, bars and even a beach can be visited by foot. It is especially important if you do not want to spend money on taxis to reach the city center. Link to the apartment.
Bijagua de Upala – a house with a beautiful view on a garden, much privacy and well-equipped. You can also observe sloths on this parcel, which visit the nearby trees. Link to the apartment.
Bahia Drake – houses located alongside Rincón beach. A great place for couples, but if you want to travel with a company – a four-person room will not guarantee any privacy. You can order food for 10 USD for a meal in the resort area. The food was quite tasty and the prices good compared to the restaurants. Link to the apartment.
You can read more about the places I stayed in Costa Rica in a separate post.
5 best restaurants in Costa Rica: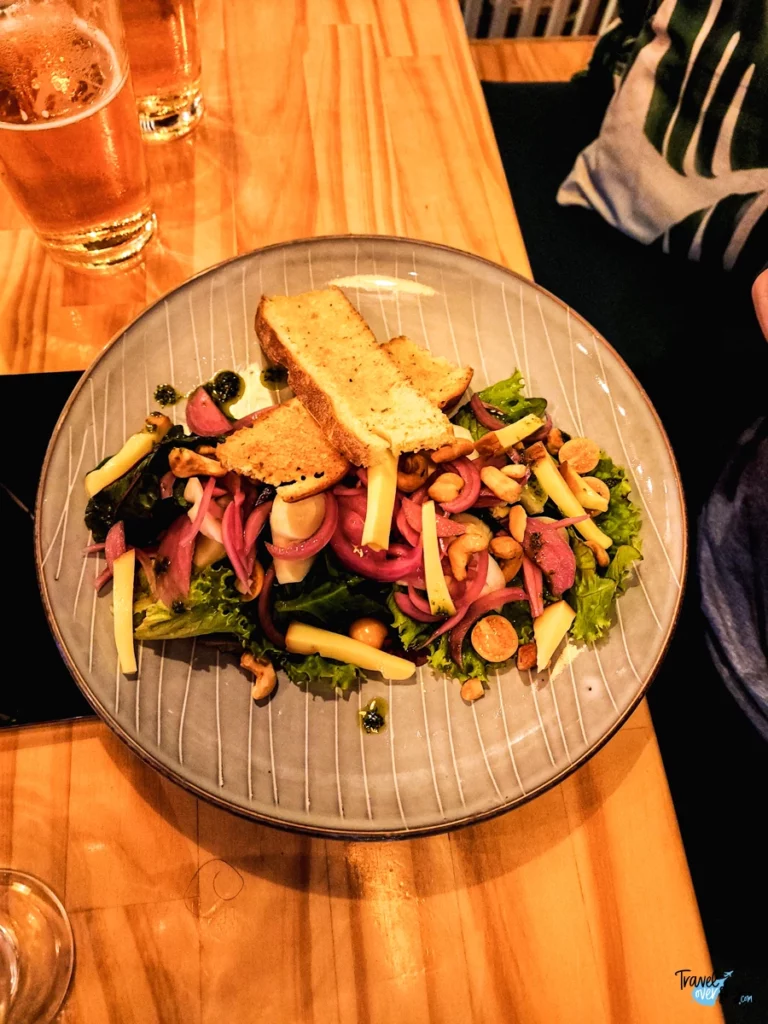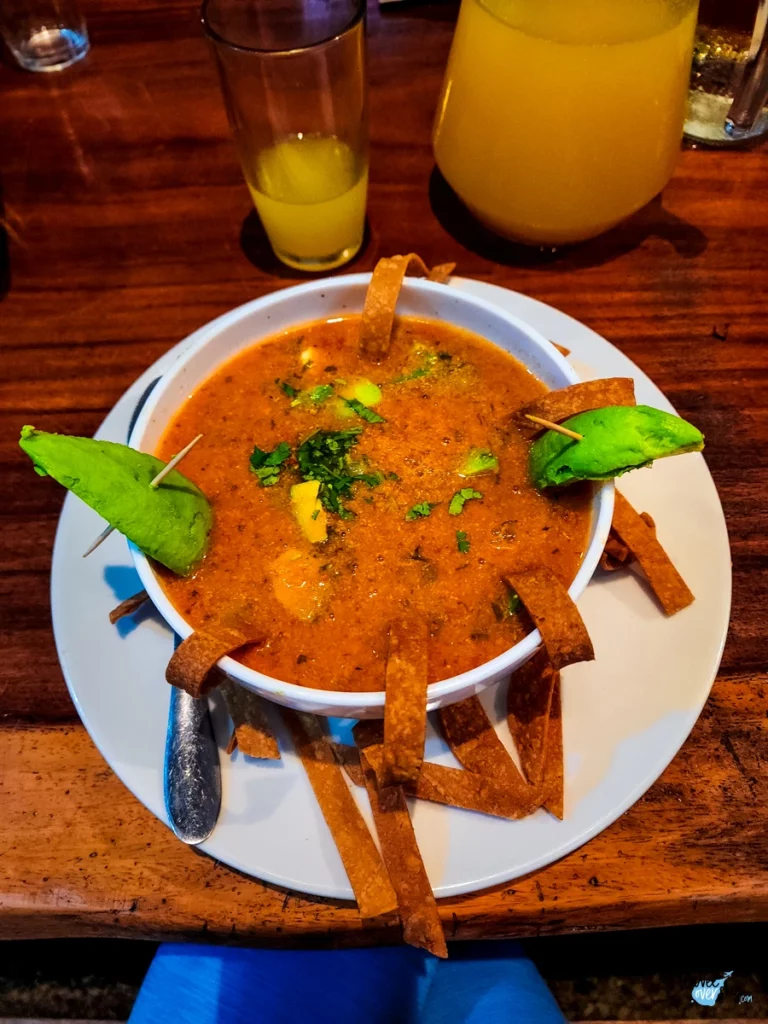 As usual, all the opinions about the restaurants I managed to visit in Costa Rica are available to read in the Where to Eat in Costa Rica post. For this compendium, I chose 5 best restaurants according to me.
Jammin, Puerto Viejo
A Jamaican restaurant serving vegetarian dishes in Puerto Viejo. Tasty and cheap.
Restauracja Meksykańska, Puerto Viejo
Classic Mexican dishes, delicious and fresh food. The prices were not excessive, Puerto Viejo.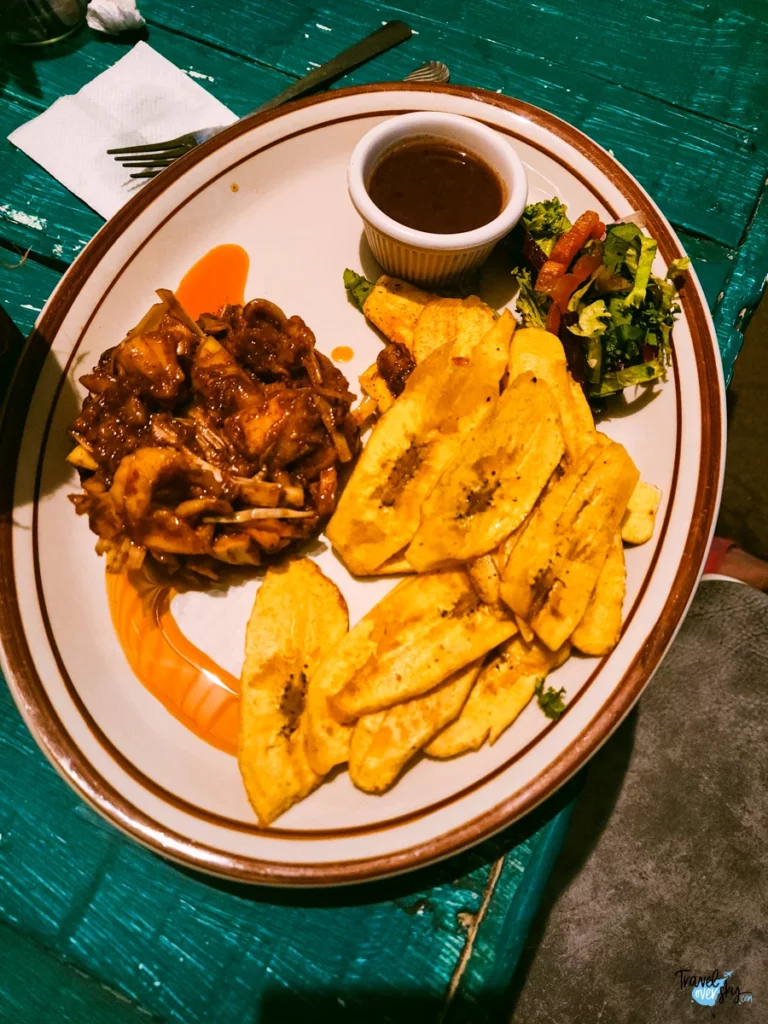 El Sabor de Dona Carmen, Bijagua de Upala
A family restaurant, classic Costa Rica dishes, a very good service, there is a small butterfly park nearby the restaurant.
El Jardin de Frida, La Fortuna
Elegant and modern restaurant, tasty food, very good service, but a little overpriced, La Fortuna.
Tratoria, San Jose
Authentic Italian restaurant on the outskirts of San Jose, fresh and tasty food. The restaurant is run by Italians, San Jose.
Safety
Costa Rica is a safe country, but you need to look out for small thefts – those, unfortunately, are quite common. Never leave any valuables (e.g. electronics) in a parked car. Cars are often robbed (especially in places that seem tourist and would seem safe).
When following posts of tourists from the United States, you can notice that unfortunately tourists are tagged and thieves are just waiting for a right moment.
Also, be mindful when parking cars when stopping to rest at a beach. Those cars are a special target and are often being robbed of valuables.
When it comes to safety, animals are also worth mentioning. There are poisonous animals in Costa Rica, but if you will not touch, irritate or scare them – you should not get bitten.
The best time for travel?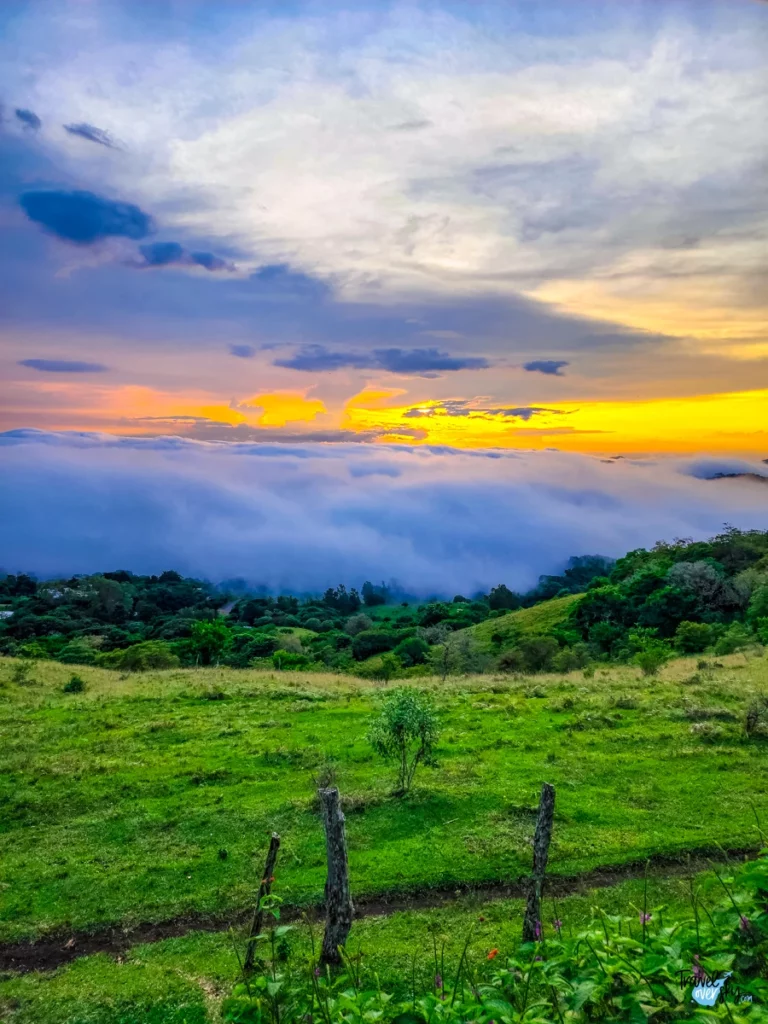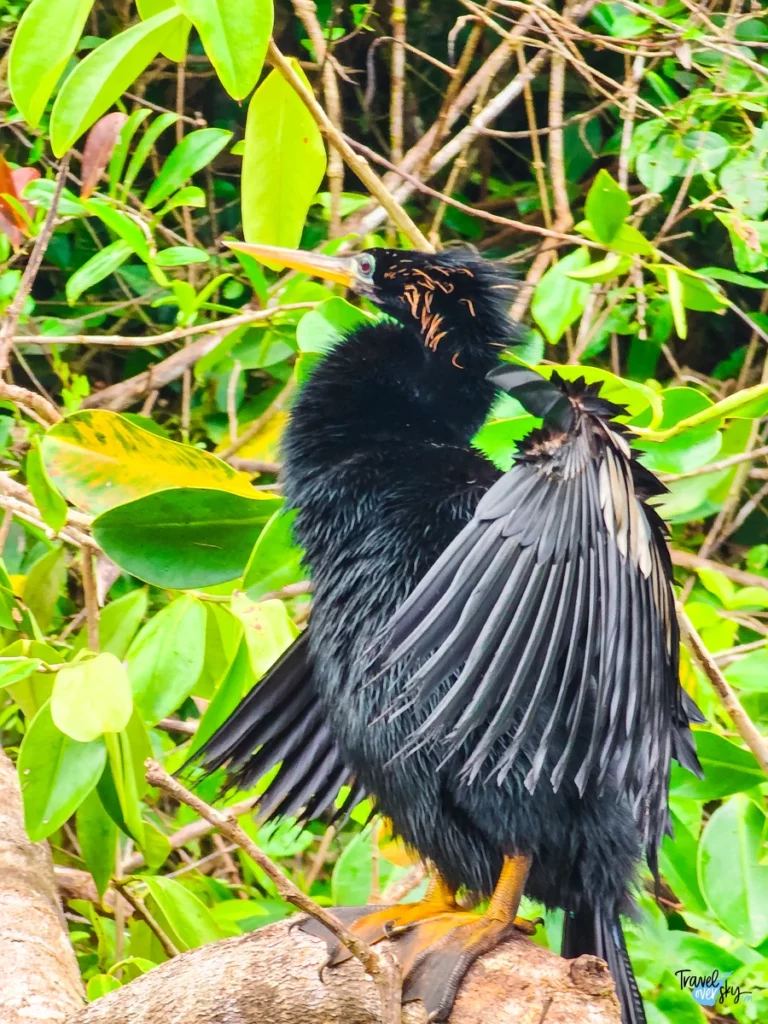 You can differentiate two seasons in Costa Rica – dry and rainy. The latter begins in May and ends in November, while the dry one begins in December and ends in April.
My journey happened to start in September, meaning one of the most rainy months in a year. Even despite this, the rain did not ruin my trip. I was forced to change my plans for one day only. The most heavy rains happened at night or around afternoon. Obviously, there were a few rainy mornings, but sightseeing and trips were possible to fulfill without a raincoat.
It is worth adding that the Caribbean seaside experiences much less rainfalls than the Pacific side.
An advantage of traveling to Costa Rica during the rainy season is a smaller number of tourists. The amount of people in the dry season can cause a headache.
If you are not scared of the rain, and you prefer to travel when there are fewer tourists at the spot – choose the rainy season.
Transport in Costa Rica
During my trip, I utilized a rented car. It was the best option for me, as it gave me a lot of freedom. If you do not plan on using car rental, pick public transport. The most tourist places in Costa Rica are reachable via buses or boats.
Traveling using a rented car can certainly allow on time saving and you can drive basically anywhere.
The state of roads in Costa Rica is good, but driving is quite slow. It has its advantages, because you can admire the amazing nature on the road.
Public transport: this website will allow you to check the bus schedule to different parts of Costa Rica. Public transport in Costa Rica.
Travel cost to Costa Rica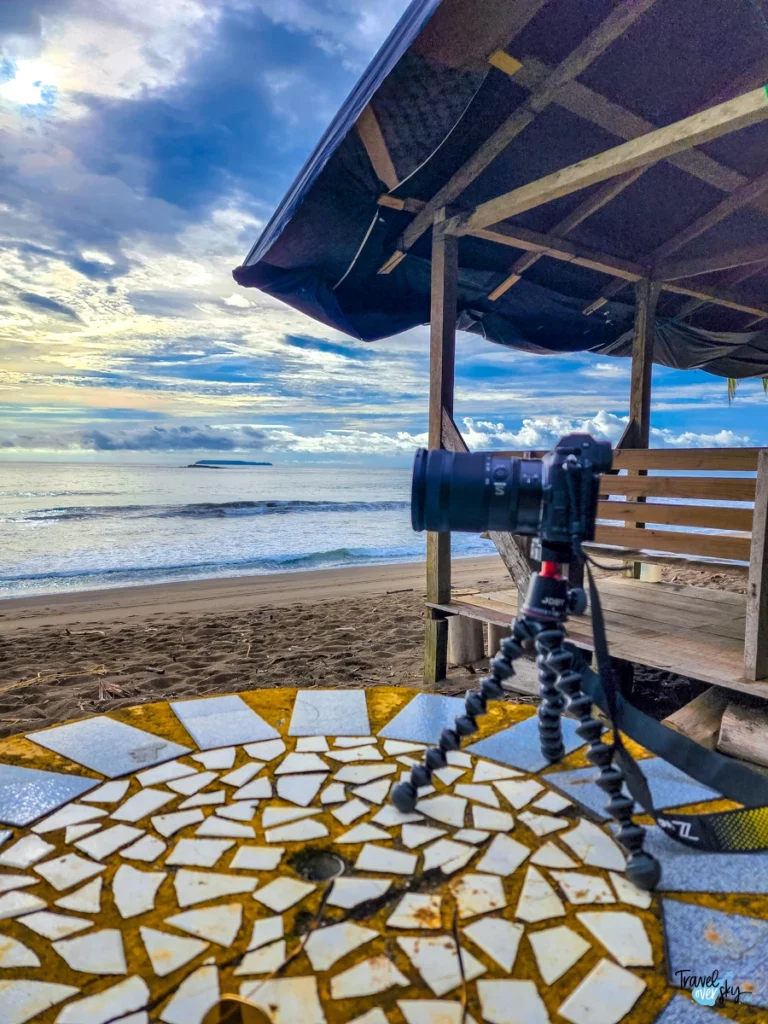 In this paragraph, I will do my best to show you what costs you need to take into consideration while traveling to Costa Rica.
Plane tickets: I paid 650 USD per person from the Dominican Republic (those were the cheapest at the time, the price also included booked seats and checked baggage, state of March 2022).
Sample plane tickets to Costa Rica:
Warsaw – San Jose (2 changes): 900 USD, Warsaw – San Jose (1 change): 1200 USD
Madrid – San Jose (direct flight): 730 USD
Miami – San Jose (1 change): 320 USD
Santo Domingo – San Jose (1 change): 310 USD. State of February 2023
Car rental: 1200 USD (4×4 car, 14 days + full insurance + additional driver), cost split between 4 people.
Parking lots: 6500 colones in La Pavona, parking lot in front of the National Tenorio Park: 2000 colones; these were the only car parks that I paid for in Costa Rica.
Toll roads: around 4000 colones (for 4 people).
Other transport: a two-way boat to Bahia Drake – 40 USD, a boat to Tortuguero – 6000 colones (two-way, price for one person).
Guides:
Manuel Antonio National Park – 40 USD (guide only, price for 4 people).
Tortuguero National Park – 32 USD (guide, 3-hour boat trip, price per one person).
Corcovado – 110 USD (guide, 6-hour trip, boat transport, national park pass, price per person).
National parks: 80 USD (a price for all national parks passes I bought myself, price per one person).
Other parks (private): 191 USD (two out of four parks had a guide included in a pass, price per person).
Food at restaurants: around 420 000 colones (an average price for 4 people).
Accommodations: 6600 zlotys (price for 4 people, Airbnb) + Pibi Boreal, 3 nights: 490 USD (cost for 4 people + breakfast).
SIM card: airport: Clara – 20 USD, Kolbi – around 13 100 colones, Claro with a monthly unlimited Internet – 17 000 colones.
Fuel: 240 000 colones (cost for 4 people).
Other costs: shops, treats, food made at the apartment – around 40 000 colones (cost for 4 people).
Full cost for one person: around 2 400 USD (I included a complete SIM card cost to my travel one, as it was mainly me who used the Internet).
Currency in Costa Rica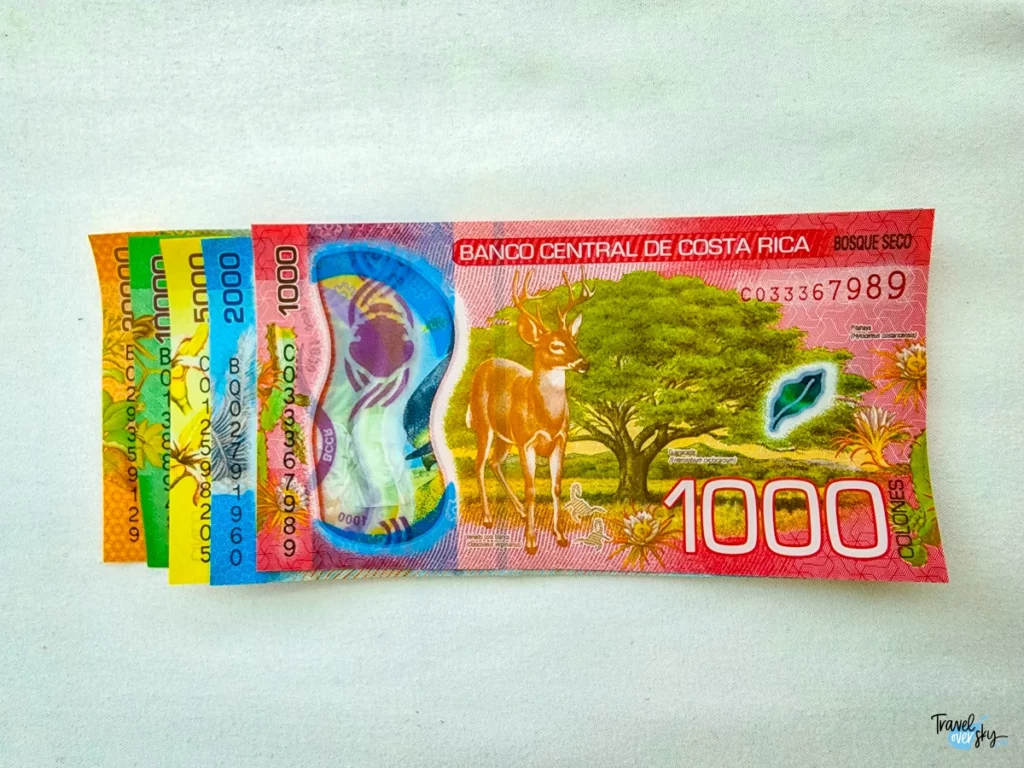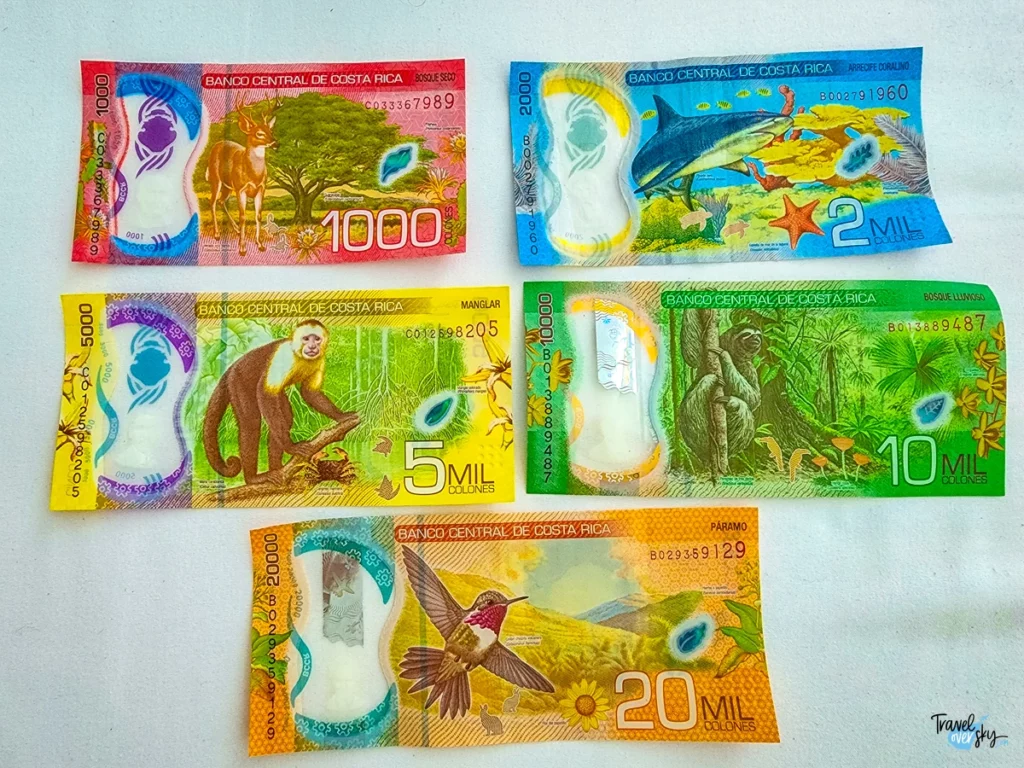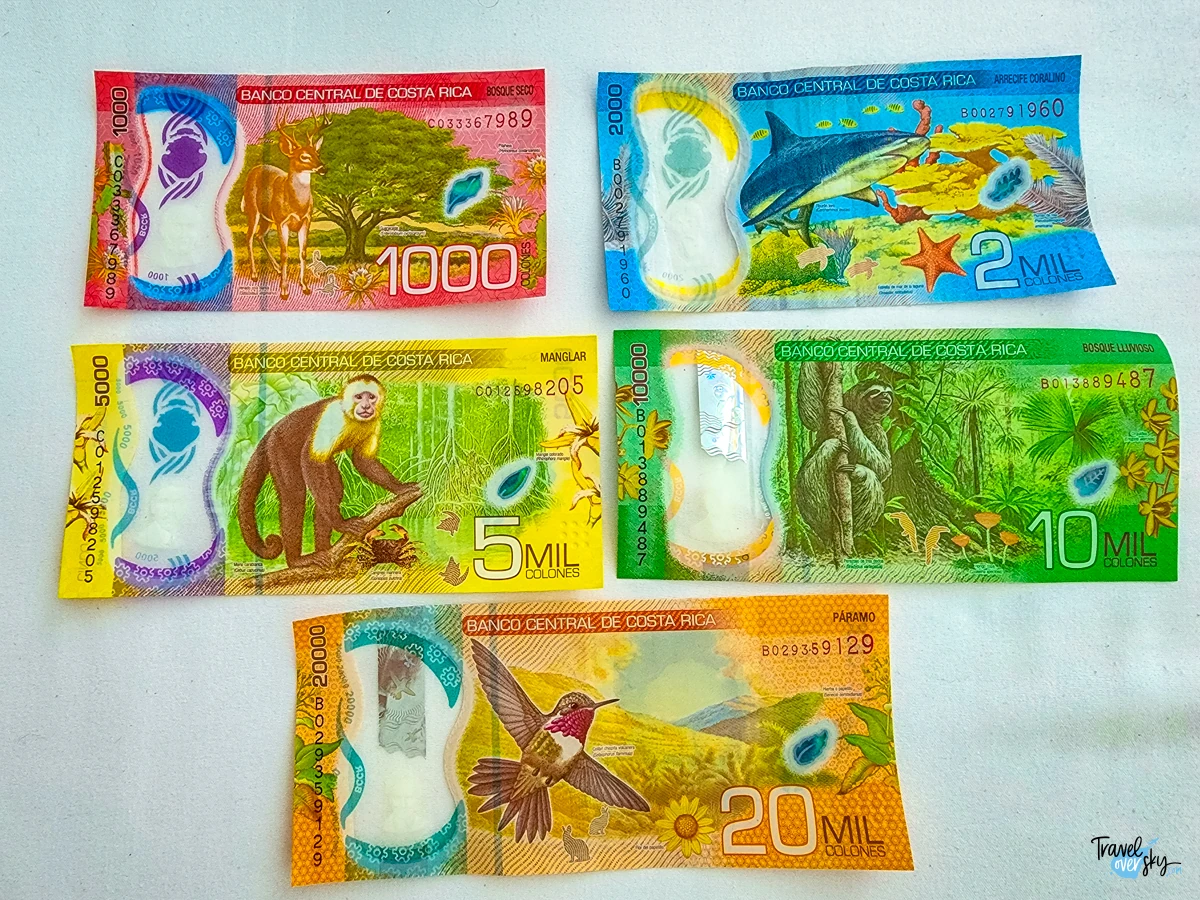 The Costa Rica currency is a colon. 1 USD = 536 colones.
You can always exchange it at the airport, however I do not recommend it as the exchange rate is not very favorable. You could lose around 30% during the exchange.
The easiest and the safest option is to exchange it at a bank. Foreigners can do it in Banco De Costa Rica (BCR) bank. BCR bank is located in every shopping center, lying around 10 minutes drive from San Jose Airport.
You need to show your passport during the currency exchange.
Is it possible to pay with USD?
The short answer is yes. You will not run into any issues with dollar transactions in many tourist oriented places. But one must remember that it will not be profitable, and you will lose some money in a longer run. It often happens that the trip cost is presented in dollars, but in these situations you can pay by both dollars and colones. Personally, I paid with colones in most of the places, as it was more profitable. At the restaurants in tourist places, you will have a price in colones and dollars on the receipt. Even when paying with dollars, you will often receive change in colones.
Cash or credit?
There are usually no issues with credit card payment in the capital and most of the tourist places. If you pick a more local place, always have some cash on you, as most of those places do not have terminals nor ATMs.
SIM card in Costa Rica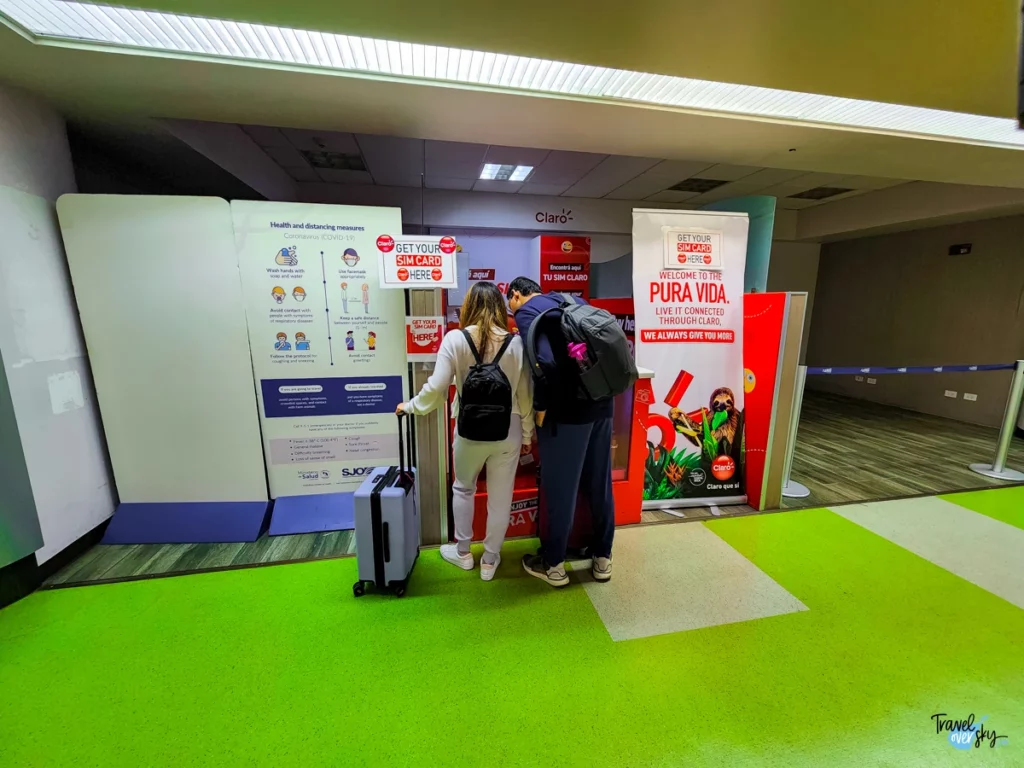 At the San Jose airport, there is a small Claro mobile network stand. You can buy a basic pack SIM card there. I recommend this option only to those who have no other choice. It is much more profitable to buy a card at Claro salon in the nearby mall. More about buying a SIM card in Costa Rica can be found in the SIM Card post.
I personally bought my SIM card in City Mall Costa Rica. You can also find Claro, Kölbi and Movistar salons there.
Due to the fact that I especially appreciate a good Internet connection during my trips, I picked a Claro and Kölbi card.
The Kölbi one was an emergency card if I did not have reception from Claro. Kölbi had a better reception in Corcovado, which is why this mobile network was my number one in this region.
Price: Claro SIM card at the airport – 20 USD, Kölbi – around 13 000 colones, Claro with unlimited monthly Internet – around 17 000 colones.
More about SIM card can be read in this article.
Visa in Costa Rica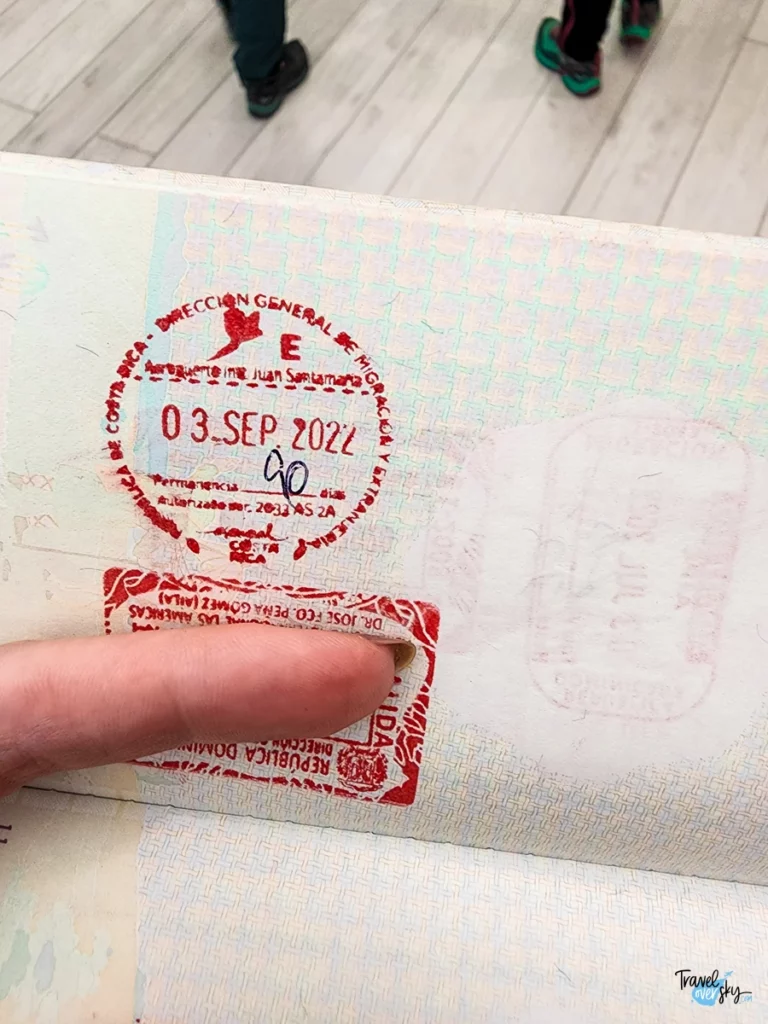 The matter of visa to Costa Rica depends on each country and the visa type. If you want to check if you need to file for a Costa Rica visa, the best place to check it out is the official government site.
Polish citizens are eligible for up to 90 days visa, and the number of days is dependent on the customs official's decision.
Coronavirus
During my trip to Costa Rica, the covid regulations were not so strict anymore. The country did not require you to take a covid test before entering it. The protective masks were not an obligation either, but it was recommended to wash your hands often.
Always check the latest entry requirements to a given country on the official government sites before you head out.
What type of clothes to take?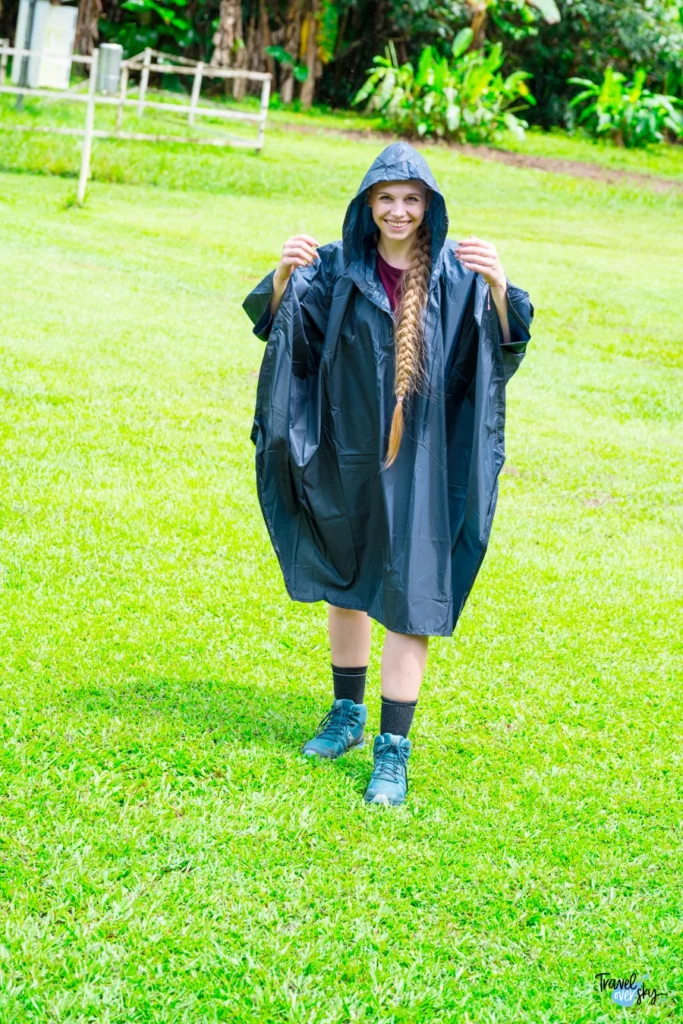 The time in Costa Rica can be spent in both active or resting ways.
If you plan to go to the beach and swim, you need to take swimming suits, beach towels and water shoes, which will certainly be of use.
My trip to Costa Rica was mostly spent on hikes in national parks, forests and even mountains.
If you plan it similarly, make sure to take:
Comfortable trekking shoes
Flip-flops
Light waterproof jacket
Waterproof pants
Quick drying shirts
Comfortable trekking socks
Waterproof coat
Toiletry bag and first aid kit:
Everyday medicine
At least 30 SPF cream
Mugga (or other repellents with a high DEET concentration)
Fenistil or other antipruritic ointments
Diarrhea medications
Aloe gel for burns
Costa Rica vaccinations
If your country is not at risk of yellow fever occurrences, there are no obligatory vaccinations, but there are a few recommended ones.
Those include hepatitis A and B, yellow fever, rabies and typhoid. Remember that it is always a good idea to take advice from a travel medicine doctor, who will prepare you for a tropical countries journey.
Which souvenirs are worth bringing back?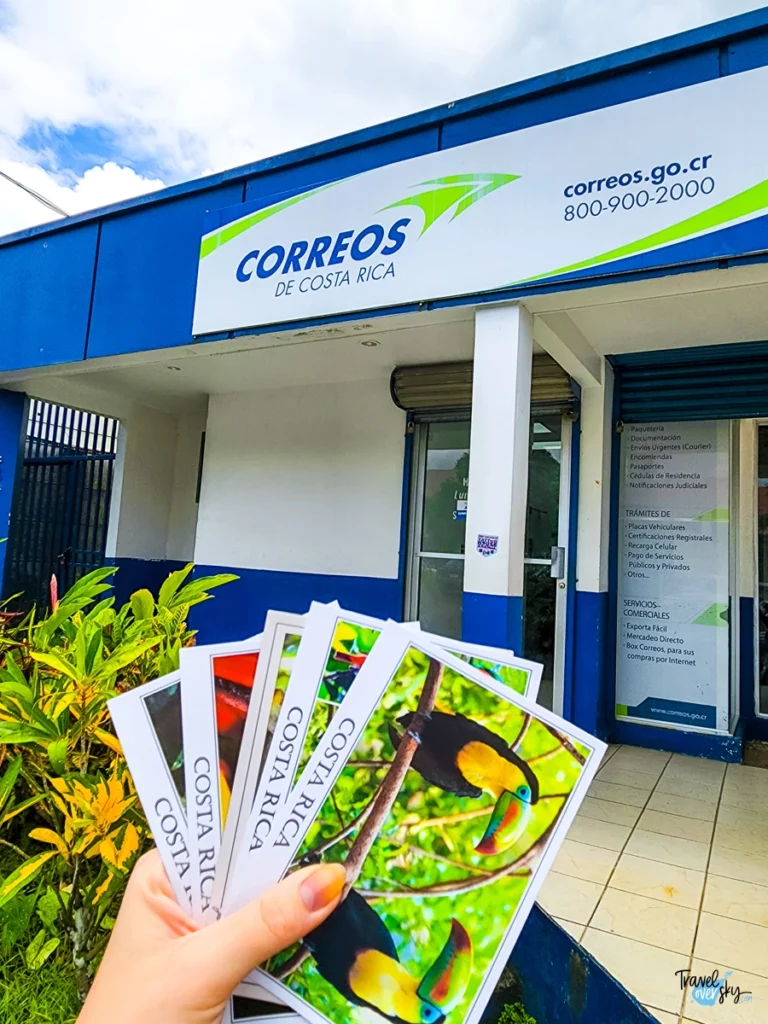 Costa Rican coffee – the original Costa Rican coffee is famous for its mild taste, and a pack of it will surely bring joy to a coffee fan.
Chocolate – Costa Rica is also a producer of tasty chocolate, which can be found with many different additions: fruits, nuts and spices.
Sweets – there are many local sweets in Costa Rica that would certainly be a treat for anyone with a sweet tooth, for example Costa Rican Dulce de Leche.
Jewelry and handicraft – handmade jewelry is quite popular in Costa Rica, along with craft decorations made from e.g. stones and wood.
Spices – cooking fans will certainly be happy about the exotic spices of this country, all you need is a visit to the mall, and you will find high quality cinnamon and vanilla.
Sauces – if you do not want to buy spices, you can pick ready local sauces. The spicy Costa Rican sauces will make a great souvenir from this country.
Rum – alcohol fans will certainly appreciate the high quality Costa Rican rum.
Eco-goods – Costa Rica is among worldly leaders of nature friendly countries, which is why you can find eco products at every step, and they would also make an awesome gift. Those include shopping bags made of environment friendly fabrics, eco candles or bamboo utensils.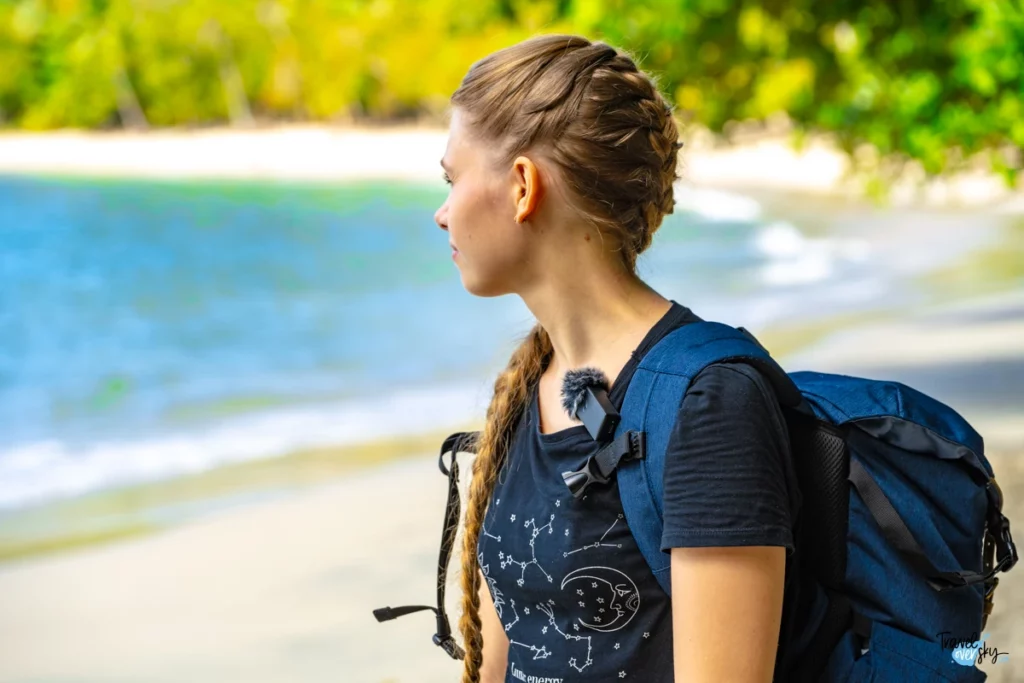 ***
More information, recommendations and trivia about Costa Rica can be found in the Costa Rica tab.
---
I love sharing my travels, experiences, thoughts and self-tested advices. A travel blog is also a bit of work that I do drinking coffee.
If you want to buy me a coffee, I'd be very pleased!
Virgin Catalina Island. Do you want to know how to get to Catalina Island? What can you do on Catalina...
Read More