San Juan: Where to eat? The best restaurants of San Juan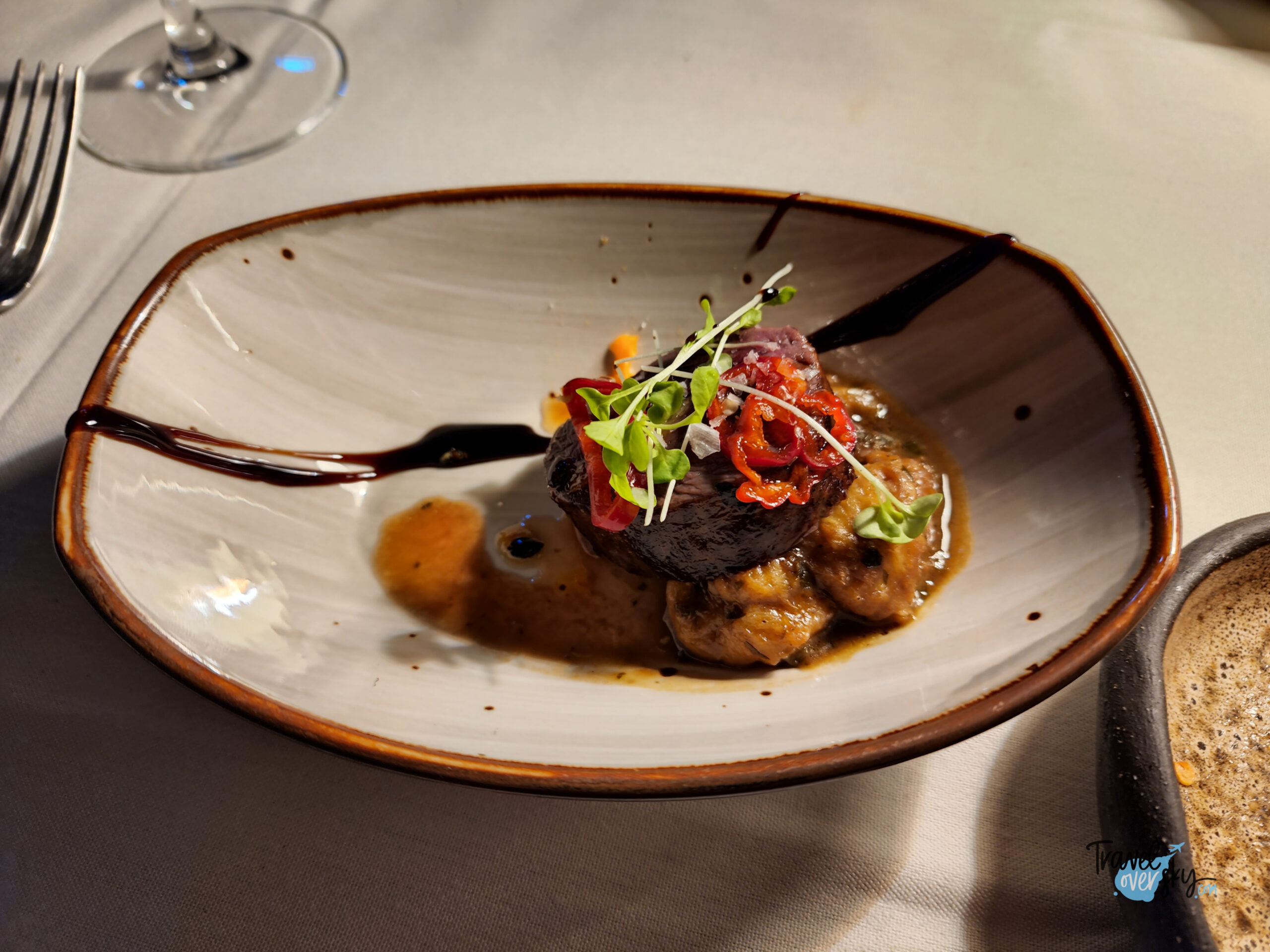 The gastronomic offer of San Juan is literally gigantic! You will find most of the fast food chain restaurants there, cuisine from practically each corner of the world and places both main and non mainstream ones. The restaurants of San Juan can also be found in popular food ordering apps. Because of the impossibility to cook at the flat, I ate out practically every day, which made it convenient to visit many places on the culinary map of San Juan.
🍽️The restaurants of San Juan
🍽️Peko Peko Ramen
It was the first restaurant I visited after arriving at San Juan.
💸The prices and menu
Peko Peko is a ramen place, where the prices for a single one start from around 15$, but you need to pay over 20$ for the more interesting items on the menu. The prices are fairly high there, but you need to remember that in Puerto Rico you earn in dollars.
The restaurant itself is not very big, but it is well organized – each available space is being used in the right way. The kitchen is open, so you have a chance to see cooks at work.
I had the pleasure of eating a vegetarian ramen and a clear ramen with pork chop. Both soups were delicious, and portions were huge. The clear ramen was perfect to eat, it did not make you overly full, and the pork chop was prepared from a carefully selected meat portion. The vegetarian soup tasted of shrooms a little, and the soup decoction was kind of heavy, so you had to balance it with another taste.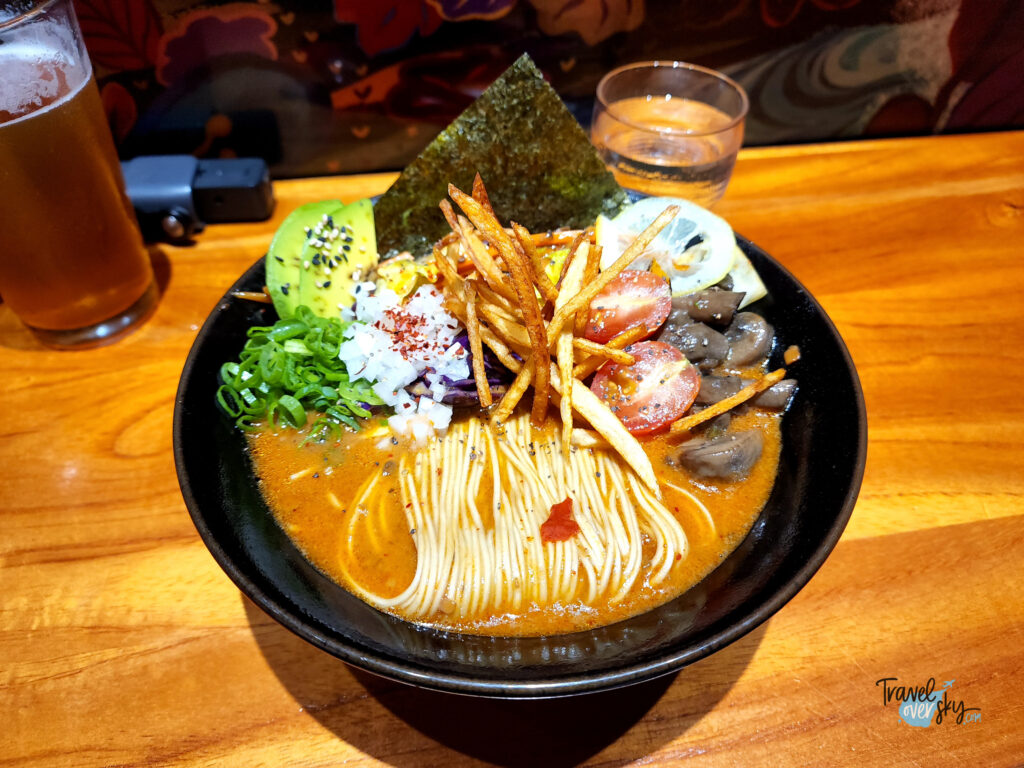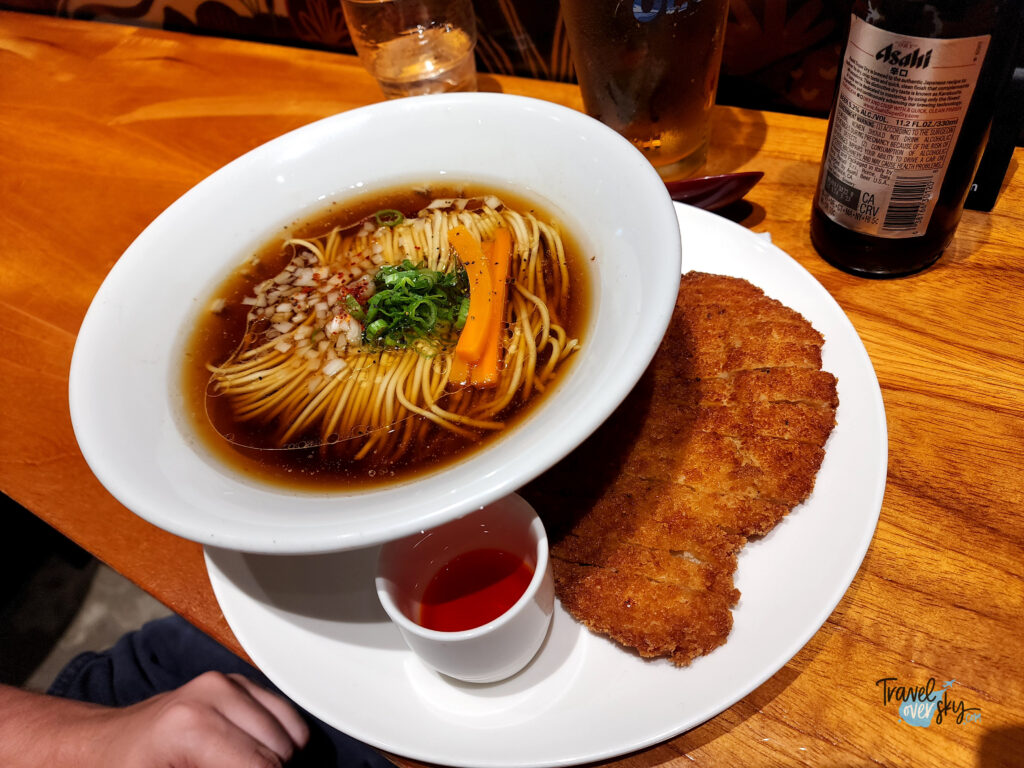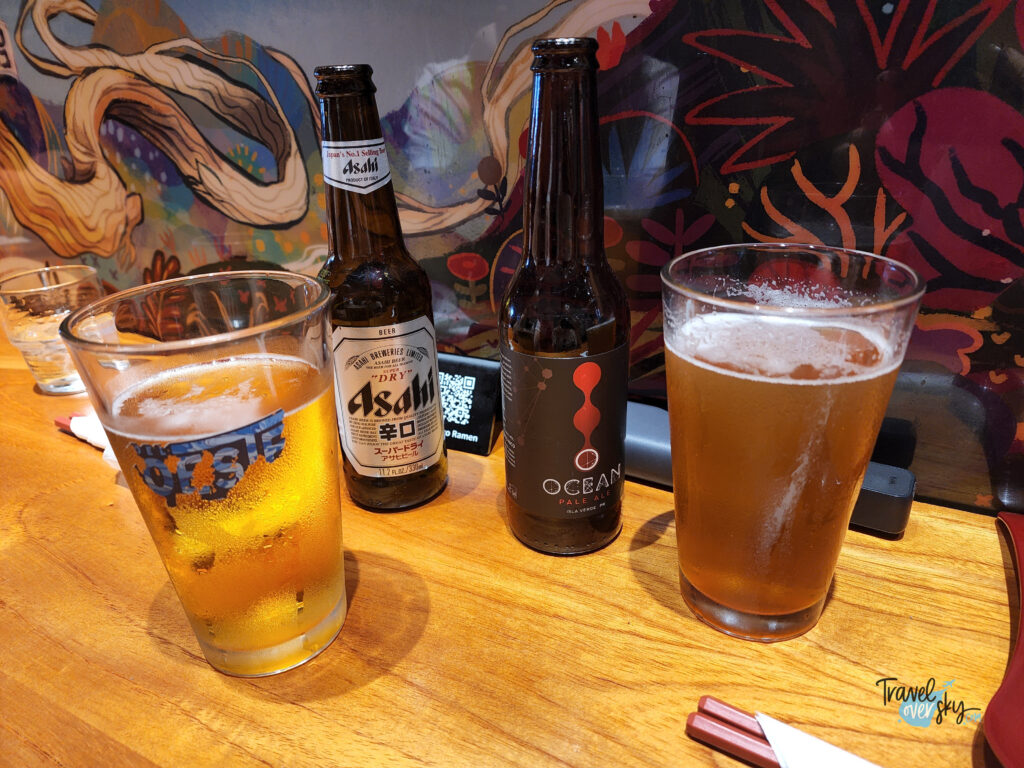 🍽️Noa Noa Salon de Actividades
Noa Noa is a restaurant with a huge space. There are two rooms there – one is more restaurant related, and the other is more for dancing and drinking.
Even though during my visit the staff was preparing the place for an evening birthday party, I was still able to enjoy their offer. I ordered an onion soup with cheese and toast and Medalla – a Puerto Rican beer. The soup came steaming hot and was very savory. The dish was extremely good, very well balanced in taste. The soup was 7$.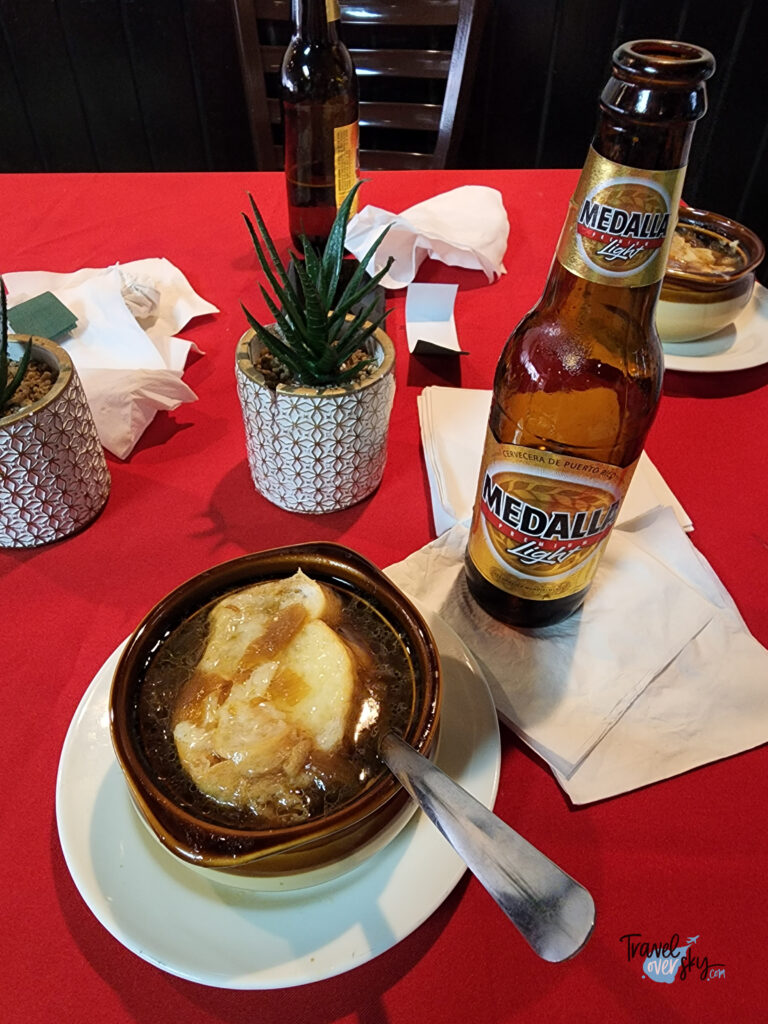 🍽️Bodega Chic
Bodega Chic is a restaurant merged with a bar, in a typical American style. There are dollars hanging from the ceiling above the bar, many retro informative and advertising plates, but the inside is quite dark.
💸The prices and menu
The food menu is not very varied, they have a much bigger selection of alcohol. The prices at this place are not so high taking into consideration that it is located in the old city, the chicken was 18$.
For lunch I picked a wrapped chicken breast and a potato puree with curry sauce and salad on the side. I waited quite long for the dish to arrive, in the meantime I was able to order another beer and drink half of it until the food finally got there. It looked good, the chicken was nicely roasted, but the taste itself turned out to be just ok. I found many cartilages and tendons in my portion of chicken, which was not very encouraging.
The waiter service was quite average, to not say low. The menu was double sided – one in English and one in Spanish. The waitress thought I looked like a tourist and therefore would not understand the Spanish side. She pulled the menu from my hands and showed me that there is also an English version. I felt like this was totally weird and awkward.
I would certainly not pick this place anymore and cannot recommend it to you either.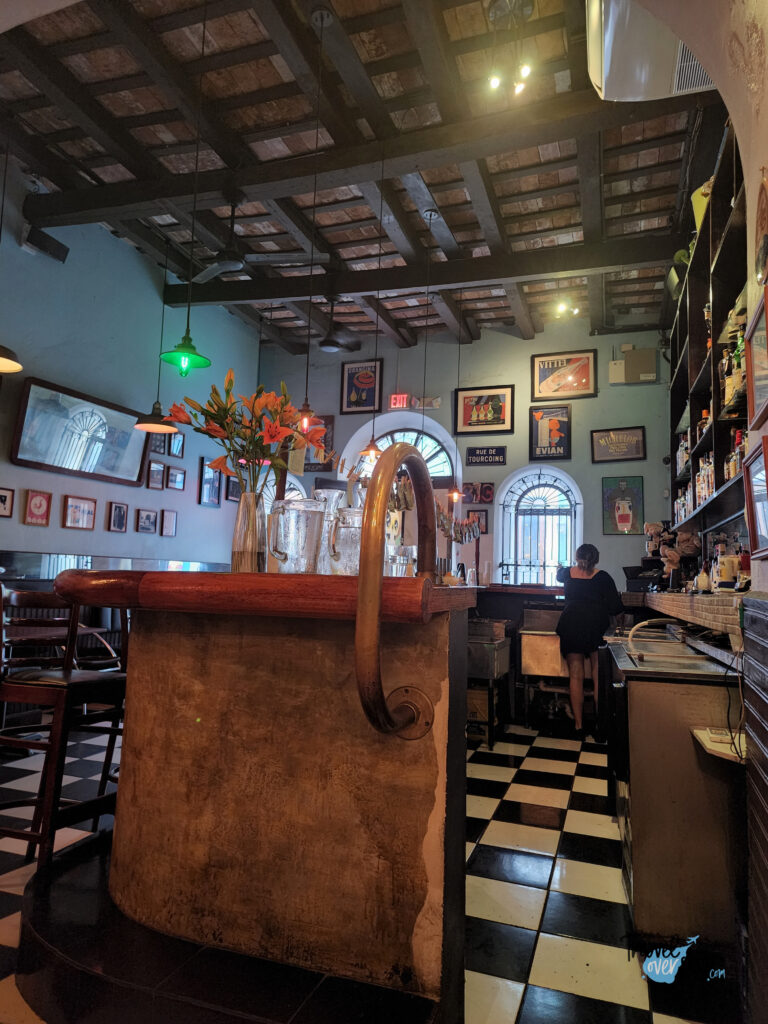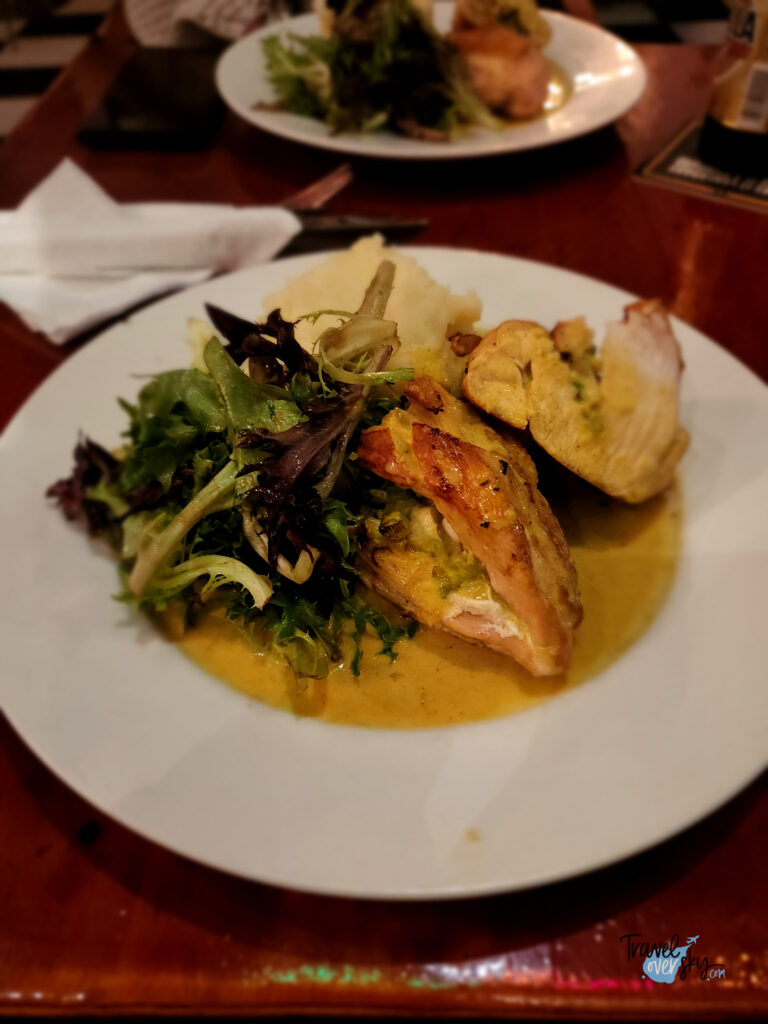 🍽️Ceviche by Totti
Ceviche by Totti is a small food truck, which was located around 2 minutes from my apartment. It was surrounded by crowds at any time of the day and some people were constantly driving there to make a takeaway order.
💸The prices and menu
The food truck offered classic ceviches, chcharróns, combo dishes, tostones, fried yuccas and empanadas. Unfortunately for me, it turned out that practically each dish from the food truck is prepared from fish and seafood, only the empanadas were made from the chicken. The prices compared to the quality and size of the portions are very good.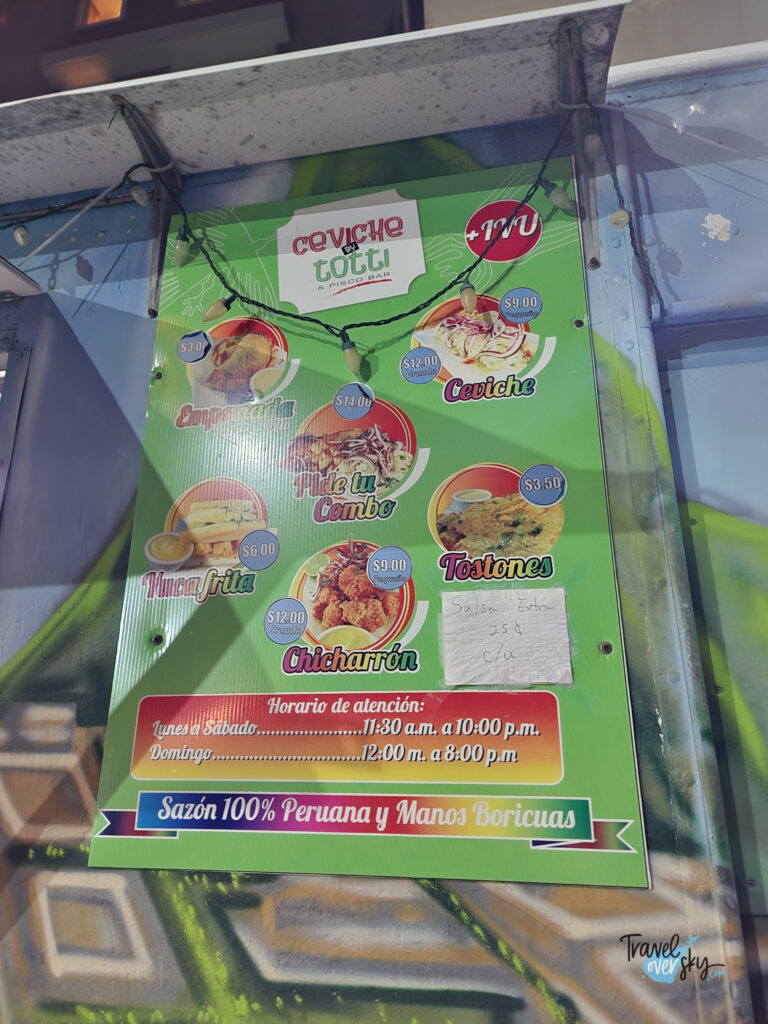 I ordered chicken empanadas and chcharrón. I got two sauces with my order. The chcharrón was served with an addition of fresh onion. The food came quite quickly, was very well packed and still warm when I got home. The empanadas were not very big, but rather tasty. The fish chcharrón was absolutely delicate and the fish was well seasoned. Both sauces emphasized the dishes' taste.
If you will be around this food truck area, make sure to visit it. The prices compared to the quality and the size of portions are quite nice.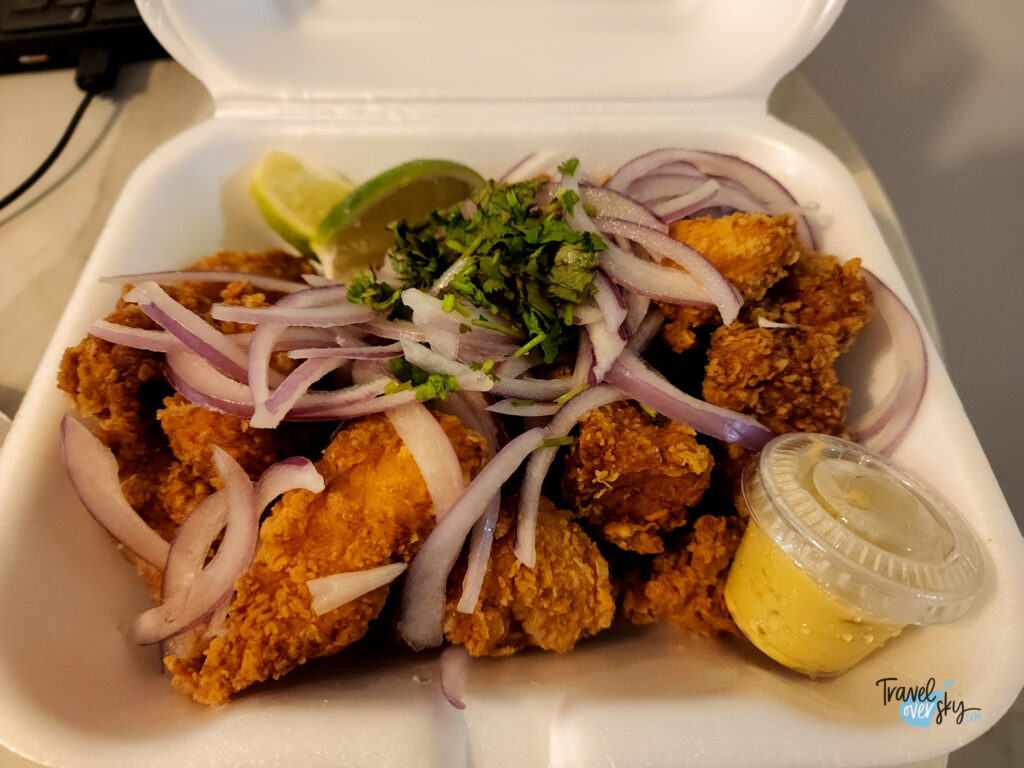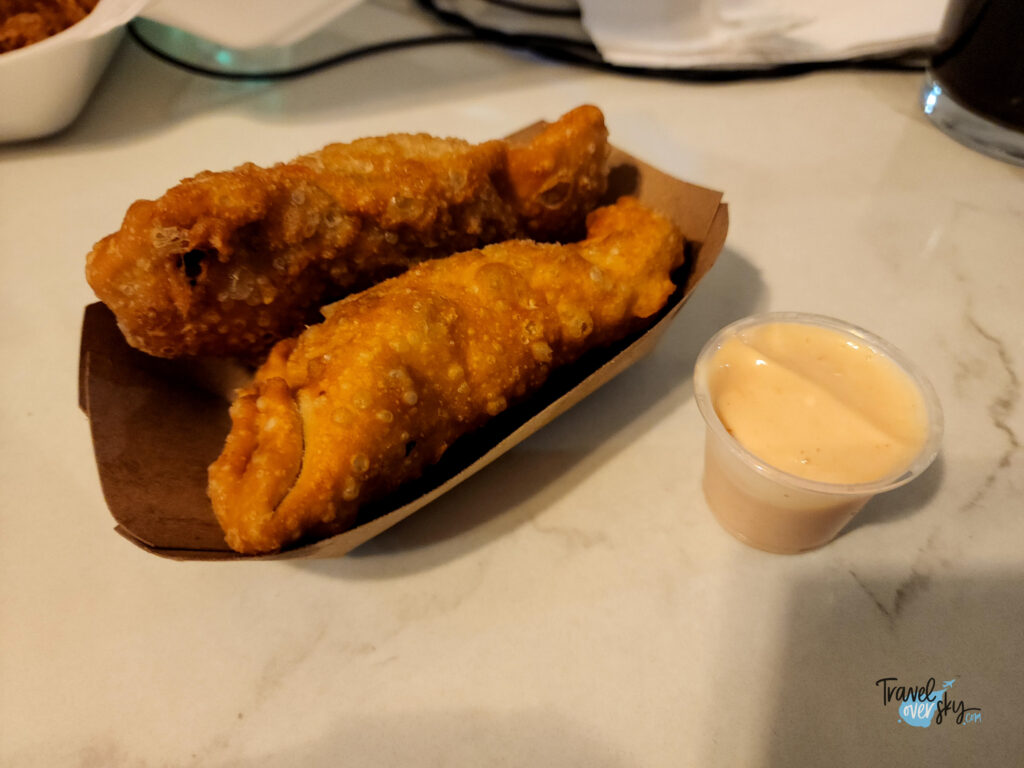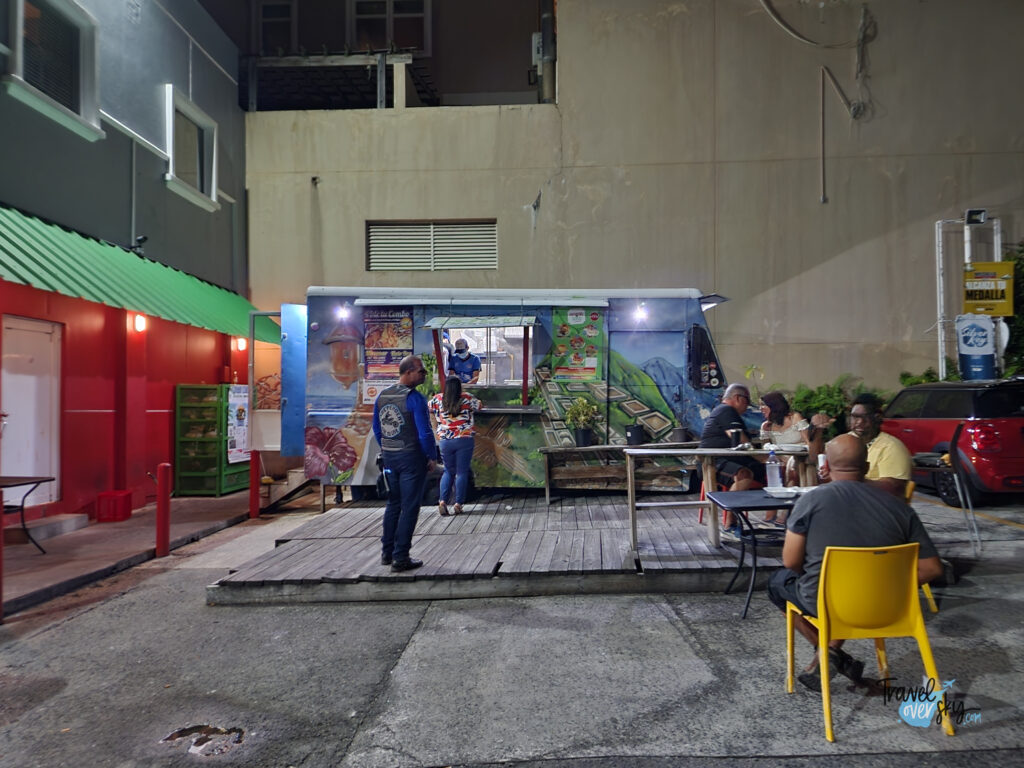 🍽️El Patio De Sole
This restaurant is located in the mural district, which makes it a perfect spot to rest during a walk. The place is quite big and the tables are both on the patio and inside of the building.
💸The prices and menu
The restaurant has a very local decor, and the menu is a typical Caribbean/Puerto Rican one. I had the pleasure of eating a pastelón with a slice of minced meat, rice, beans and salad, and also chicken with onion, rice, beans and salad, and additionally two mango-papaya juices. The size of the portions were really enormous! I struggled to eat all of it. To this day I do not know how much it all cost separately, but I paid 20$ altogether, which was not an excessive amount taking into consideration the size of the portions.
TravelOverSky.com advises:

You cannot pay by card in El Patio de Sole, so make sure to have some cash on you.
It might happen that the guests of the restaurant will be honored by a presence of a cute kitty, which will demand petting 😀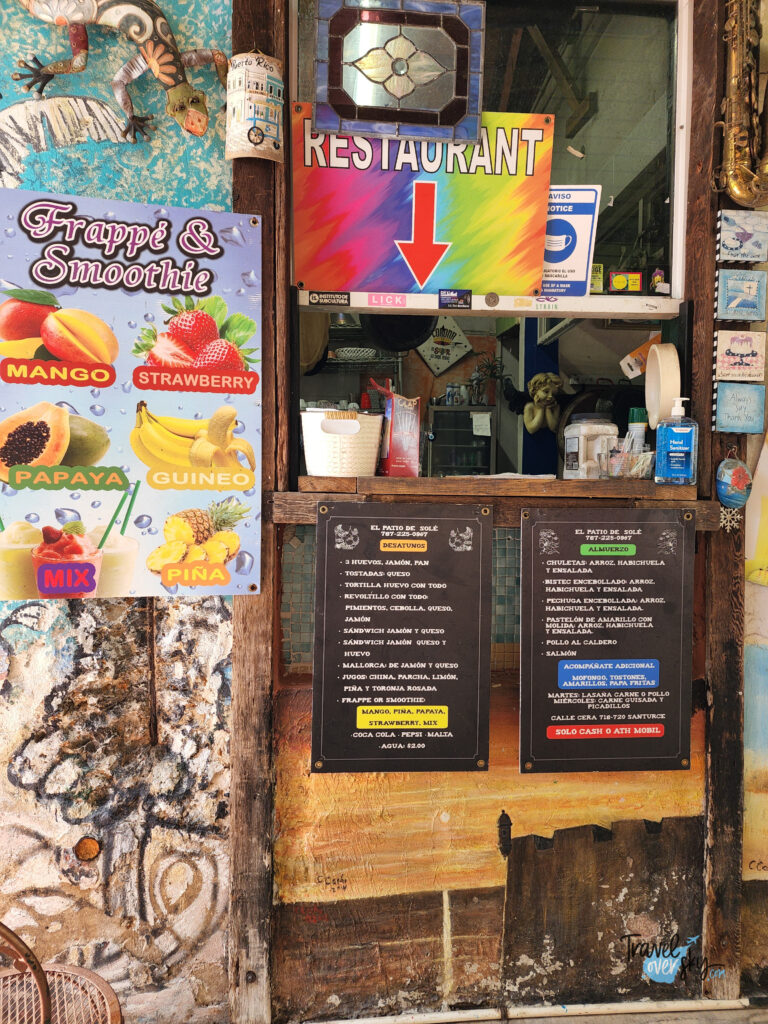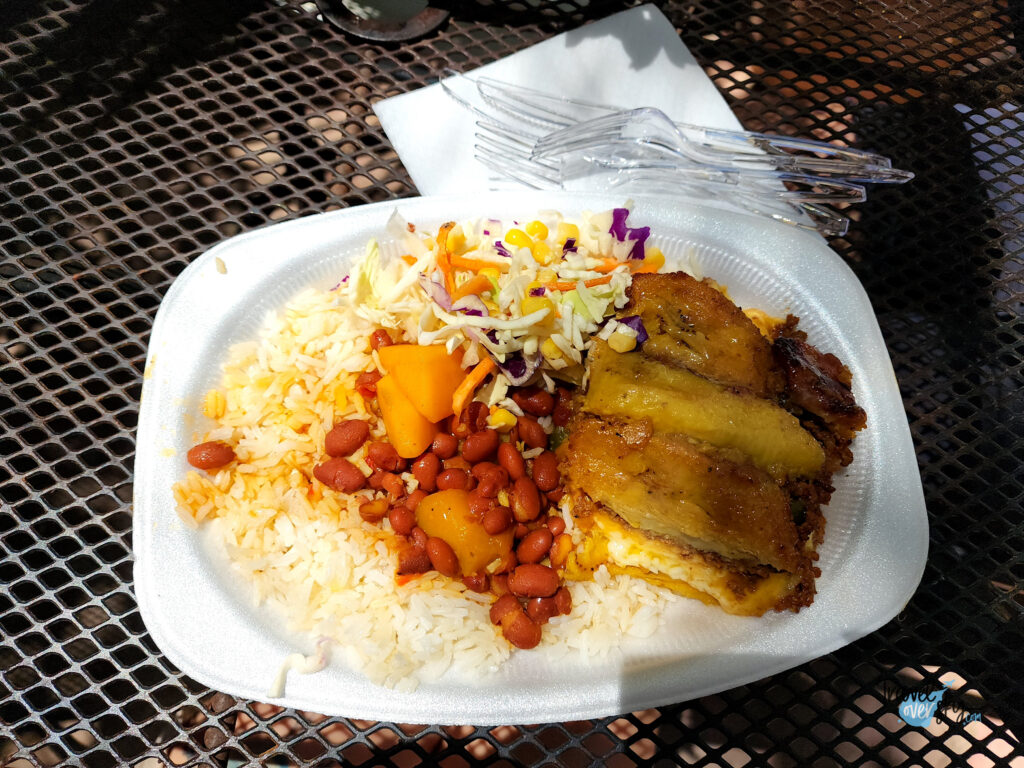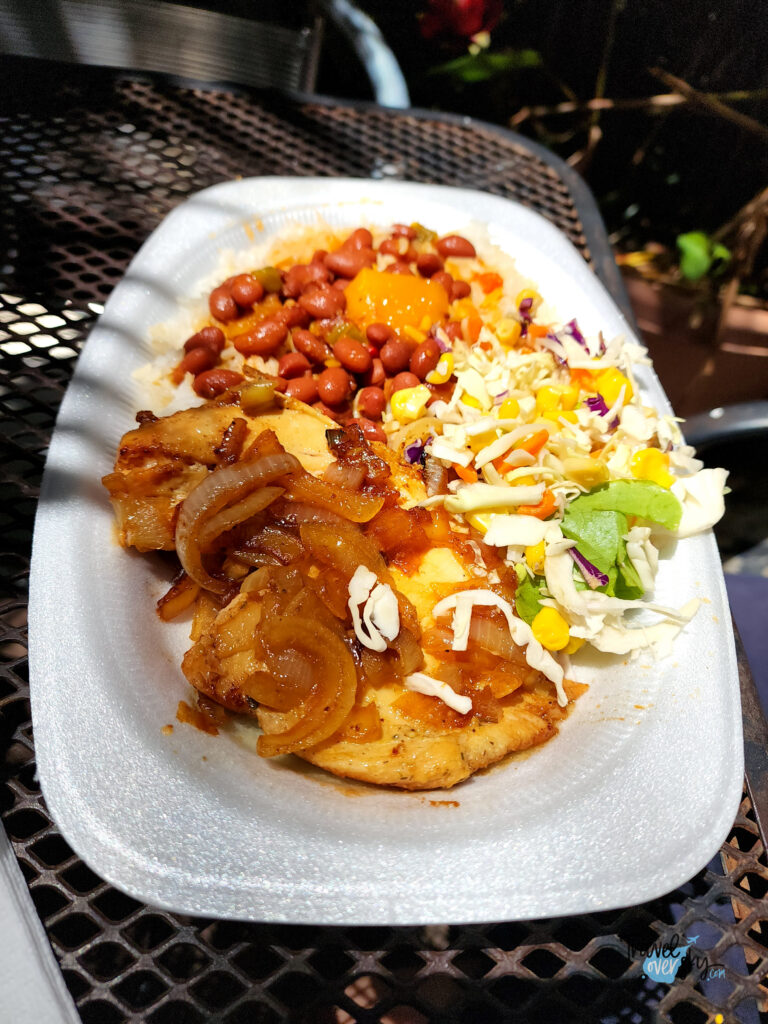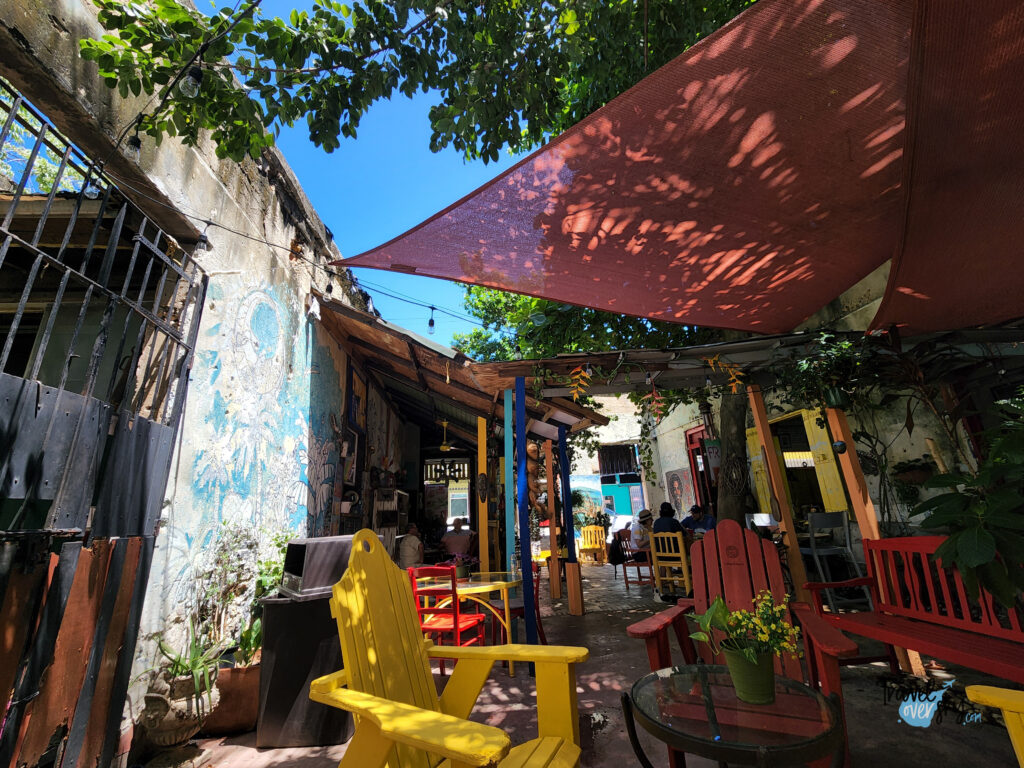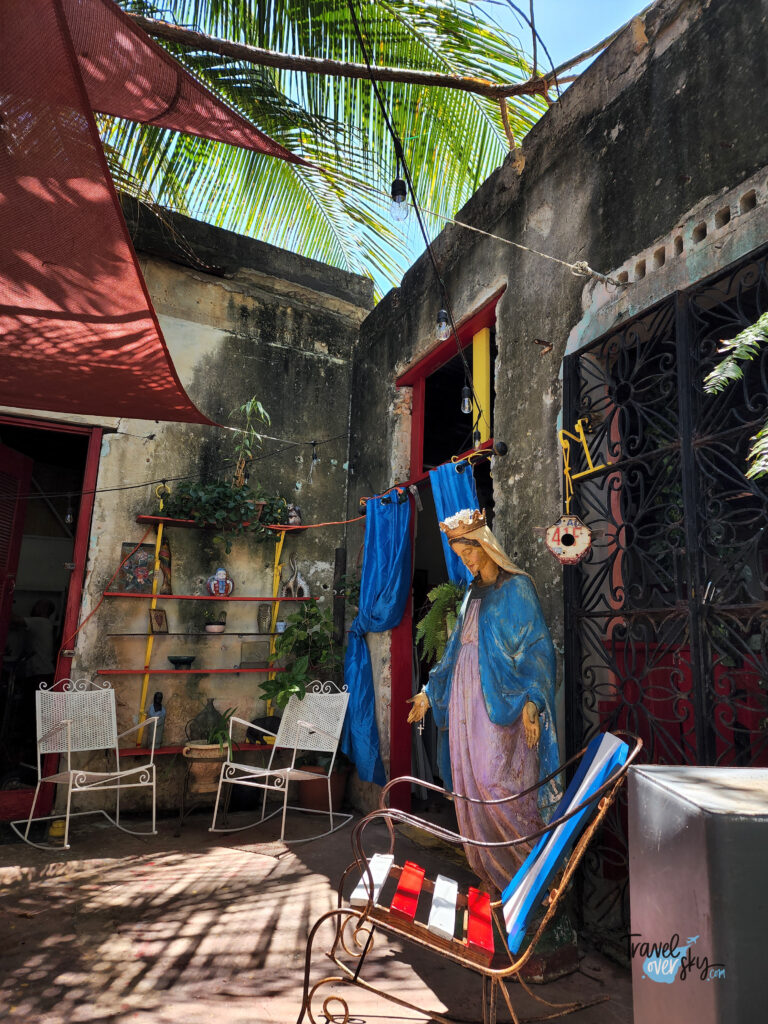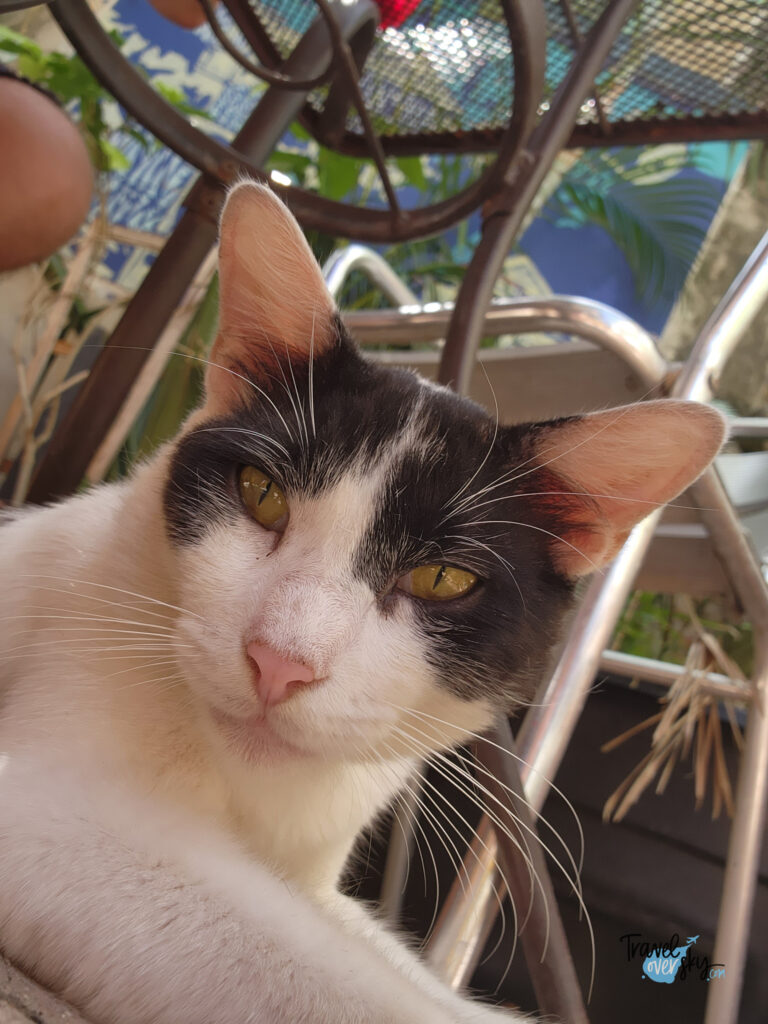 🍽️Orujo, Taller de Gastronomia
Orujo is my favorite place on a Puerto Rico gastronomy map (and the whole Caribbean so far). It is a place founded by a Puerto Rican cook.
💸The prices and menu
You will not have a chance to eat one single picked dish there, but a multitude of tiny compositions authored by the owner. Even though the portions are small, due to the variety of food you will surely leave the place with a full stomach. The price for a food show is a cost of around 300$ for two people. Seems relatively much, but it has many dishes and a bottle of wine included.
The concept itself reminded me a little of Restaurant Week, with the exception that in Orujo I had the pleasure of tasting around 16 different dishes in one go. The food show started with a few appetizers, next in line were dishes with fish and seafood and meat ones, and finally it ended with desserts – both fruits and cakes. The meals were different each time, before everything was prepared right before serving. During my first visit there was only me and another couple, which is why the owner paid me lots of attention. I could have also disclaimed that I do not wish for fish and seafood dishes. During the fish courses I received either vegetarian versions or no fish ones. During my second visit the place was fully crowded, which made the owner unable to satisfy each and single whim, and even despite it the meals were equally delicious.
TravelOverSky.com advises:

If you wish to go to Orujo for supper you will need to book a table prior on the https://tableagent.com/san-juan/portela-by-orujo website. Otherwise you will not be let in.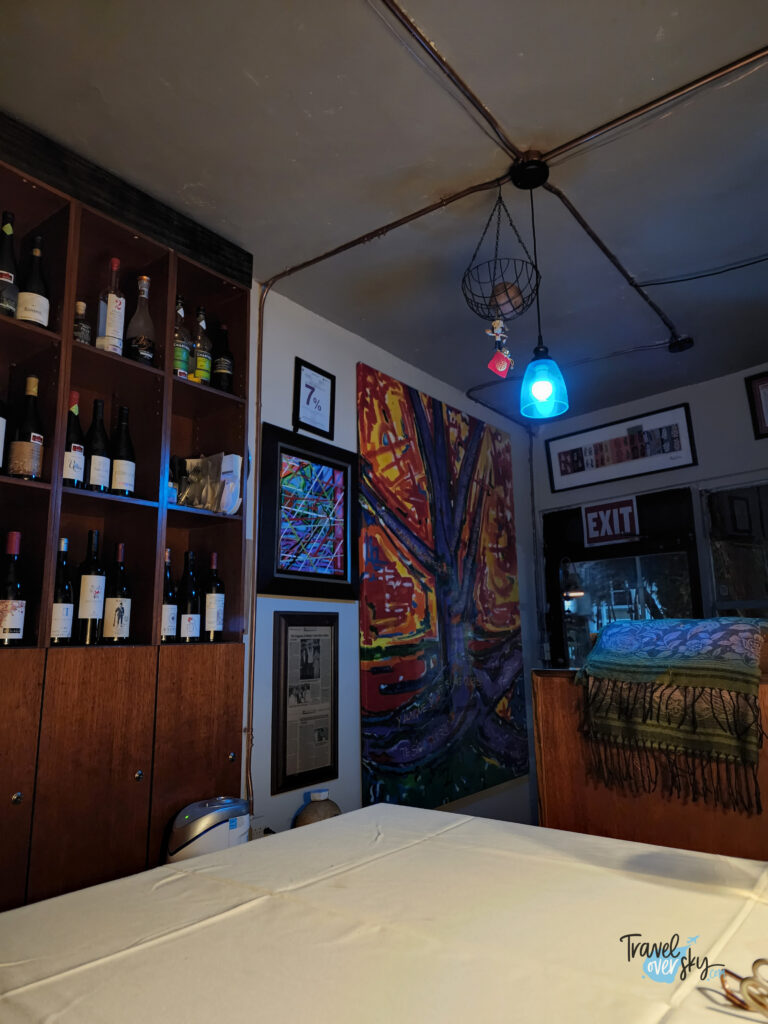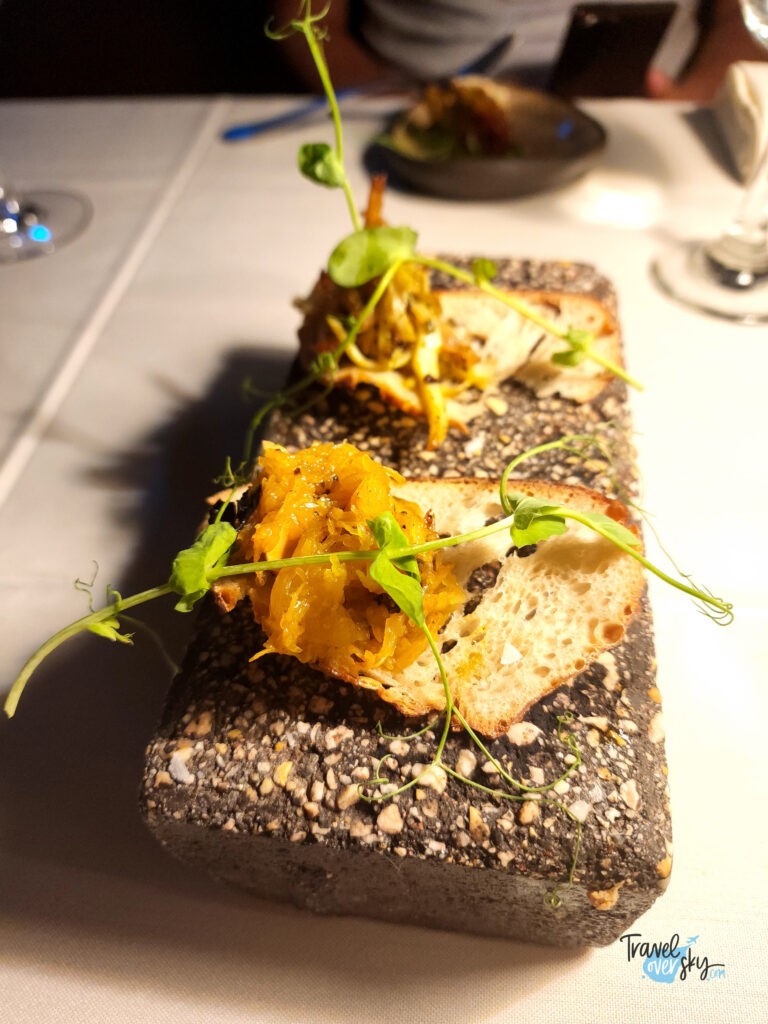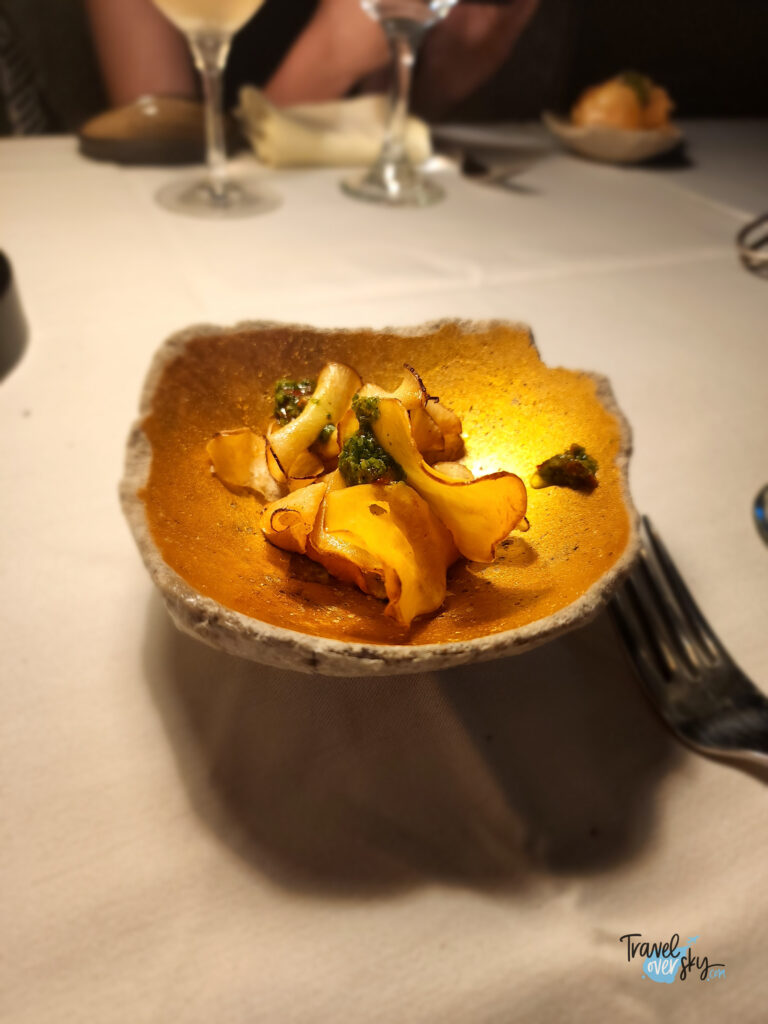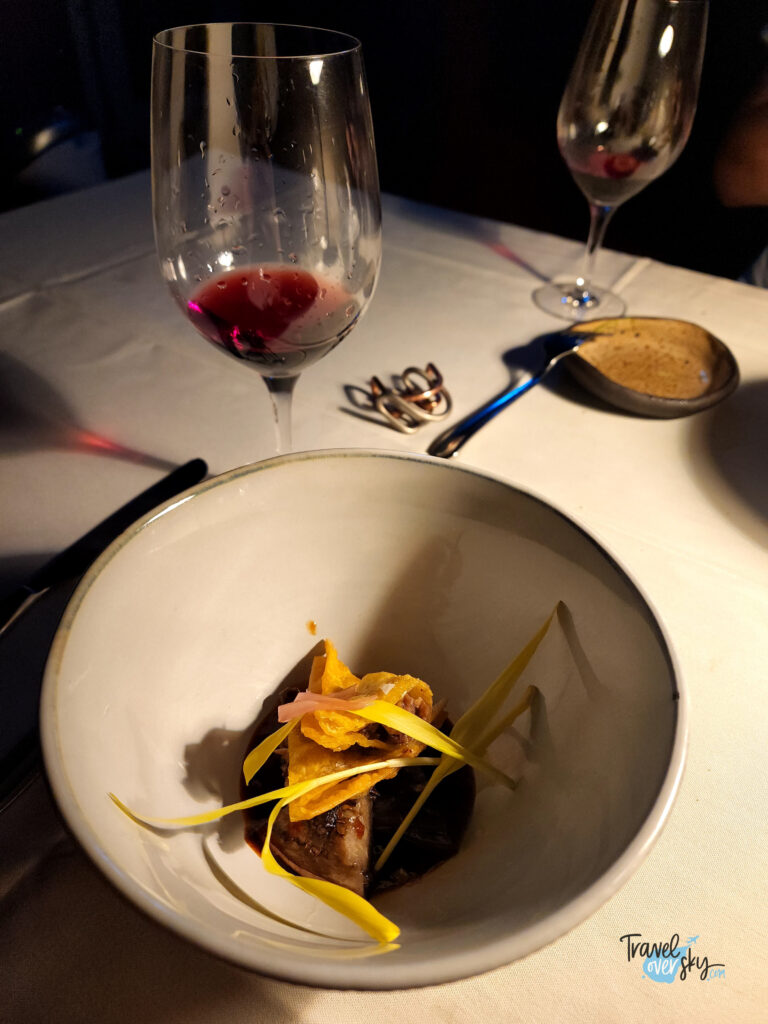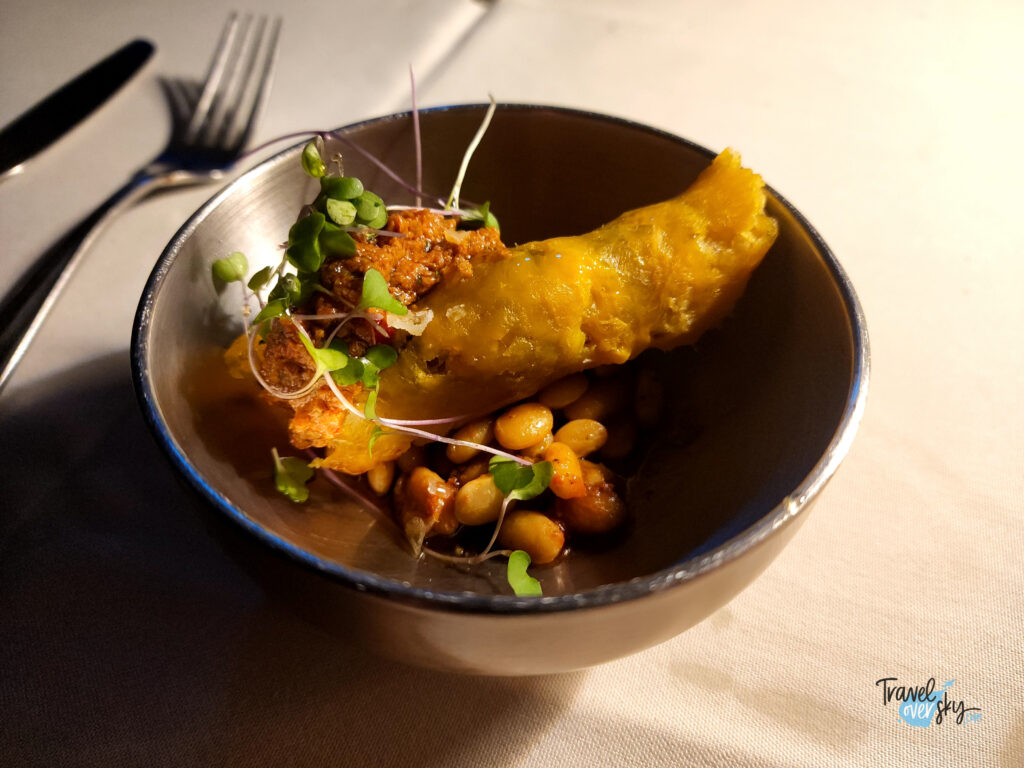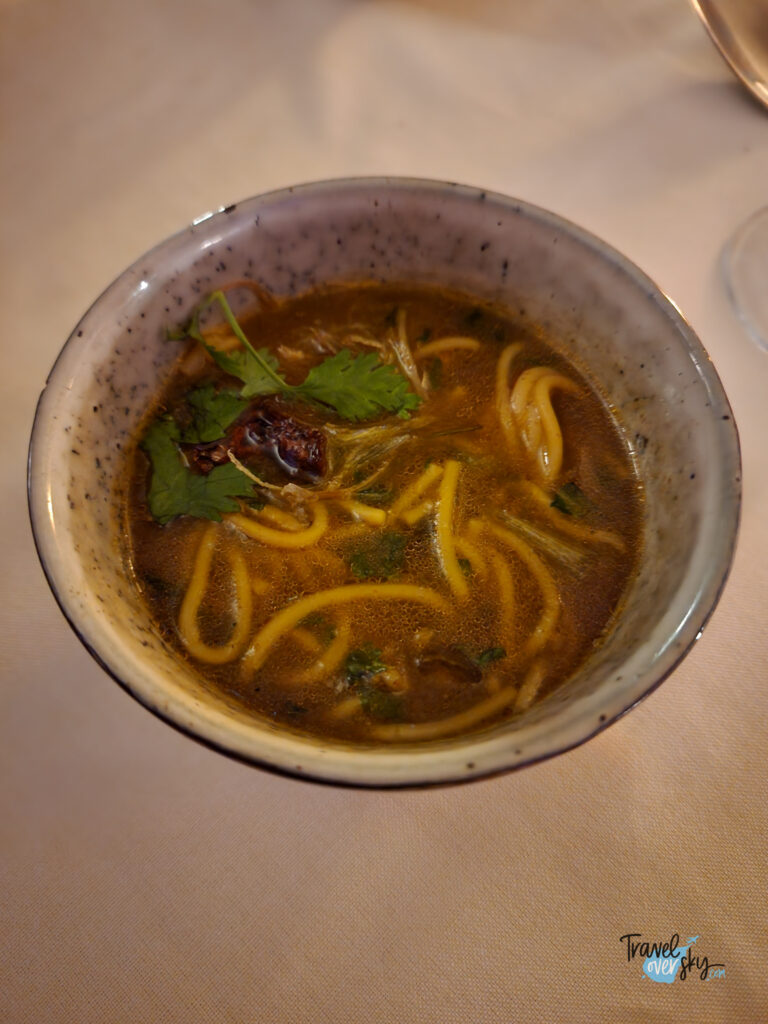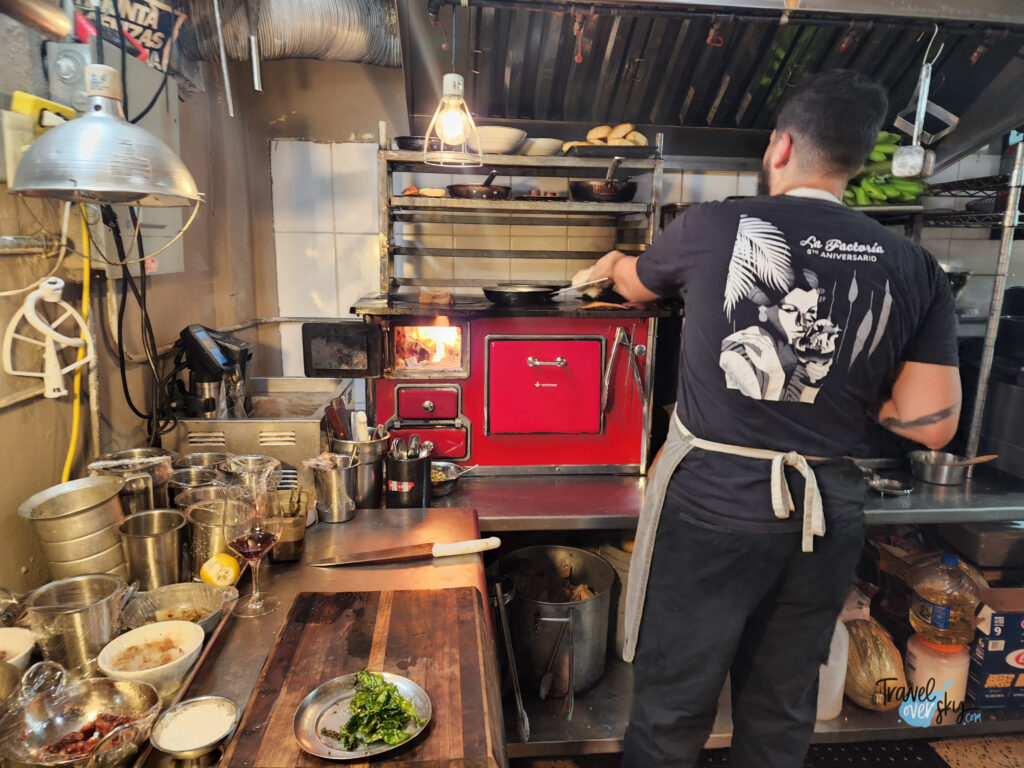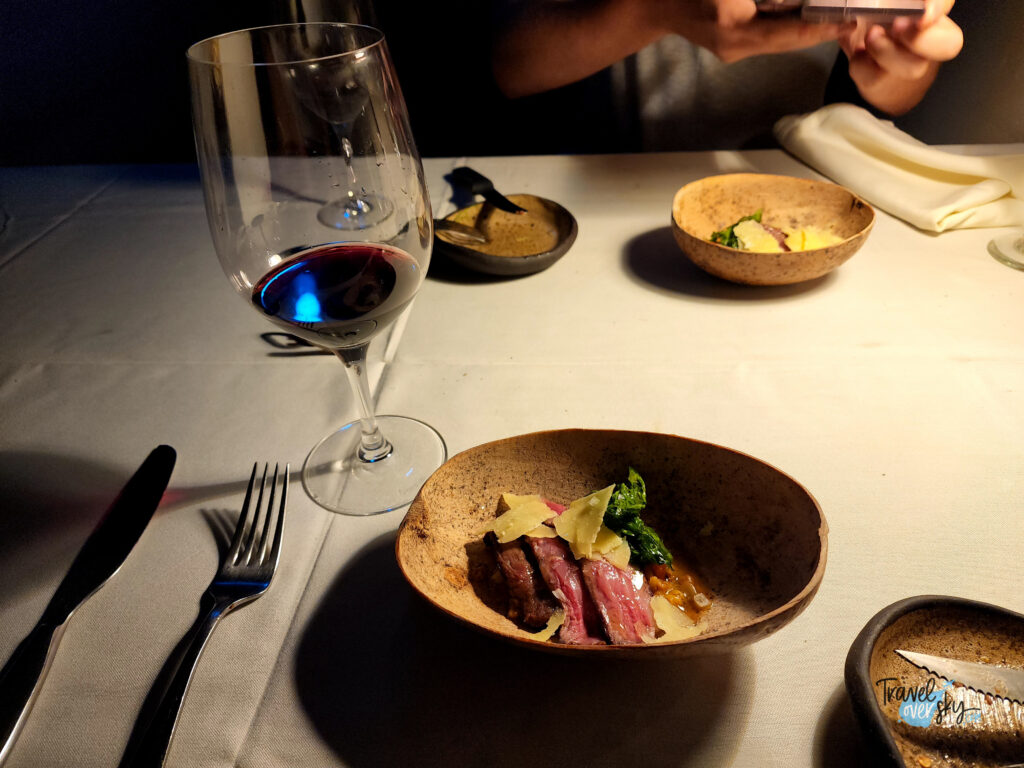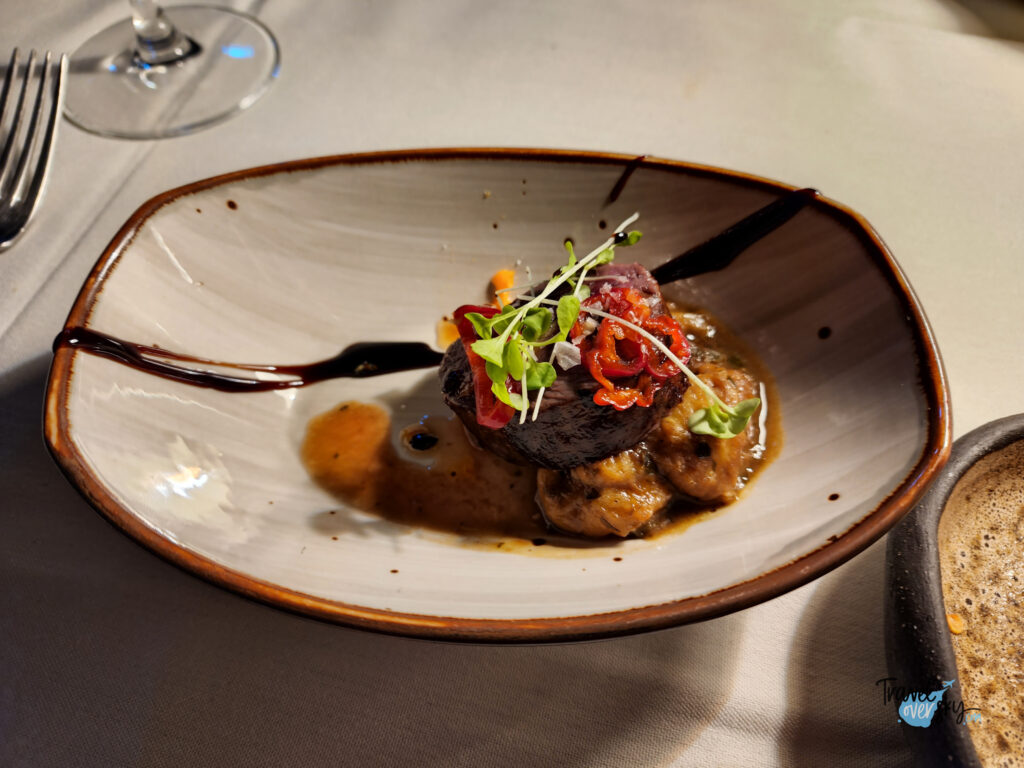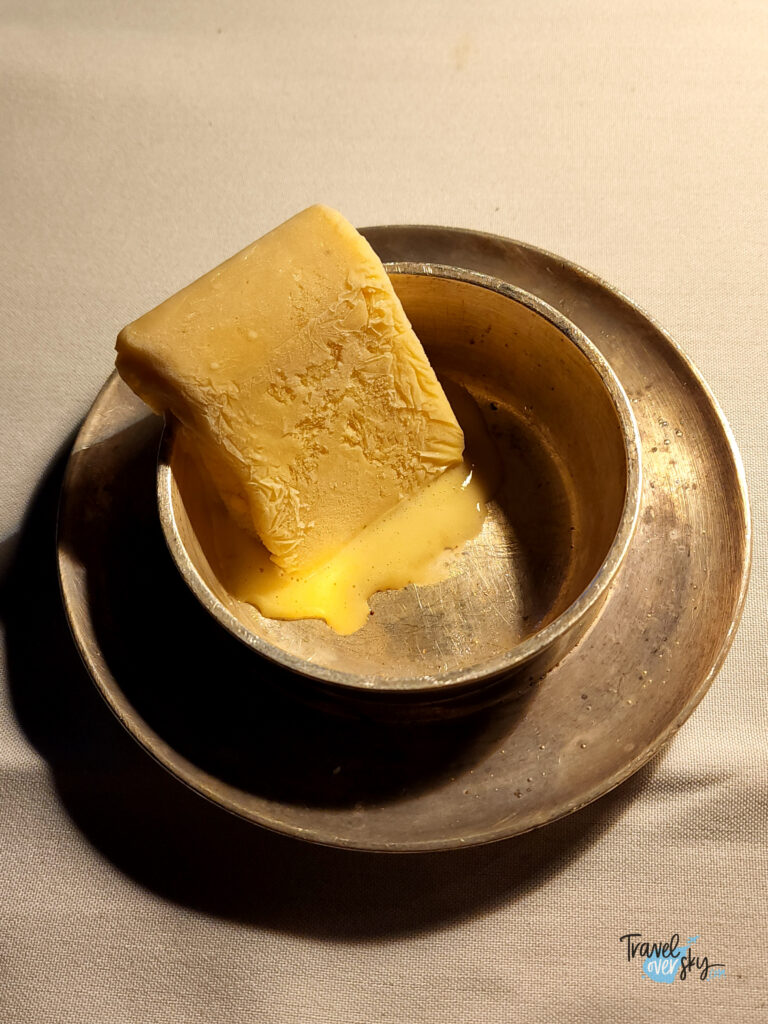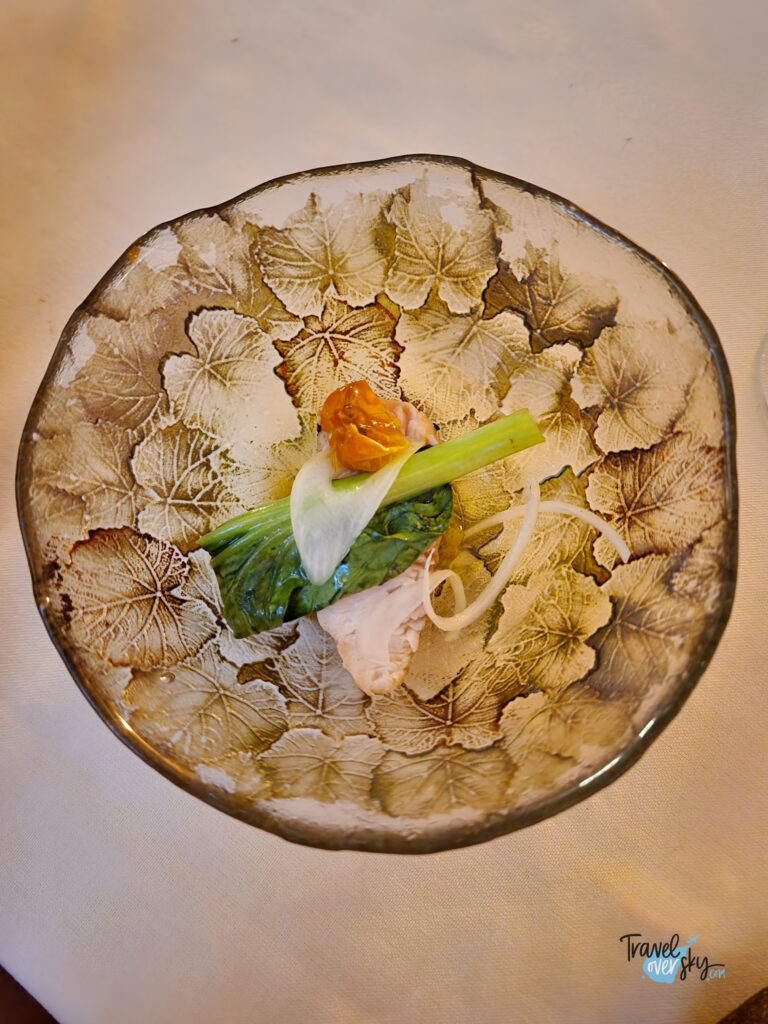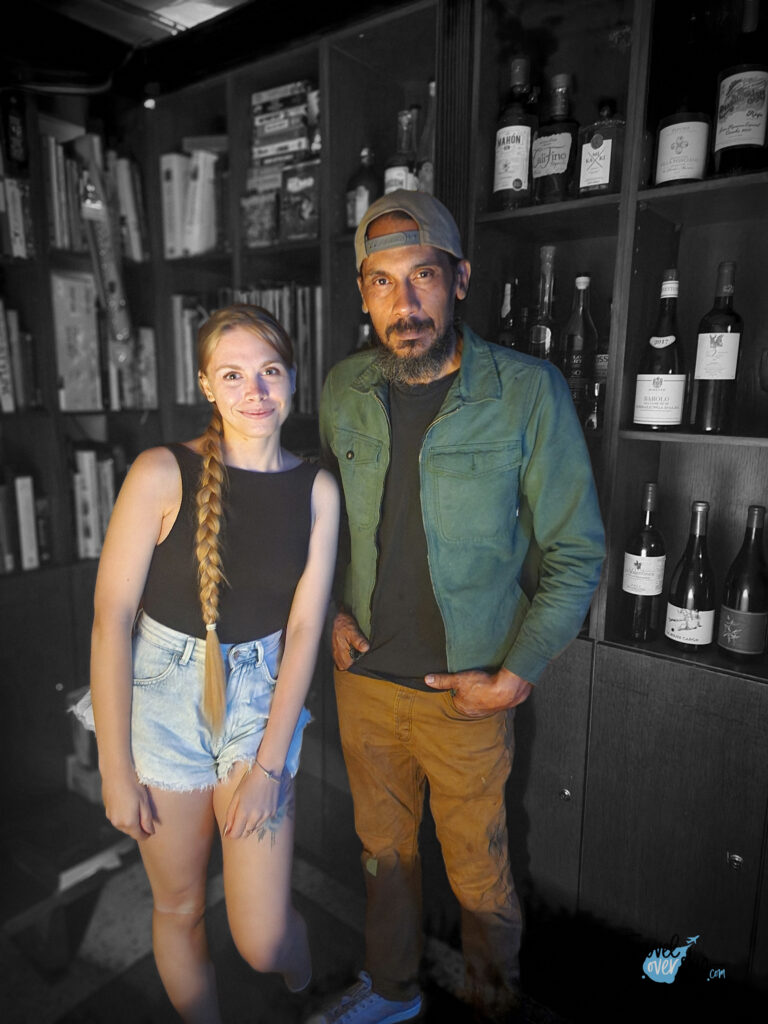 🍽️Marmelade
The concept of Orujo Taller de Gastronomia is similar to Orujo Taller de Gastronomia, but the place is much more crowd oriented. The decor is quite elegant and romantic, so if you are looking for a place to have a supper for two this place will be a good fit!
💸The prices and menu
In Marmelade you will receive a menu card, where you can pick one dish from each category – an appetizer, two main courses and a dessert. Additionally there is also a mandatory fifth dish, which is a meal of the day served by the chef. You also have a possibility of exchanging one of the dishes from the menu to another meal of the day, which is being prepared on a given day, besides the fifth dish. During my visit there was an obligatory creamy truffle soup. The price for a set of five dishes is 129$.
If I had to pick a food show between Marmelade and Orujo I would pick Orujo cuisine without a moment of hesitation.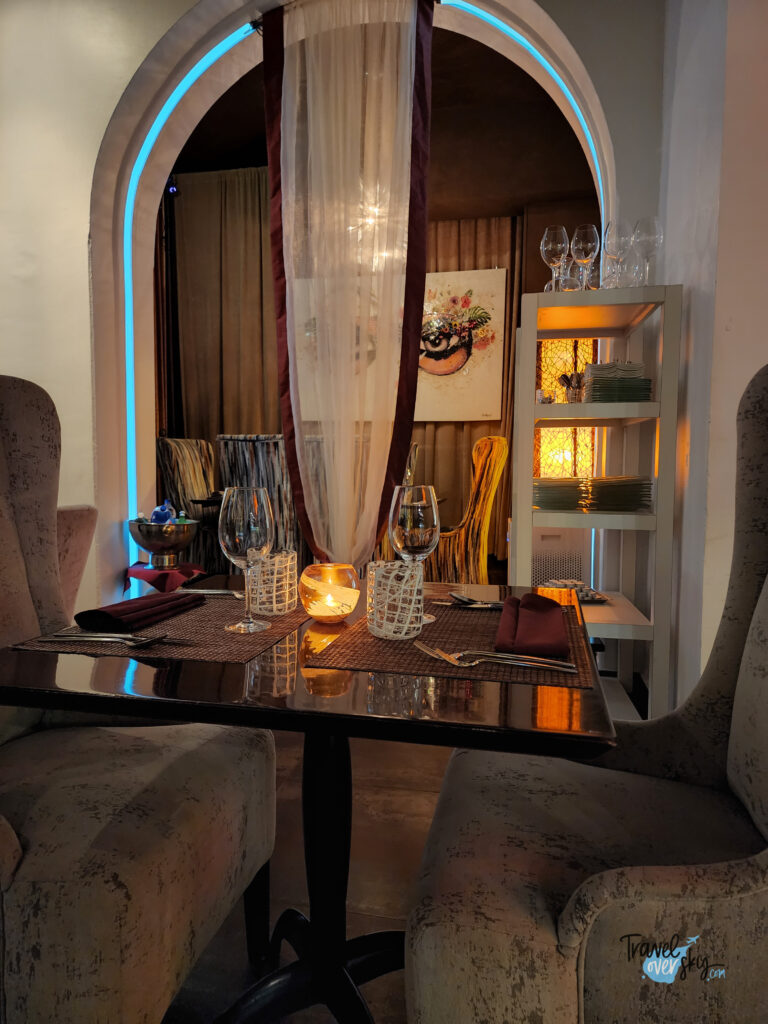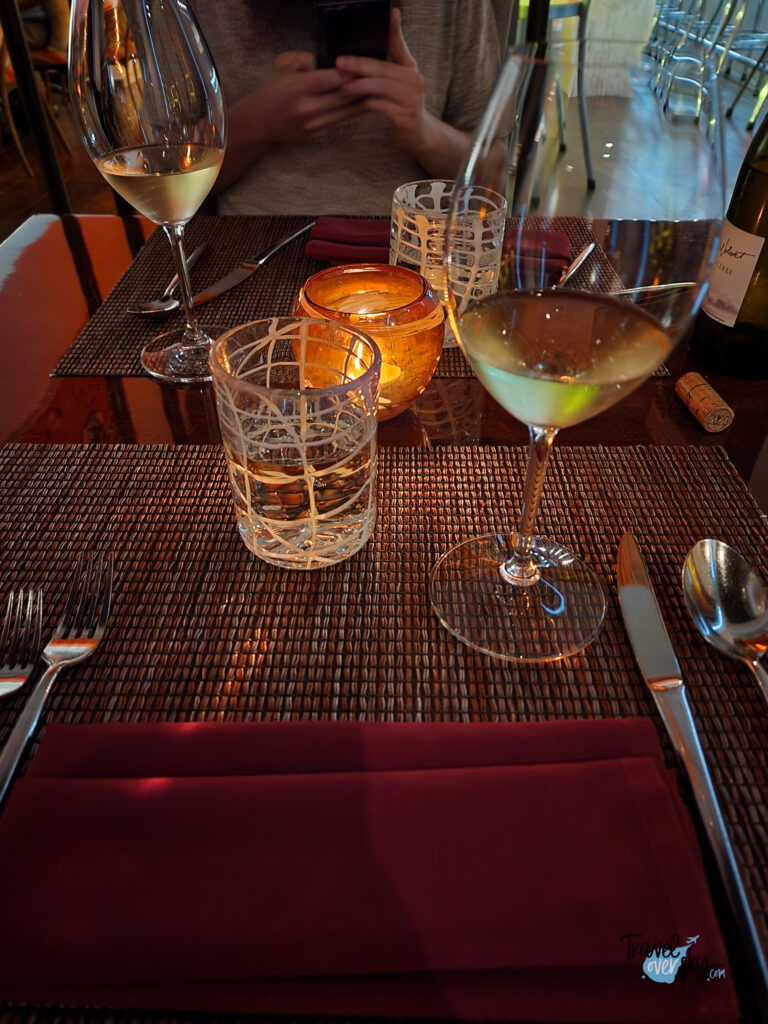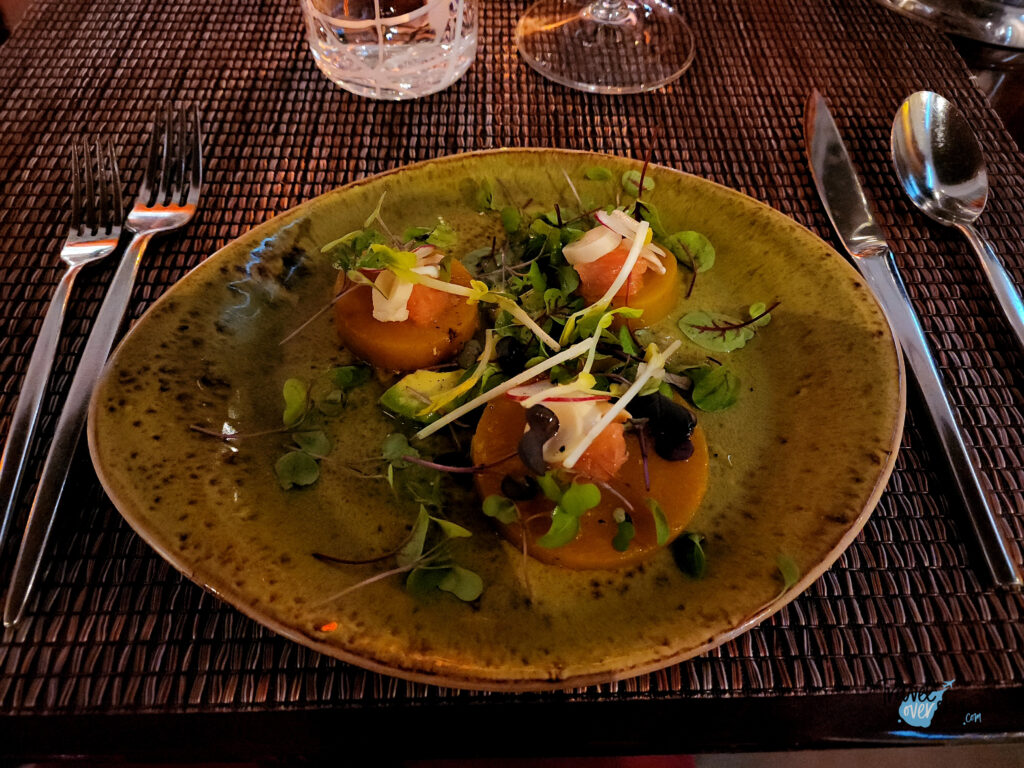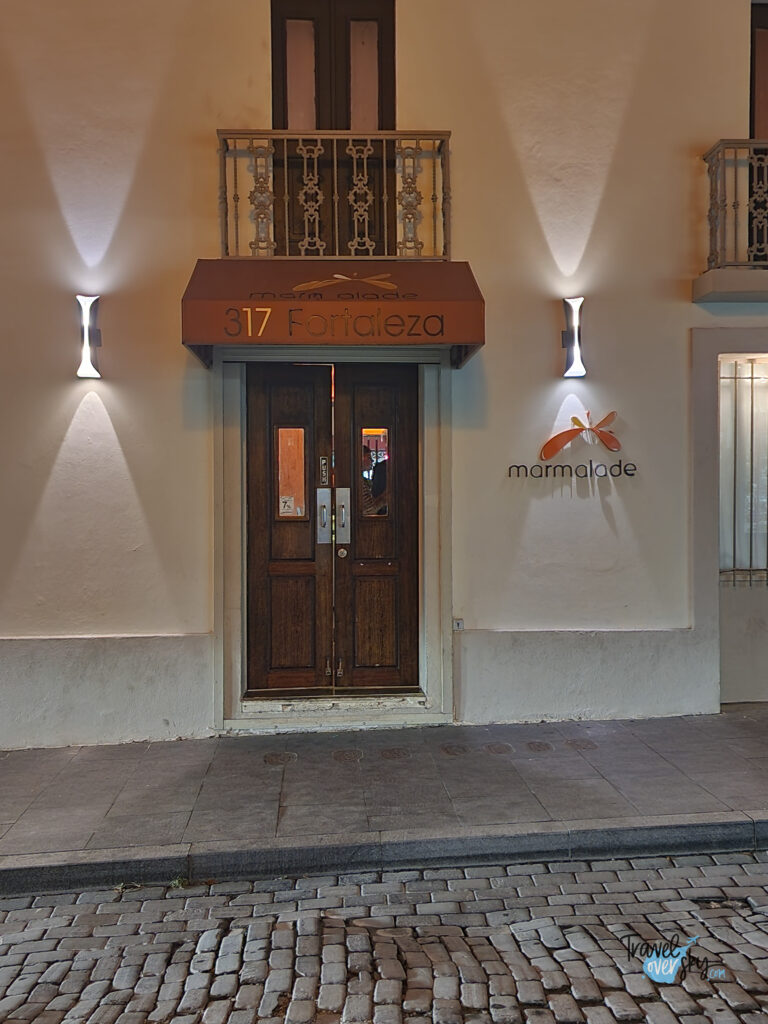 🍽️Papa Johns Pizzeria
Papa Johns is a chain pizza place. I picked it out of curiosity, because I never had the pleasure to eat their pizza.
The pizza I ordered was fresh, the dough had nicely risen on the rants and was very delicious. As an addition to order I received a garlic/butter sauce, which fit the pizza perfectly. As a fan of Neapolitan pizza I must confess that Papa Johns' one is quite tasty!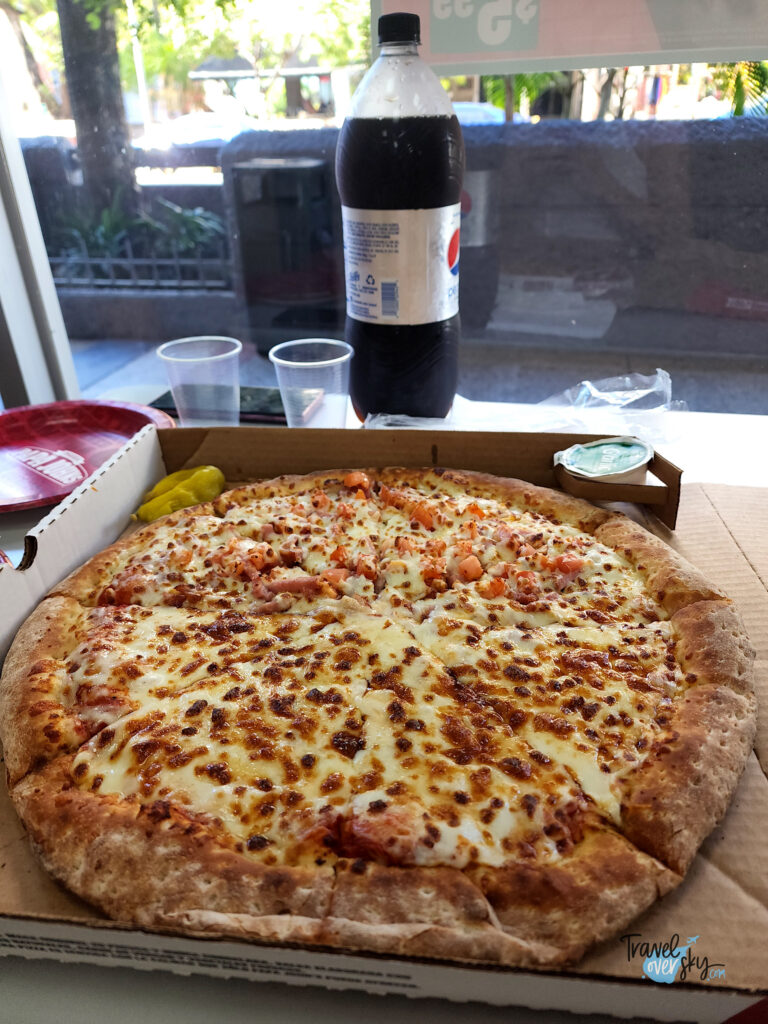 🍽️Red Lobster
Red Lobster is a chain restaurant specializing in seafood dishes. During my visit in Plaza Las Americas mall center I decided to go there for a beer.
The restaurant is quite big and the waiter service is on a high level. Even though I ordered a beer only, I also received amuse-bouche, meaning buns with aromatic seasoning. They were fluffy and quite appetizing.
💸The prices and menu
The restaurant menu is quite varied, each day there is also a meal of the day, about which you will be informed by the waiter. During my visit it was a local fish from the waters surrounding Puerto Rico. The Medalla beer was 3.50$ there.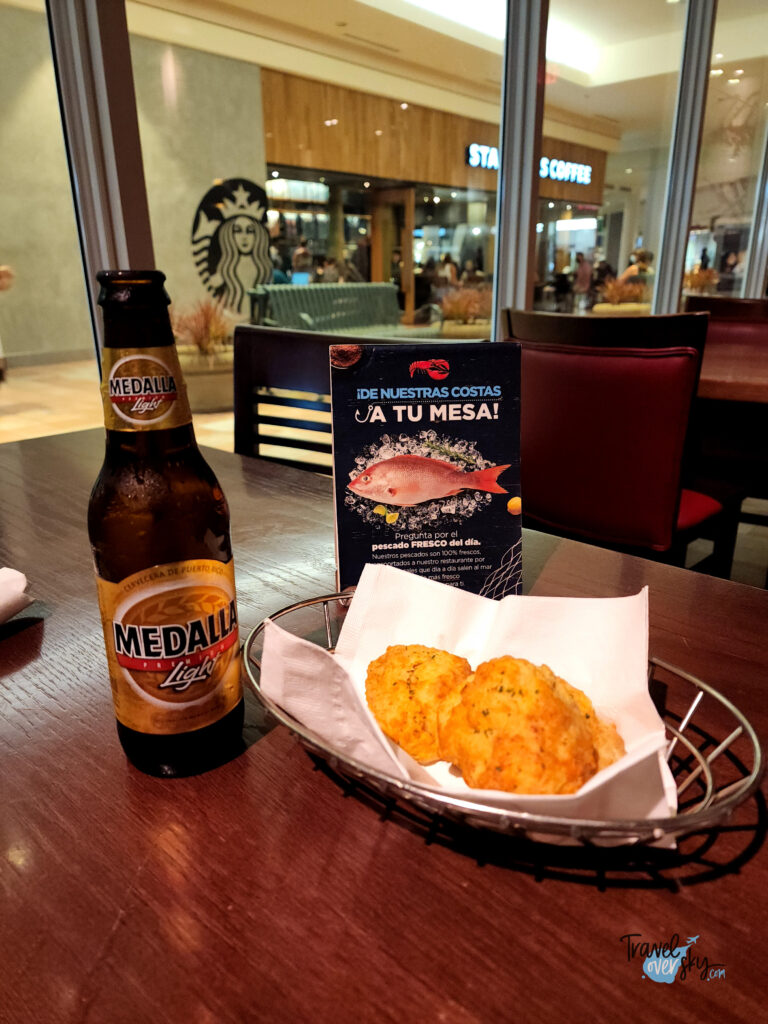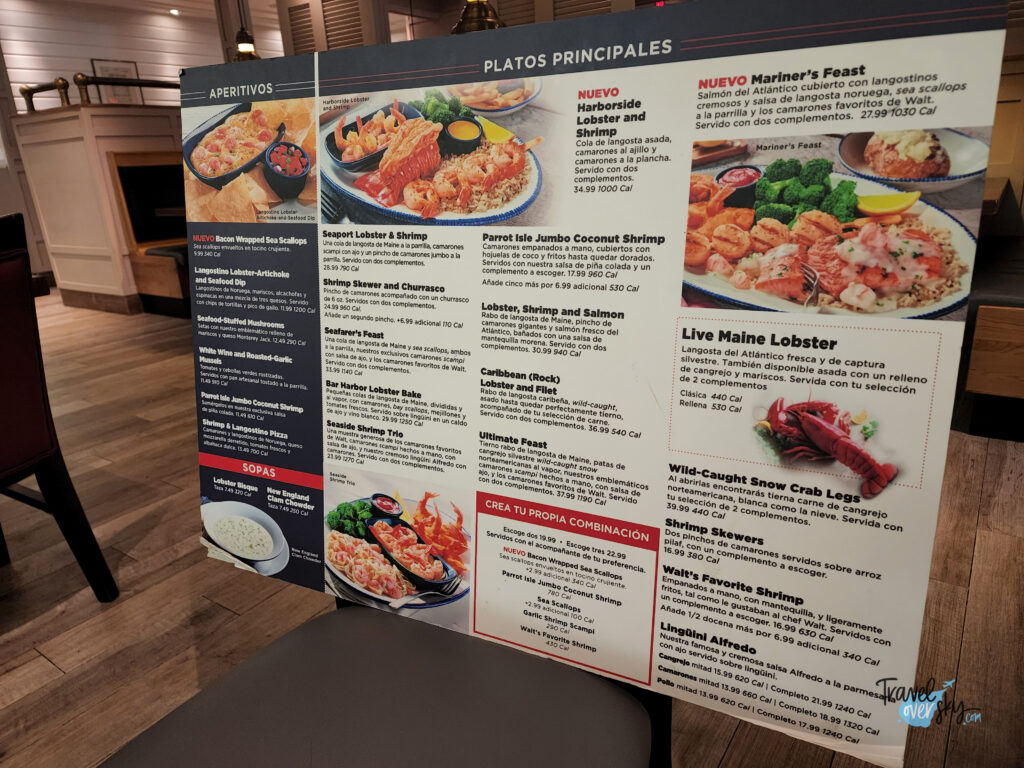 🍽️Ceviche Market
I visited Ceviche Market with the intention of drinking an evening beer.
There was a refrigerated cabinet with a wide range of beers to pick from there! You will find examples of European, American and local beers to choose from. Taking into consideration that during my visit in Peko Peko I really enjoyed the local beer, I decided to try the IPA from Ocean Labs, which is being brewed in San Juan. In addition I also ordered fries, which were not very good, and a cake. The only available one was a pistachio sponge cake, which turned out to taste very artificial. Just like those that you can quickly grab in the biggest stores.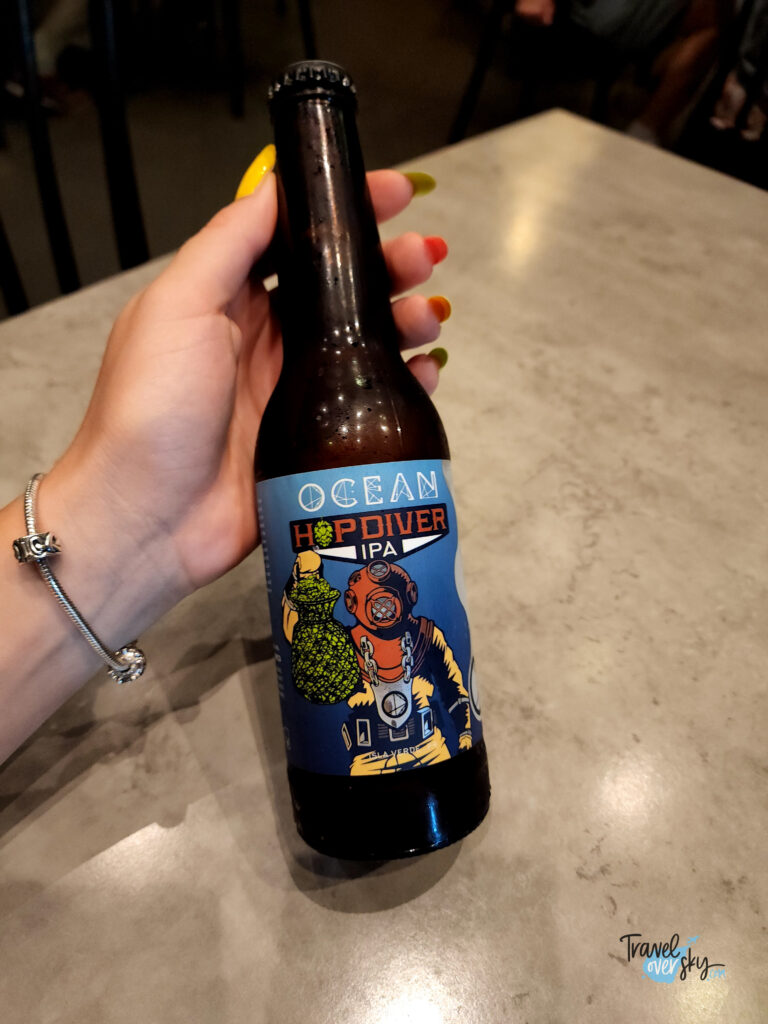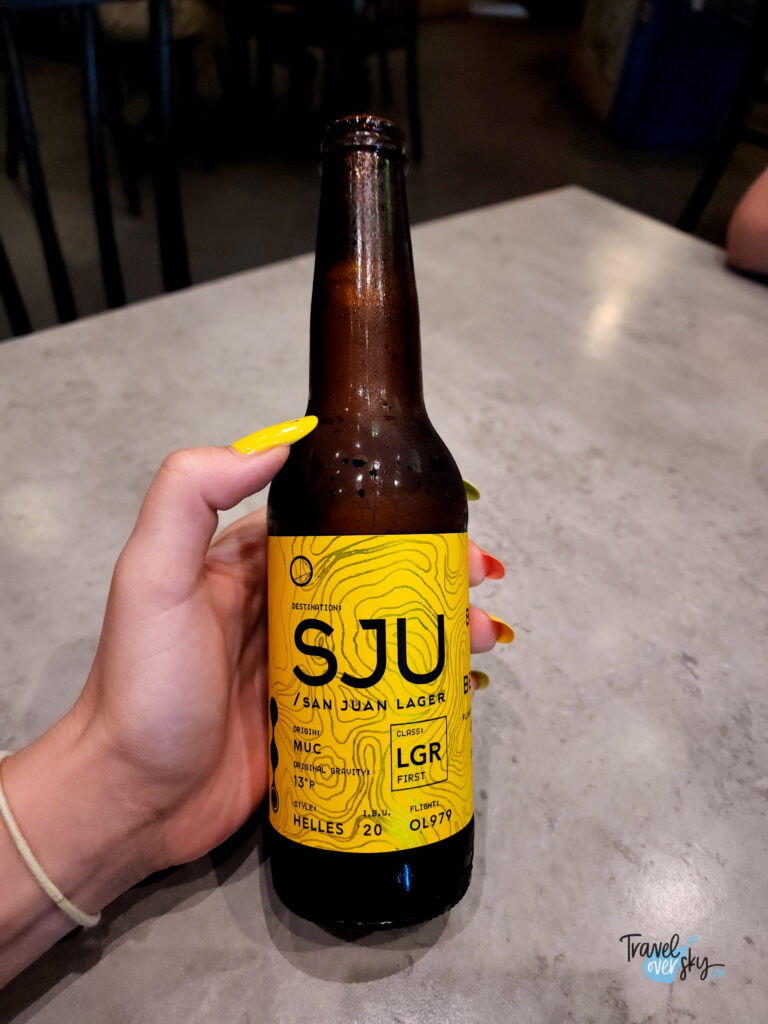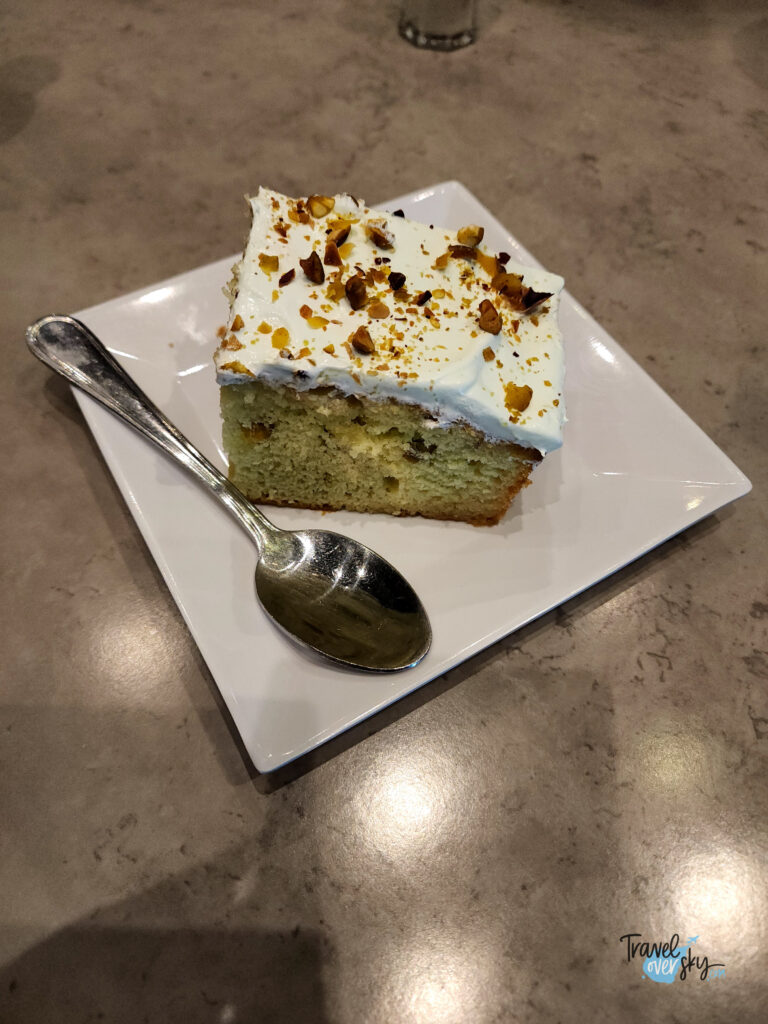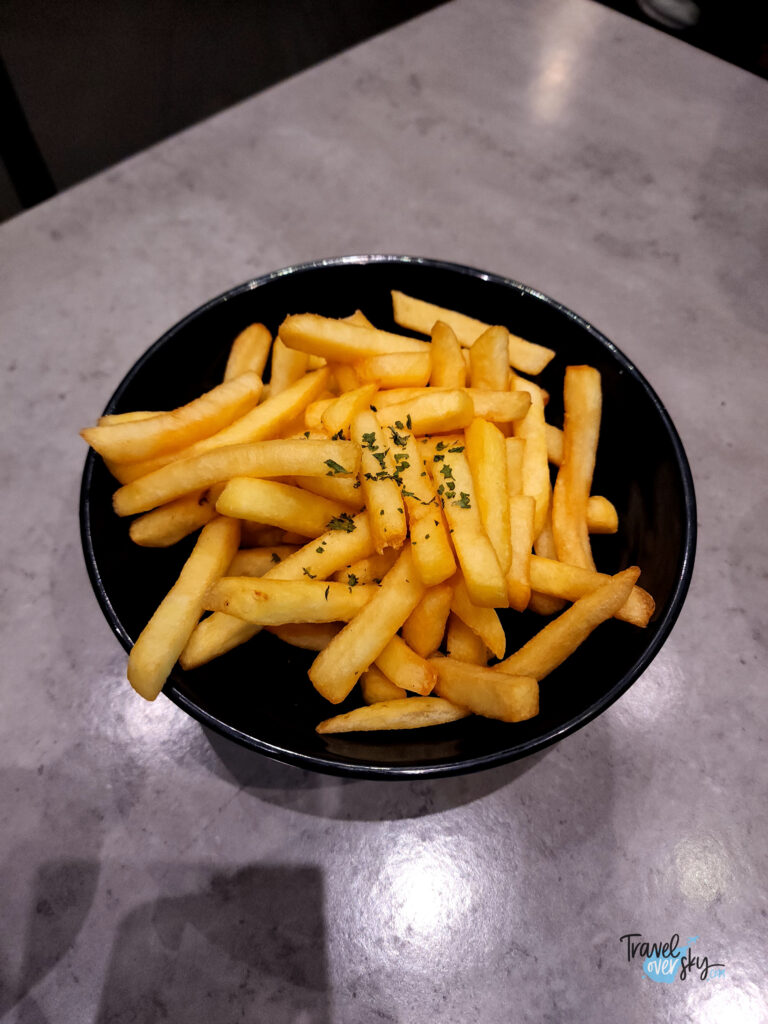 🍽️Carl's Jr
I ate the last meal in Puerto Rico already at the airport just before the departure to Dominicana, in an airport fast food restaurant called Carl's Jr.
💸The prices and menu
The burger prices started from 8$ for a most classic burger without any side additions. I picked a chicken and bacon burger in a set with a beverage refill and fries, and also a chicken burger in a buttery bun. I paid 26$ for everything.
Even though this fast food place was not known to me and I was usually kind of afraid of such restaurants, the food turned out to be tasty. Still, the KFC burgers are better 😛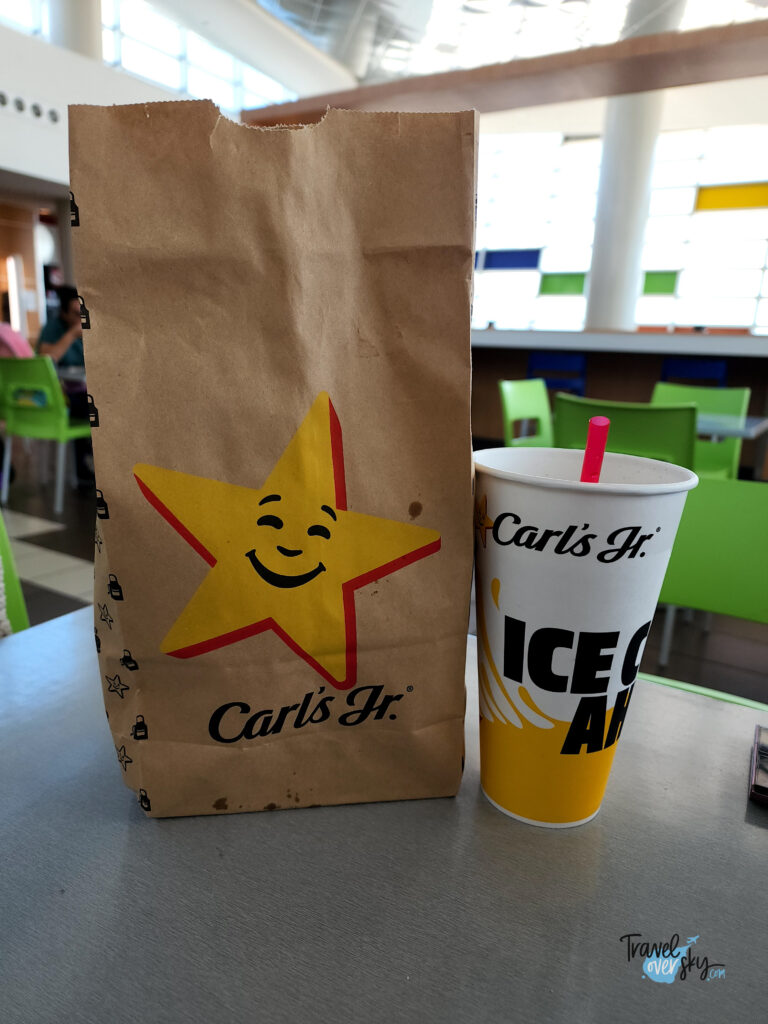 ☕The restaurants of San Juan – cafes
☕Chcocobar Cortes
Chocobar Cortes is a chain cafe, which is why during my San Juan walks I noticed many of those in different places.
💸The prices and menu
The menu in Chocobar Cortes is varied, you will find both warm and cold beverages there, brunches, lunches, sandwiches and a large selection of desserts. I was tempted by churros after one of my walks. I paid 7.50$ for 10 pieces and I also additionally received dulce de leche. The churros were delicious, crispy on the outside and soft on the inside. The 350ml of Medalla beer was 4$ there.
If you are feeling like having some churros, I can recommend this place, even though I think that churros competition in San Juan is quite big. In the old city, besides the cafe where this dessert is being served, you can also find a few food trucks with snacks.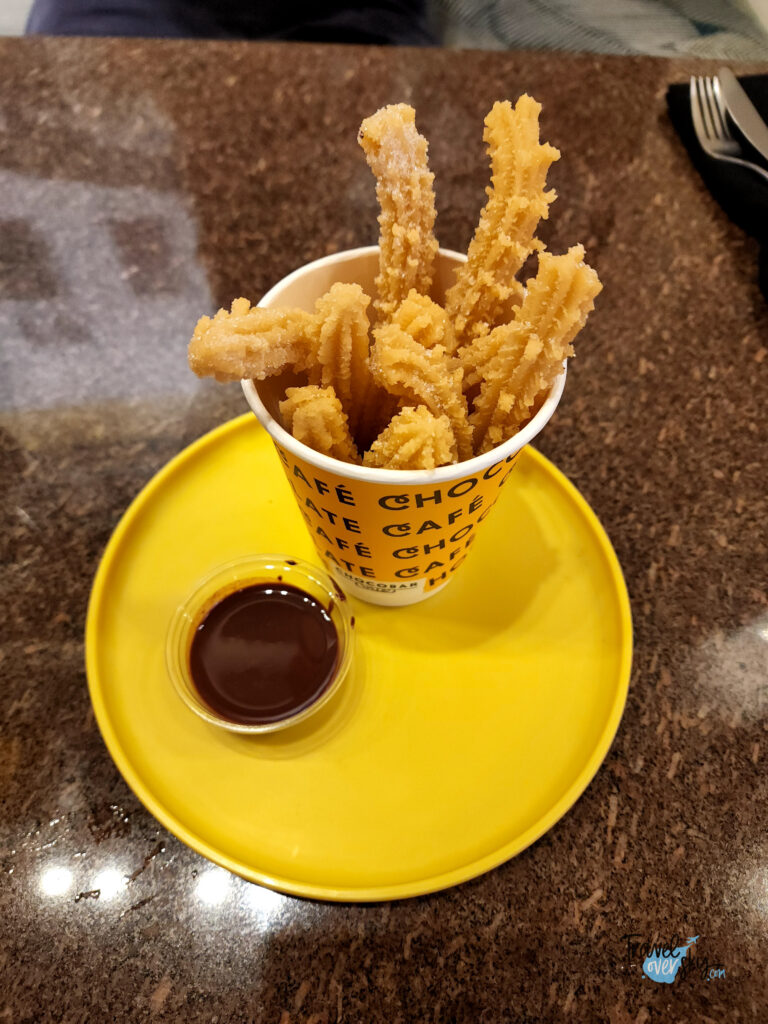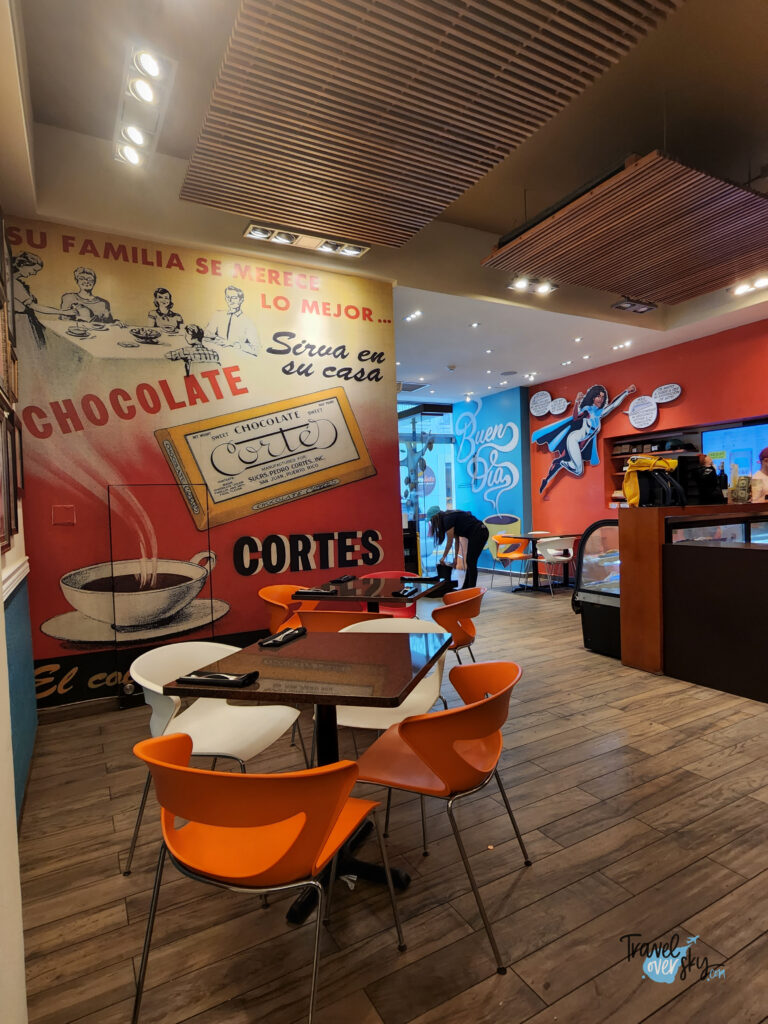 🚚The restaurants of San Juan – delivery
During my visit in Puerto Rico I also used an Uber Eats app, which offers delivery service from many San Juan restaurants.
🍽️Panda Express
A typical chain Chinese food restaurant, meaning quite fatty, but delivered on time and warm. If you have ever ordered ordinary Chinese food in a Polish mall or market – this one tasted the same. Hard to recommend or not 😉 I paid 35$ (delivery and taxes included) for two medium dishes with sides.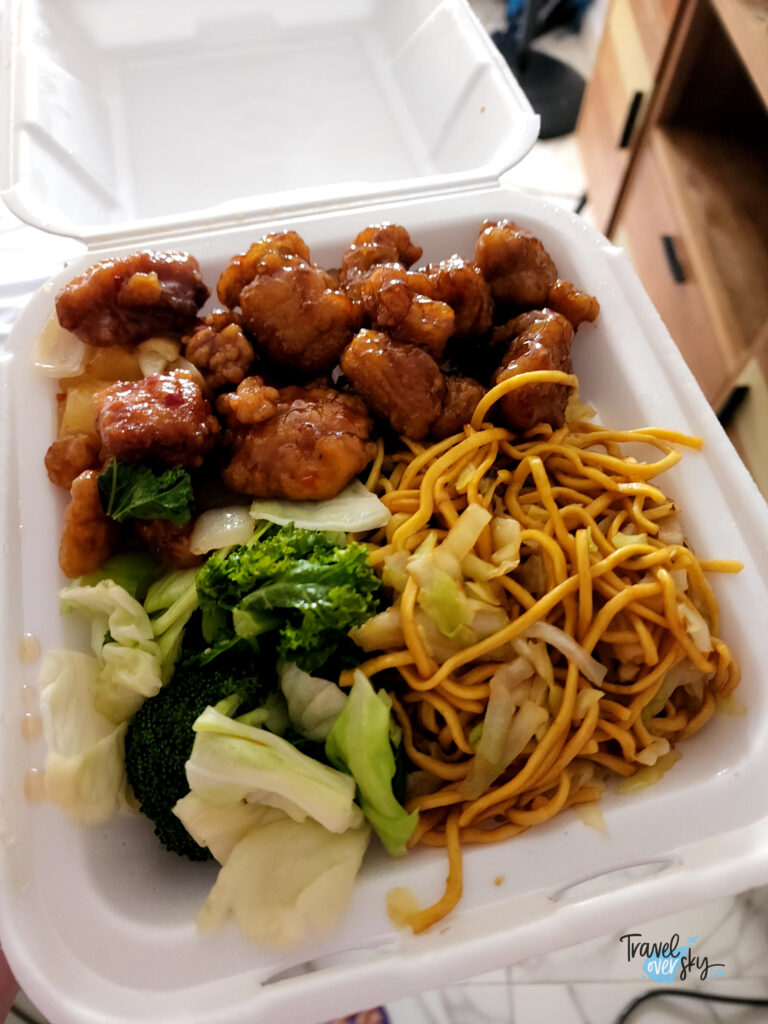 🍽️Freshii
Freshii offered a healthy food menu. You can get bowls with your own choice of ingredients or pre-made ones. I picked a bowl with beets, tofu and seeds and also the one with quinoa and beans. The food was delivered in eco wrap, which unfortunately started to leak. It was good, however it was not very tempting in the spots where it started to leak. The whole order with delivery and taxes included was 27$.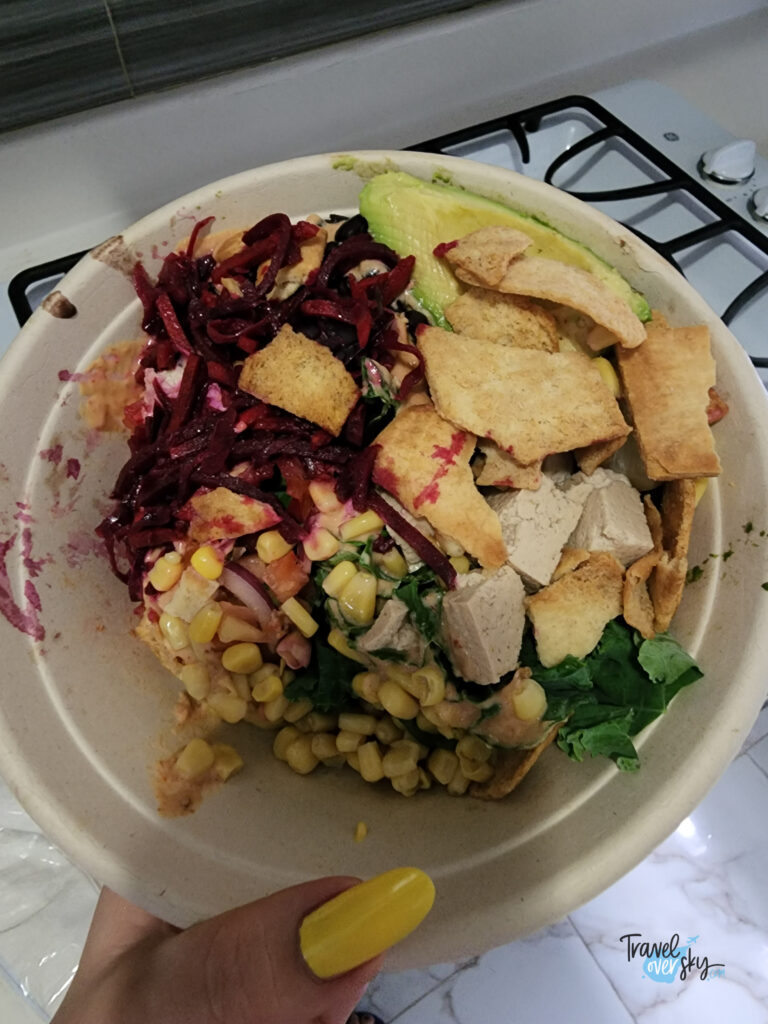 🍽️Silk
I was eating my way out of the Silk order for three consecutive days – I ordered too much. The offer did not include any information about rice being added to the dishes, so I ordered an extra one. The Silk restaurant is mostly considered as one of the more fancy ones in San Juan, but what was delivered to me was not very different from what I got from Panda Express. The only difference was the price, which makes me wonder if I should recommend this place. The Sichuan chicken was 26$ and the Tao one 34$. The portions were not small, but as I mentioned, I did not see any difference from the regular chain restaurant. What I enjoyed the most were the chicken dumplings, 2 pieces were 6$. Besides the already aforementioned I also got two pieces of spring rolls – again, not the best ones. I paid 96$ for the whole order.
Maybe it would make more sense at the place itself, considering the nice decor, atmosphere and a great waiter service. But taking into account that it was a takeaway, it was not worth the price.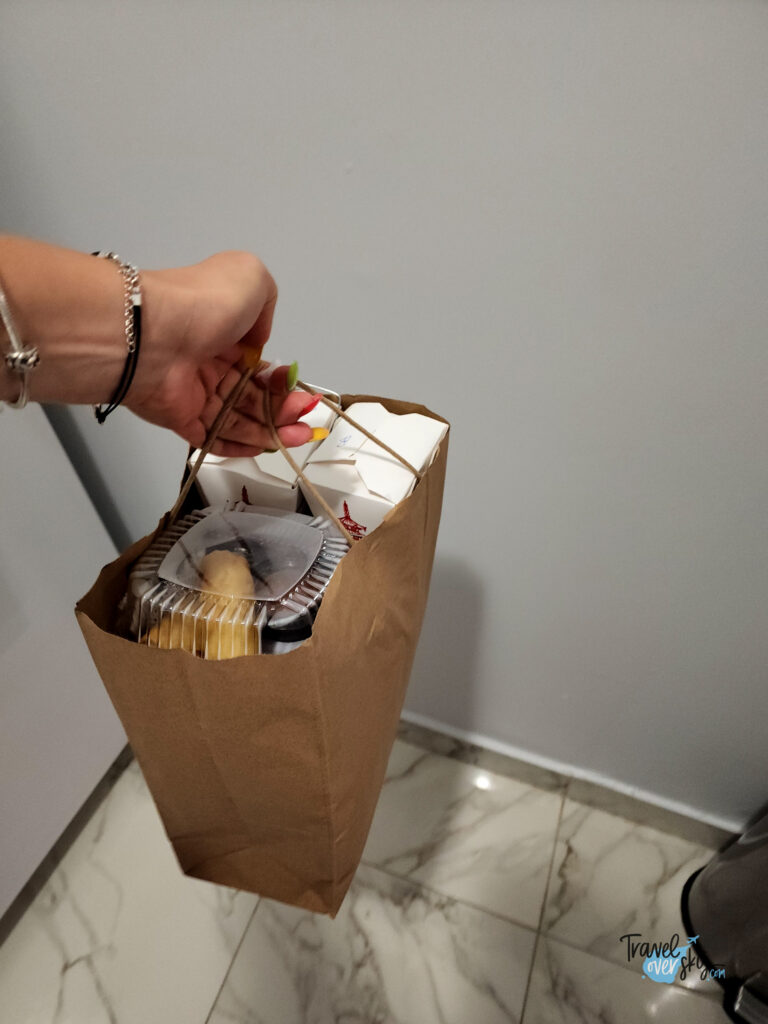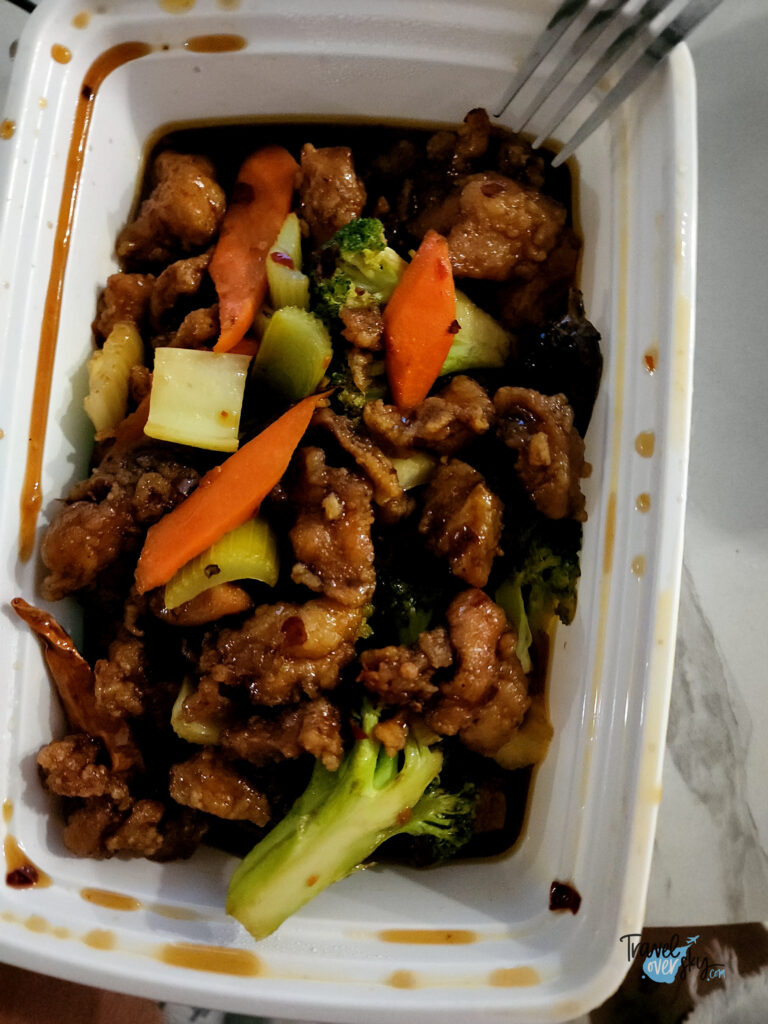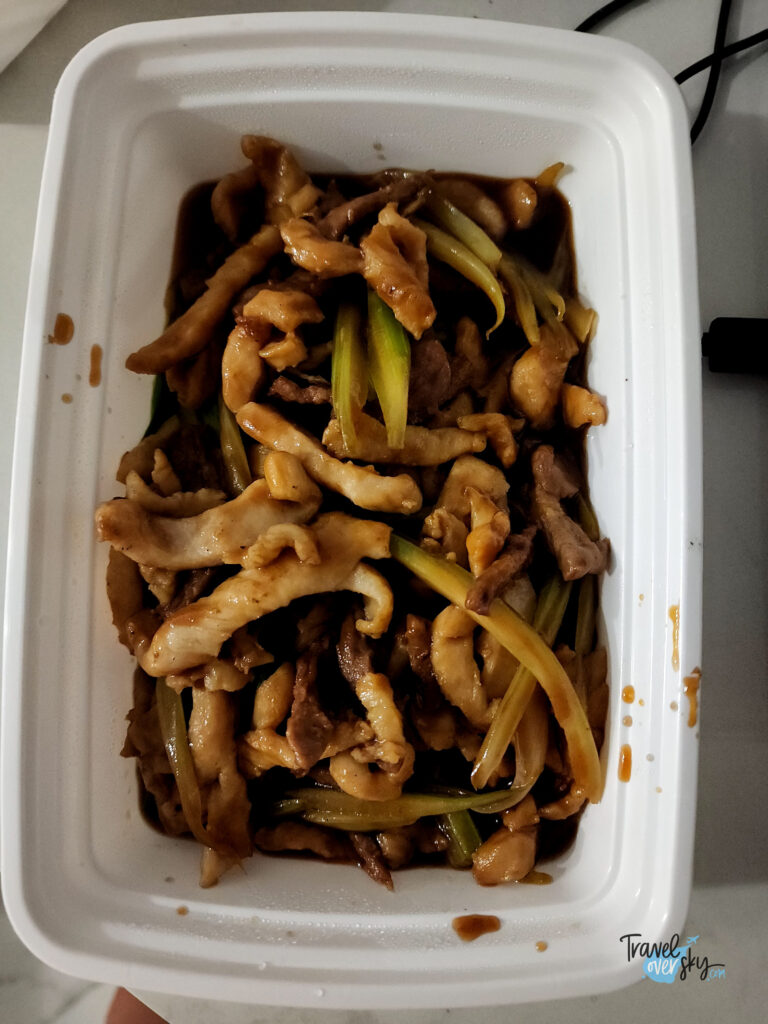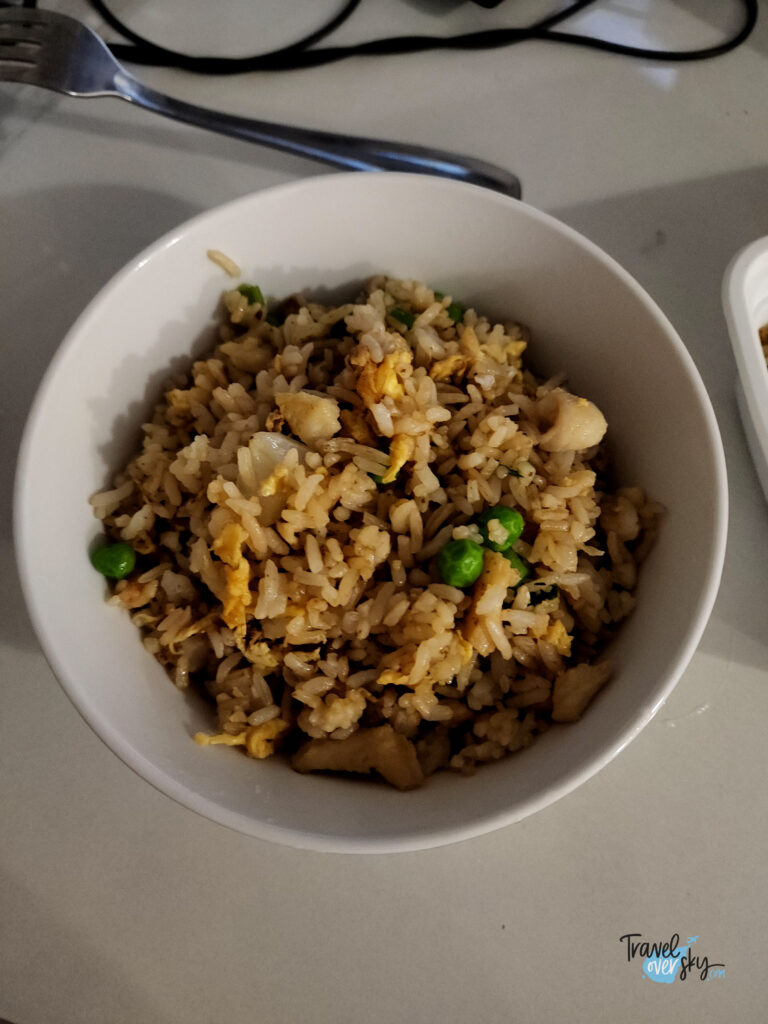 ☕Hazel Bar Miramar
The Hazel Bar was the last cafe I managed to check out in San Juan. Before the departure I managed to order two cappuccinos, chocolate cake and a french cake with nutella and cheese. The order came very fast, so the coffees were still warm. The french cake was delicious, making the chocolate cake inferior, but still tasty. All of it was nearly 19$.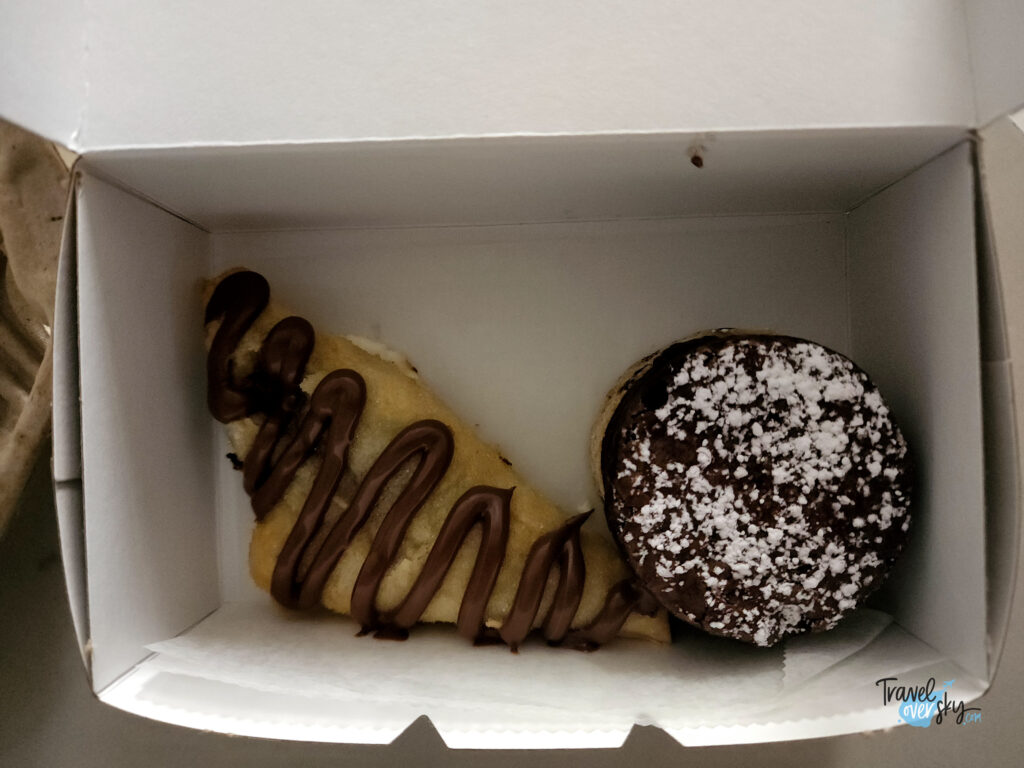 🍽️The San Juan restaurants – tips
When it comes to the subject of restaurants, the tips must also be mentioned. So far I always encountered a minimum tip of 10%. In Puerto Rico it would start from15%. When you pay by card you can always add the tip on the terminal, in other places you can write it down on the receipt.
I hope I did not bore you with my culinary summary of my Puerto Rico journey. Make sure to let me know how did you like it 🙂
***
In the Puerto Rico tab you can find more useful information and recommendations about this country.
---
I love sharing my travels, experiences, thoughts and self-tested advices. A travel blog is also a bit of work that I do drinking coffee.
If you want to buy me a coffee, I'd be very pleased!
Virgin Catalina Island. Do you want to know how to get to Catalina Island? What can you do on Catalina...
Read More